This 5-Star Outdoor TV Antenna Delivers up to 200 Miles Range Signal with Minimize Noise and Interruption for Quality FREE TV 24/7. No Monthly Subscriptions!
Experience what QUALITY FREE TV feels like with TRU-Vision Outdoor TV Antenna. It delivers maximum HDTV channels in your area, both network and local television, at complete 1080 HD clarity!
This innovative antenna is specifically designed for areas with difficult receptions. It outperforms TV antennas available from other manufacturers. Don't settle for a lesser picture or fewer channels when you know your TV can deliver much more. With TRU-Vision, get the QUALITY FREE TV that you deserve!
Why Choose Us?
[ OUTDOOR ANTENNA] Enjoy FREE local HD Channels without cable bills. The outdoor antenna receives 4K, 1080P, 1080i, and 720p HD Channels such as local news, ABC, CBS, NBC, PBC, Fox, sitcoms, kids, sports programs, and SO MUCH MORE. No Cable, No Problem. Start saving money with this powerful outdoor antenna.
[ENHANCED SIGNAL RECEPTION] This antenna can be installed outdoors or in your attic and receive 1080p and 4K reception up to 200 miles from the broadcast signal.
[NEW AND INNOVATION DESIGN] The TRU-Vision's Extended Antenna Length is designed for more stable and strong signal reception, with lengthier and larger receiving elements than any other antennas. Unlike other brand antennas, TRU-Vision has an innovative structure and powerful reception.
[WEATHER PROOF STRONG PERFORMANCE] This outdoor TV antenna has updated outdoor performance. It has well-built material with a durable design, is lightning protected, prevents strong wind and heavy rain, and receives high definition and digital signals.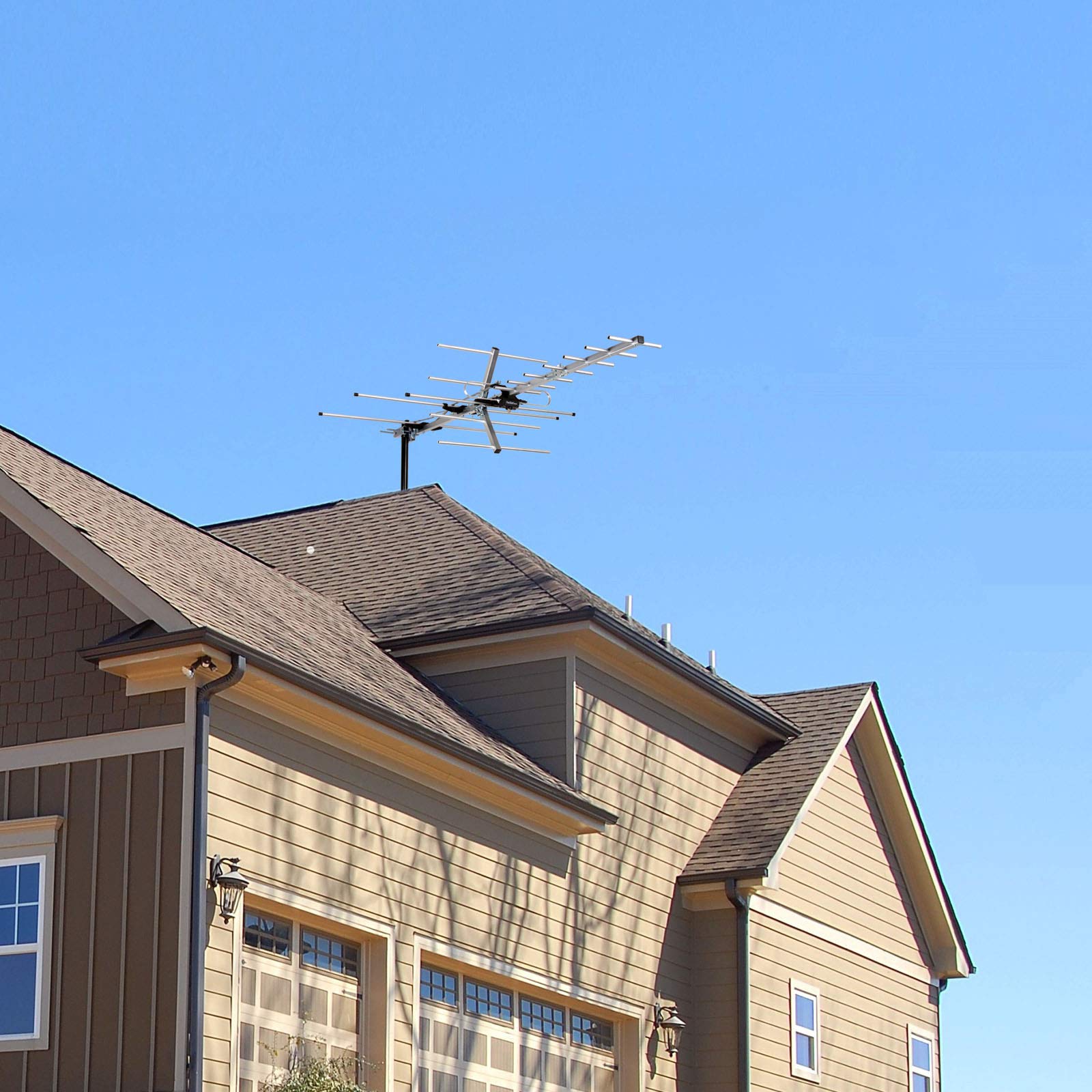 Getting the Best Reception
Channel selection and picture quality are dependent on broadcast strength and location. Local terrain and obstructions such as hills, mountains, buildings, and trees may also affect antenna reception and picture quality. Enter your address into a website such as fcc.gov/media/engineering/dtvmaps for channel listings in your location.
How to Scan Channel?
Mount the antenna on your rooftop for optimal performance.
Consult the related instruction manual to SCAN the Channels FIRST if you use a digital converter box
Find the setting option on the TV menu. Set up the signal source to AIR/Antenna.
After setting up the signal source, go to Channel Scan or Channel Manage to scan the digital channels.
Cross-phase, the Multi-element Design Provides Enhanced Reception Technology for More Channels.
Supports up to 1080i HDTV broadcasts
Receiving UHF and VHF channels = more content!
Pre-assembled design with easy-lock fold-out UHF reflector and snap-lock elements
Mast, mounting hardware, and 75-ohm transformer included for placement indoors or outdoors.
UHF and VHF Channels in HD
Antenna Length is designed for more stable and strong signal reception and lengthier and larger receiving elements than any other antennas. TRU-Vision antenna has innovation in the structure and powerful reception.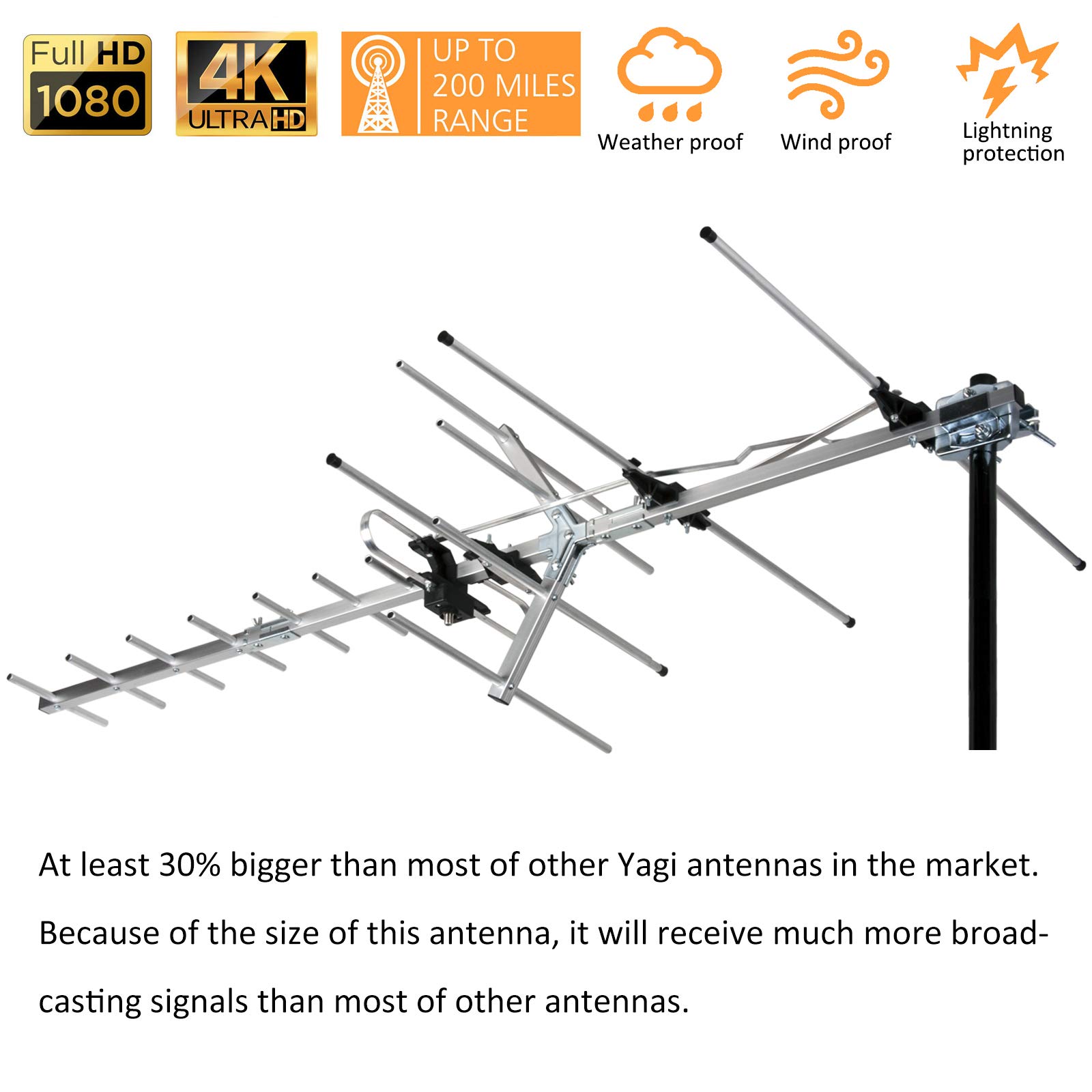 Specification
Frequency: VHF:45~230MHz UHF:470~860MHz
Actual Gain: VHF:8dB UHF:12dB
VSWR: VHF:<3dB UHF:<2.5dB
Output Impedance: 75Ω
Transmission Distance: 200+ Miles
Package Include:
1*Antenna
1* 40 feet coax cable
1*4-way splitter
1*J-Pole