This Outdoor HDTV Antenna will save you hundreds of dollars on monthly cable subscriptions. It's 2022's MOST RECOMMENDED Antenna for Free TV.
Still paying enormous amounts for poor-quality cable subscriptions? Let DigiReach help you access quality FREE TV with the best and most reliable outdoor TV antenna. Watch your favorite shows, pick up signals from kilometers, and enjoy HDTV without the hefty price!
✅ Capture Signals up to 150 Miles Away
✅ Broadcasts Signals in ALL DIRECTION — No Distortion!
✅ Weather-proof, Zero Interruption
✅ Receives HDTV Signals: Full HDTV capability, including 4K, 720p, 1080i, and 1080p
✅ American Family's #1 Choice for Free TV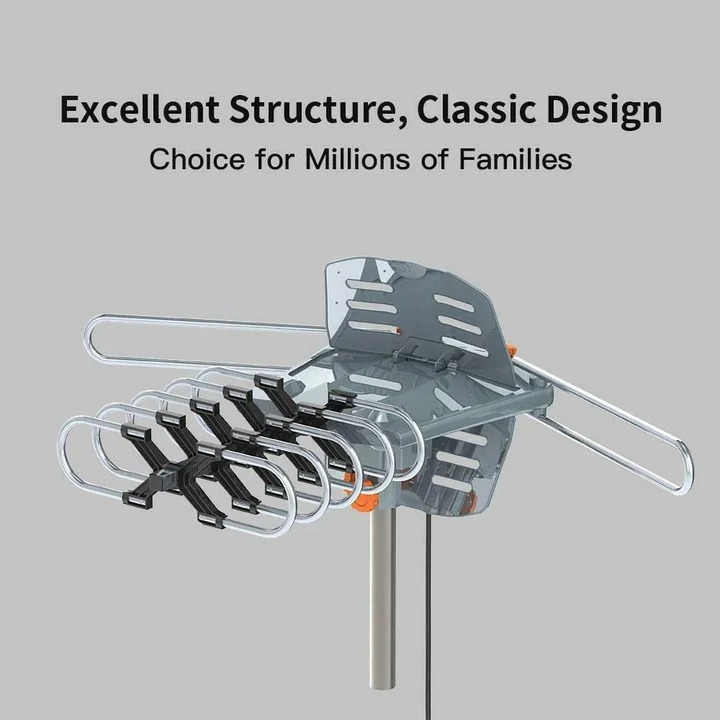 Why Choose Us?
The DigiReach Outdoor TV Antenna offers you a 360° connection that captures broadcast signals from all directions from up to 150 miles away. That means your TV Programs are never distorted and guaranteed quality FREE TV 24/7.
✅ QUICK, EASY INSTALLATION
The outdoor HD antenna, which comes with 33 feet of cable, may be mounted on your roof and still directly connected to the indoor setup. You'll be able to put the power source in a more convenient location within your home this way.
The best part of all, the digital HDTV antenna is lightweight and easy to handle during installation. Capture the strongest TV signals by using the outdoor television antenna to have a clear view of all your favorite movies and shows.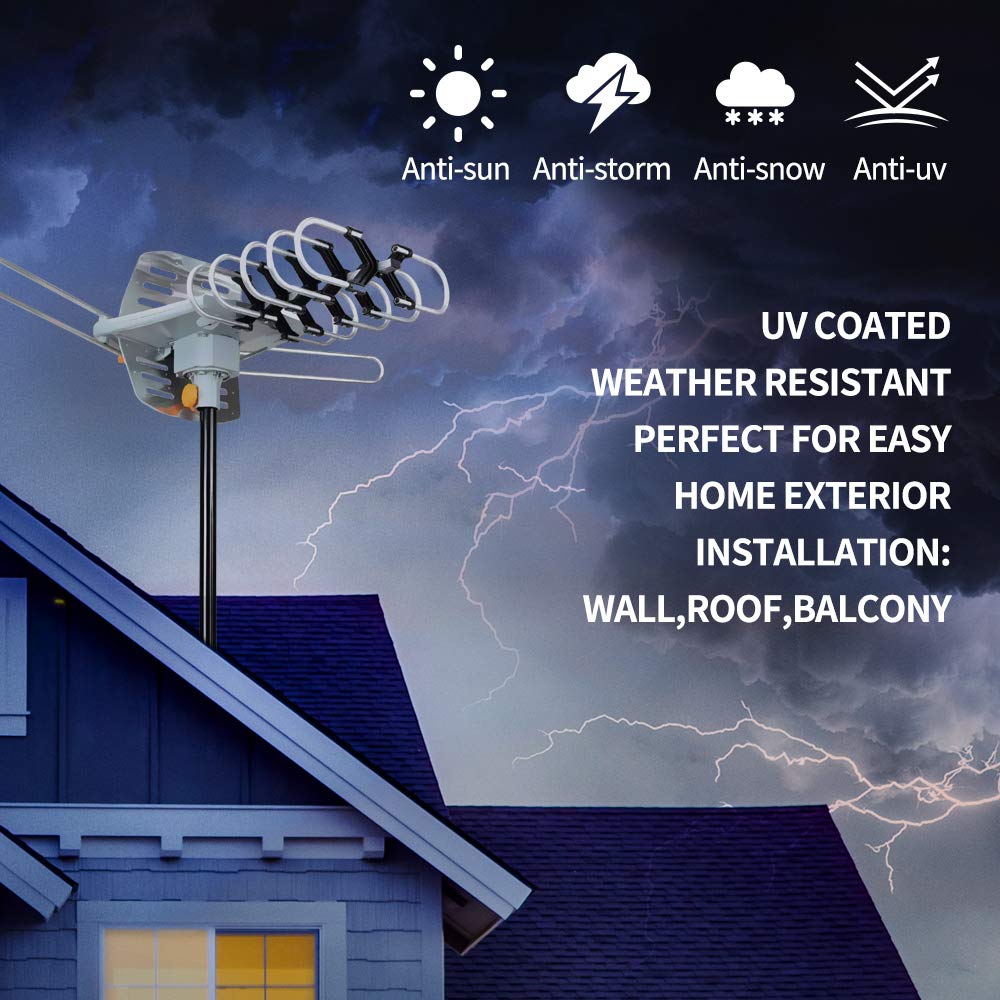 ✅ EXCELLENT FEATURES:
The HD Digital Antenna supports two TVs simultaneously without using a splitter, making it an excellent choice for any rural or suburban location. It can be placed in the attic or outside.
Long Range of 150 Miles: receives digital broadcast high-definition television signals; full HDTV capability includes 4K, 720p, 1080i, and 1080p, allowing you to watch live television! There's no need to pay extra for cable or satellite!
The outdoor HDTV antenna comes with an easy-to-follow user handbook to guide you through the installation process.
How to Install: Attach the antenna to a TV with a coaxial connection, run a channel scan, and watch a local HD program in minutes.
Built-in Super Low Noise Amplifier, 360-degree rotation, and a 33-foot HDTV antenna coax line are all included. Don't be caught off guard by inclement weather with this durable design that provides grounding.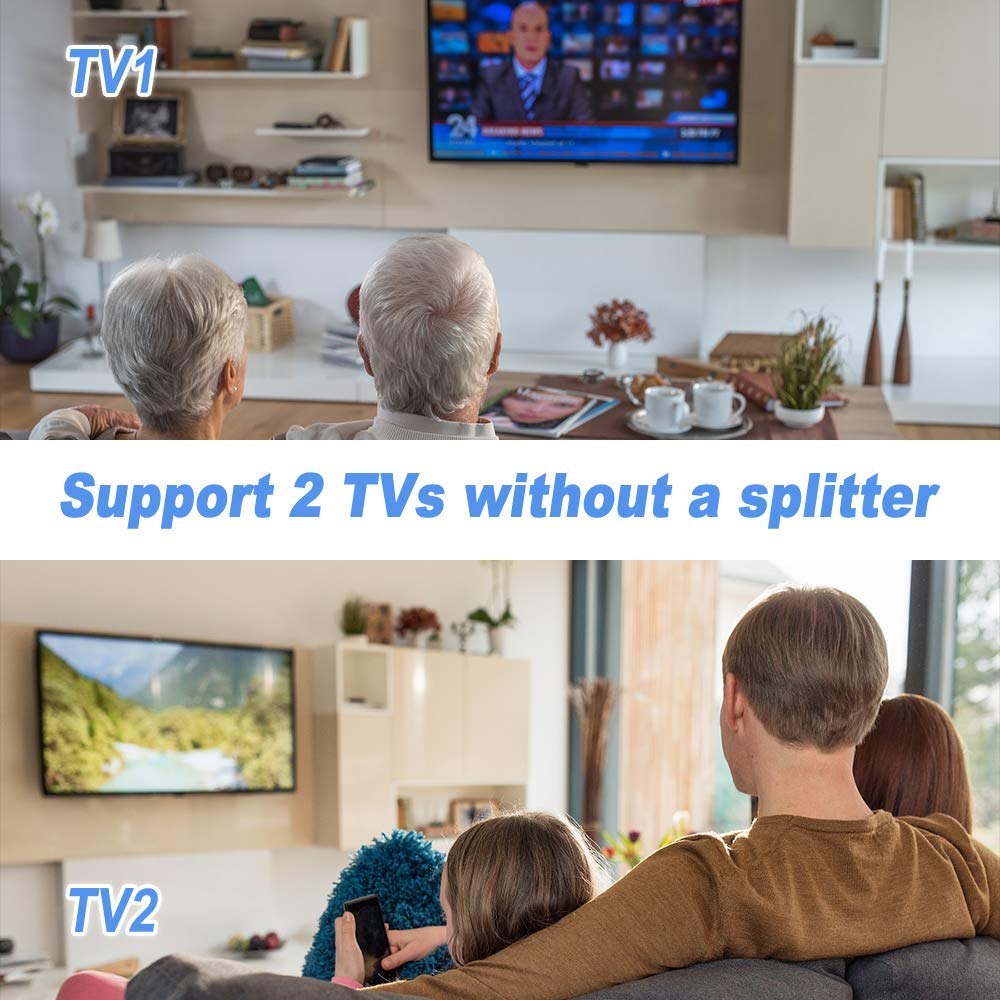 Why should you cut the cord?
DigiReach Outdoor TV Antenna enables you to cut the cord and enjoy the benefits of intelligent technology — making life better, easier, and more meaningful!
In the United States, nearly 90% of the population has access to free over-the-air HD television.
The average cable bill in the United States is between 80 and 200 dollars per month. Simply quitting Cable TV will save you between 960 and 2400 dollars per year.
To save money on transmission, cable companies are allowed to decrease their service by 30%. This is not an issue with OTA.
Our outdoor HDTV antenna is built to accept digital TV FM/UHF/VHF signals and deliver a high-definition HDTV picture. Without the expensive expense of cable or satellite, you may watch high-definition television. Turn a full 360 degrees with the infrared remote control, which has a built-in rotor.
Free Channels for the Rest of Your Life!
Get free access to all available content in your area, including the most popular over-the-air TV shows, news, sitcoms, kids' shows, sports, and much more, all in gorgeous 4K Ultra HD for the highest picture quality, vibrant colors, and stunning sound.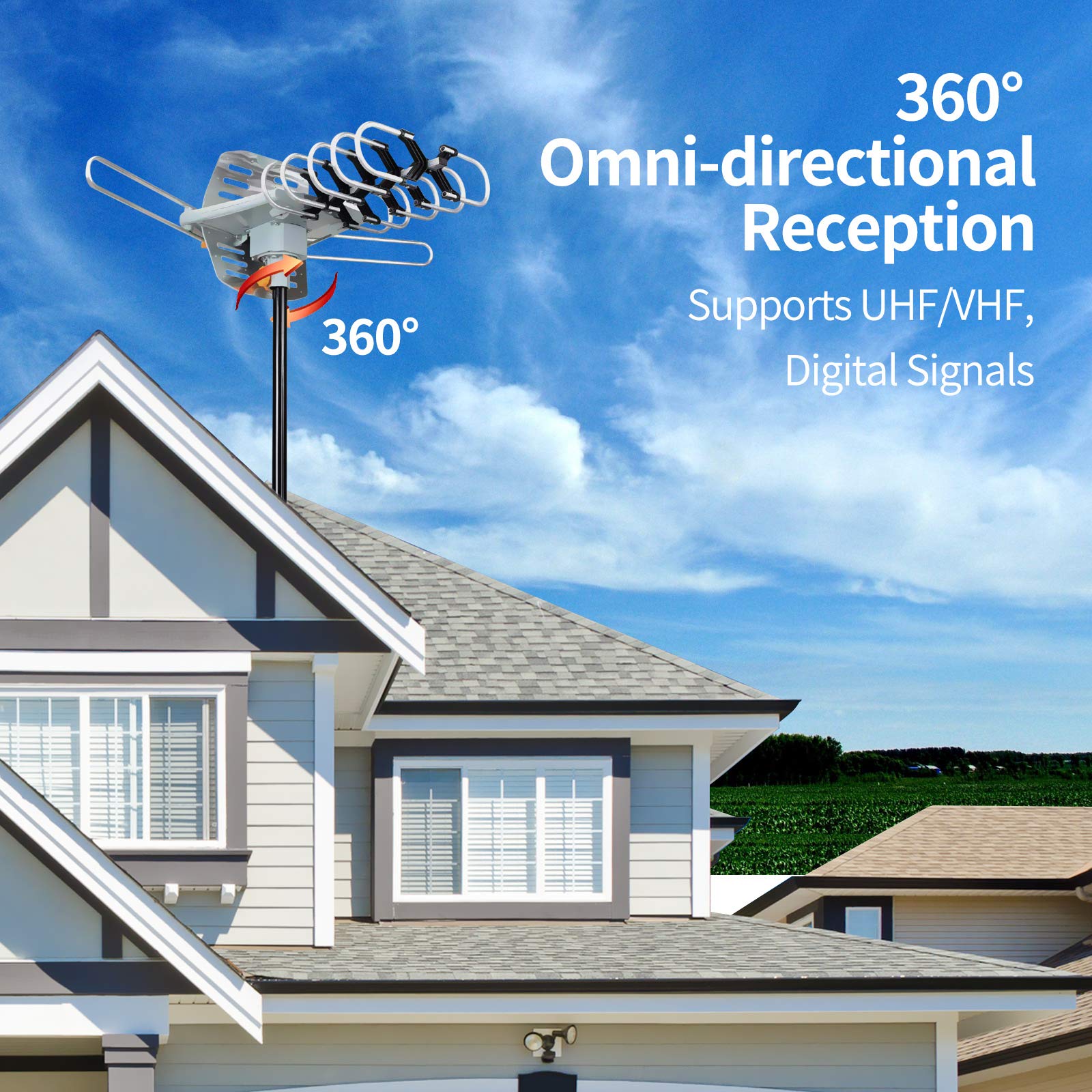 How to get the best reception?
Check the distance to the nearest broadcast towers to choose the suitable antenna. The amount and quality of the channels you receive will depend on the following:
Channels being broadcast in your area
Broadcast tower locations
Strength of the broadcast signals
Line of sight and environmental terrain
Please visit the antenna web or antenna point to check how many broadcast towers surround you within 250 miles. Try toward antenna to the best directions for receiving more channels with HD clear image.
✅ Suggested placement: attic, roof, side of the house.
Keep the HD antenna away from those high-power devices when using it. For example, Some sources of interference, such as air conditioners, refrigerators, hairdryers, and microwave ovens, have a particular effect on the effect of the TV Aerial receiving signals.
SPECIFICATIONS:
Working Frequency: VHF 40~300MHz, UHF 470~890MHz

Noise Figure: ≤2.5dB

Typical Antenna Gain: VHF 28~32dB, UHF 32~36dB

Reception Range: 150 Miles

Channels: 1~69

Impedance: 75 ohm

Max Output Level: 105dB u V

Main Voltage: AC 110V/60Hz

Operation Temperature: -10 Degree~50 Degree

Coaxial Cable: 10M

Weight: 70.55oz / 2000g
1 x Outdoor digital TV antenna

1 x Adapter

1 x Coaxial Cable 33 ft

1 x Remote Control

1 x Instruction