AXCENT-WAVE — the Super Outdoor TV Antenna that Captures Signals up to 990 Miles for Better Coverage and Quality FREE TV Experience!
Are you looking for a reliable antenna to still watch your favorite shows without a cable subscription? Our AXCENT-WAVE is the best choice for you!
Our Super Outdoor TV Antenna is made of high-quality materials and advanced technology to deliver excellent connection, guarantee an easy operation, and provide quality entertainment for you and your family. Whether you're living in the city or rural areas, the AXCENT-WAVE is designed to make quality FREE TV accessible to you.
✅ Super Long Range: up to 990 Miles
✅ Supports 4K, 1080P, HDTV, and UHF/VHF
✅ Gain Signal up to 30dB for Better Coverage
✅ Durable, Sturdy, and Weatherproof
✅ The Most Powerful Outdoor TV Antenna 2002!
Why Choose Us?
Our AXCENT-WAVE Outdoor TV Antenna is built to last and deliver phenomenal performance. With its superior long-range, comprehensive support of quality format (4K, 1080P, etc.), and all-weather proofing, it can provide you the best quality FREE TV anywhere!
Advantages:
Made of High Quality and Durable Material
Lightweight, Compact, and Easy to Carry
Portable and Easy to Use
Best Match for Your Device
Environmental-Friendly
Great Connection, Easy to Operate, and Install

The most powerful omnidirectional digital HDTV antenna!
Our long-range outdoor TV Antenna is great for urban and rural areas. It significantly reduces the noise and interference you would get with traditional TV antennas and satellite dishes.

Free HDTV Channels for Life!
Unrestictric channels to all the content available in your area. This includes some of the most well-known TV shows, news channels, sitcoms, children's programs, sports, and more! This outdoor TV antenna offers all these channels in 4K — the most vibrant picture and sound quality on the market!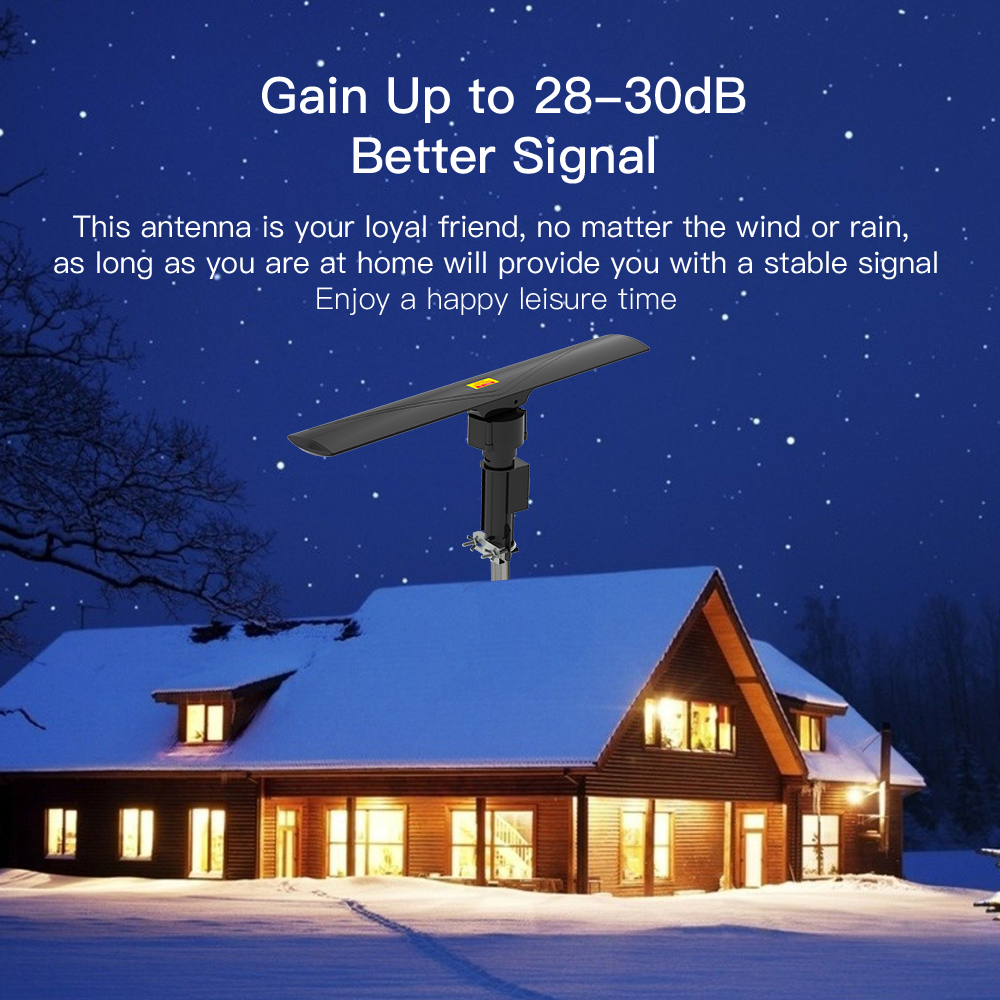 Specifications:
Frequency: 40-860 MHz
Gain: VHF Gain: 28-30dB UHF Gain: 28-30dB
MAX Rotation: 360°
Channel: 1~69
Impedance: 75 Ω
Power Supply: AC110-120V/60Hz
Remote Controlled Distance: ≤5m
Standing Wave Radio: ≤1.5
Model: TA-10000A
Color: Black
Weight: Weight: 41.59oz / 1179g(2.6Pounds)
Dimensions: (23.22 x 3.35 x 4.33)" / (59 x 8.5 x 11)cm (L x W x H)
Package Includes:
1 x Antenna
1 x 10m Coaxial Cable
1 x Amplifier & Power Supply
1 x Remote Control
1 x U-shaped Hoop
1 x Instruction Manual