Explore the VR World, Your Style.
Play with friends. Watch front row concerts and live events. Unfold a new kind of VR experience with SkyLarx.
✅ Visual Innovation: 52mm diameter super large FOV blue light lens; suitable for panorama/games (recommended for mobile phones with a resolution higher than 2K)
✅ Hearing Optimization: innovative folding Bluetooth headset integrated, 50mm subwoofer amp unit, enhanced mid-bass effect, and wider sound field.
✅ Vision-Adjustable Support for Wearing Glasses: also supports no glasses; myopia 400 to farsighted 200 can be adjusted.
✅ Enrich Application and Video Resources: 110° aspherical high lens: 110° field of view, optimized optical design, effectively eliminates stray light and halo, lighter to wear, larger and clearer field of view
What to Expect from SkyLarx?
Experience a super-fast processor that delivers VR smooth and seamless, even as high speed unfolds around you. With an integrated and innovative folding Bluetooth headset, you can immerse in multiple worlds and titles as if it's real action happening around you.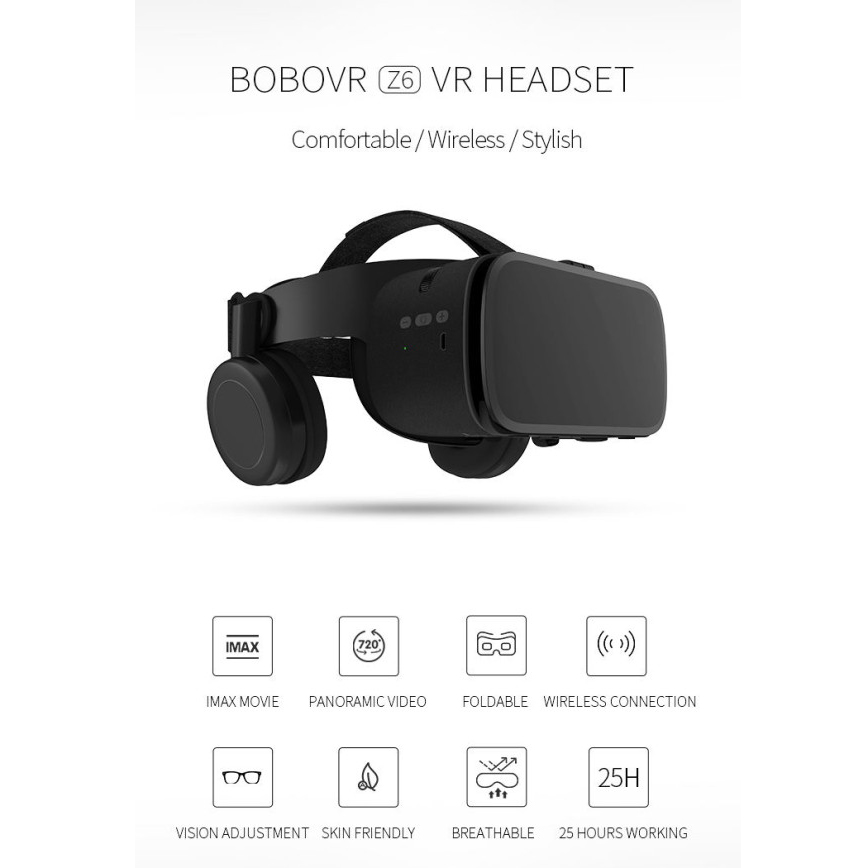 Comfortable Experience
Immerse yourself in virtual reality without the common pain and discomfort. The SkyLarx offers you a new, soft-skeleton, multi-layered material + advanced perforated TPU material for a hypoallergenic, breathable, and sweatproof VR headset.
Adjust the SkyLarx to fit your comfort. Create the perfect vision, optimize sound — all in one go!

SkyLarx Team
Wide Compatibility
The SkyLarx works with devices from 4.7 to 6.2 (full screen 6.5 inches) Android and iOS mobile phones.
Specifications
Compatible System: Above Android 4.4 or ios8

Compatible Size: 4.7-6.2inch

Lens: 52mm Aspherical hyperlens

FOV: 110°

Vision Adjustment: Hyperopia 200° to myopic 400°

Wired Connection: 3.5mm headphone

Earphone Unit: 50mm, 112±3dB (1KHZ)

Microphone: Omnidirectional condenser

Touch Stick: Support Capacitive screen

Device Dimension: 140x181x115mm (Folded)

Working Temperature: -10-40°℃

Storage Temperature: -20-50°℃

Built-in battery: 3.7V, 350mA/H
Charging time: about 2.5 hours, no more than 3 hours
Battery life: about 25 hours
Package Includes:
1 x SkyLarx VR headset
1 x Micro USB Cable
1 x BOBOVR Z6 User Manual
1 x Remote Control User Manual
1 x Lens Cleaning Cloth