The Best VR Headset to Make Your Favorite Movies Feel Like Reality!
Action movies, a wide range of exhilarating gaming titles — enjoy an immersive, 3D VR experience with AXONMAX.
Our VR headset offers you blue light goggles with a 120° wide viewing angle (FOV), so you can enjoy the virtual world like never before.
The AXONMAX works with:
✅ Eye Protection Aspheric Optical Lens — to enjoy pictures and videos with clearer vision.
✅ Anti-Blue Light feature and Individual Lenses that adjusts to your eyesight, the pupil, and object distance.
✅ Gamepad and Multiple Applications — so you can bring excitement and social interactions to the VR world.
✅ Headphones — for a complete video and sound 3D experience.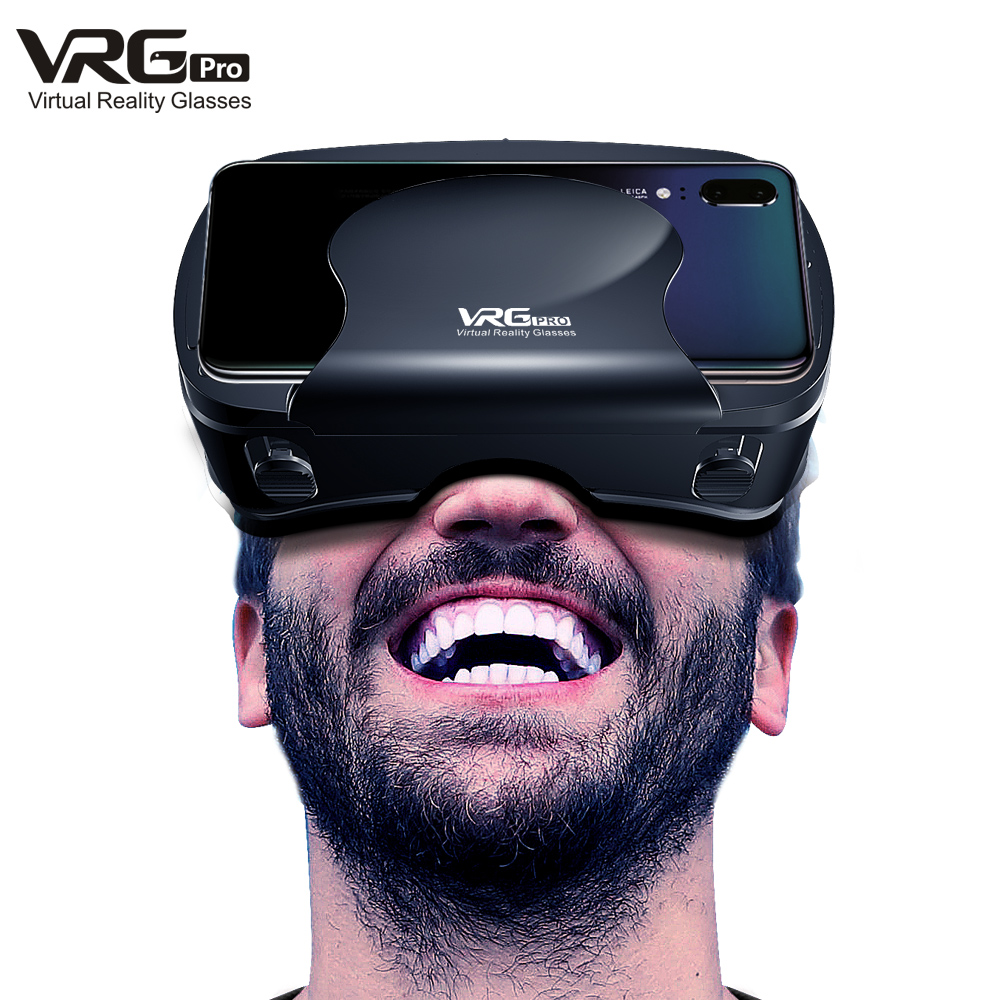 Why Choose Us?
Newly upgraded 3D technology: Gaming and watching movies with virtual reality headsets work best when your eyes properly align with the screen box. Boasting HD optimization and 3D gaming support, you'll put yourself right into the action with games, movies, and more!
Gamepad & multiple applications: Additional game controllers provide more ways to play, Upload 3D video sources in the iOS App Store, and Youtube for massive content 3D movies, animation, panorama concerts, VR games, etc.
Compatibility All Smartphones: The AXONMAX VR Glasses can fit most non-curved smartphones with screen sizes from 5 ~ 7.0 inches, compatible with models X, XR, XS, 8, 8 plus, 9, 9 plus, 10, 7, 7 plus, 6, 6s, 6s plus, 6 plus, 6, 5, 5 plus, 5c, 5s, SE, etc. Also compatible with Android s8, s7, j3, s7 edge, s6, s6 edge, note5, a8+, note 3, note 4, note 5, note 7, note 8, note 9, s5 s6, s7, s8, s8 plus, s9, s9 plus, s10.
Anti-blue Light, Comfortable wearing experience: Easy to set up and use, download a VR app to your phone, and place the phone into the 3D glasses headset to get your VR adventure started. The AXONMAX VR Goggles' are adjustable based on the pupil distance and object distance with individual lenses for different eye sights so that you can adjust and enjoy sharp images.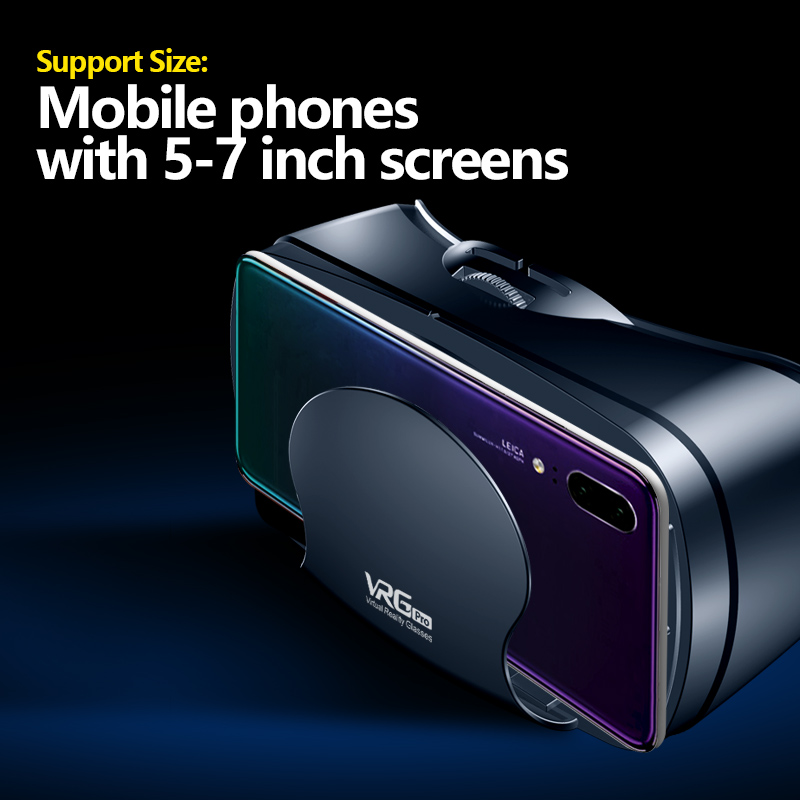 Accessible to Use and Foldable
This VR headset is smaller than you think. It is not only suitable for family use but also suitable for travel. You can quickly turn your smartphone into a private 3D IMAX theater/game scene, allowing you to be immersed in virtual reality at any time and enjoy stunning 3D effects.
Headphones can be plugged into the 3mm headphone jack to connect headphones.
Myopia vision is less than 800 degrees.
The sharpness can be adjusted by adjusting the sliding button on the lower VR, so if you're nearsighted, you can see clearly without using silver mirrors.
Fashion and Comfort
To let you experience our products better, we have added some brand new design elements.
We use skin-friendly, fashionable, and elegant white PU leather, which is more breathable and comfortable to wear.
We have adopted ultra-light materials and a retractable folding earphone design.
We use anti-blue, 55mm high-definition independent large lenses, which can reduce users' eye fatigue and protect eyesight.
Compact and Foldable Design
The shell of this VR headset is made of stylish and elegant white leather, which fits the face without air leakage and has better air permeability. Suitable for home, travel, outdoor, and various activities.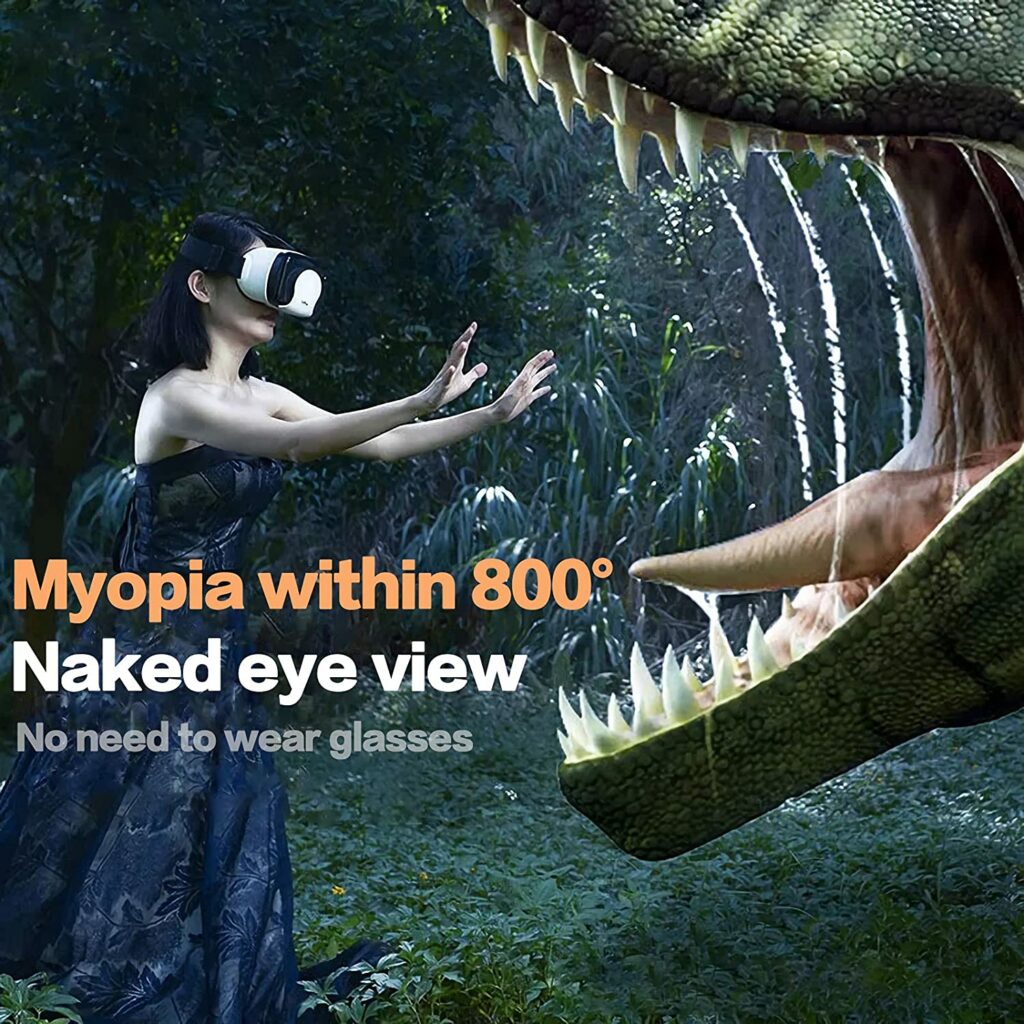 Specification
Display size: 40 inches

Resolution: 1920*1080P

Viewing angle: 120°

Compatible: 5-7 inches

Vr Headset Size: 190*100*110mm

Handle size: 120*44*33mm

Remote control: 2 AAA batteries (not included)
Package Include:
1x VR Headset
1x Manual
1x

Remote control