The All-in-One Karaoke Machine Set That Starts The Party The Moment You Press Play
The karaoke machine set that has everything you need to get the music and dance flowing to your private parties, office events, and gathering with friends and families. One word for the PmpUp - complete. From its portable design that makes it easy to carry the machine everywhere, to the high-quality speakers, two microphones, and fun disco lights, you can complete your party experience without making you spend a lot for light and sounds rental.
🤩 All-in-one package karaoke machine - includes two microphones, a booming speaker, fun disco lights, and a universal tablet and smartphone holder.
🤩 Improved connectivity that allows you to sync with any music players. Play from phone, laptops, tablets, USB, and throug the AUX jock.
🤩 Comes with a portable size that helps you move it around easily.
🤩 Microhone creates a crystal-clear sound output and includes echo effects to add that professional touch.
🤩 Includes a master equalizer to enable you to mix sounds the way you want them.
PmpUp Karaoke Machine Features:
A Handy, Portable Karaoke Machine That You Can Easily and Conveniently Bring Anywhere. The PmpUp weighs a total of 23.90 lbs. It includes an easy-grip handle that will help you carry it anywhere you like without too much straining.
HD Surround Sound from the Speaker Will Easily Fill the Room with Quality Sound - No Need to Rent Expensive Sound Systems. The speakers bring out clear, booming sounds. Hear every bass and treble.
Comes with 2 microphones that are ready for your singing sessions. You'll Get a Crystal Clear Voice from these Microphones Whether You're Doing a Solo or Duet. The low-latency microphones help you achieve that sweet, smooth sound output. The improved design prevents feedbacks and crackling sounds from disrupting your karaoke sesh.
Includes an Equalizer to Help You Customize The Quality and Effects of Sound Coming Out from Your Karaoke Machine. The easy-to-use knobs on the wireless Bluetooth microphone karaoke machine control the volume of your voice and music, but it doesn't stop there! KaraoKing's karaoke microphone features an echo effect so you can really feel like you're performing onstage!
Connectivity Is Never An Issue. Belt out your favorite beats from any device! Easily connect your karaoke machine to phones or tablets through USB, AUX, and Bluetooth. Need a break from belting it out? Play FM radio in between performances!
Classic Built-in Disco Light Makes Your Events Even More Fun! Feel the disco vibe with the built-in, colorful LED lights in the PmpUp karaoke machine. Instantly turn any space into a karaoke booth!
Get a Free Phone or Tablet Holder - The One That Helps You See the Lyrics Clearer. If you're playing from your phone or tablet, you won't have to worry about missing any lines anymore.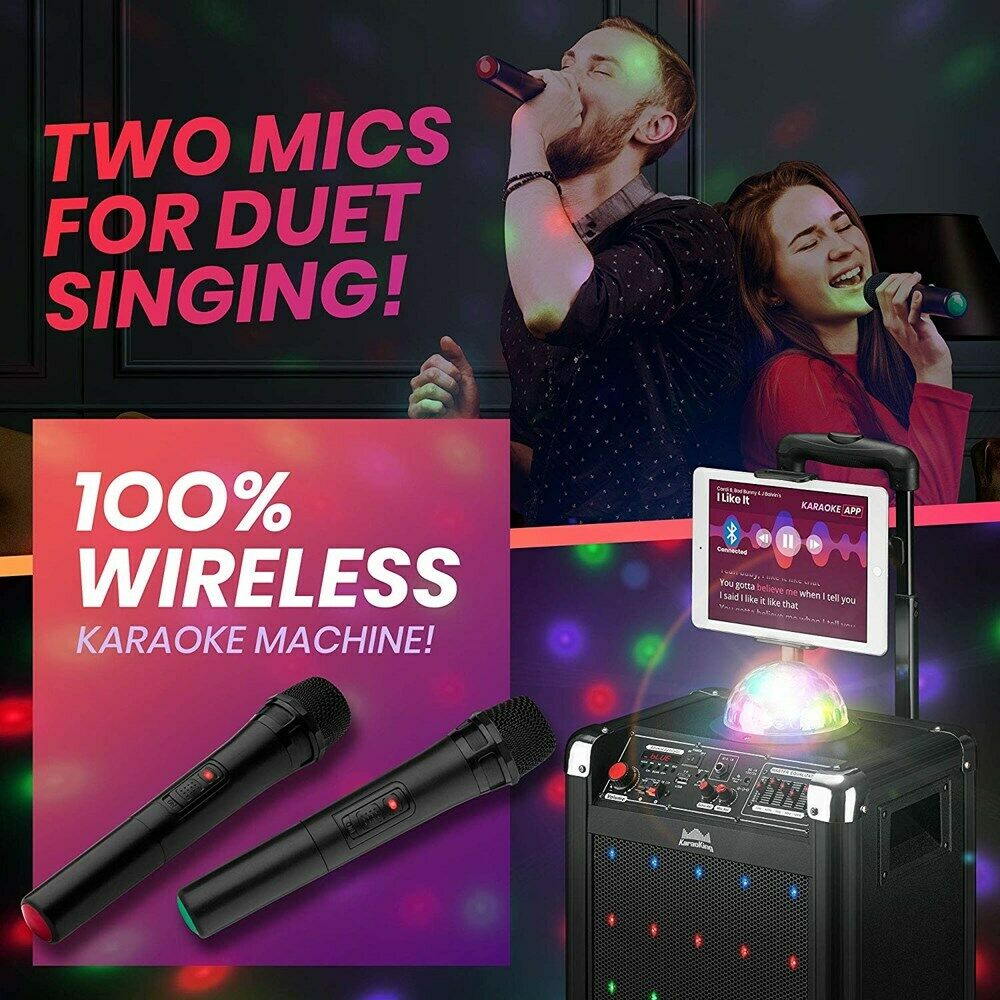 PmpUp Karaoke Machine Review
"The PmpUp turned a simple office space into a legit karaoke booth. The speakers filled our place with great sounds, and the light effects made us feel like we're out of the office even if we aren't. We love how this comes with 2 microphones because more people got to have the chance to have fun!" - Dennis, Office manager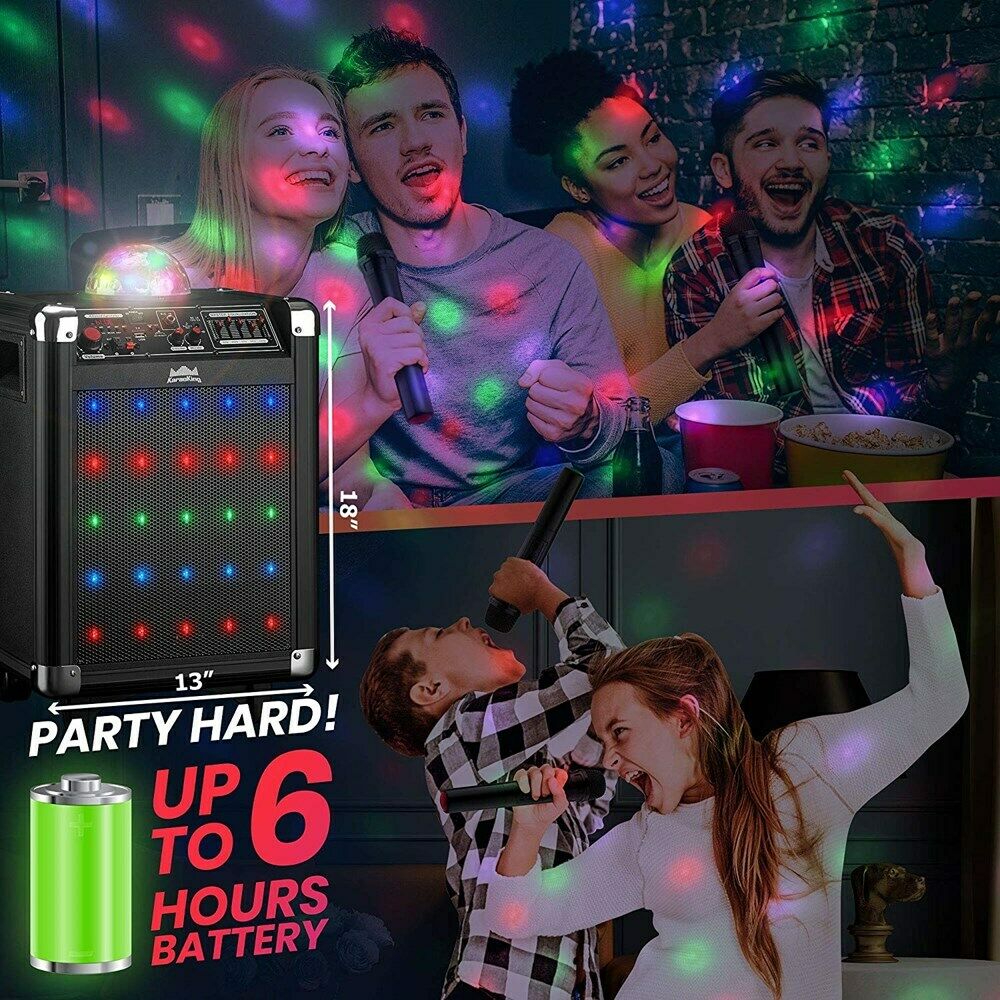 Packcage Include