The Music Ain't Waiting for the Perfect Time - Bring That Party-Pumpin' Music Wherever You Are with the BringoSing Portable Karaoke Machine
It's so handy - you can bring it anywhere. Turn a drab spot into a party hub with the BringoSing's booming speakers, seamless sound output, and impressive Bluetooth 5.0 Connectivity that links the device up to any music source!
BringoSing brings the party vibe wherever you are! Whether you're at home blasting some music to de-stress, or you're in an event and you need some music to get the energy up, the BringoSing has got you covered. This ultra light karaoke machine with booming speakers and fascinating party lights will get you dancing and singing!
👉 Portable karaoke machine weighing 2.01 pounds only.
👉 Superb HD stereo surround quality.
👉 Improved connectivity with the Bluetooth 5.0 - works up to 33 ft.
👉 Remote-control compatible karaoke machine.
👉 Includes additional features - FM radio, audio recording, and wireless microphone.
👉 Long-lasting batteries - last up to 6 hours when fully charged.
👉 Supports USB, transflash, AUX cable.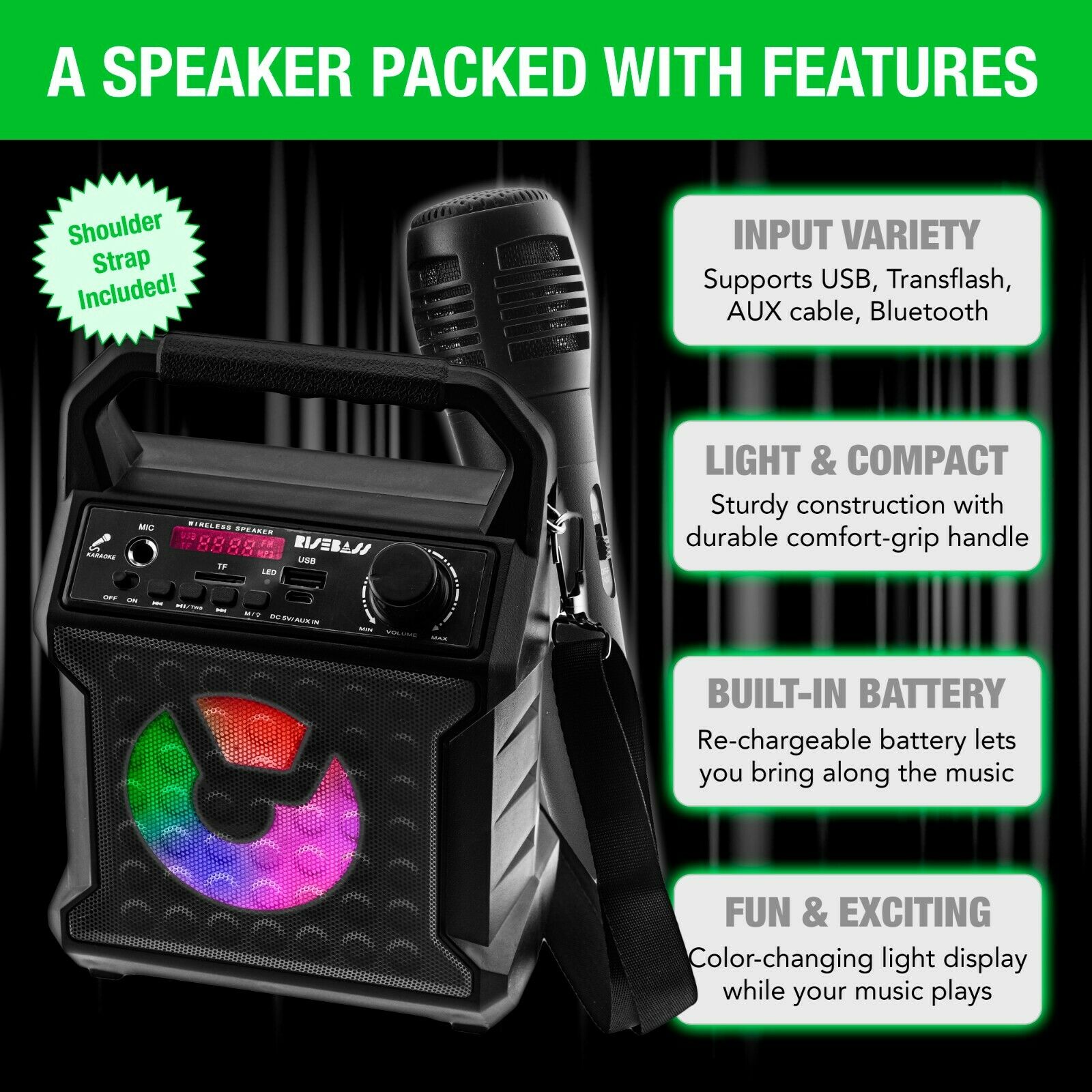 BringoSing Karaoke Machine Features
Small in size, big in sound - this portable karaoke machine booms out quality sound output. No need to get those bulky, heavy ones just to get some smooth music going. The BringoSing is only 2.01 pounds. You can bring it anywhere. Despite its size, you won't be missing out on sound quality. The HD surround sound quality ensures you get every bass and treble and melody clearly.
Connectivity is topnotch - you can connect into a smartphone, Iphone, tablet or laptop within 33 feet without worrying about disruptions. The BringoSing has Bluetooth 5.0 - a feature that allows you to connect seamlessly with this karaoke machine even if you're far away. The Bluetooth quality ensures that the music you're getting is clear, and void of jumpy disruptions.
Includes a strap to help you bring this karaoke machine anywhere. Whether you are going to the beach, to the park, office, or a friend's house, you won't be having a hard time transporting the BringoSing anywhere you go.
Remote-control makes playback, volume changes, and choosing music easier for you to do. The remote control connects efficiently with the machine. You don't need to stand up and come closer to the BringoSing. Simply use the remote control to perform operations.
Comes with impressive features like FM radio and audio recording - you surely get your money's worth. The BringoSing does more than just bring fantastic sounds to the party. You can also switch to the radio, or record audio.
Includes fun LED lights to turn the vibe up - makes any boring space look party-worthy. No party is complete without lights. But you don't have to rent some - the BringoSing's LED lights already bring them to you.
When fully charged, it can run up to 6 hours - a perfect product for those looking for karaoke machines for outdoor events. When fully charged, the BringoSing can bring music to your space for up to 6 hours in low volume and 4 hours in high volume.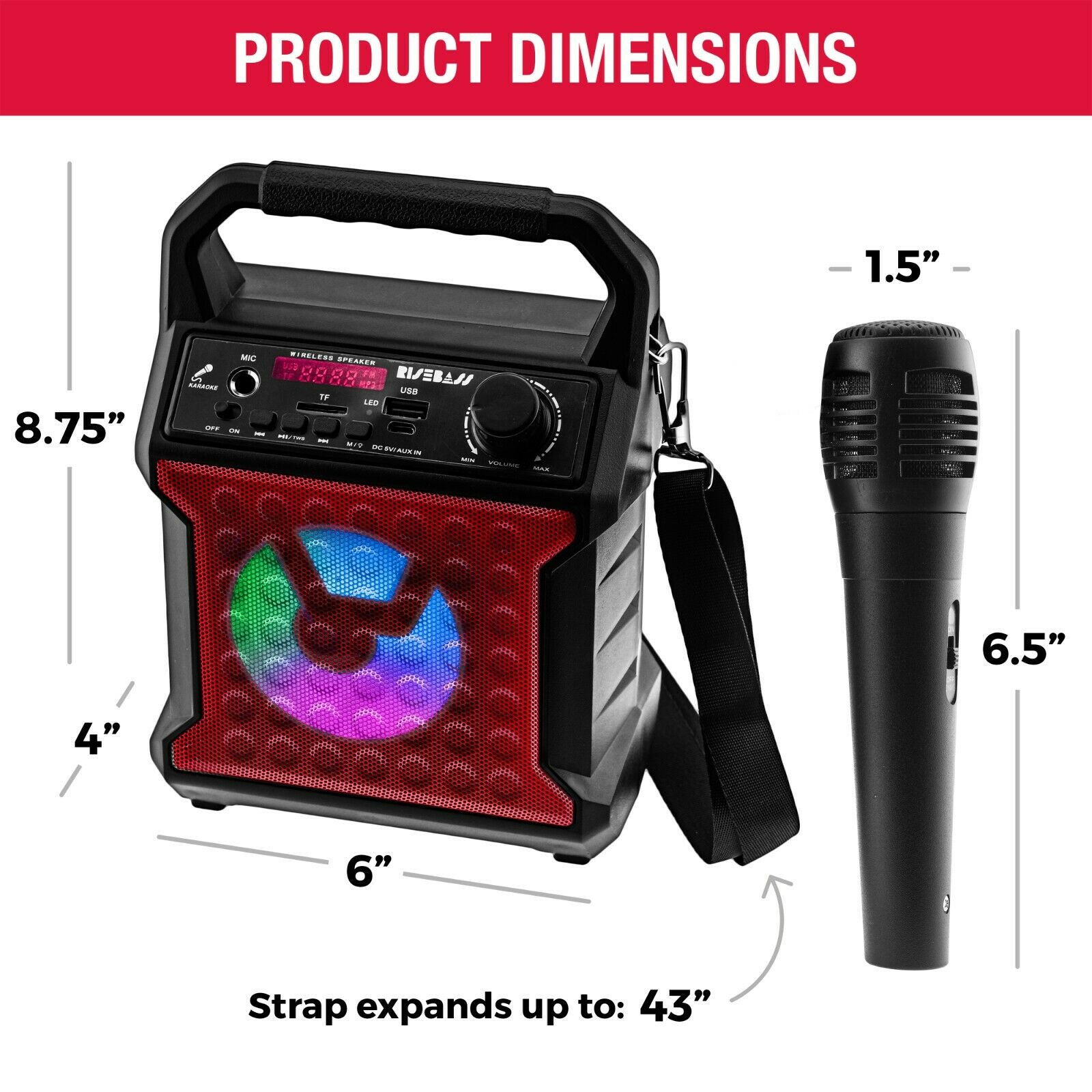 Review for BringoSing
"We found this mini karaoke machine while we were searching for party stuff. It's lightweight, it runs for hours, and it sounds like a big karaoke machine with speaker. It comes with a wireless microphone, too. The set surely is a must-have if you love fun and the party vibe. This karaoke machine can give that to you."
Packcage Include
1*bluetooth speaker
1*microphone
1*shoulder strap
1*microphone cable
1*charging cable