Do you want to ensure the safety of your family and property by detecting potential gas leaks before they become dangerous? Look no further than the LeakHawk Portable Gas Leak Detector.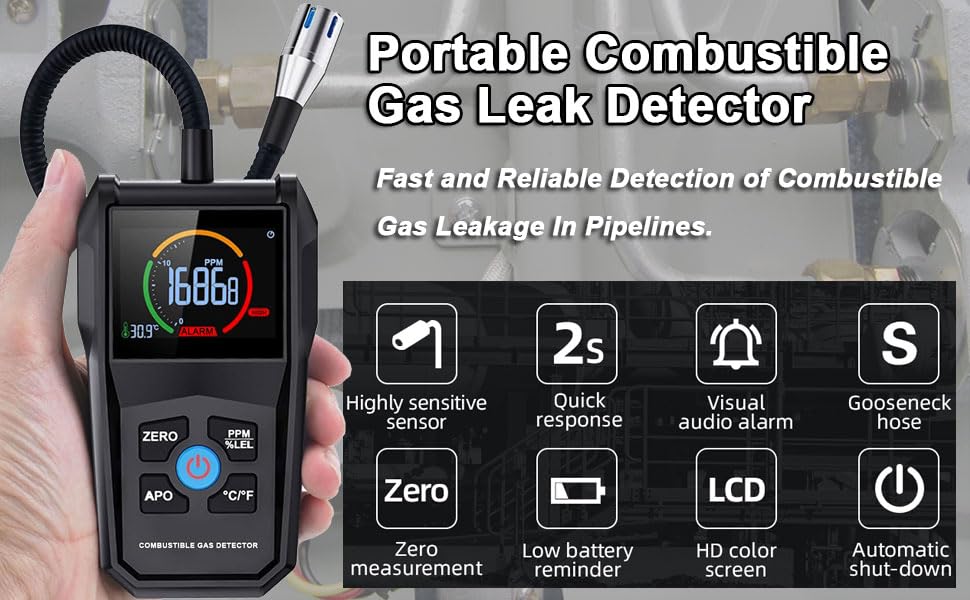 The LeakHawk is a versatile and reliable tool that can detect a wide range of combustible gases, including methane, natural gas, propane, ethanol, coal gas, and more. With its high sensitivity and quick response time, you can rest assured that you'll be alerted to even the smallest gas leaks.
Featuring a color LCD display, audible and visual alarms, and a flexible probe, the LeakHawk is easy to use and provides accurate and reliable gas detection. Its HD VA reverse color screen shows gas concentration and device status in real-time, giving you peace of mind knowing the exact gas concentration in the air of your home at all times. And with its high-precision sensor and automatic calibration, you can trust the LeakHawk to deliver accurate and reliable gas leak detection.
Whether you're a homeowner, professional, or real estate agent, the LeakHawk is a must-have tool for detecting gas leaks and reducing the risk of potential accidents and injuries. So why wait? Add the LeakHawk Portable Gas Leak Detector to your safety toolkit today and enjoy the peace of mind that comes with knowing your home and family are protected.
Detects a Wide Range of Combustible Gases: The LeakHawk can detect a large number of flammable gases, including methane, natural gas, propane, ethanol, coal gas, and more. It helps pinpoint potential sources of gas leaks and reduces the risk of gas explosions.
Audible & Visual Alarms: The LeakHawk features audible and visual alarms that alert you when gas leaks are detected, with a red alarm indicator on the screen and a buzzer that sounds when the measurement value is above 12500 PPM or 25% LEL. It also has a backlight screen, temperature measure C/°F, low-battery indicator, and auto power-off after 10 minutes of inactivity.
High Sensitivity & Quick Response: The LeakHawk has a larger measuring range than common detectors, with a range of 1-50000PPM or 1%-100%LEL sensitivity, and it can detect changes in concentration down to 0.01 PPM. It has a quick response time within 2 seconds and is automatically calibrated in 30 seconds after startup.
Color LCD Display & Flexible Probe: The LeakHawk has a large 2.6" color screen that displays gas concentration and device status in real time, and an 11-inch flexible probe that allows users to detect gas leaks in hard-to-reach places quickly and easily. It's also small and easy to carry, making it convenient for daily home safety inspections or for use in professional settings.
High-Precision Sensor & Wide Application: The LeakHawk uses a high-precision gas sensor for accurate and reliable gas leak detection, and is suitable for gas pipeline leakage detection, domestic gas prevention, oil and gas exploitation, tunnel and mine operation, chemical industry, biochemical medicine, and more. Its 50-50000PPM gas measuring range makes it suitable for a wide range of applications.
Easy to Use and Carry: The LeakHawk is made of high-quality ABS material and is durable and reliable. Its portable size and lightweight design make it easy to carry, and it comes with a storage pouch for convenient storage. Its simple three-button design makes it easy to set up and operate, even for those without technical expertise.
Gas Measurement Range: 1~100% LEL / 50-50000 PPM
Temperature Measurement: 050℃ / 32122℉ ±(2℃/4℉)
Measurement Accuracy: ±5%FS
HD VA Reverse Color Screen: Yes
Calibration Mode: Automatic calibration after starting up for 30 seconds
Auto Power Off: About 10 minutes
Type of Alarm: Sound, Screen Display
Warm-up Time: 30 sec
Response Time: <2 seconds
Length of Flexible Metal Hose: 270MM / 10.63IN
Working Temperature: 050℃ / 32122℉
Working Humidity: 0~70%RH