Get The Exact Gas Leak Concentration in Under 2 Seconds with GassoTect's Highly Sensitive Gas Detector and Ultra-Precise Sensor That Will Send the Alarms At The Faintest Trace of Gas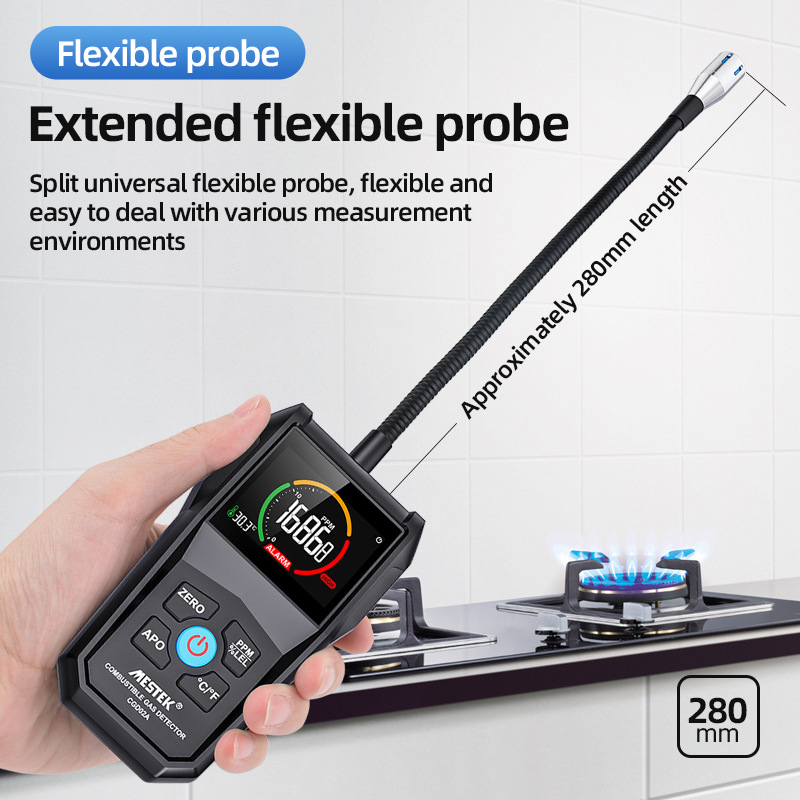 The Gas Detector with Topnotch Sound and Light Alarm System, Flexible Probe for Scanning a Bigger Room, and New and Improved Processing Chip That Can Pick Up All Types of Gases!
This gas detector is a highly-recommended device for home and work use.
This gas detector is suitable for gas pipeline leakage detection, domestic gas prevention, oil and gas exploitation, tunnel and mine operation, chemical industry, metallurgy, refining and chemical industry, biochemical medicine and other industries.
The GassoTect works for all types of gases and alcohols that might cause explosion and poisoning once not detected. The flexible probe of the device allows for a wider-range of detection.
The high-precision, ultra-sensitive sensor of the GassoTect enables you to catch gas leaks in as fast as 2 seconds!
GassoTect Gas Leak Detector Features
The gas leak detector that can pick up traces of multiple types of gases and alcohols. Detects a large number of flammable gases, like methane, natural gas, propane, ethanol, coal gas, propane, benzene, ethylene oxide, hexane, N-butane, ethylene and more. You will never miss anything! Can be used by homeowners, professionals, or real estate agents. Reduce the risk of gas explosion and protect your family's life and property safety.
The quick-response device includes a highly-sensitive detection chip that makes it possible to get results in just 2 seconds! 1-50000PMM or 0.1%-100%LEL alarm range can pick up gas traces no matter how small they are. Results are in in just 2 seconds.
Clear, easy-to-read LED display screen helps you never miss any important warning. Large colorful LCD display gas concentration and device status in real time, so that you feel much safer when know the exact gas concentration in the air of your home at all times.
Comes with a powerful, reliable sound and light alarm system. Alarms continuously with tone and LCD display bar change and show actual concentration when detecting gas leak.
Low-power consumption is in the design of the GassoTect. Batteries can last up to 50 hours of use. Use batteries to operate and has a low-battery indicator( 3pcs AAA batteries not included). Power-save modes,auto power off after about 10 minutes if there are no operation and measurement signal.
Flexible Probe & High-precision Sensor. 11inch Split universal flexible probe, flexible and easy to deal with various measurement environments. One hand operate, easy to carry. Look for a detector that can sense even the smallest amounts of gas or else you could be unknowingly exposed to a toxic substance. Allow users with the ability to quickly and easily detect gas leaks in most hard-to-reach places around appliances.
The gas leak detector you can use for home, school, work, garages, kitchens, and commercial spaces. The GassoTect is versatile! Hold this handheld detector in the area where you think there might be a leak and wait for the device to display the current gas levels. Widely used in detecting gas leak of lawnmower, your basement, RV, factory workspace, gas stove, water heater and other household devices at home to secure safety. Safe and reliable gas leak Tester.
Specifications
Detection gas: natural gas, coal gas, liquefied petroleum gas
Detection flow: 1L/min (minute)
Gas Resolution: 1%LEL/1PPM
Temperature Resolution: 0.1°C/0.2°F
Gas measurement range: 0-100%LEL/O-500OOPPM (automatic)
Temperature measurement range: 0~50C/32~122F ±(2C/4F)
Power: 1.5V X 3AAA( not included)
Measurement accuracy: ±5%FS
Sampling method: Diffusion
Response speed: 2 seconds
Calibration method: automatic calibration for 30 seconds after power on
Automatic shutdown: about 10 minutes
Color VA Reverse Display: Yes
Alarm mode: sound, screen display
Warm-up time: 30 seconds
Working current: 190mA
Working temperature: 0-50°C
Working humidity: 0-70%RH
Storage environment: -10~50C ( 5%---95%RH )
Flexible metal hose length: 280mm
Size: 130*73*33mm
Weight: 230g
Packing list
1 * gas detector(3 AAA Batteries are not included.)
1 *carrying bag
1 * user manual