This Triple Monitor Stand is a lifesaver for people working with multiple monitors.

Stable, Easy to Use, and Perfect Height

to increase productivity and end unhealthy sitting positions!
People complain about having multiple monitors to work with is stability. If you've used VESA-mount triple monitor stands before, you'll know how uncomfortable it is if you can't get the proper viewing position regardless of how much you set it up.
With WorkiManni, achieve the best viewing position right away without worrying about tipping over or stability issues. Our design caters to hustlers that hate complicated setups. You can create the perfect arrangement for your monitors right off the box.
Includes:
✅ 2 slots for your phone and tablet
✅ Perfect Viewing Height
✅ Storage Space below for easy organization
✅ Stable and ABSOLUTELY NO TIPPING OVER!
Why Choose Us?
CREATED FOR TRIPLE MONITORS: We lengthened the middle part of the monitor stand to offer enough space for using 3 monitors together. The length of the triple monitor stand can be changed from 32" to 52", allowing you to arrange your devices according to your needs, e.g., dual monitor, laptop, tablet, lamp, phone, speaker, etc.
OPTIONAL HEIGHT INCREASE PAD: Designed with a detachable board in the middle, this monitor riser can keep your 3 monitors at the same height, avoiding visual disturbance and helping you work comfortably.
VERSATILE SLOT DESIGN: We upgraded the old laptop stand, adding slots for tablets, cell phones, and holes for charging cables. The new functions will bring you more convenience every day.
MULTI-ANGLE & MULTI-USE: You can change the angle between the sides and middle part to customize your workspace. This monitor stand serves as your triple or dual monitor riser, laptop riser, printer stand, and can even be a bookshelf.
EXTRA STORAGE SPACE: This dual monitor stand comes with 3 shelves which can be used as a monitor stand with storage for your keyboard, office files, notebook, calculator, etc. It helps make your table clean & neat!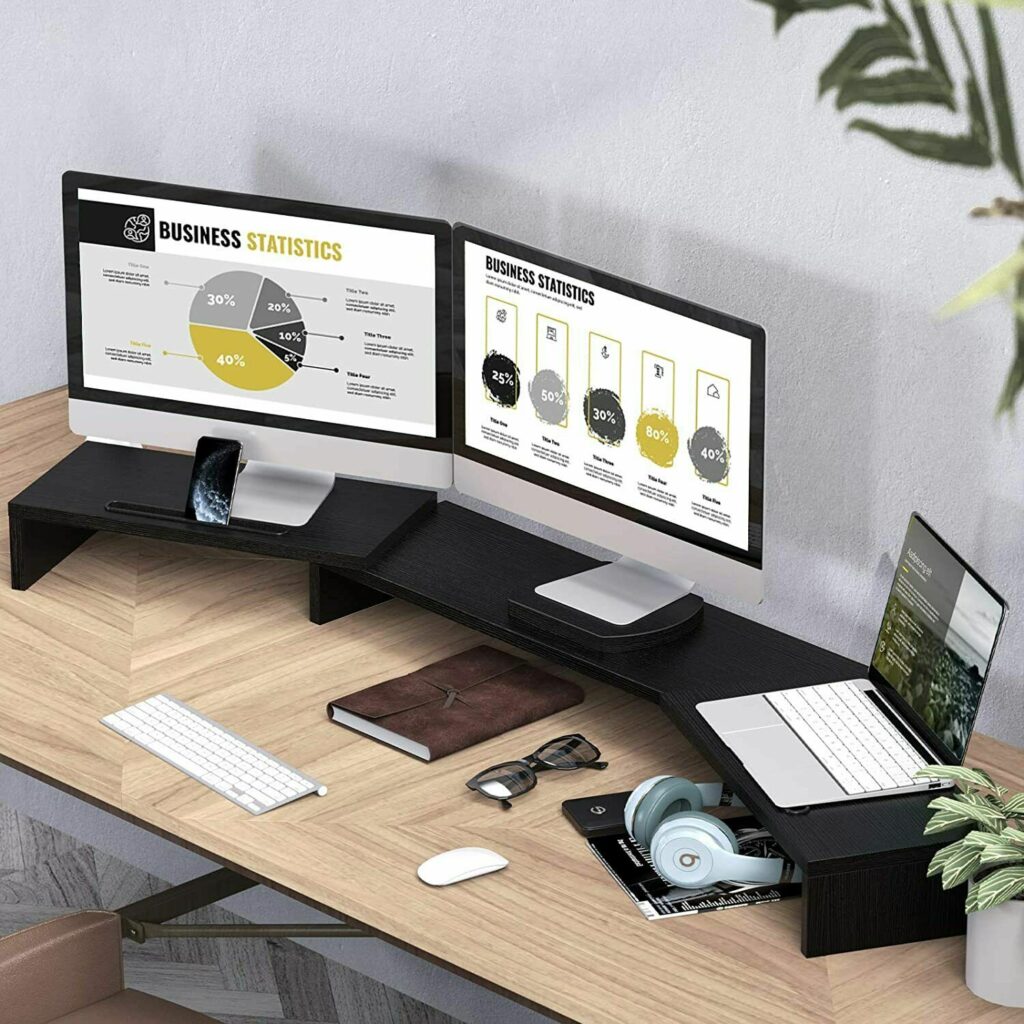 Our Triple Monitor Stand Gets the Job Done!
Question: Looking for an ideal solution for 2-3 monitors use?
Answer: The WorkiManni Monitor Stand is the perfect accessory to handle 2 to 3 monitors without viewing distortion. You can customize your working station according to your needs to increase productivity and end lousy posture.
Question: Do you want to keep 2-3 monitors connected at the same height?
Answer: With WorkiManni, YOU CAN! Unlike other stands, this one makes sure you see your monitors at the same height to prevent eye strain.
Question: Do you often bend over to work in an uncomfortable posture?
Answer: Getting yourself this monitor stand can end slouching and create the best viewing experience to end uncomfortable posture, back, and neck pain, and even decrease productivity!
Question: Looking for a desk to organize not just your monitors but also books and other stuff?
Answer: The WorkiManni is perfect no matter what you wish your office desk to look like. You can use it as a printer stand, laptop stand, or even bookshelf.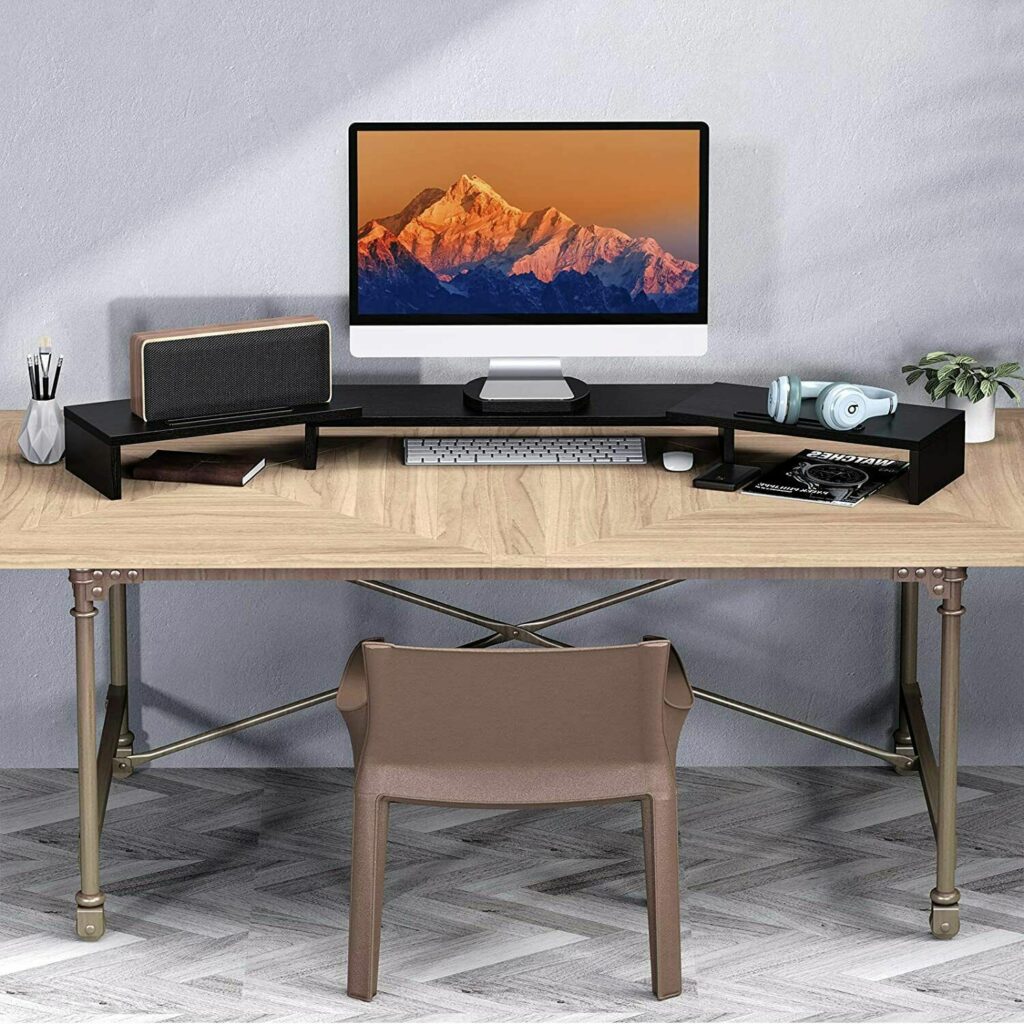 Features
High-quality material

Angle adjustable

Expanded form & closed-form as needed

Cellphone & tablet slot

1-minute easy assembly
Specific
Height: 3.5"

Width: 10.6"

Length: 42" - 52"

Color: Black