This Monitor Stand Will Save You From Bad Posture and Messy, Cramped Working Station!
Are you tired of consistently slouching while working on your computer? Or maybe you're looking to upgrade your current desk to tidy things up or promote a much healthier and more productive time spent in the office? If so, our SplitScreeners Monitor Stand is the perfect accessory to create the ideal viewing experience so that you can end those unhealthy slouching and back pain.
✅ Features 4 Different Viewing Modes for Reference
✅ Supports VESA-mounted or Grommet Hole Installation
✅ Easy to Use and Install
✅ Adjustable to Capture Your Best Viewing Experience
Install the SplitScreeners Monitor Stand According to Your Best Available Setup!
There's no need to overthink or spend more money on multiple accessories to achieve the best setup. With SplitScreeners, upgrade what's already there and enjoy a comfortable, stress-free viewing experience without worrying about stability or tipping over.
VESA Mounting via Tempered Glass Base: No punch, no problematic instructions. The dual-monitor bracket provides excellent stability to achieve your ideal viewing experience.
Grommet Mounting: If your working table comes with a grommet hole, you can easily opt to install the device to ensure a more stable monitor stand. NOTE: Your table should not be thicker than 8 cm if using this VESA desk mount. (Hole diameter: 1 cm-5 cm). Please avoid installing on glass tables.
What Makes the SplitScreeners the Best Choice?
✅ Efficient Cable Management — Less Messy!
Keep all cables from getting tangled while you work. The SplitScreeners Monitor Stand comes with cable clips on the arms and the base to collect and manage cables for a clean and tidy workspace.
✅ Removable VESA Plate
Mounting your monitors via VESA-mount is now easy with our removable VESA plates. You can remove the VESA from the arms, then attach it to the back of your screen and slide it back on the dual VESA mount.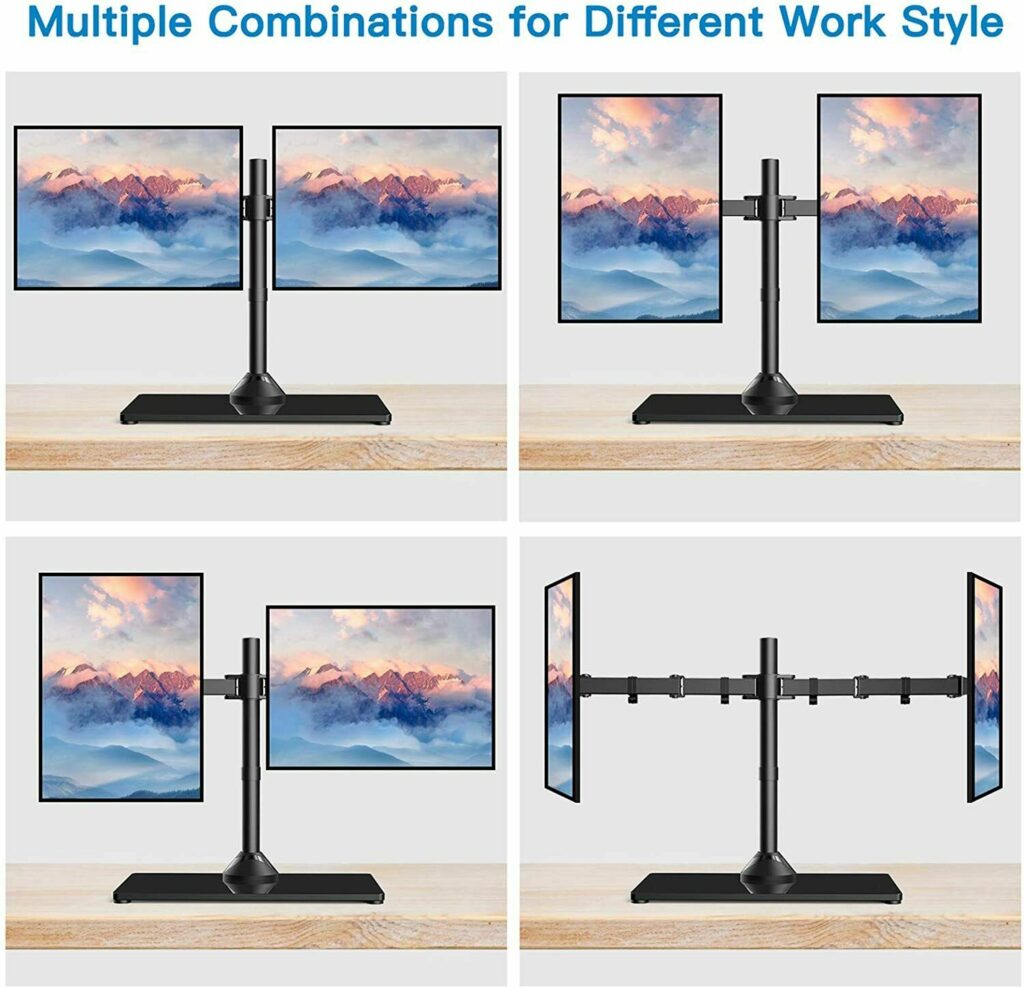 More Features:
Versatile Compatibility: The double monitor arm with a weighted base fits most LCD, LED flat/arc screens, and monitors from 13 to 27 inches for VESA mounting of double monitors. The double monitor stand can withstand a weight of up to 10 kg (22 lbs) per arm. Compatible with dual VESA monitor arms 75 x 75 mm and 100 x 100 mm, the plates of the monitor arms are removable and height-adjustable.
Fully Adjustable: This fully movable, adjustable dual screen mount can perfectly meet your office needs and offer you an excellent viewing angle. The double monitor desk stand is fully adjustable on a 17.7" high pole, +/-45° tilt, and 90° swivel to change the viewing angle and 360° from landscape to portrait mode. Various screen combinations can be realized to provide the most suitable working mode.
Ergonomic Comfort: Our monitor stand for two screens is easily adjustable for a more comfortable, ergonomically correct position to reduce and relieve your shoulder, neck pain, or eye fatigue to improve work efficiency. This twin monitor arm is not only ideal for homes, dormitories, and schools but also for businesses, offices, IT networks, production facilities, etc., from the twin monitor stand.
Easy to Assemble: The monitor arm table mount is easy to assemble, supporting both the free-standing base and grommet kit. The sturdy, toughened glass base measures 16.5" x 10.2" and is padded at the bottom. The 2-screen monitor stand provides additional support and increases stability on dual monitor stands. If a hole on your desk (desk thickness up to 8 cm), it can also be fixed firmly with the eyelet attachment.
Space-Saving & Tidy: This double arm monitor mount frees up your desk space by lifting your screens. With the extra space, you can place other objects and increase the utilization of your desk. In addition, cable management can keep your desk straightforward. Our double monitor holder's simple and elegant design fits perfectly with your office environment and makes it modern and fashionable.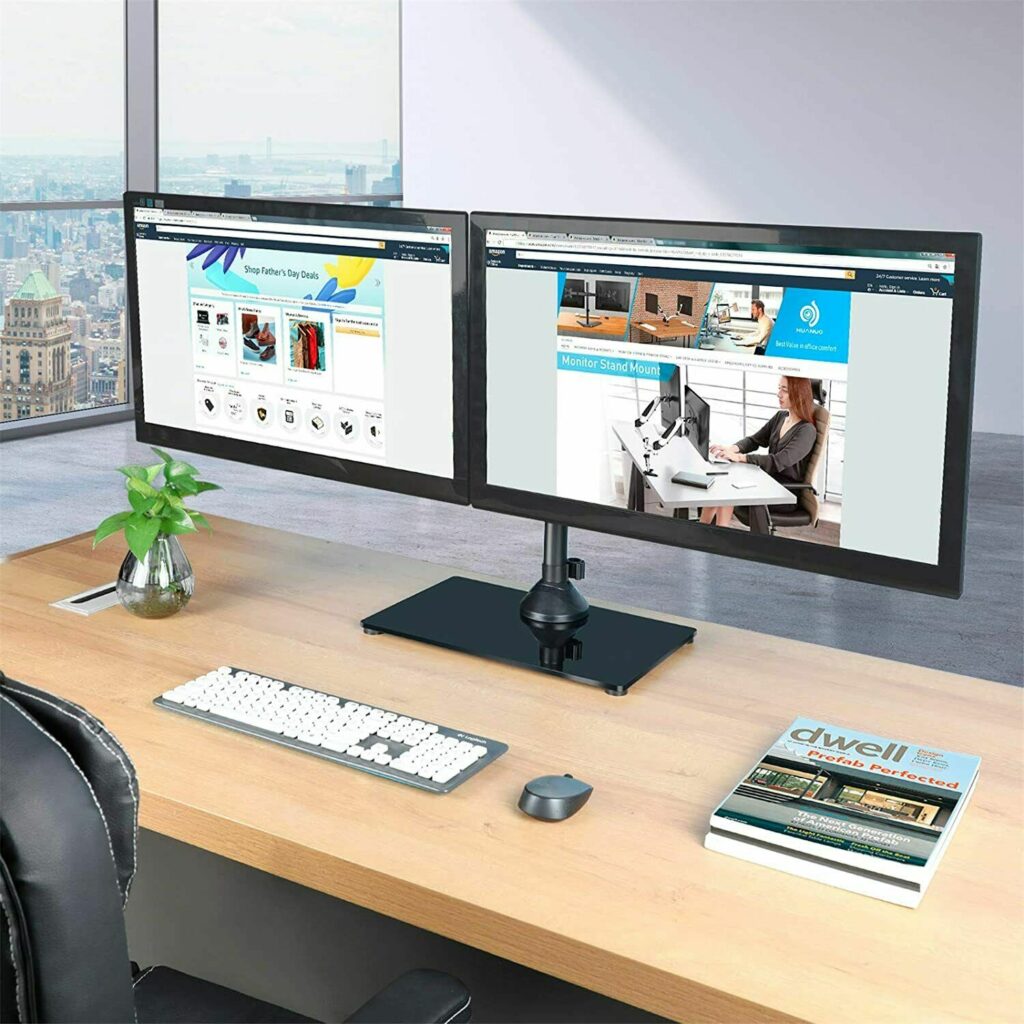 Specifications
Fit Screen: 13" - 27"

Load Capacity per arm: Max. 10 KG
Material: Steel
VESA: 75x75mm and 100x100mm
Screen Rotation: 360°
Screen Swivel: -90° - +90°
Screen Tilt: -45° - +45°
Mounting Options: Stand / Grommet Mounting
Height Adjustable: Yes
Product Dimensions:  46.6 x 27.8 x 18.4 cm
Product  Weight: 5.38KG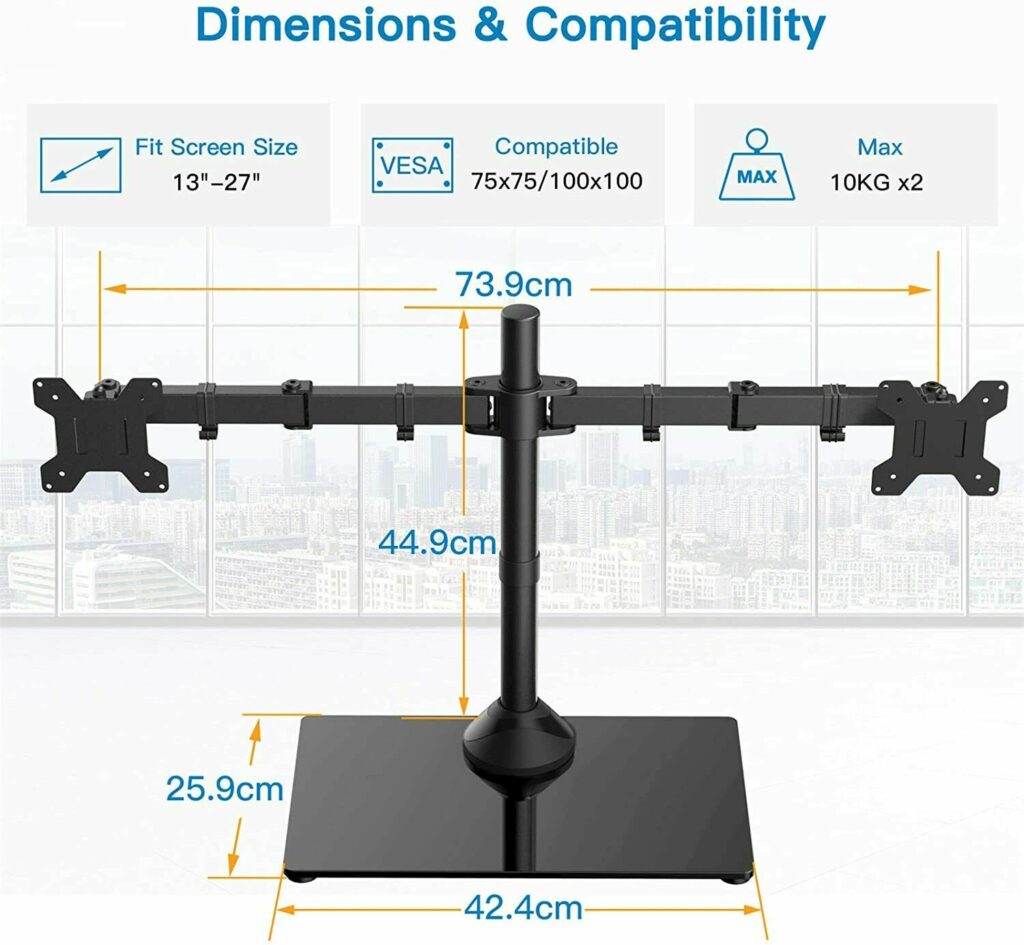 Package Includes: