Office Workers and Freelancers Love this Monitor Arm Because it's Stable and Posture-Friendly! Now, You Can Experience a Stress-Free Work Station with this Highly-Reviewed Accessory from SmartPosts Today!
We've all experienced painful back and neck pains when working in front of our computers all day. There's so much slouching going on, and the more we work to finish our tasks, the more we feel the unbearable strain on our bodies.
But that ends today.
Our SmartPosts Monitor is designed to make the best viewing experience to ensure you work with a healthy posture. With the ability to raise or lower the height of each monitor, this life-saving accessory can eliminate the annoyance of unaligned monitors and help you create the most comfortable working position to boost productivity and lessen discomfort.
Get this SmartPost Monitor Arm today and say goodbye to back and neck strain!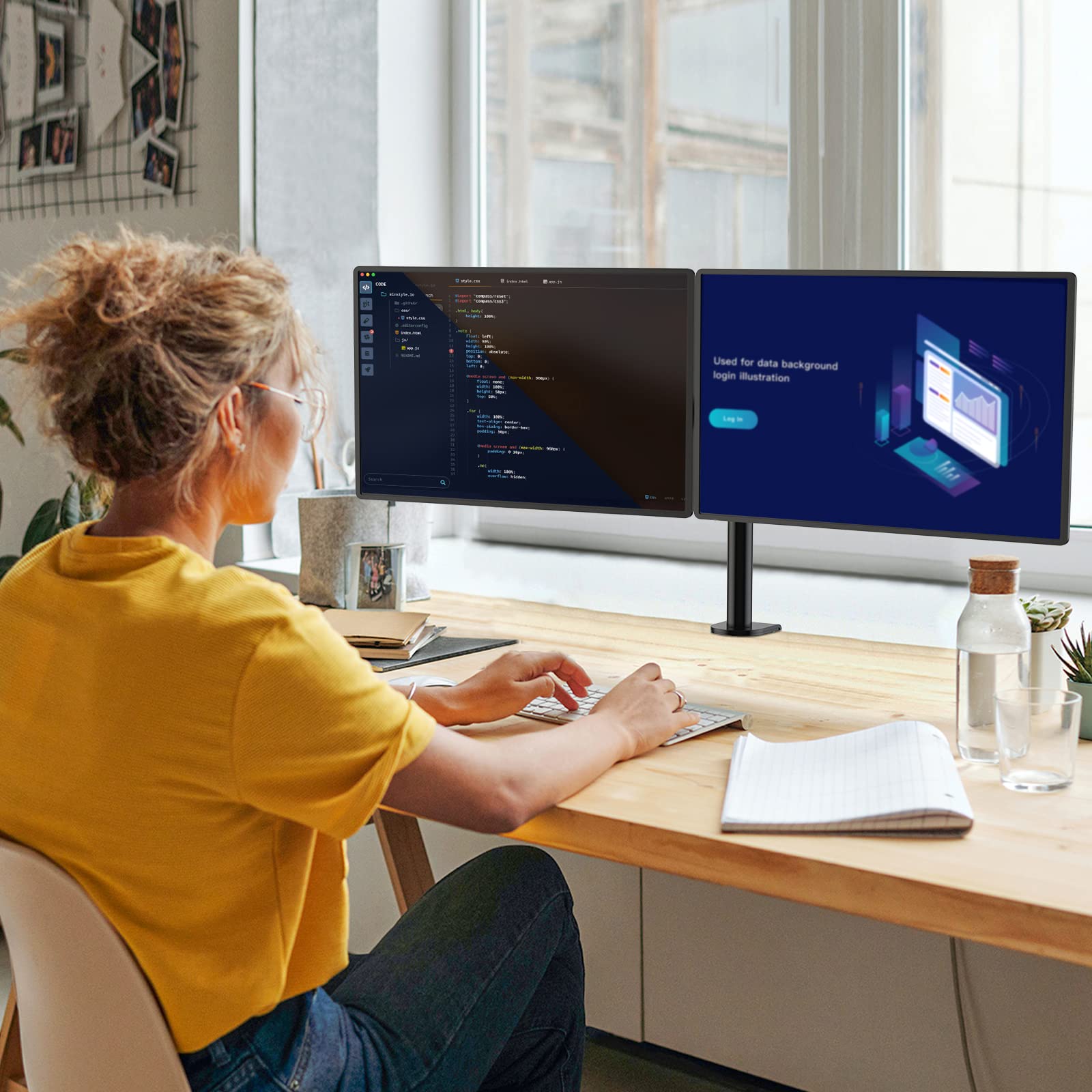 Why Choose Us?
The SmartPosts Dual Monitor Arm raises your monitors to an ergonomic position to help you work more efficiently. Designed for performance, this mount is made from high-strength steel for durability and includes both clamp and grommet installation components to fit a variety of desktops. The arms can be raised and lowered on the pole for easy height adjustment. Tilt your screen at 90 degrees up and down, or swivel it to 180 degrees up and down to find your most comfortable reading. And with integrated cable management, it keeps your cords off your desktop to guarantee a tidy workspace.
Features:
Double Monitor Support: Mount two screens side by side to conveniently free up desk space. Support two 13"-27" monitors or screens with a maximum load capacity of 10kg/22lbs for each arm.
2 Kinds Size of VESA: This mount will fit screens with VESA dimensions of 75 x 75mm or 100 x 100mm. (Please check your monitor's compatibility before purchasing). VESA plates are quick to fit and detachable for easy installation.
Adjustable Angle & Position: Featuring+90°/-90° tilt,180° swivel, and 360° rotation for great flexibility; Maximum arm extension length of 38cm/15in per arm, height adjustable for optimum viewing angle; perfect for multi-tasks, designers, white-collar workers, and gamers alike.
Easy To Install via Desk Clamp: The heavy-duty 'C' clamp (fits desk thickness up to 11.5cm/4.5in) offers supreme stability, keeping your screen fixed firmly and safely.
Specification
Screen Sizes: 13" - 27"
VESA Compatible: 75x75, 100x100
Monitor Weight Capacity: 22 lbs (per screen)
Tilt: +90°~-90°
Swivel: +180°~-180°
Screen Rotation: 360°
Pole Height: 17.7"
Material: Steel
Package Contents: