This Monitor Arm will help you create the best working station to boost productivity and minimize stress.
Does your office setup feel cramped or messy? Or maybe, you're complaining about back pain because of excessive slouching? No matter what you're struggling with, here's an excellent accessory to make your office or at-home setup better and healthier!
Our InTrax Pro Monitor Arm is designed to clear up valuable workspace on your desk and ensure an ergonomic viewing experience for you. With its easy to install setup and high-grade construction, you can mount your monitor according to your needs. You can use it as a stand for your standing office desk with adjustable height. Or, you can tilt or rotate to create the perfect position for designing, coding, or performing checkouts for your small-time business.
The InTrax Pro Monitor Arm is your simple solution to make all-things office work seamless!
Advantages of InTrax Pro?
✅Tilt: -15 to +15°
✅Swivel: 360°
✅Rotate: 360°
✅Height Adjustable
✅Ultra Heavy-Duty "C" Clamp
✅Integrated Cable Management System
✅Supports Portrait or Landscape Mode
✅Fully Adjustable Arm
Compatibility:
Fits most 13" to 32" screens. Also compatible with Ultrawide screens up to 38."
This is a standard VESA mount with 75 X 75 and 100 X 100 mounting holes
Supports screens up to 22 lbs
What makes the InTrax Pro the PERFECT Accessory for your office or at-home setup?
#1. Full Articulation and Extension
With InTrax Pro, enjoy endless positions and angles to position your screen with our fully articulating 17.5-inch arm with 15° tilt, 360° swivel, and 360° rotation. You can loosen or tighten each joint for smooth arm movement and transfer the monitor between portrait and landscape positions by hand to create the perfect viewing experience. And when not in use, you can move the monitor back to tidy things up.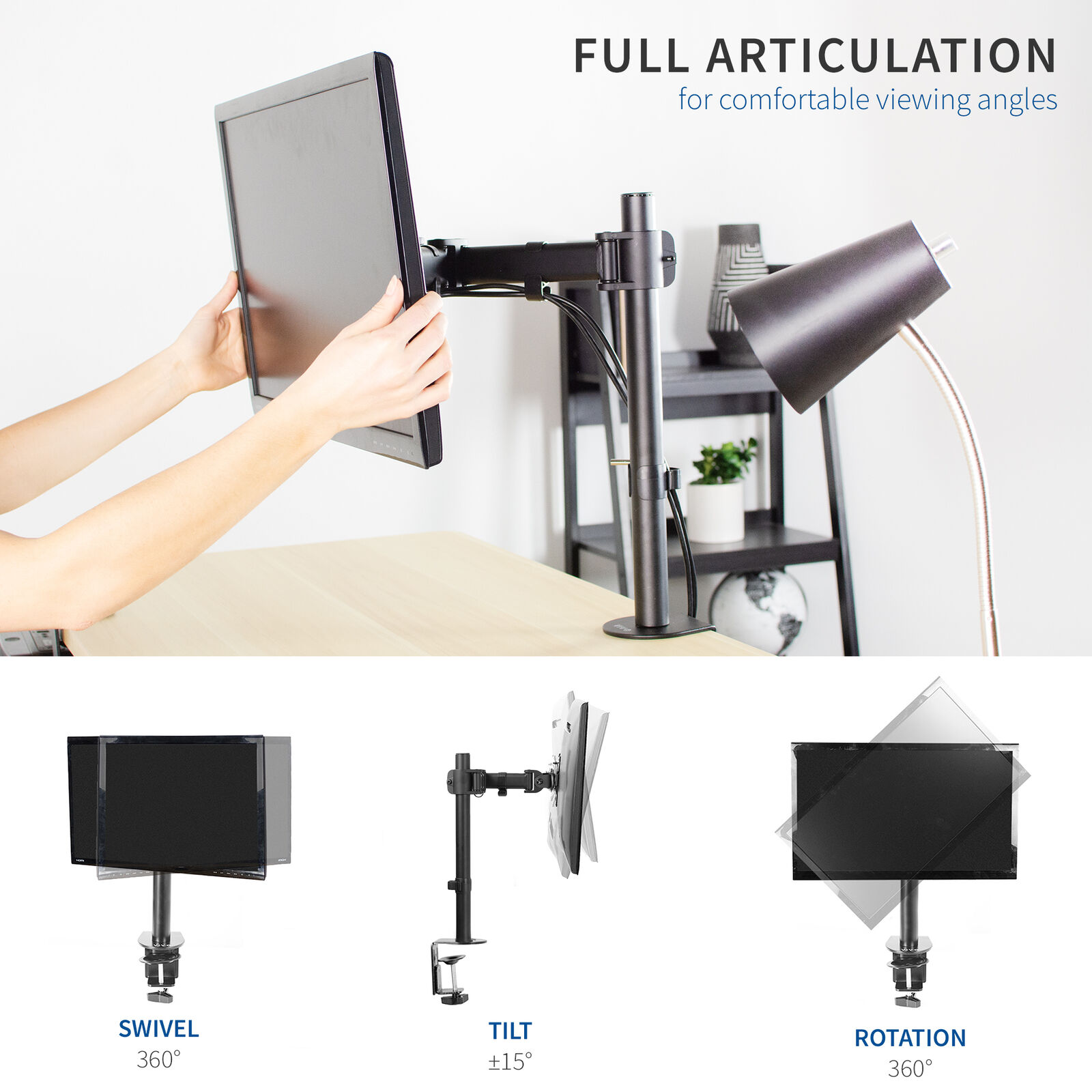 Ergonomic Screen Position
The best thing about having the InTrax Monitor Arm is to raise your screen to achieve a suitable eye-level position, encourage proper sitting posture, and help reduce neck and back pain. Loosen the screw on the back of the arm to raise or lower the monitor's height along the 17.5" center pole. (This can be done before or after the monitor has been mounted).
By tilting and swiveling the monitor, it can help eliminate uncomfortable lights and reflections from nearby windows and other light sources to help boost your productibility even further!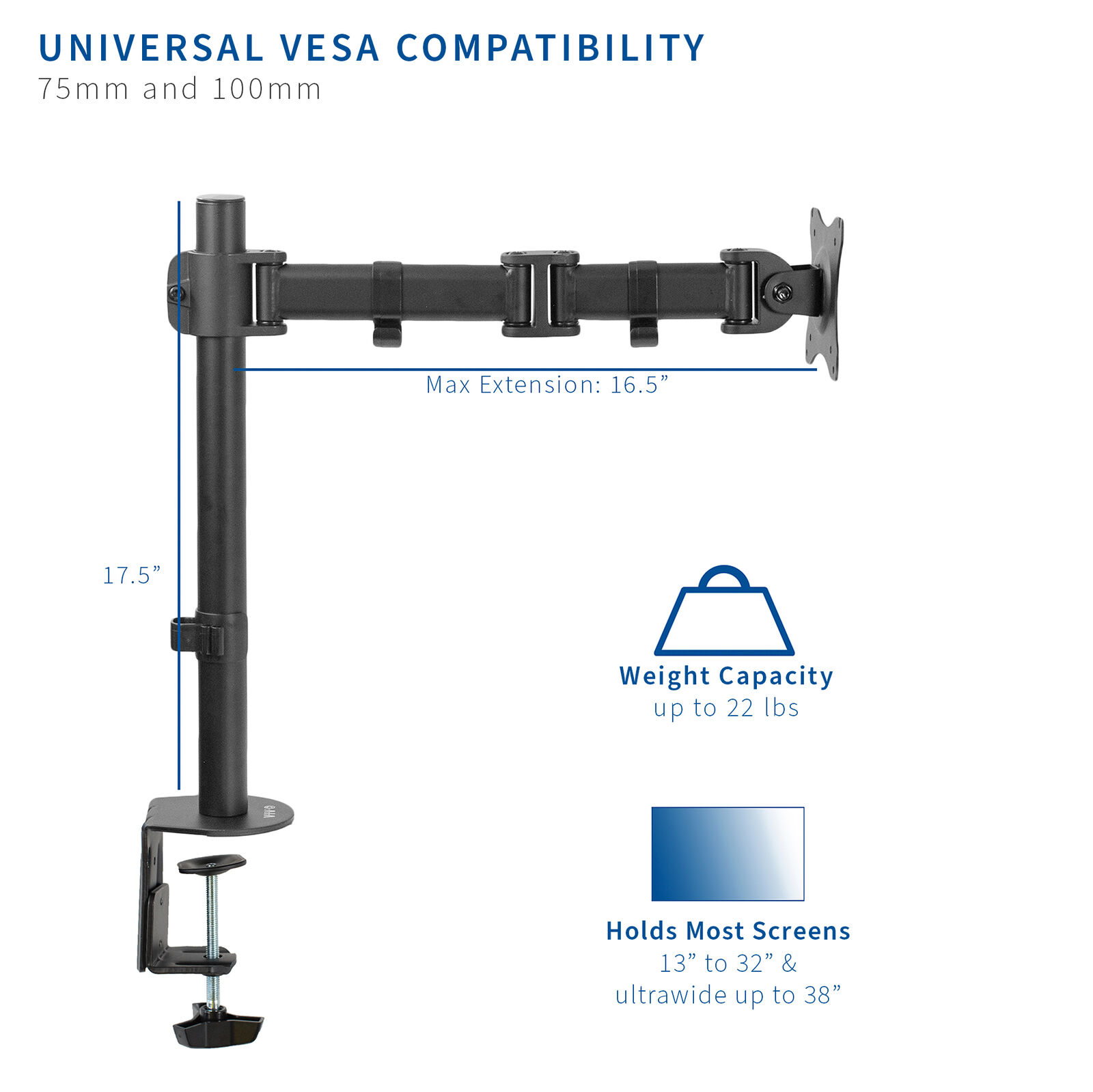 Bracket with C-clamp and lock washer
Enhance workflow and productivity by attaching to the back of or across your desk, freeing up space that a monitor's original stand can take up. The C-clamp connects by simple hand tightening and can be mounted to any desk with 3.25" or less thickness. The grommet option can be used with desks with holes to secure them.
Cable Management
Detachable cable management clips attach to the arms and center post keeping AV and power cables neat and organized. Center pole cable management features slots to store provided hex tools. The total arm length reaches 16.5" with a 17.5" center post. Also included are both C-Clamp and Grommet mounting options that fit various unique desk systems.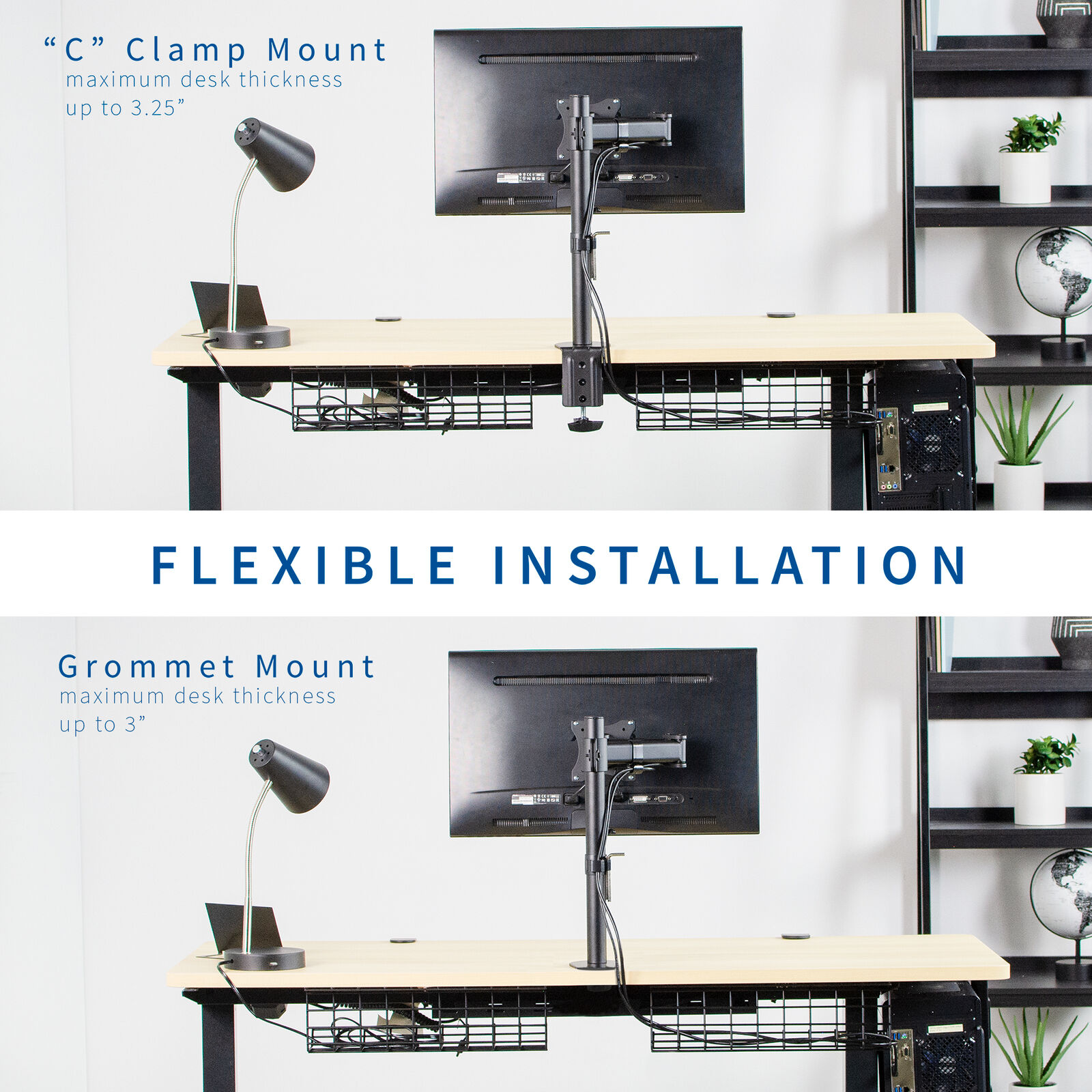 Package Includes: