Is your productivity dropping because of back and neck pain or eyestrain? This Monitor Arm from DeskCase might be what you need to promote healthy posture and work pain-stress-free for long hours!
Correct ergonomics for your workspace and proper posture are essential to eliminate back and neck pain and boost productivity. So if you're working long hours on your computer, our DeskCase Monitor Arm is your practical solution to make your office or freelancing jobs posture-friendly and healthy.
The DeskCase Monitor Arm adjusts according to your needs. You can rotate up to 360° to achieve your desired comfort level. And with its durable and heavy-duty construction, you'll never have to worry about tipping over or an unaligned monitor.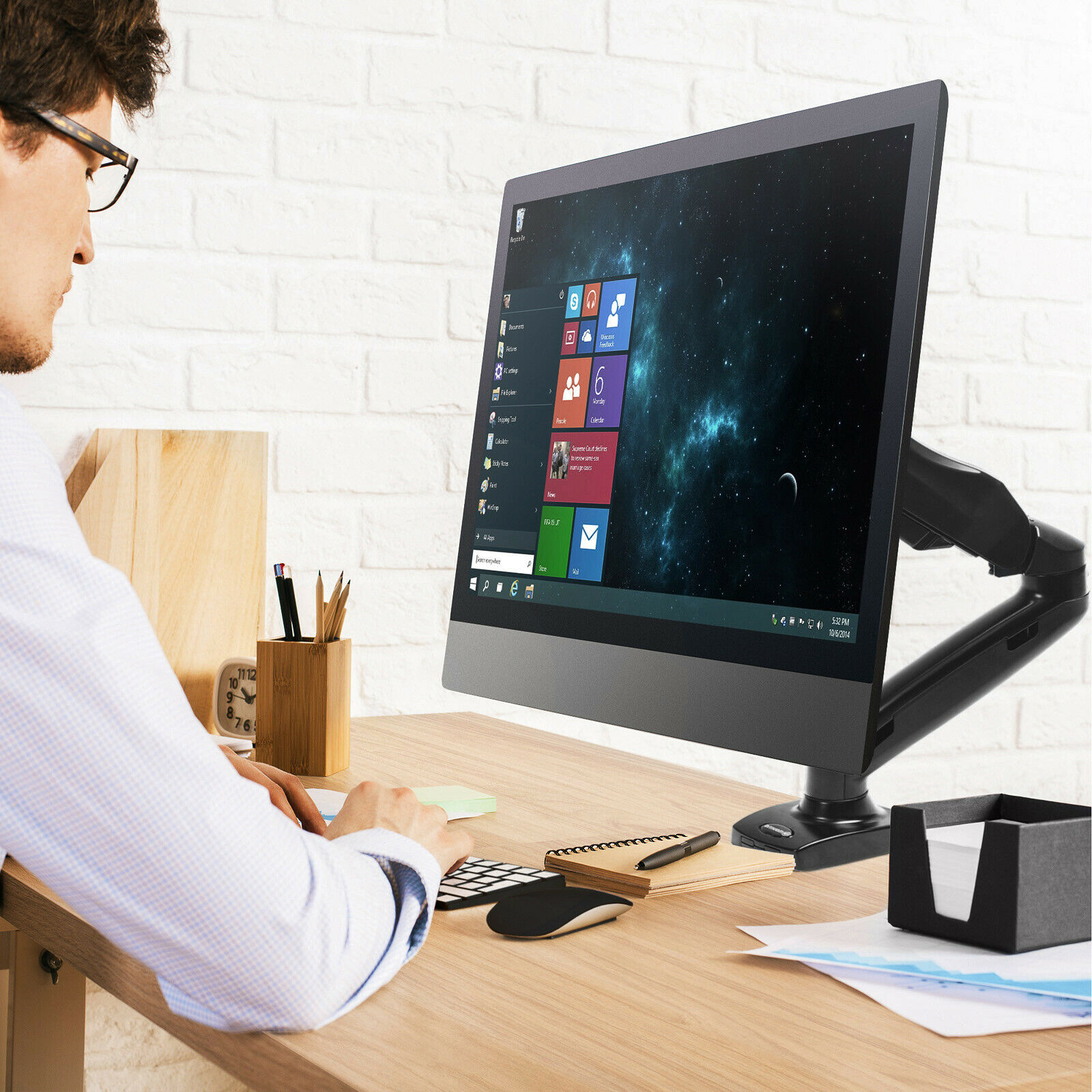 Features:
FULL MOTION MOUNT: The screen can be tilted and rotated in any direction — up to 35 degrees and down 50 degrees with a combined 360-degree landscape rotation.
UNIVERSAL FIT: Compatible with most 17" - 27" flat panel monitors/screens weighing from 4.4 lbs to 13.2 lbs. VESA compliant from 75 x 75mm to 100 x 100mm.
FULLY ADJUSTABLE: A gas spring system ensures one-touch positioning of the screen in any desired setting. Note: the desk mount can be adjusted after a screen/monitor is mounted upon it.
STABLE: Item ships with all needed hardware for C-clamp mounting on any working surface or grommet installation. High-quality materials and solid construction ensure an extremely sturdy mount.
COMFORTABLE AND VERSATILE: Easily adjustable to the most comfortable monitor height and viewing angle for work, leisure, or gaming.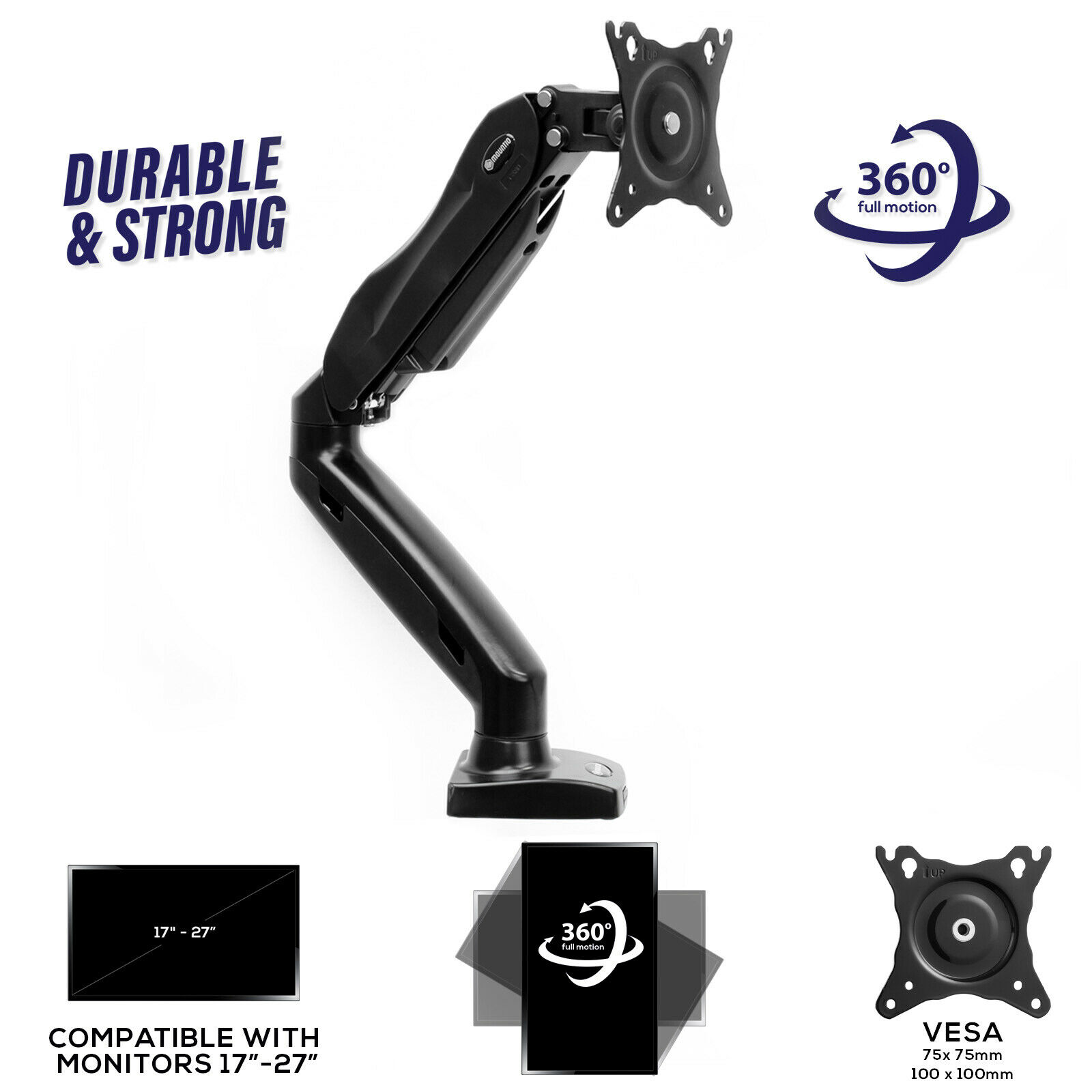 DeskCase is a Top Choice among office workers and freelancers!
The single-monitor mount allows your monitor to rotate from -90° to +90°, making your workspace more convenient and efficient. It will enable the screen to tilt from -35 to +50° to find an optimal viewing angle and reduce glare to minimize eyestrain. You can freely adjust your monitor from landscape to portrait mode as it supports 360° rotation.
Why Choose Us?
✅Sturdy and Durable
You can mount monitors from 17" to 27" on this desk-mounted monitor arm worry-free (it's compatible with almost all screens). This desk monitor arm is aluminum to deliver a smooth surface and outstanding durability.
You can rotate this computer monitor arm; you get two rotating positions: horizontal and vertical. It lets you mount it on a desk, tabletop, and other surfaces to boost productivity and ensure an optimal viewing experience. (Our computer monitor mount gives you a minimal footprint, too).
The DeskCase Monitor Arm comes with easy installation, and drilling is not required. It's rotatable, so you can adjust the screen quickly and achieve any position without fear of tipping over.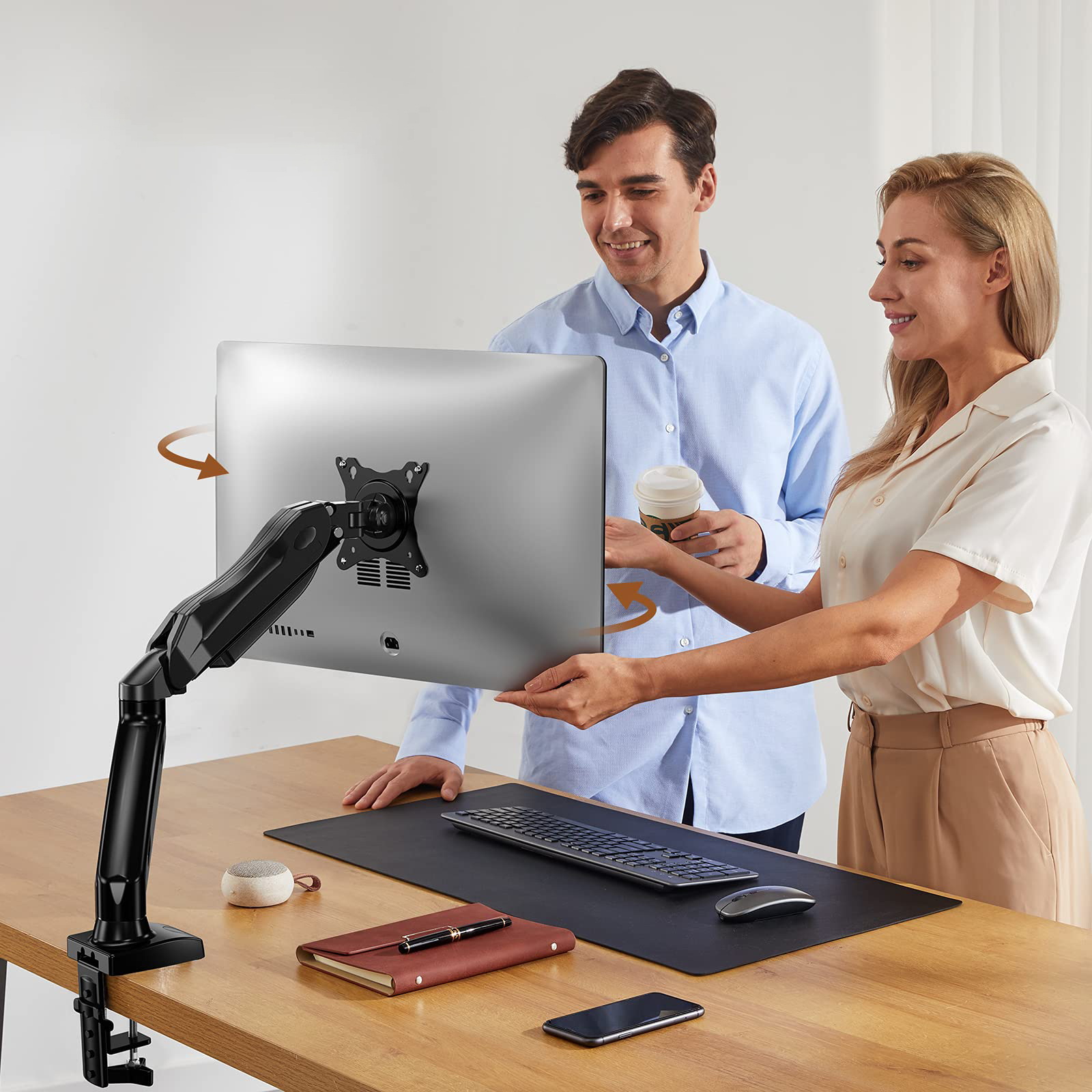 ✅Ergonomic Benefits
DeskCase's gas spring arm raises your monitor to eye level while sitting at your desk, improving your posture and reducing neck, shoulder, and back strain. Keep you comfortable and healthy while working at the desk.
Super Desk Organizer.
Keep your monitor on the stand-mounted to the edge of your desk or pass through a grommet hole, freeing up valuable space on your desk and making your workstation spacious.
Freely choose a comfortable position and angle.
Gas spring arms allow for smooth and free height adjustment. You can make your monitors stand at any height you adjust. Please note that changing the gas spring to the proper tension depends on the weight of your monitor.
Specification
To Fit Screen Size:17-27 in
VESA Size:75x100 mm,75x100 mm
Adjustment:Tilt & Rotate
Type: Stand
Color: Black
Package Include