Introducing the SkyTrance Galaxy Projector - the ultimate 3-in-1 star galaxy projector light that is designed to create a unique and unforgettable starry night experience. This latest and most unique star projector perfectly combines stars, wave, and nebula, projecting high-resolution stars that float like ocean waves quietly under the night. It stimulates children's interest in astronomy, inspiring curiosity, imagination, and creativity.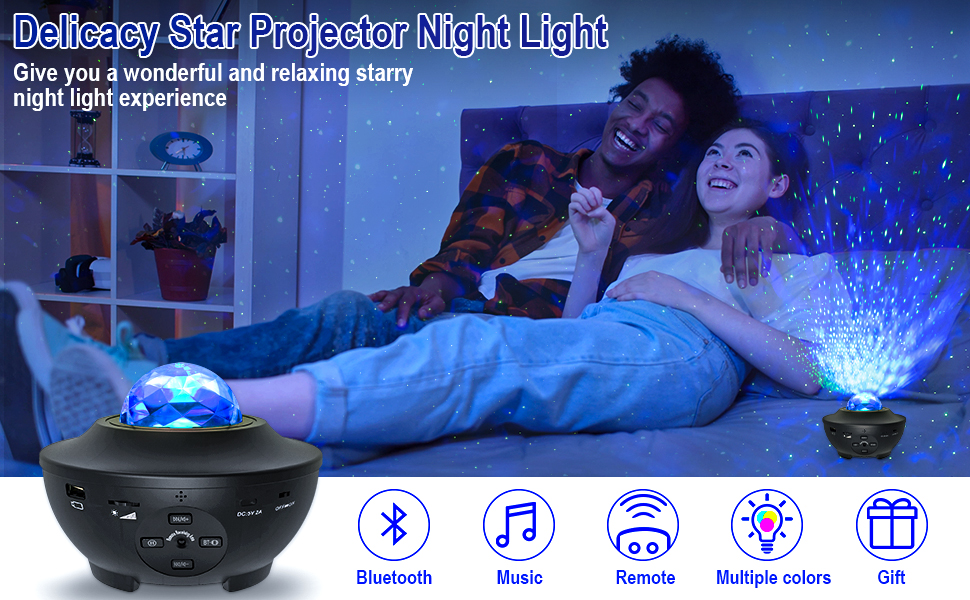 With built-in mini Bluetooth 5.2, this starry sky projector night light can be used with smartphones via Bluetooth, or the USB slot option. Not only a nebula projector, it also doubles as a music player, flickering the lights with the rhythm of the music, producing a richer starry projection effect! Listen to your favorite music, relax and practice yoga, fitness, or meditation to reduce work fatigue.
This night light has a romantic and fantastic starry and water wave projection effect and also features a sound-activated design, flash with the music or your voice, creating a relaxed, romantic, colorful space projection atmosphere. The latest sound control flashing mode means that as long as there is music, clapping, or other rhythms, the lights will flash according to the rhythm of the music, freely turn on/off the lights, change the light mode, and music songs to easily set the atmosphere.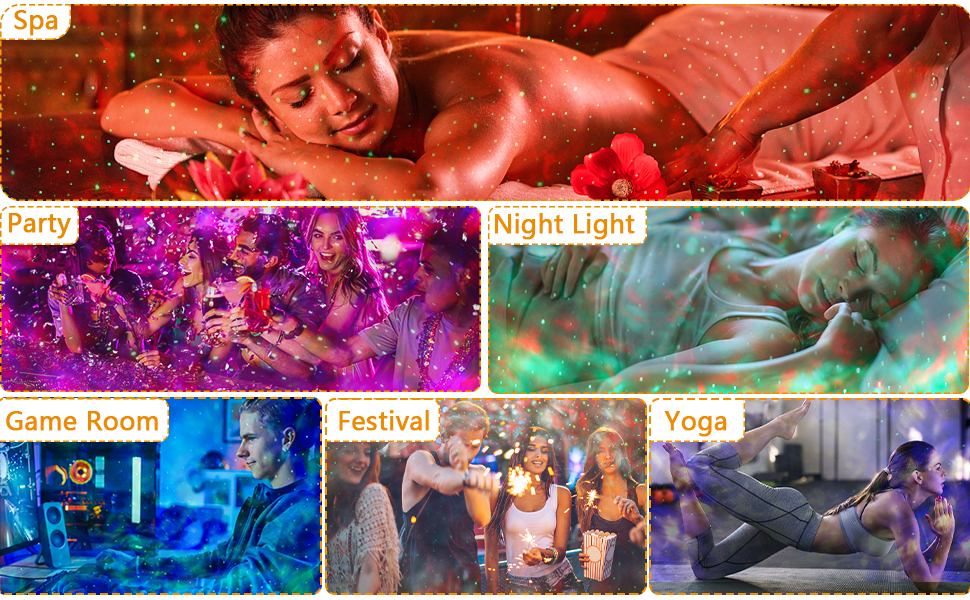 This multi-function design light projector is lightweight and convenient to carry everywhere, allowing you to bring a romantic star night for lovers or create a relaxing spa environment. It's perfect for homeroom, wedding, birthday, festival, Christmas, and decorative lights. So this means you don't need to buy many lamps, saving you money.
With an input of DC 5V/2A and LED Power of 2x3W, this star projector lamp can be powered by Power Bank, Computer, or AC Adapter. The packing list includes one LED Starry Projector, one Remote Control, one USB Cable, and one User Manual.
The SkyTrance Galaxy Projector is perfect for anyone looking for a unique, innovative, and versatile starry night experience. It creates a wonderful and starry atmosphere, inspiring curiosity, imagination, and creativity. It's also suitable for birthdays, parties, room decoration, children's day, Christmas, and anniversary gifts, helping children overcome darkness and fall asleep. Get yours today and experience the magic of the universe from the comfort of your own home.
Features:
3-in-1 star galaxy projector with wave and nebula effects
Built-in Bluetooth 5.2 and USB slot for music playing
Sound-activated design with flashing mode
Remote control for easy operation
Multi-functional design suitable for various occasions
Benefits:
Creates a unique and interesting starry night atmosphere
Stimulates children's interest in astronomy and inspires curiosity, imagination, and creativity
Doubles as a music player and helps to relax the body and mind
Humanized operation and sound control for easy customization
Lightweight and portable for convenient use anywhere
Suitable for various occasions, such as parties, room decoration, and gifts.