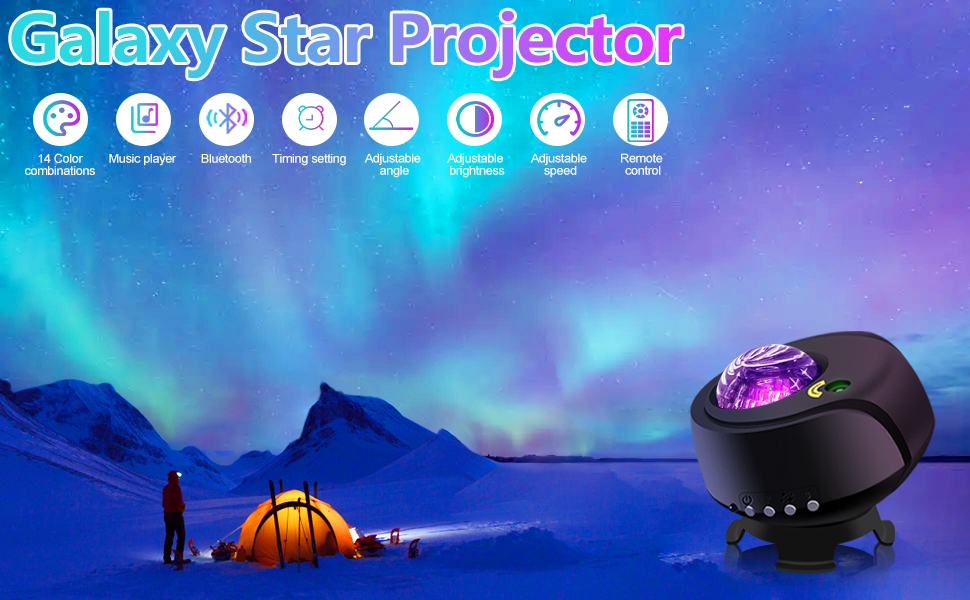 Are you looking for a new way to experience the beauty of the universe from the comfort of your home? Look no further than the GalaxiScope Galaxy Projector.
With its stunning sci-fi nebula and dreamy galaxy shapes, this latest star light will immerse you in the infinite universe like never before. Unlike other star projectors on the market, the GalaxiScope offers the largest light coverage, not just on the ceiling but throughout the entire room, flowing with light to give you a truly immersive experience.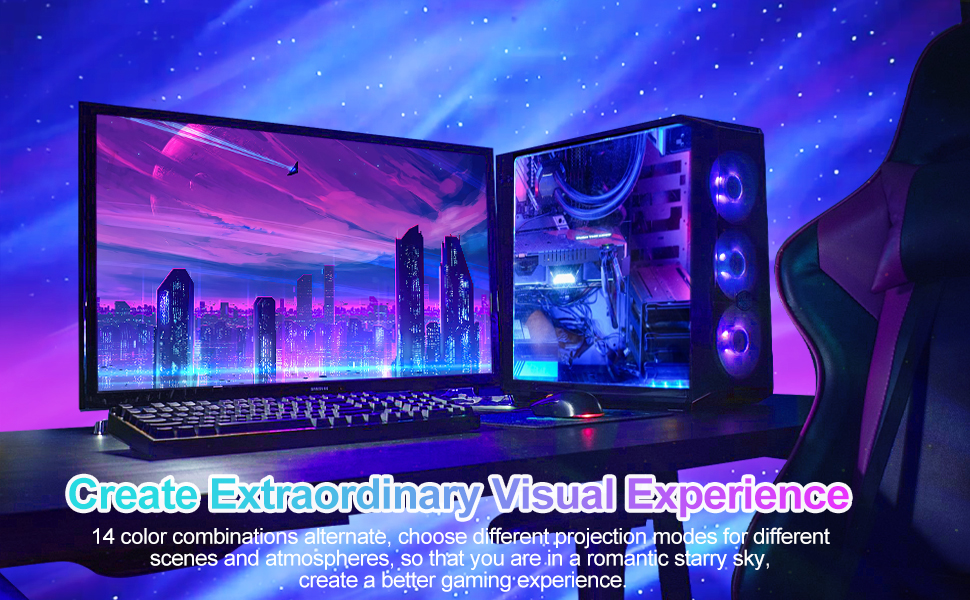 Not only is the GalaxiScope Galaxy Projector beautiful, but it is also packed with incredible features. Its built-in Bluetooth speaker allows you to connect to your phone and play your favorite music while enjoying the stunning light show. And with voice control, you can even have the projector dance to the rhythm of the music for a truly immersive experience.
But that's not all. The GalaxiScope also offers adjustable brightness and speed, with four levels to help you sleep more comfortably. With the timing function, you can easily set it to shut off after one or two hours or even automatically shut down after four hours for safety and power saving.
With the included remote control, you can easily switch between the 14 color combinations and activate or deactivate the northern lights and stars separately. Plus, the easy-to-use design makes it perfect for children and adults alike.
Experience the universe like never before with the GalaxiScope Galaxy Projector. Whether you're looking for a sci-fi surprise or a beautiful and romantic atmosphere, this projector has it all, with the added bonus of a high-quality Bluetooth speaker to take your experience to the next level. Order yours today and enjoy the beauty of the universe from the comfort of your own home.
Features:
Unique and sci-fi nebula and galaxy projection shapes
Large light coverage that extends beyond the ceiling
Multiple color lights with 14 combinations
Adjustable brightness and speed settings
1H/2H timing function with automatic shut-down
Built-in Bluetooth speaker for wireless music streaming
Voice control feature for added convenience
Comes with a remote control and USB cable
Benefits:
Immersive and dreamy projection shapes for a unique experience
Full room coverage for a more immersive atmosphere
Multiple color options to suit different preferences
Adjustable brightness and speed settings for customized use
Timing function for energy-saving and safety
Built-in Bluetooth speaker for convenient wireless music streaming
Voice control feature for added ease of use
Easy to control with remote control and USB cable included