Are you tired of those average-looking electric kettle that you can see in the market, with the same design and the same material? Switch now, get this RetroHeat and add a trendy retro style kettle with modern features. Its stylish and high-quality lacquered stainless steel will be an eye-catcher in your kitchen!
Aside from its retro and sleek design, RetroHeat is made of double-layer kettle liner, inner lid, and spout made of food-grade 304 stainless steel and BPA-free, which is safe for the user and the user environment. With just one touch, water boils for only a short period that will help you save time whenever you are in a hurry. It also has an automatic shut-off, and dry-burn prevention shuts that automatically turn off when the water reaches its ideal temperature—an excellent and elegant addition to your beautiful kitchen.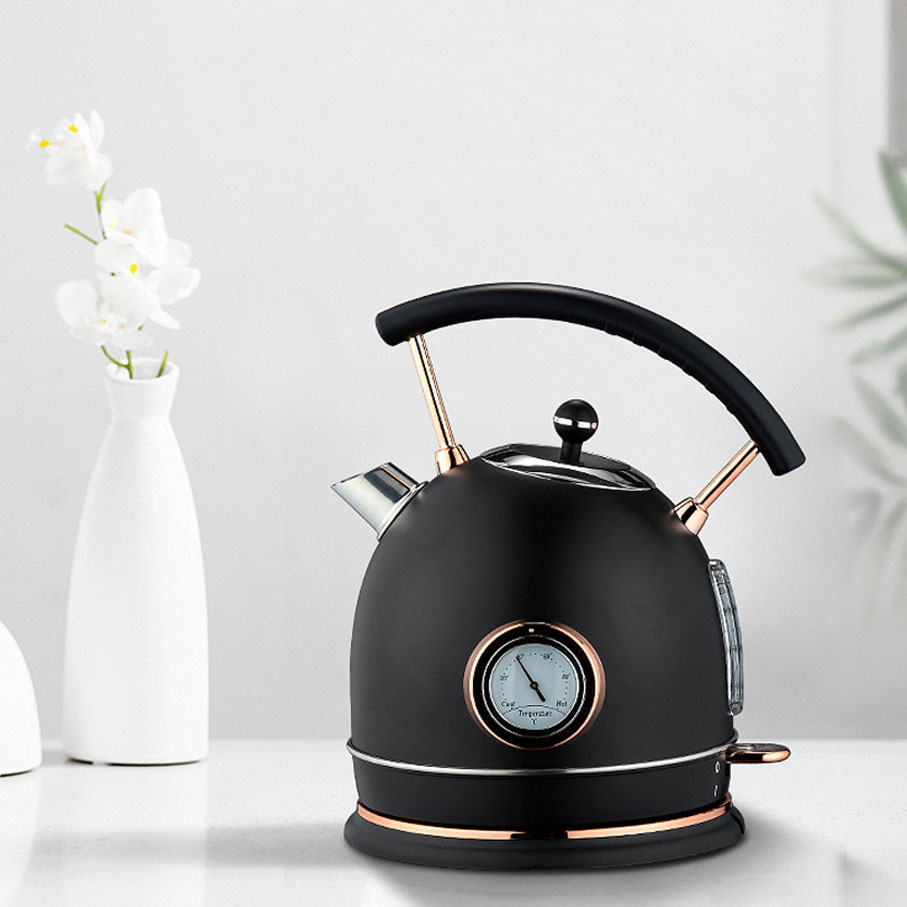 Features
Environmentally Friendly Materials☛ The double-layer kettle liner, inner lid, and spout are made of food-grade 304 stainless steel. All plastic parts in contact with water are BPA-free. The spout has a filter design to provide clean and healthy water for your family.
Fast Boiling☛ 1.8L / 1500W has a one-touch switch operation with a bright LED indicator. It is entirely cordless when leaving the base. The kettle rotates 360 degrees and you can accurately measure the amount of water; the thermometer dial is more convenient for preparing hot water and quickly enjoying tea, water, and coffee.
Fashionable Design☛ An electric tea kettle with a circular spout, an independent lid, a spout filter, and a handle with a curved design, both fashionable and practical. With aesthetics, durability, and ease of use, it is an excellent choice to take it out at a family gathering.
Maximum Safety☛ Automatic shut-off and dry-burn prevention. It shuts off automatically when the water is completely boiling. Dry boiling safety function, if it detects that there is no water inside, will automatically shut down, thus saving energy and allowing the kettle to be used longer.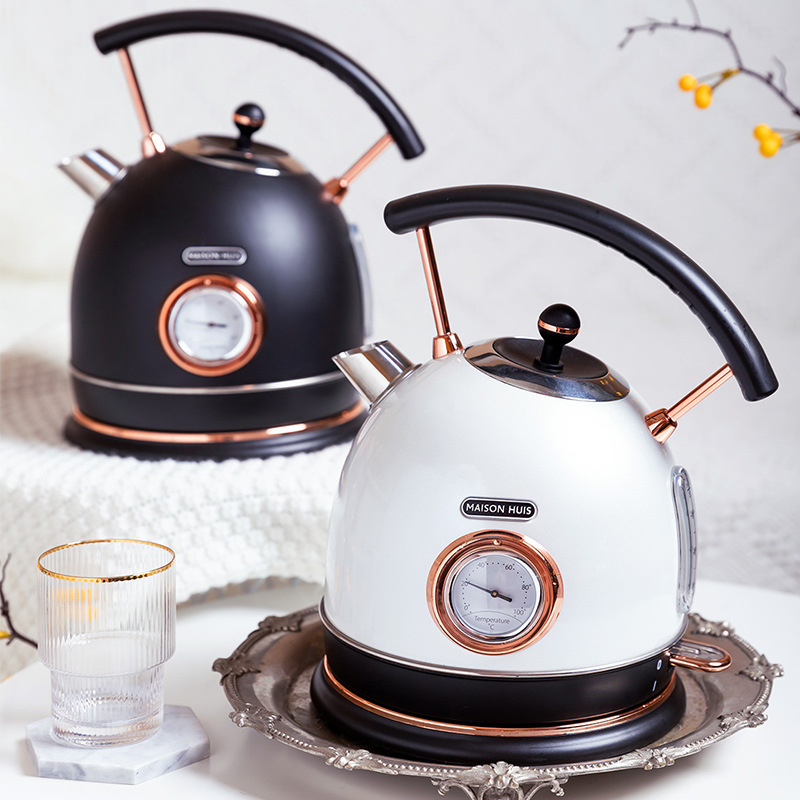 Specification
Voltage: 220-240V
Power: 1800W
Capacity: 1.8L
Material: 304 Stainless Steel
Size Size: 23*20*28.5cm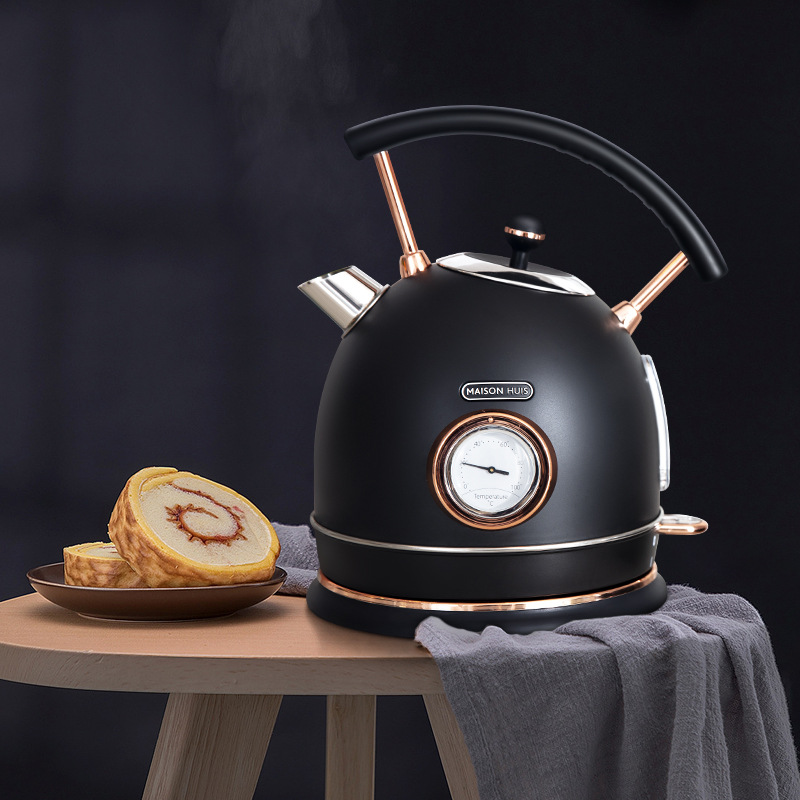 Unique Spout
RetroHeat kettle is designed with a 45°angle spout, which is not only beautiful but also better for easy filling up.
Auto shut-off
The one-button switch has the functions of automatic shutdown and dry-burning protection, which brings higher safety for people to boil waters.
360° Rotational Base
With a 360-degree rotating base, the kettle can be easily lifted from the base and put down from all angles.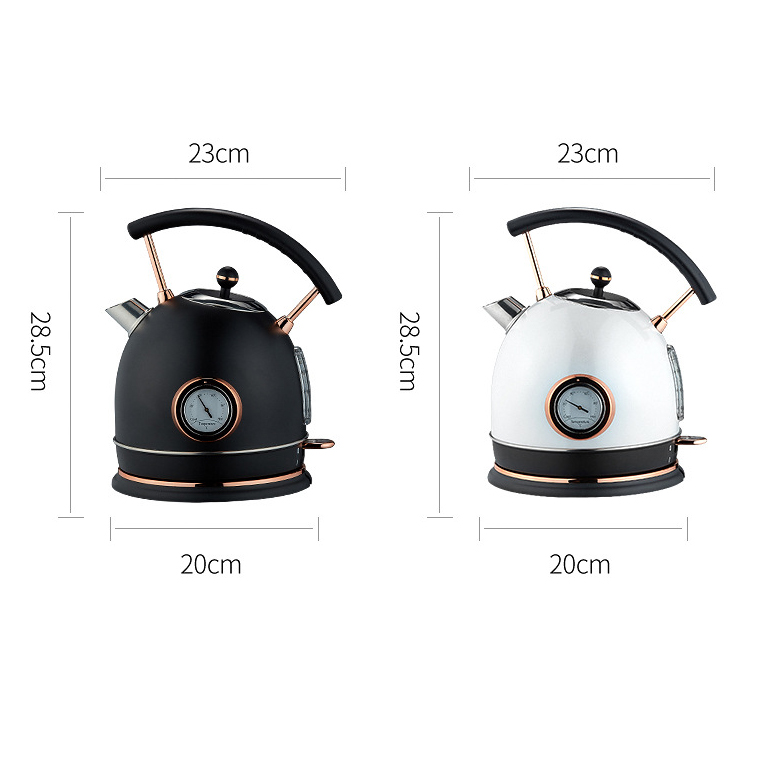 Recommendations for Safe Use
Do not touch the kettle or open the lid when it is hot. Please make sure that the lid is closed when working. Keep the kettle out of reach of children.
Package Include