Most electric kettles you can find in the market are made of stainless or strong plastic that you can't see the state of water inside. However, our ClearWater's kettle design is made of the finest quality Borosilicate Glass where you can see what it contains, so it is best in making hor water for herbal tea, hot chocolate, coffee, instant soups, oatmeal, and many more.
ClearWater features a different design from its competitors in the market. Its material is made of high-quality Borosilicate Glass that can withstand high temperatures and makes excellent hot drinks. It has a premium quality thermostat controller that auto shut-off within 30 seconds after the water is fully boiling, making it safe for whoever uses it.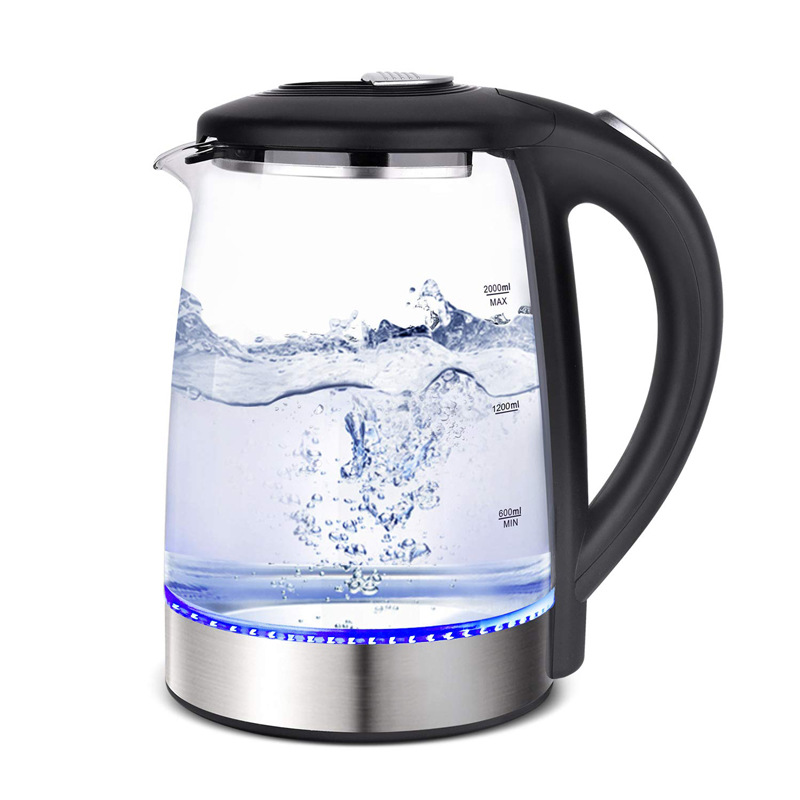 Features
Purest Tasting Water - Superior Quality– Made with the finest quality Borosilicate Glass, which lasts a lifetime, 304 stainless steel and heat resistant copolyester for the safest, freshest water. A premium, long-lasting lid that always stays shut when in use, unlike most others on the market. All the water contact surfaces use food-grade material, which provides you freshest and safest water.
Maximum Safety - High-quality thermostat controller, auto shut-off within the 30s after the water is fully boiling. Boil-dry safety feature where it turns off if it detects there is no water inside. It is built with a Heat-Resistant Anti-Slip Grip Handle, with no worries of it slipping out of your hands or getting burned while holding it, and will not contaminate liquids.
【Faster】- it utilizes the newest water circling heating technology; this electric kettle operates on 1500W and boils water within 3-7 minutes, allowing you to make herbal tea, cocoa, french press coffee, instant soups, and other hot beverages in a fraction of the time.
【Easier】- Wide open mouth for easy cleaning and filling, anti-splash beak spout with stainless steel filter for convenient pouring; 360° swivel base allows you to lift the kettle smoothly for cord-free serving, and cord-wrap recess at the bottom keeps the counter neatly. All details are designed to make it easier for you to use!
【Prettier】- Compact, modern design fits easily on a counter, shelf, or in a cabinet. A clear glass body with soft blue halo light around the rim provides a visual delight while boiling water. It's both creative and functional; add in stylishly with your existing kitchen decor and appliances.
Accurate Control of Water Quantity: The combination of a 360° clear rotational glass body and LED light allows you to see the water with blue light billowing in the kettle. The glass kettle and scale are perfect for precise measuring of water.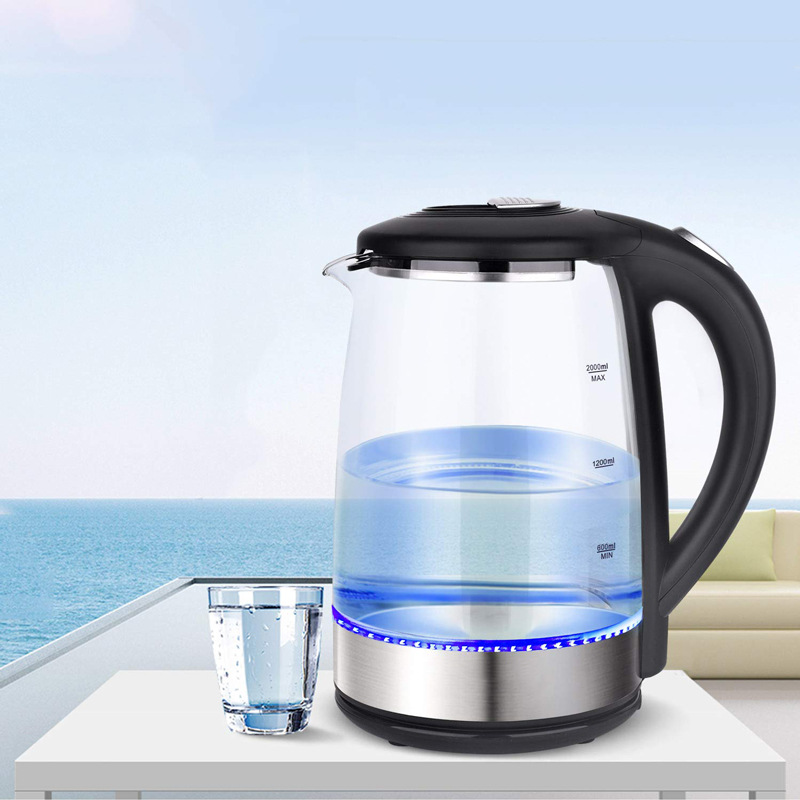 Specifications
Material: Food Grade 304 Stainless Steel + BPA-free Plastic + Borosilicate Glass
Voltage: AC 120V 60Hz
Power: 1500W
Capacity: 2L
Weight: 1.2kg
How to Clean Mineral Deposits in Tea Kettles?
Any tea kettle with good use is bound to develop some mineral buildup, especially in the hard water area. Calcium and lime buildup can be dissolved with mild acids such as white vinegar and lemon juice.
To remove it, please follow the instructions:
Fill the kettle with an equal part solution of water and household vinegar and let this soak for an hour.
 Once the hour is up, just boil the kettle.
Empty the kettle and rinse it thoroughly.
Tips: Do not suggest use the kettle to boil drinks directly, except water.
Package Include