Give A Stream of Accessible Security To Your Front Door with the GuardSTREAM EXTRA Security Peephole Camera.
When you've got an eye on whatever comes by your front door, you get an added layer of security and peace of mind that you've never thought possible. In the age of heightened security needs, make it possible for you and your loved ones with the GuardSTREAM EXTRA Security Peephole Camera: stealthily monitoring visitors passing by your home day or night with its high-definition camera, and capturing their footage when they press the "Ring" button. Indeed, with the GuardSTREAM EXTRA Security Peephole Camera, you can never have too much security at your front door.
FEATURES
Automatic Monitoring: The device will turn on and take photos automatically when visitors press  the"Ring" button.
High Definition Views: A high-definition camera with over one million pixels, and a 120 degree wide angle lens so you can see the details crystal clear from your front door.
Night Vision Mode: Built with 2pcs of IR-LED, this peephole camera can secure your home at night.
Hassle-Free Internal Storage: Internal memory stores up to 80 photos and auto overwrites the oldest files when the camera runs out of space.
Long-Lasting Battery: With an ultra-low power consuming, 1200mAh lithium battery to last longer.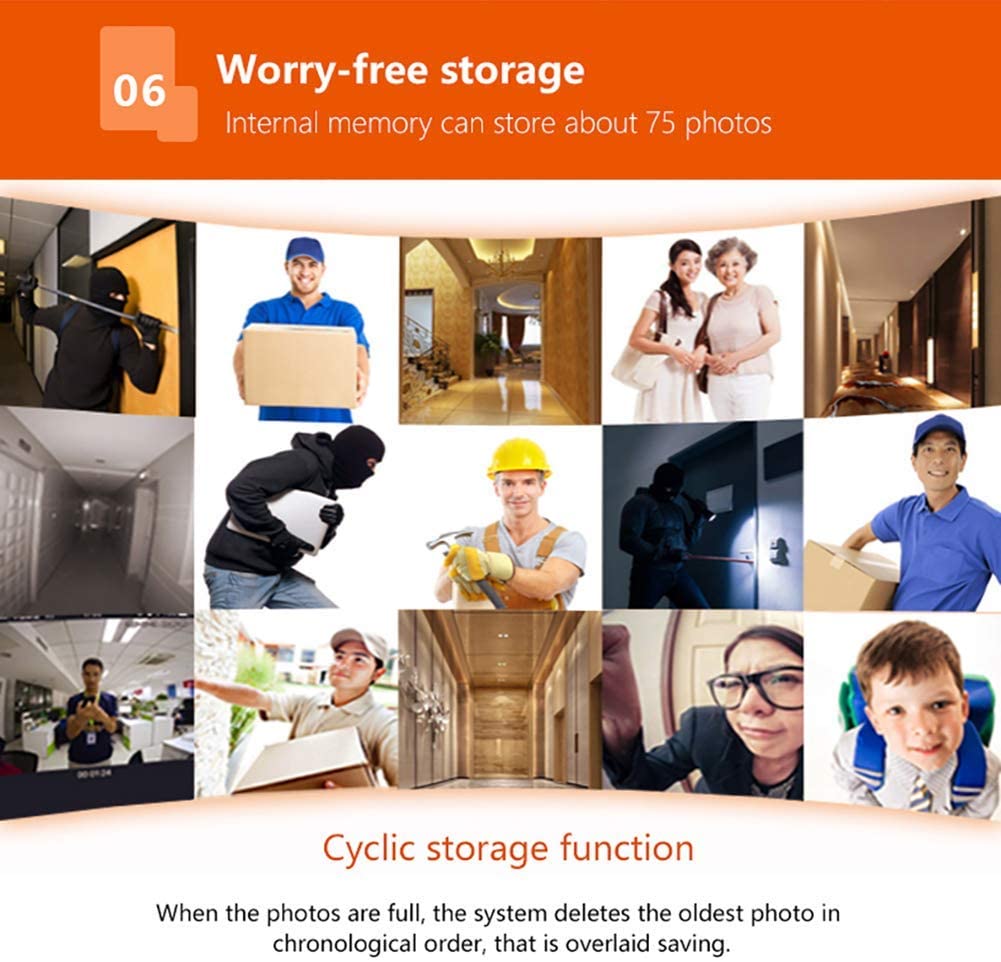 All The Security Tools You Need Right From the Front Door
Comes with a 3.0 inch high definition LCD screen, so you can see who's at the door remotely.
Equipped with an intelligent operating system that can be easily used by children and seniors.
Automatically takes photos when someone rings the doorbell.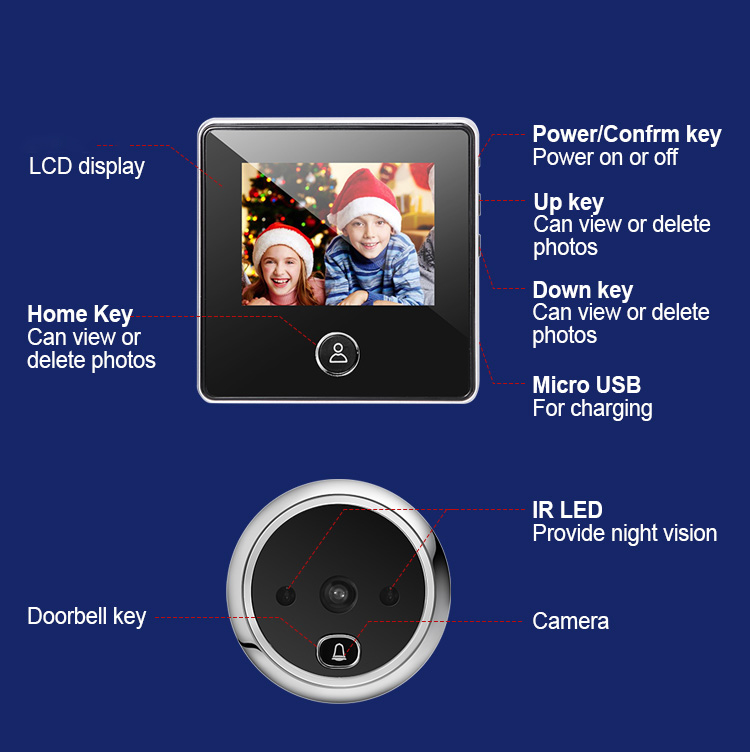 With Wide Angle & Night Vision
Comes with 2 pieces of IR-LED (infrared LED). Even in the dark, it lets you see what's outside.
The outer part of the door viewer has a million high definition cameras and 90 degrees (diagonal 120 degrees).
Wide angle to get a clear picture of who is at the front door using the monitor inside the door.
Hassle-Free Internal Storage
Automatic loop that deletes old photos, to make room for new footage when internal storage is full

With a doorbell that only records when motion is sensed, or when the ring button is pressed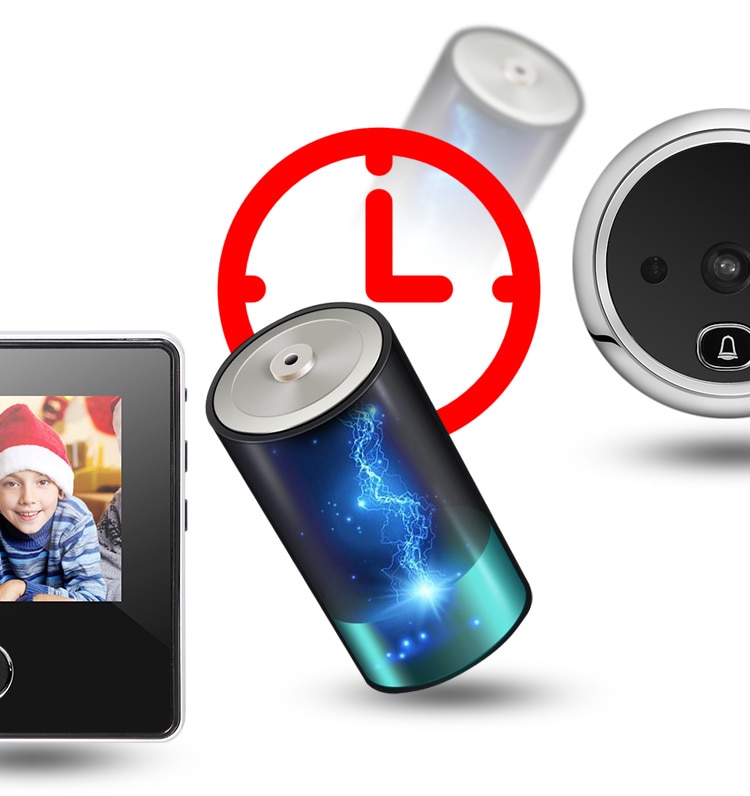 Efficient Battery Time That Lasts 6 Months
Designed to have ultra-low battery consumption and long standby time to help save on power.
Has a built-in 1200mAh lithium battery and can be easily charged via USB.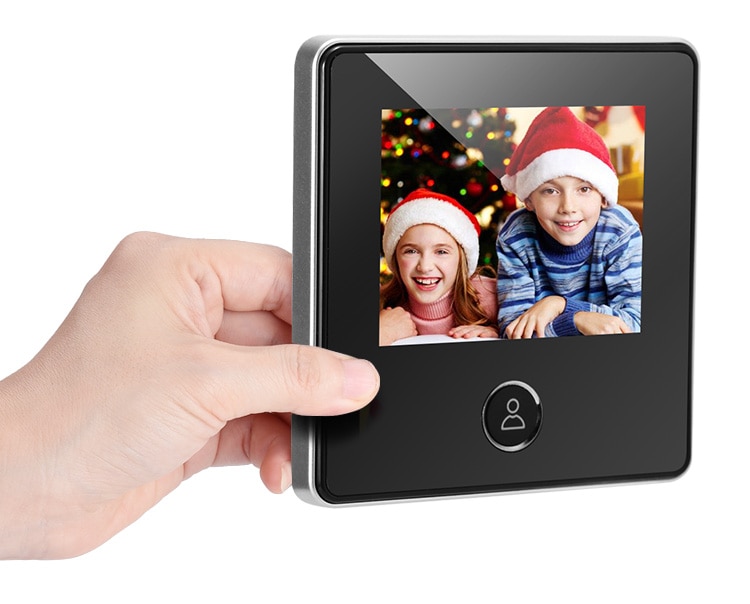 Can Be Installed In Just A Few Minutes!
Step 1: Unscrew the peephole and install the camera outdoors.
Step 2: Insert the sight wire part of the peephole camera.
Step 3: Then, get a correctly sized screw from the screw pack (comes with the camera) and connect the strip to the inner screen.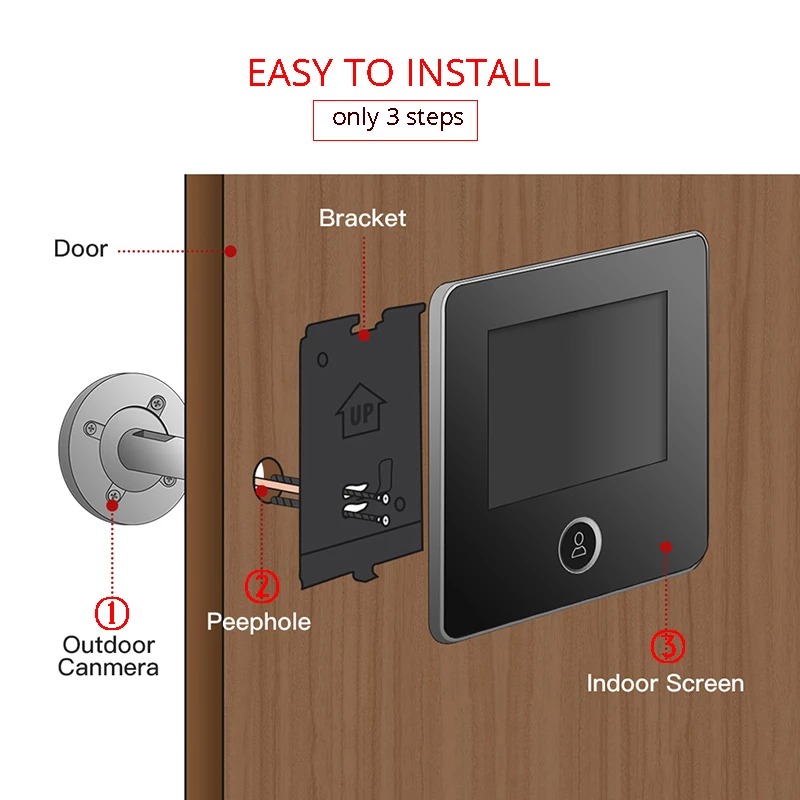 Specification
LCD screen: 3 inch
Viewing angle:120 degrees
Memory: build in 8M memory, no need to insert card
Door hole diameter: 14-35mm
Door thickness: 35-120mm
Battery: 1200mAh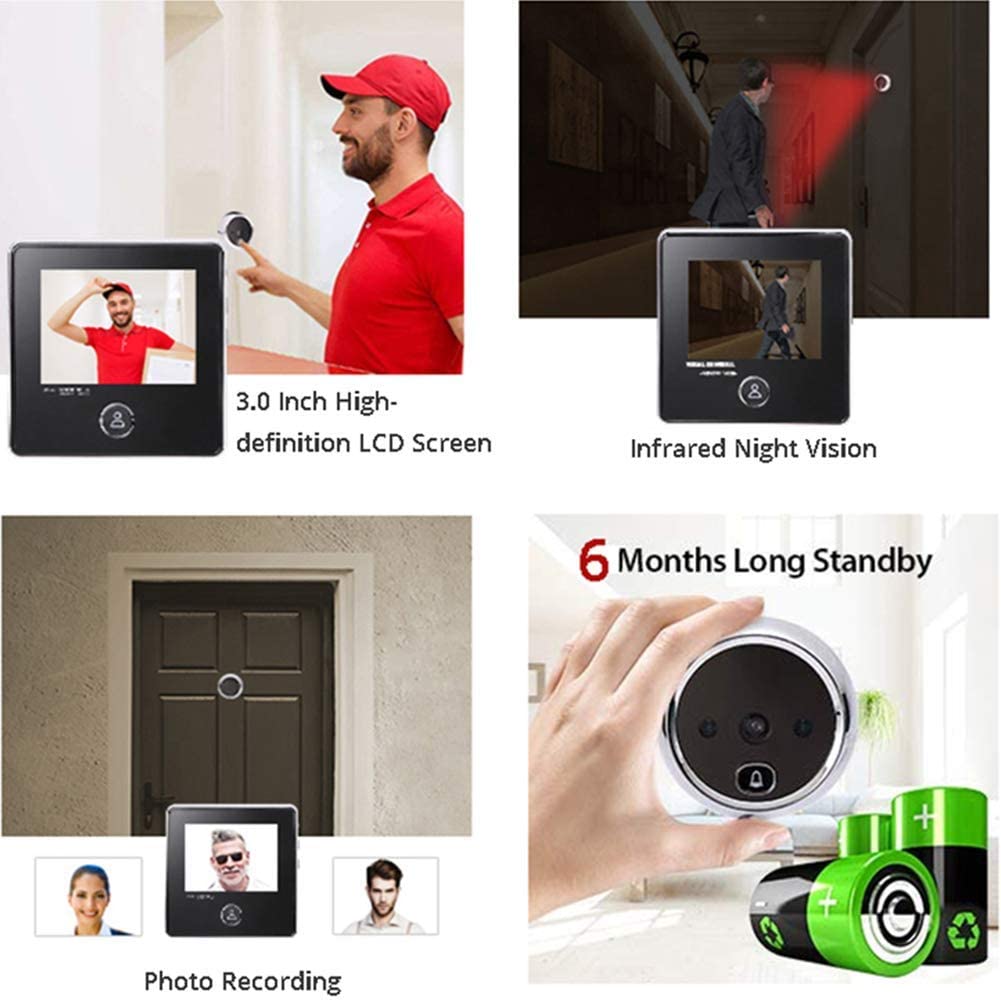 Includes:
1 x Outdoor Unit
1 x Inner Unit
1 x Screw Pack
1 X Hanging Board
1 X Manual
1 X USB Cable