With a Large Drawing Screen, an Impressive Stylus with 8192 Levels Pressure, a Versatile Compatibility and 22 Smart Buttons, The ExoDraw Drawing Tablet Makes Creating Digital Art and Resources Easier, Faster, and More Professional!
User-friendly, Accessible, and with 22 Smart Buttons for Easy Operation
Get the feeling of working on a clean slate with the ExoDraw!
The ExoDraw is compatible with your frequently used drawing softwares including Photoshop, Corel Draw, Adobe Kit, and Windows Creative Tools.
You can be versatile with the ExoDraw - you can easily connect it with your Windows-supported devices, Macbook and iMac, and Android tablets.
Whether for making drawings, digital paintings, sketches, or illustrations, you can count on the ExoDraw!
Features:
The drawing tablet can be connected to tablets, Macbook, laptops, and personal computers. You can instantly sync with other devices with ExoDraw's latest programming. Whether you're using the screen of your tablet or your laptop, the ExoDraw will make it easy for you.
The ExoDraw is compatible with most 2D/3D/Plan/Video/Animation software which makes this drawing tablet versatile and multifunctional. 
The wide drawing area gives you more room to draw big projects. The 10x6" dimension of the ExoDraw makes it a perfect pick for anyone who prefers a larger drawing space. You can draw without feeling limited.
Passive pen, no battery, no need to charge. Features 8192 pressure capacity. One of the best qualities of the ExoDraw is how it comes with a strong stylus that does not need batteries or charging. It has an 8192 pressure level to deliver seamless drawing.
Up to 233 points / second quick reading speed, painting lines are more consistent and smooth, not stuck. The device will pick up your strokes real time. No need to endure lagging or broken, inconsistent lines.
22 smart buttons, 12 physical smart keys and 10 virtual smart keys. Accessibility is upgraded with the ExoDraw. The 22 smart buttons help you navigate drawing sessions easier.
Professional pressure sensor, the line thickness is obviously fine, the color transition is natural.  Whether you're making dark shades, or light strokes, the ExoDraw can conveniently pick it up.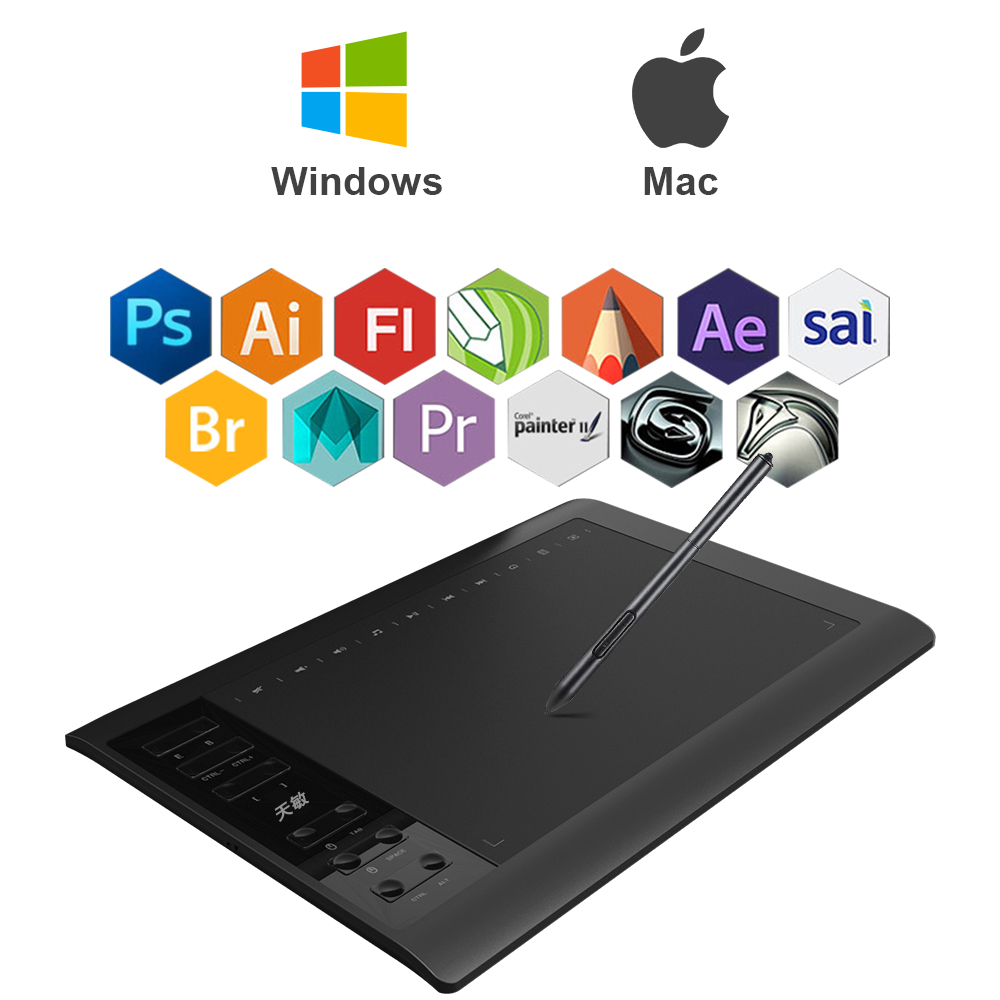 Specification
Color: black
Screen size: 10*6 inches
Compatible devices: mobile phones, tablets, computers
Compatible system: Windows/Android/Apple Mac OS X
Product size: 24*36 cm
Support interface: USB
Reading speed: 233 points / sec
Notice:
Connecting to the phone requires an OTG adapter
Support phone / tablet with Android system
Mac OS system only supports Mac OSx10.11-10.14
Packing list:
drawing tablet *1
drawing pen *1
pen holder *1
pen refill *8
manual *1