Make Digital Creations with the Help of the DigiScribb - a Portable Drawing Tablet with an 8192 Passive Pen, 8 Quick Keys, and Universal Compatibility with Windows, Mac OS, and Android 

Turn Your Creative Ideas Into a Digital Masterpiece With the Help of  DigiScribb.
With a high-sensitive pen, a drawing pad that offers a smooth surface, and added features like hot keys, you can enjoy making your digital creations in a fast, efficient manner!
You can use the DigiScribb for multiple activities - as a way to create digital art, for painting, designing, art creation, sketching, and even teaching. With the portable design of the DigiScribb, you can conveniently use this drawing pad on the go!
The DigiScribb comes with an impressive 8192 passive pen that is highly sensitive to glide, strokes, lines, and any command you're going to make.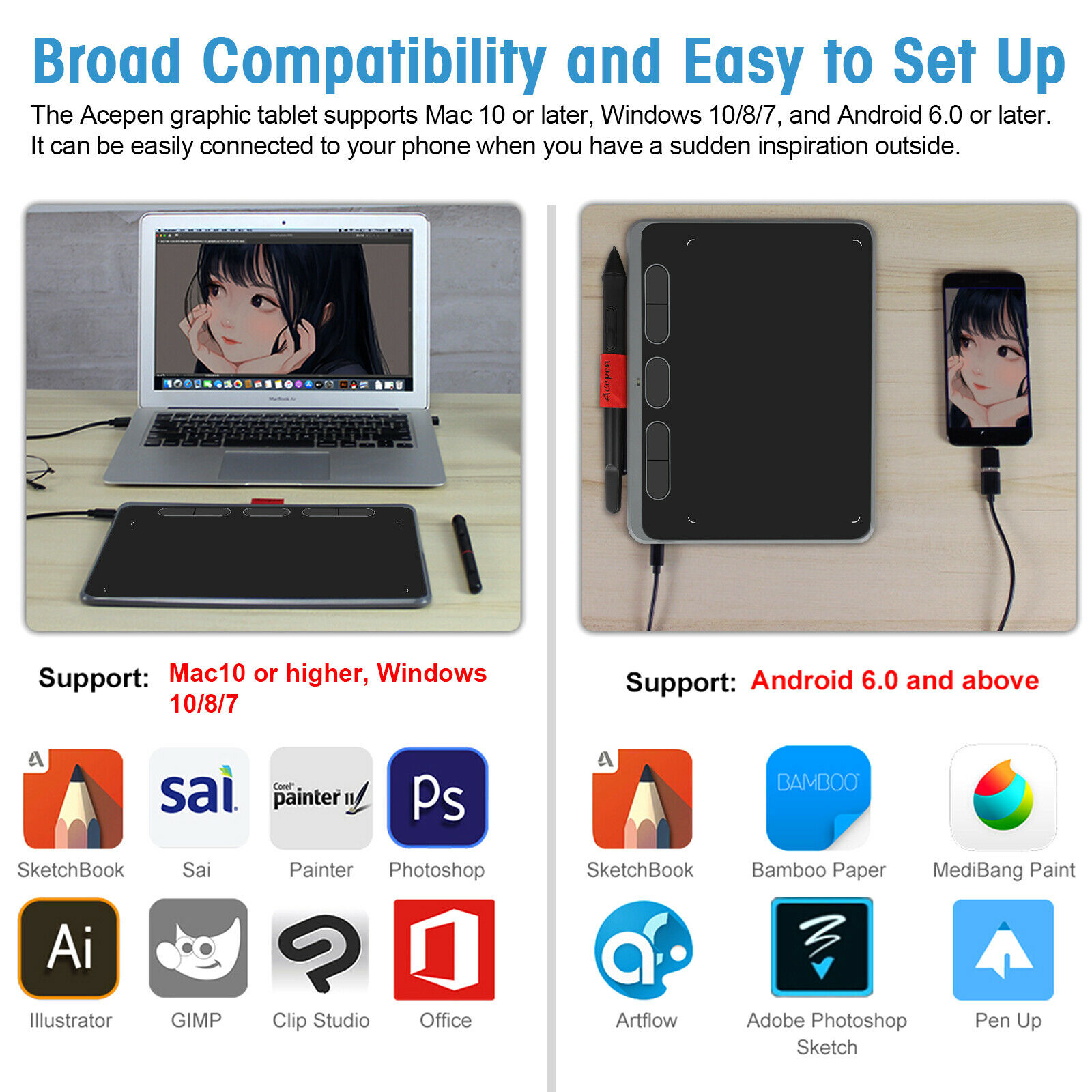 DigiScribb Drawing Tablet Features
✅ Comes with the right area size for drawing that gives you adequate space for unleashing your creativity. The DigiScribb graphics drawing tablet offers you a 6*3.8 inches drawing area where you can freely draw without feeling restricted.
✅ The drawing tablet with a portable size - you can bring it anywhere easily! The drawing tablet only weighs 190g. It is a super lightweight tablet to carry - you can take it anywhere you want, like at home, classroom, office, an outdoor park, or in a cafe!
✅ The battery-free pen with increased pen pressure and sensitivity so you can bring out the best drawings in the way that you want them to be. The drawing tablet comes with a battery-free pen, which reduces the inconvenience of charging the pen. The pen has 8192 levels of pen pressure sensitivity-providing you ultimate precision and control.
✅ Achieve the shading and drawing direction you're aiming for with the upgraded pen! The DigiScribb has 266 RPS report rates to help you draw thicker or thinner lines based on your hand force, so you can avoid any delay in the drawing process. The pen is also equipped with 5080 LPI pen resolution, and this digital tablet supports all kinds of brushwork including 8 replacement nibs.
✅ Working with the DigiScribb is easy, thanks to the 8 custom made shortcut keys that allows you to access operations fast. The graphics tablet has 8 custom-made shortcut keys on the top of the panel which you can completely customize. The functions can serve as a pen, cancel, brush options, etc. additional 2 other shortcut keys on the stylus that you can easily switch between pen and eraser. All the settings can be adjusted on using the tablet's driver.
✅ The DigiScribb has universal compatibility which makes it easy to connect with other devices! The DigiScribb graphic tablet supports Mac 10 or later, Windows 10/8/7, and Android 6.0 or later. It can be easily connected to your phone when you have a sudden inspiration outside. Note: The Acepen drawing tablet is not compatible with Chromebook, iPhone, and iPad at present. [OTG adapters included] Compatible with Photoshop, Illustrator, Krita, SketchUp, Corel Draw, Microsoft Office, OneNote, Zoom, etc
✅ The multipurpose drawing tablet can be used by artists, students, creatives, and even teachers!  The DigiScribb tablet can be compatible well with online teaching, drawing, learning, and remote working; Widely used by designers, artists, teachers, students, office personnel, sales guy, presenters, etc; The great tool meets all your needs and increases the working efficiency.
Specification
Color:Black
Material:Plastic Case
Dimension:183*143*9mm
Workspace:6*3.8 Inches / 158*97mm
Net Weight:0.19 kg
Interface:Type C
Pen Technology:Battery-Free Electromagnetic Resonance
Pen Resolution:5080 LPI
Pressure Sensitivity:8192Levels
Tilt Support:±60°
Sensing Height:10mm
Report Rate:266 P/S
Accuracy:±0.01mm
Press Keys:5 Programmable Press Keys
OS Compatibility:Phone Android 6.0 and above; Windows 7 and above; Mac OS 10.12 and above
Package Included
1 x Graphics Tablet
1 x Art Pen
1 x Nib Clip
1 x Type-C Cable
2 x OTG Adapters
8 x Spare Pen Nibs
1 x User Manual