Make Topnotch Digital Art with a Drawing Pad that Comes with the A Top-of-the-Line Pen, Customizable Buttons That Amps Up The User Friendly Features, and an Excellent Compatiblity with Other Devices!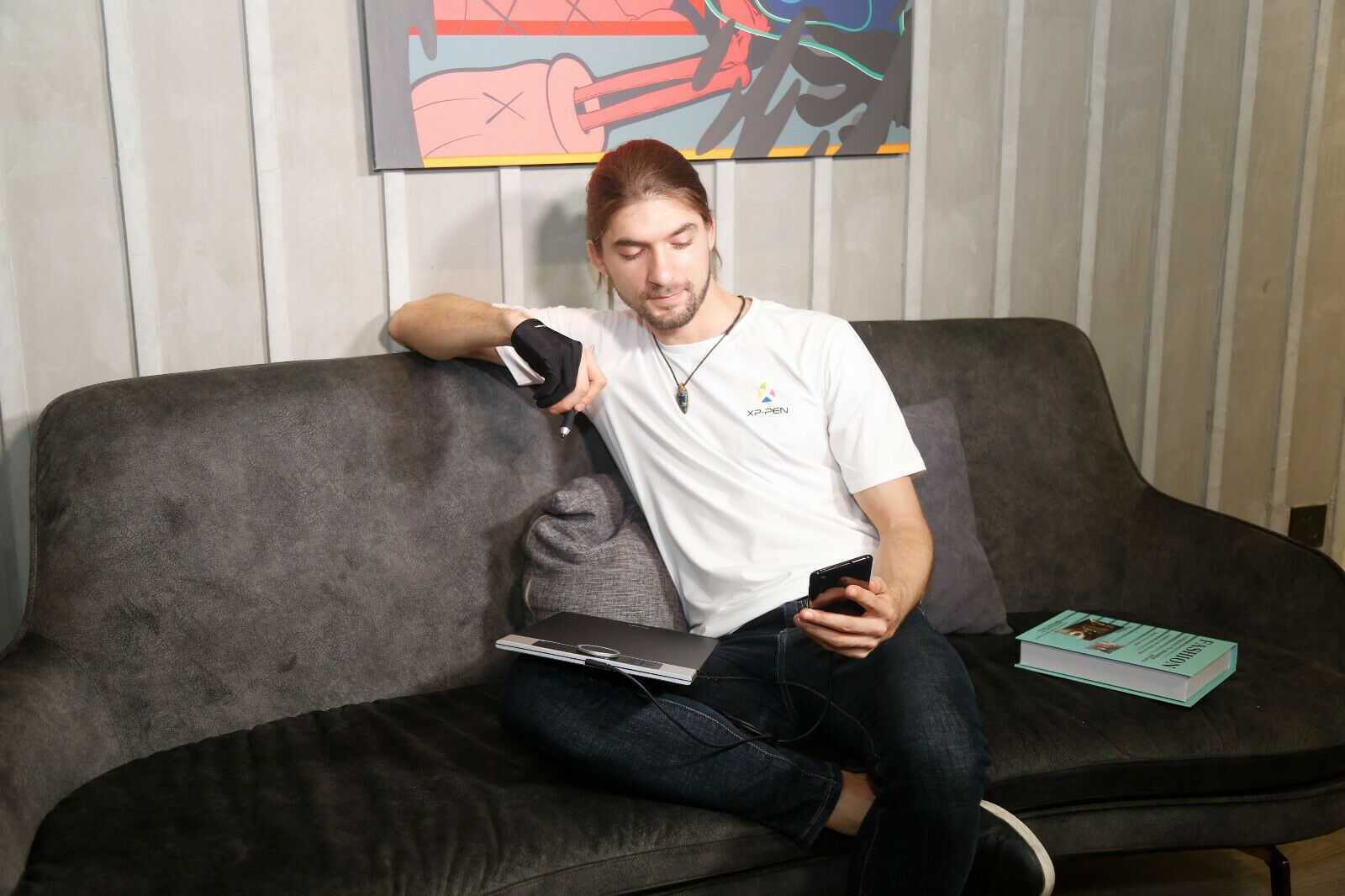 The Drawing Tablet That Gives You Professional-Looking Results with its 8912-Pressure Stylus Pen, Fast Stroke Readings, and Customizable Hot Keys!
The DiodaMax is for designers and creatives who want to get a world-class pen-on-screen drawing experience with their Macbook, PC, and personal laptop.
This remarkable drawing tablet is crafted with an aluminum casing and features a 7mm thin curved casing. The black and silver color scheme blends well into its streamlined design, making it both smooth to use and sleek in appearance.
Improved for unparalleled efficiency.
Meet the groundbreaking double wheel design paired with trackpad functionality! With a bigger wheel, it is easier to control and operate more accurately. Use the outer mechanic wheel to zoom in /out of your canvas, adjust brush size, etc, while the inner virtual wheel can be used as a trackpad/mouse mode, scroll up and down, and more. Both wheels can also be programmed to customize copy, space, and other common functions. Fully utilize the two wheel together and use 4 shortcuts at the same time without switching back and forth to guarantee a complete focus on your creation and unparalleled efficiency.
Illuminate your workflow.
The roller wheel comes equipped with an indicator light and adjustable brightness level, letting you work and create in your preferred lighting environment, so you can stay immersed in your creation even in dim light.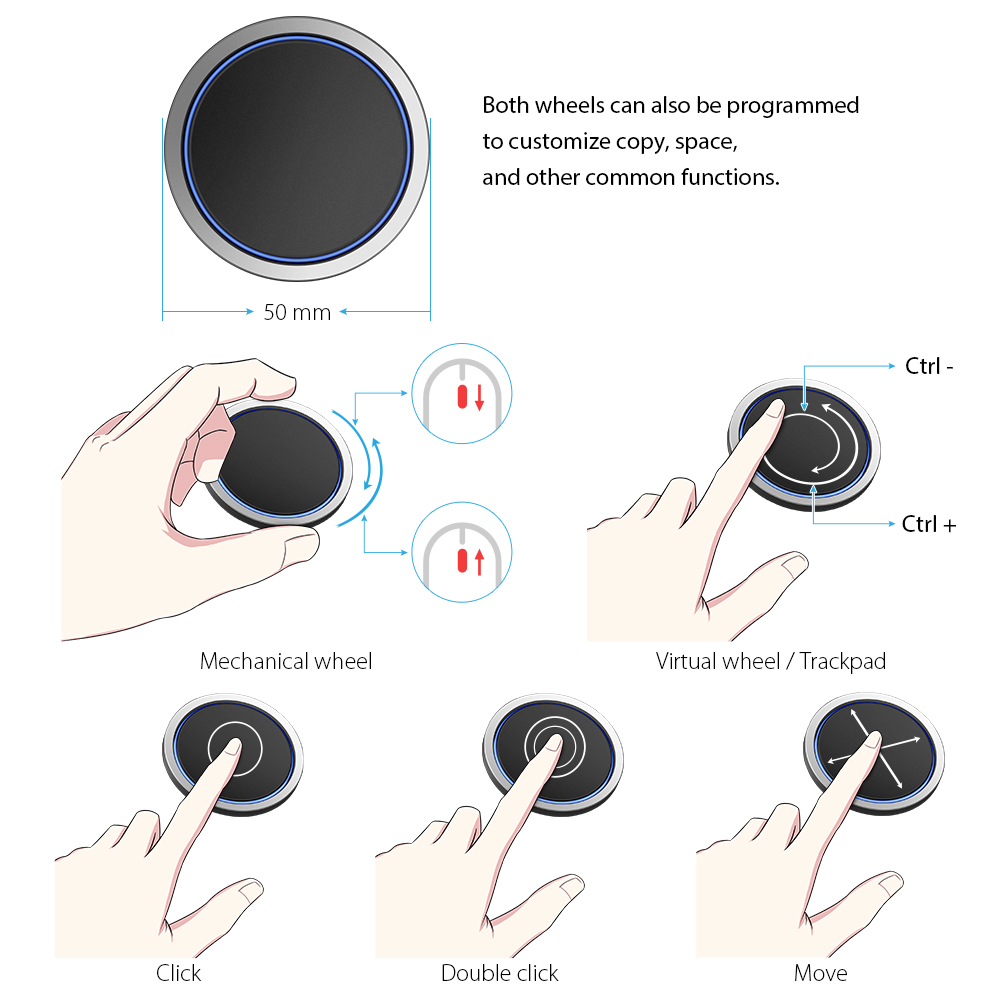 An all new creative experience.
The Deco Pro series supports connection with Android tablets and mobile phones. It works with most software such as XP-Pen Deco Draw, ibis Paint X, FlipaClip, Medibang, Autodesk Sketchbook, Zenbrush, Artrage, and more. The entire working area of the tablet is your creation area, not limited to only using part of the working area, bringing you a new creative experience with extreme portability!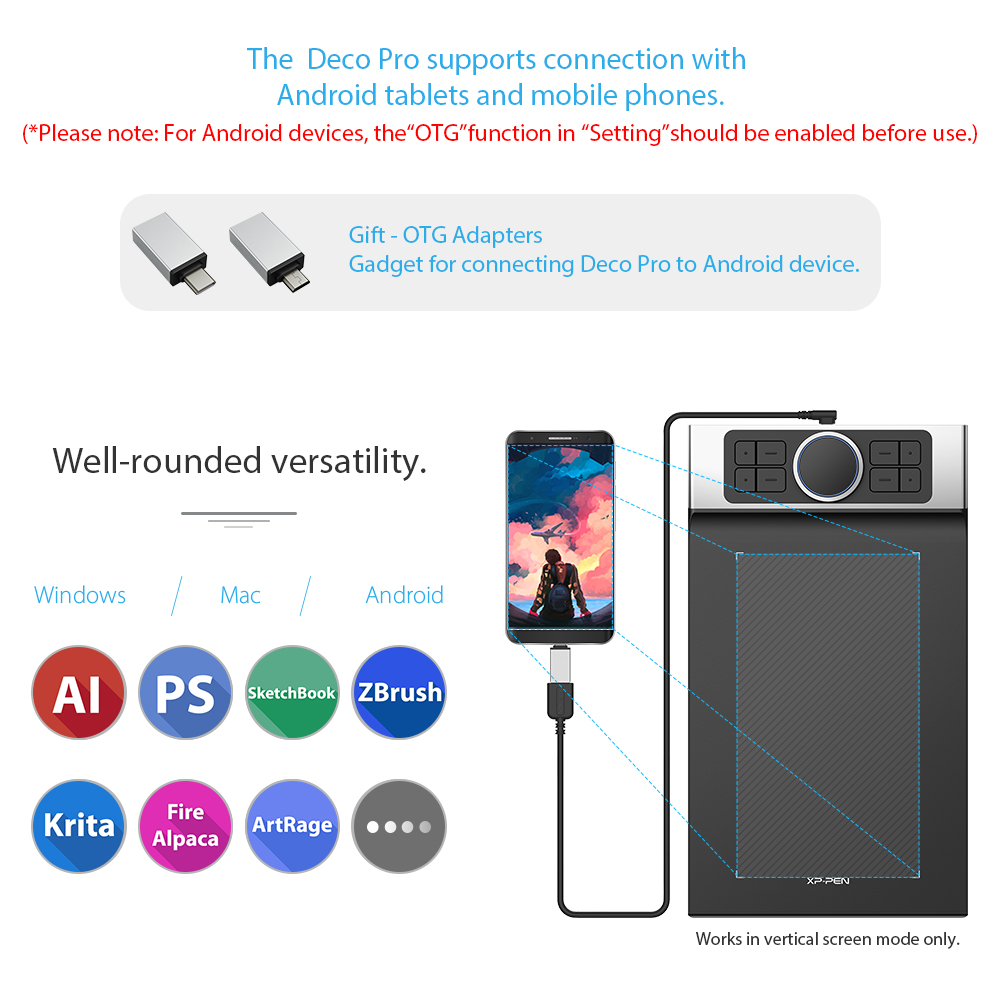 Natural tilt support.
The Deco Pro supports up to 60 degrees of tilt function, quickly and easily responding to the way your hand moves, now you don't need to adjust the brush direction in the software again and again, simply tilt to add shading to your creation. And enjoy smoother and more natural transitions between lines and strokes.
Level up the way you create.
With up to 8,192 levels of pressure sensitivity, the Deco Pro provides you precise control and accuracy. Create fine lines in an incredibly natural and fluid experience, all with our new battery-free stylus.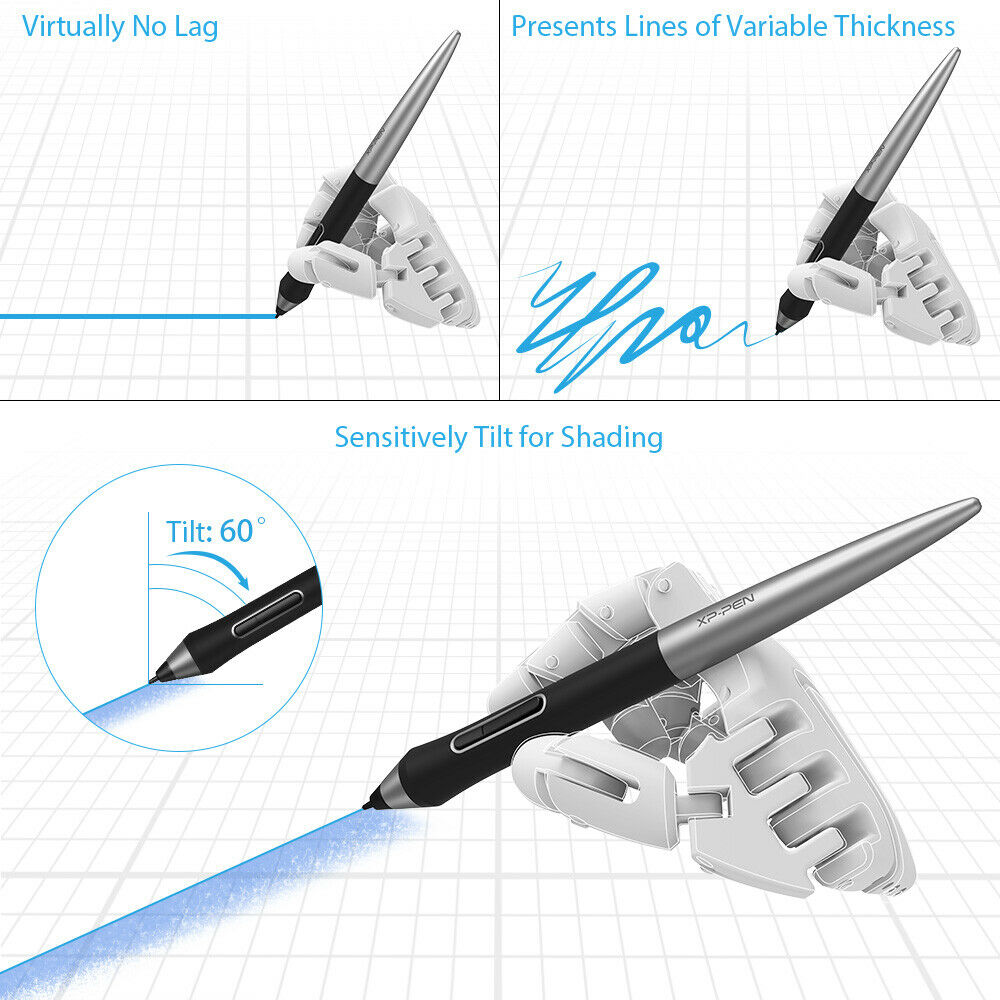 Greater accessibility.
The Deco Pro features 8 responsive shortcut keys and two dial wheels that can be programmed to many different software programs, giving you instant access to specific functions for the task at hand to expand your creative output.
You care, we care.
The Deco Pro is the first drawing tablet that comes equipped with a USB-C port. Now you can directly connect your iMac/Mac Book Pro and other Windows computers that support USB-C input to the Deco Pro without using a USB-C to USB adapter. Its interface is symmetrical, making it equally comfortable for right- and left-handed users. You can also rotate the Deco Pro to 0 degree, 90 degree, 180 degree and 270 degree depending on your different creative requirements.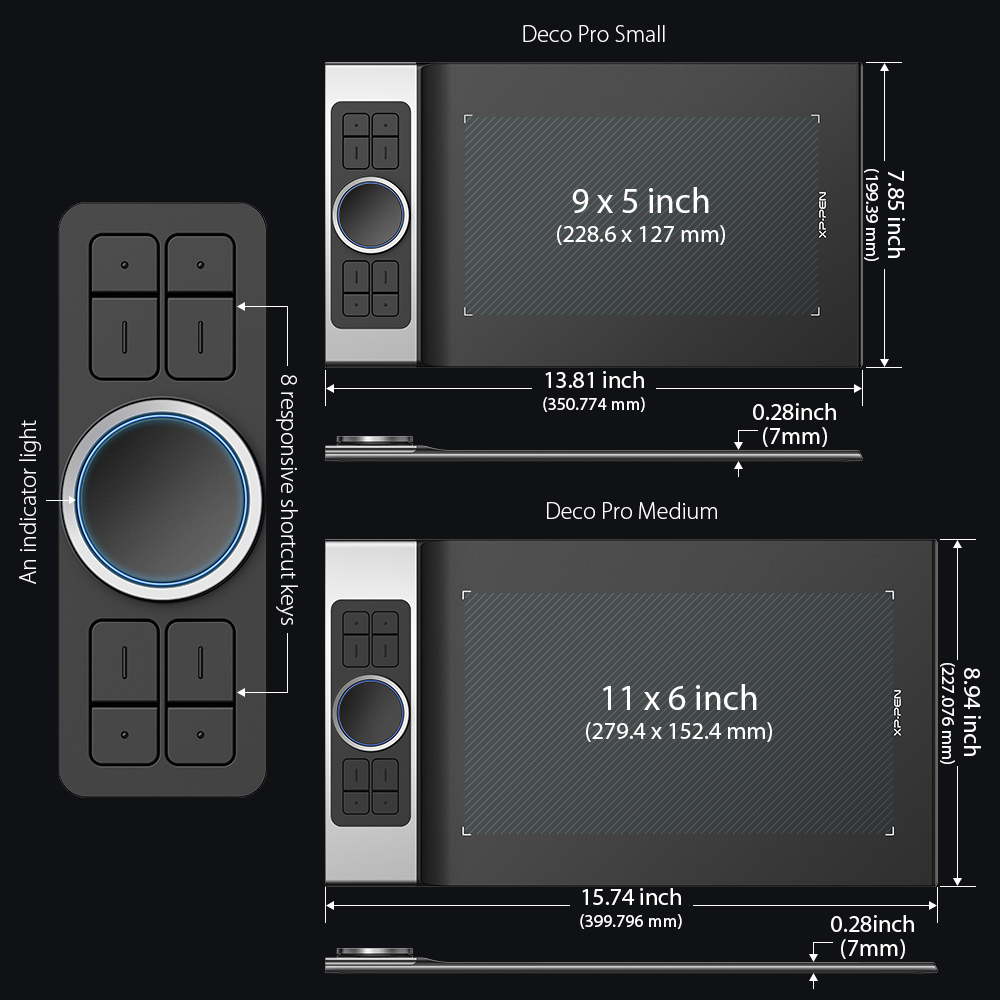 Specification:
Dimensions:L399.7 x W227x H16.5mm (thinnest Height 7mm)
Active Area:11"x6"(278.9mm x 157.0mm)
Tilt:60 Degrees
Pen:Battery-Free Passive Stylus
Pressure Sensitivity:8,192 Levels
Resolution:5080 LPI
Report Rate:Max.≧200
Mechanic Wheel:1
Virtual Wheel:1
Shortcut Keys:8
Indicator Light:1
Accuracy:±0.01 Inch
Reading Height:10mm
Color:Black and Silver
Power Voltage:DC 5V
Interface Support:USB Type-C
Compatibility:Windows® 11/10/8/7(32/64 bit), MAC OS X ®10.10 and above, Android 6.0 and above
Package Included:
1x Tablet
1x Battery-Free Stylus
1x Pen Holder
8x Replacement Pen Nibs
1x USB-C to USB Cable
1x USB to USB-C adapter
1x USB to micro USB adapter
1x Drawing Glove
1x Quick Guide