Since last year, everyone started working from home with online meetings every week. Great for those big, spacious, and instragrammable houses. But how about those in small rooms with a lot of chaotic things in the background? Are you having a hard time positioning your cameras when your boss asks you to turn them on? No need to cram and worry every time it happens; with the help of EasyScreen, you'll be confident turning your webcam anytime and anywhere!
EasyScreen is your helpful buddy with all these online meetings! With its 2-in-1 reversible panels, your background will always be sleek and pleasing to see. It's easy to use and fold, making it a great companion anywhere you go, as it's great for interviews, gaming, photography, and video background. Get this now and spare yourself from all the hassle of creating and designing yourself a great background!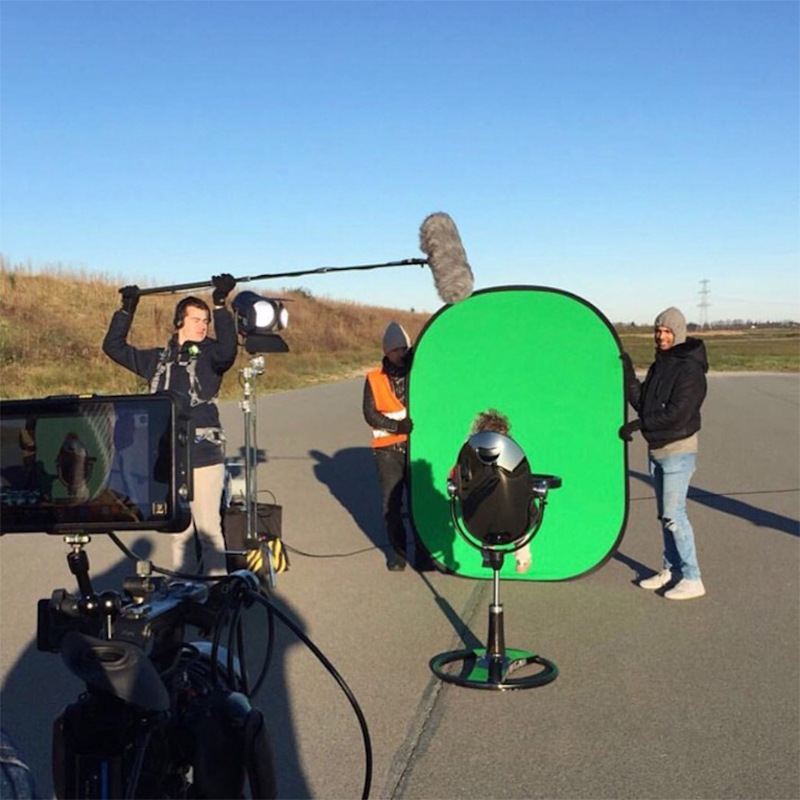 2 In 1 Popup Reversible Green Screen Background, Perfect for your Zoom Meeting and YouTube Videos.
Are you looking for an affordable yet professionally designed green screen background to save you from all the laborious work of creating one? Well, you've found it!
EasyScreen is made for anyone who needs to use this in multiple scenarios. This green screen background can be used as a 2-in-1 reversible green screen kit to make your screen exceptional and presentable. Its sturdiness and high quality attract professional creators, while its affordability and easy setup attract beginners.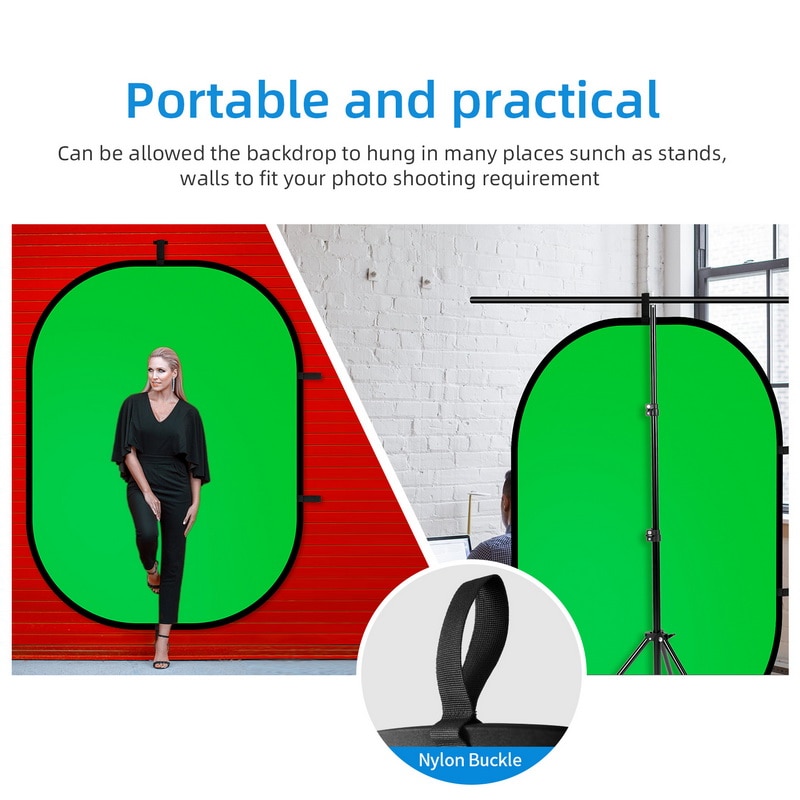 No matter where you are in your creative journey, this is the green screen for you! You can work anywhere you want with a perfect background for your Zoom meeting, GoToMeeting, WebEx, Youtube Videos, and Skype.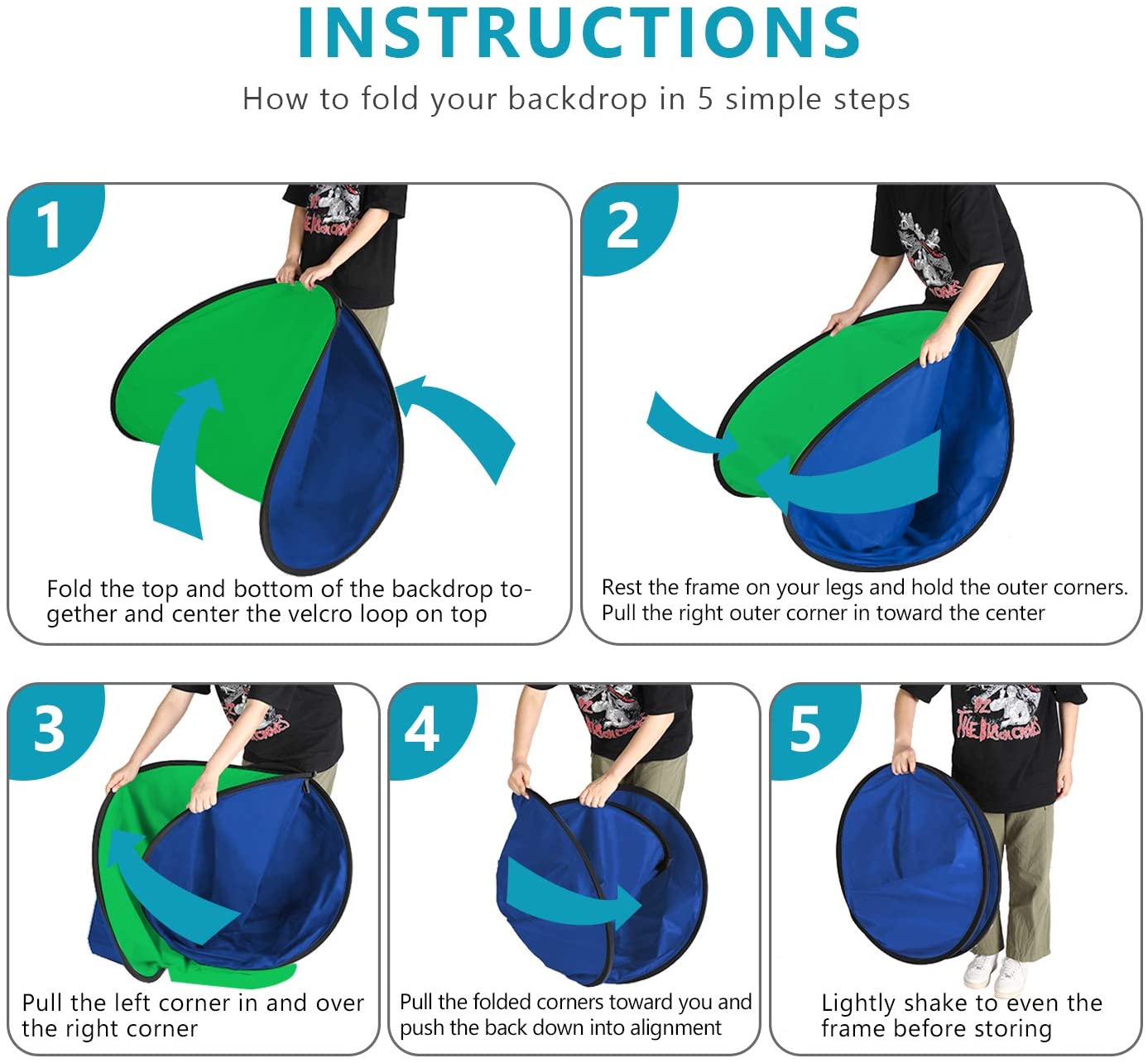 Features & Benefits
This 1x1.5m/39.3*59in reversible twist Green & Blue (one side-green, other side-blue) flexible background is also available in Black & White, Gray & Blue.
Its high-quality thick material can reduce light reflection, better picture quality, ideal for use as a background for portraits and products, perfect for films, and the best choice for outdoor and studio shooting.
It is durable and portable. It is easy to carry and, therefore, great for on-location shoots. Carrying bag included.
Quick, easy setup. Set up reversible backgrounds in seconds for short, simple shoots, YouTube videos, live streaming, photography, and more.
Follow the folding techniques for easy fold and collapse.
 The durable metal frame is sewn into the fabric.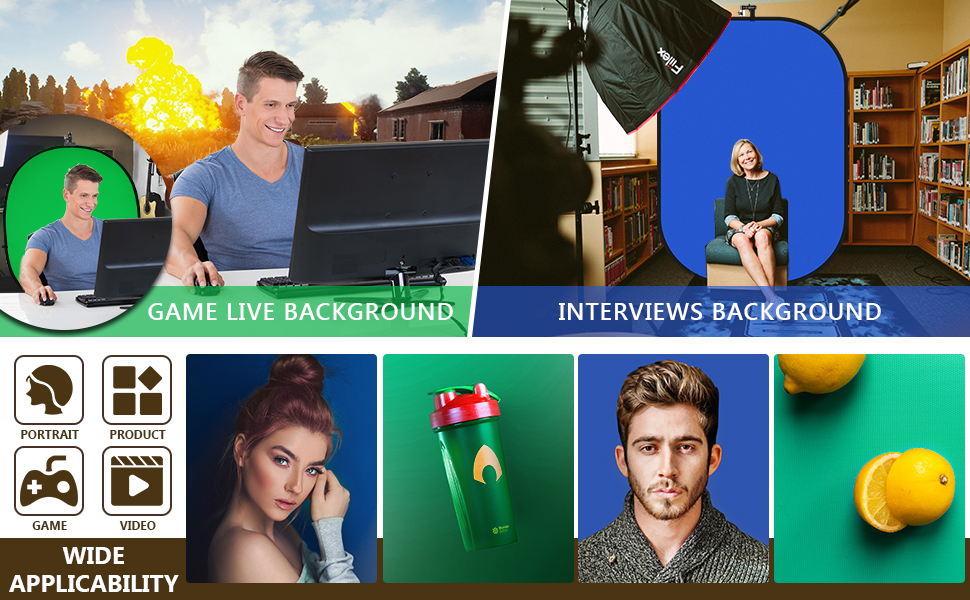 Double Sided Design
It allows you to choose what color is best for each project.
Durable Frame
A durable metal frame is sewn into the fabric.

The steel spring frame pops open in seconds and helps maintain its shape.

It can be easily collapsed into a small disk shape for convenience and portability.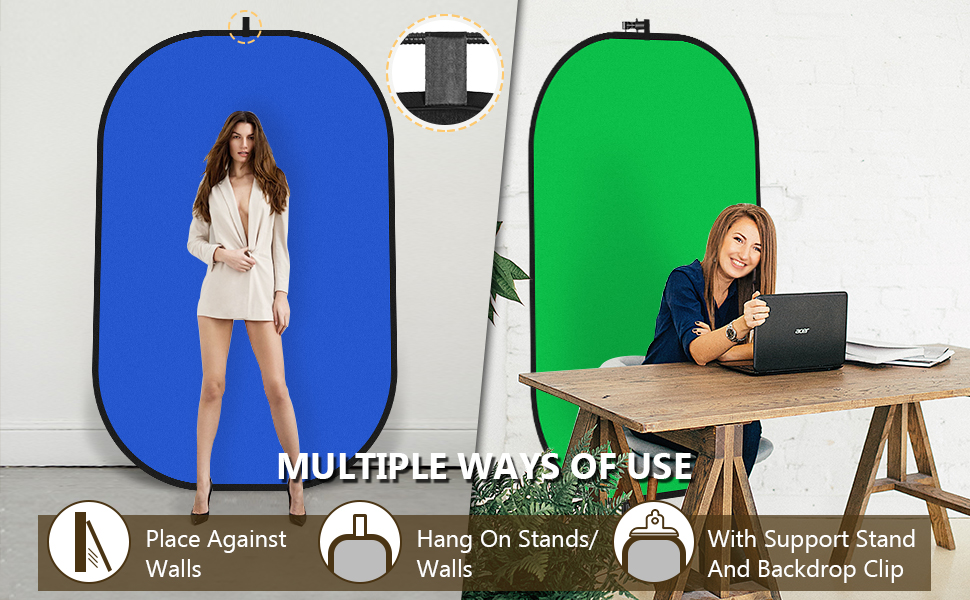 Package Includes
1-Two-Sided Green-Blue Screen|Grey-Blue Screen
1- Carrying Bag -When folded down, this green screen background transforms into a disc that fits conveniently into its carrying bag for practical storage or transportation.
No Stand Included
TIPS
The green side is best if you are replacing the background with bright daytime or outdoor scenes. The blue side is best if you are planning to incorporate the set with dark or night scenes.
Allow enough space between your subject and the background to avoid color spills.
Always light the backgrounds properly. The blue side will need more lighting than the green side.
Never shoot on the blue side if your subject is wearing blue and vice versa.