Description
Move Freely, Shoot Effectively, Have More Fun with the DexBroz Lightweight Water Gun for Kids and Adults. Now With Lighter Design But Powerful Shots, You Can Move Around Without Having to Feel the Heavy Weight of the Water Gun
Do you find regular water guns heavy? Do you struggle with moving around with those 500-m water guns? The answer is here! The DexBroz is a lightweight version of the electric water gun that allows you to shoot long range, blast more water, and move around like a pro without having to feel exhausted and strained!
How to Use the DexBroz Electric Water Gun

Why Choose DexBroz Electric Water Gun? 
Out of all the electric water guns available everywhere, why choose DexBroz?
The Gun That Can Support Long Distance Shots Up to 6.5-8.0 Meters
The outdoor water games for children can spray an impressive four times per second of water, which is the future of real water guns. Unlike the standard heavy-duty water gun, the electric water gun does not need to be pumped, and it can make it easier for children to shoot far-reaching water streams.

The electric water guns that do not need to be pumped. Uses fully automatic technology to take your water guns to the next level.
Before using it, you need to use a screwdriver to unscrew the battery compartment cover, install 4 AA batteries, and tighten them. Then press the magazine switch, remove the magazine, fill the magazine with water, and reinstall the magazine. Finally, press the trigger to launch (the first time you use it, you need to press and hold the trigger AT LEAST 5 SECONDS to pump water).
Adjustable Butt Design
There is no better way to cool down than an epic water battle! This toy is not just for summer time, take these children's water guns to the park, swimming pool, beach, or wherever there is space to run around and have fun.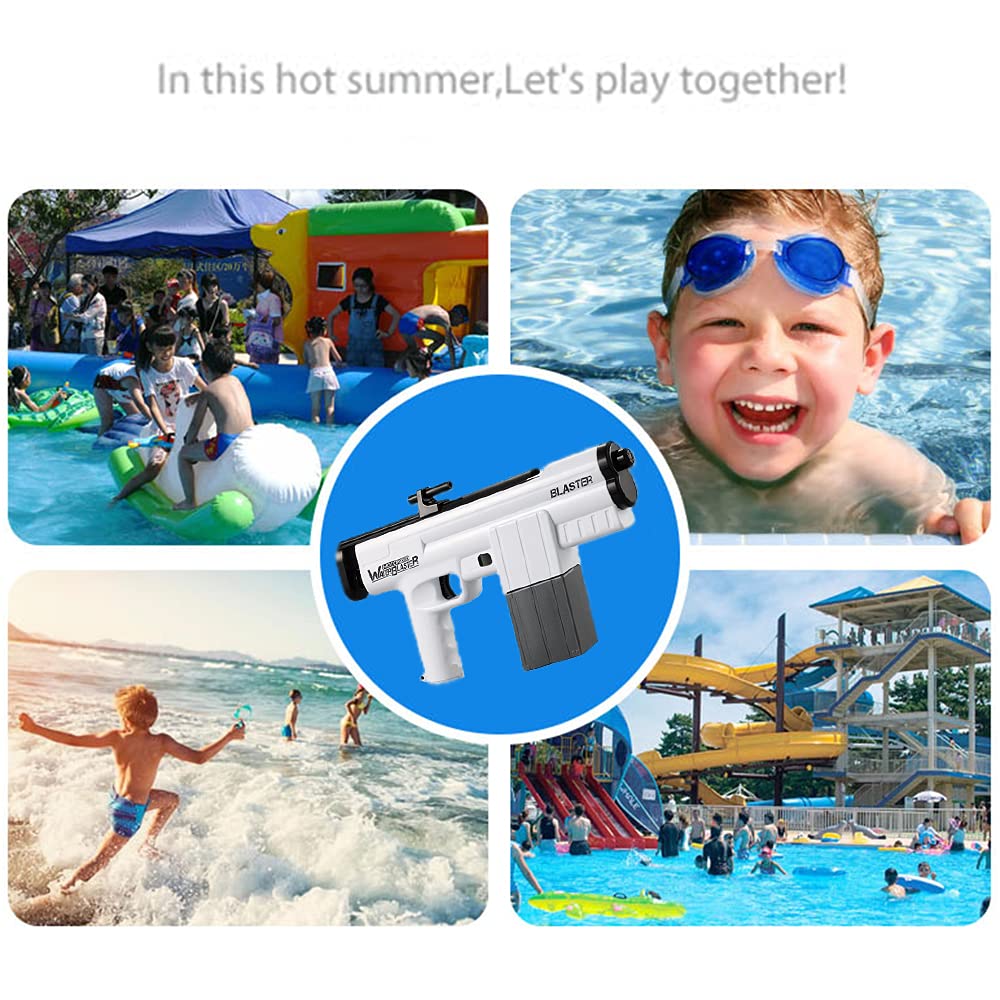 DexBroz Water Gun Features
AUTOMATIC ELECTRIC WATER GUN
The automatic electric water gun has got rid of the previous mode. The one-button design provides convenience for children during use. You just need pull the trigger to shoot and the water will keep shooting out.
EASY TO FILL AND SHOOT
The sink is easy to fill and kids can shoot easily. Parents can join the water gun battle and accompany their children to spend a happy time.
LARGE CAPACITY & LONG RANGE
The gel blaster gun can hold 375cc of water and can also shoot up to 22 feet. Use the provided screwdriver to tighten the battery cover to effectively protect the battery.
Be careful not to completely immerse the gun in water, as this will damage the electrical components.
SAFE & DURABLE QUALITY
The soaker water gun is made of high quality ABS material. Non-toxic, safe and durable. Tested for child safety, the rounded edge design protects your child's hands.
FUNNY GIFT
This electric squirt gun is perfect for kids and adults. It is suitable for seaside, beach, swimming pool, party and brings you unlimited fun. At the same time, water gun is also the best choice for birthday gift for children.
Packcage Include
1*Water Gun(not include 4 AA batteries)