Unsure about whether you're safe to drive after drinks? Now you can wipe out those feelings of doubt on your next night out with this discreet Alcohol Checker Breathalyzer.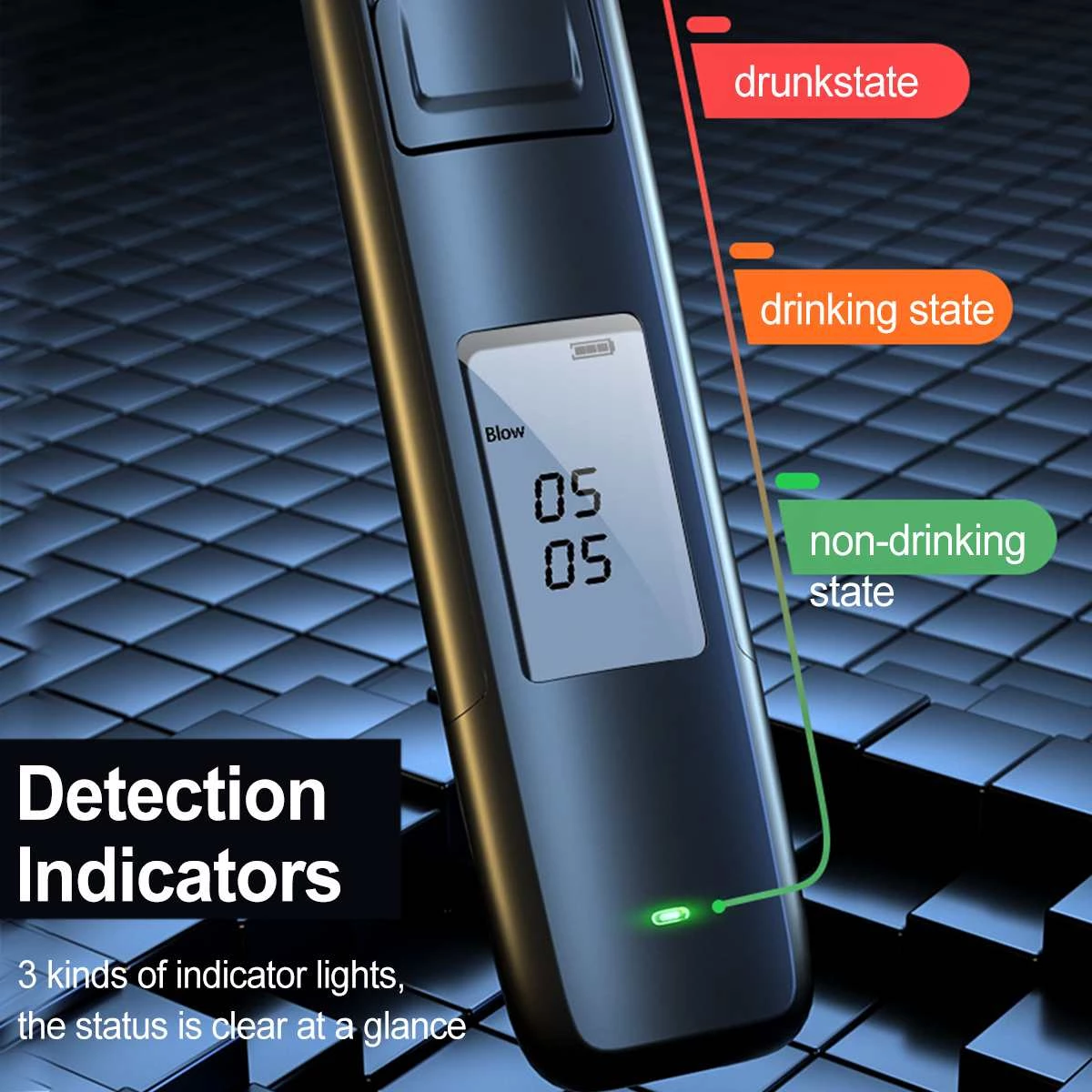 Don't drink and drive is still a very challenging thing to do. You still need to socialize, and you also still need to drive. Solely depending on human judgment about your capacity to drive even after downing some drinks can easily get you into trouble. Carrying a handy but reliable breathalyzer and alcohol level checker can prevent you from getting into accidents and run ins with the law! This is what the AlcoBreath is all about!
The AlcoBreath breathalyzer and alcohol level concentration checker is a device that comes with an advanced design and improved accuracy. This alcohol level checker comes with high sensor chips that quickly gives an accurate chemical reading after blowing near the spout. The drunk driving breath tester also doesn't require direct mouth contact, making it safe and hygienic. Stop ignoring the rules and start partying safely with the use of AlcoBreath.
Features:
The most portable breathalyzer in the market. The alcohol breath tester is small and discreet. The device only measures 10cm in length and 2 cm in thickness. It looks more like a vape pen than an alcohol breathalyzer. It won't even take extra space on your bags and pockets.
Breathalyzer with long-lasting battery. The battery inside the device is a high-capacity rechargeable lithium battery. When the battery is fully charged, the device can cater for hundreds of tests. You can easily charge the battery using a USB charger.
The most hygienic alcohol breath tester! No tubes to blow into that require mouth contact. By simply blowing near the top opening, the device will begin testing. You can use this multiple-use breathalyzer to other drivers as well.
Results are simple and easy to understand. Despite its high-tech design, the reading after analyzing a person's breath is remarkably simple and easy to understand. A 3-level light reading tells you a person's alcohol level clearly.
Benefits Of The Portable Breathalyzer and Non-Contact Alcohol Breath Tester:
You can now party safely. You can now party and drive responsibly. Use this breathalyzer every now and then to keep your alcohol level checked all the time.
You won't have to worry about hygiene issues anymore. Because of the design of the device, bacteria is not transferable. Multiple people can use it without fear of getting germs or bacteria from previous users.
Saves Lives: Getting a real time report on how safe you are to drive can save your life. Potentially this will not only save your life from a drink driving accident but others too.
How To Use:
***Recommended to conduct 20 minutes after the first drink.***
Slide opening down and the device will show a start sign.
Start blowing after "Warm Up" disappears from the screen. Once the word "Blow" appears, you can start blowing.
After a few seconds, a reading will appear. 'Result' will appear on the screen. A small light will also indicate a color - could be red, orange, or green.
By sliding the opening up, the device will turn off.