Clear, Crisp, Convenient Audio... In Just One Device!
High quality voice recorder for audio recording, surveillance, or for documenting memories, the AgvaSound is your partner to capturing sounds that matter the most. The AgvaSound is created to help you capture audio sounds in the fullest, highest quality ever!
Features
Crystal Clear Audio Recording, Capture clear and accurate sound with our digital voice recorder that comes with two dedicated 1536 your microphones to optimize voice recording. Our innovative noise reduction technology lets you capture CD-quality recordings in a noisy cafe, conference room, or classroom.
Elegant and beautiful recorder, we know that an audio recorder should not only capture sounds but elegant and stylish. We have thought about that and designed our voice recorder with a polished aluminum casing. While you are busy recording conferences, meetings, or interview recorder, you still get complimented on how beautiful you look.
Very sturdy with compact design, unlike other audio recorders that break easily, Boocosa Sound Recorder is rugged and guaranteed to last a lifetime. Each of our digital voice recorders is lightweight and portable, so it can fit comfortably in your briefcase, purse, tote bag, palm or pocket.
PC Compatible with 8GB of Storage - 8GB offers plenty of storage space to hold up to 560 hours of audio files, while the large-capacity rechargeable battery provides enough juice to keep your recorder on throughout the day. You can easily transfer the recorded file to your Mac or Windows PC via the included USB cable.
Long-lasting time: built-in high-capacity rechargeable lithium battery, more than 10 hours of working time on each full signal charge, 8GB stores up to 560 hours of audio.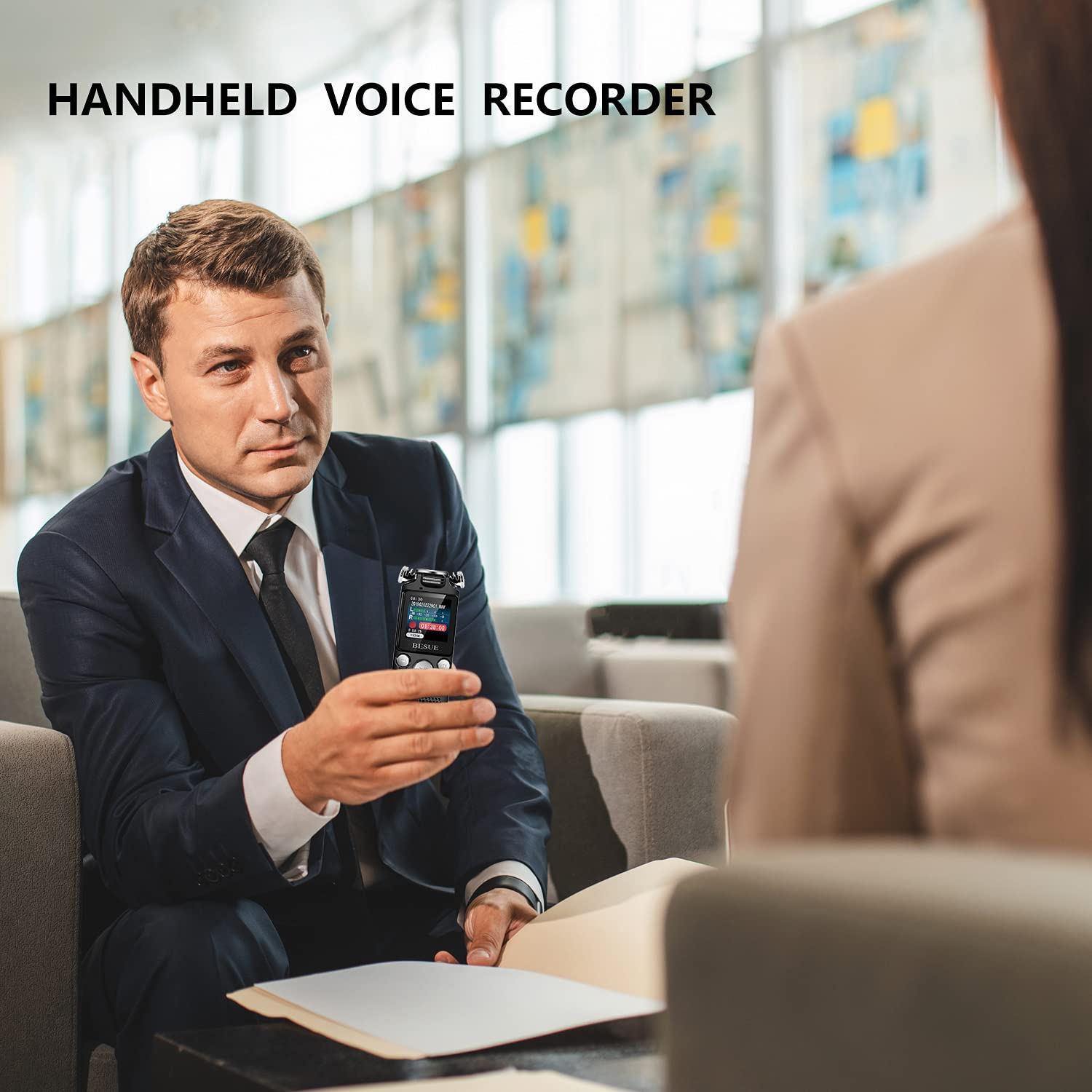 Compact and Extremely Handy
Actual note taking during lectures can be quite tedious. Or you may get a random, brilliant idea and have no way of writing it down. In such scenarios, do not worry or fret. BOOCOSA digital voice recorder is perfectly suited. The clarity of voice, no matter where it is placed while you record is outstanding. Its dynamic noise reduction mechanism sees to it that you capture anything important in that noisy lecture hall, or you record that life changing idea from up to 40 ft. away from the recorder.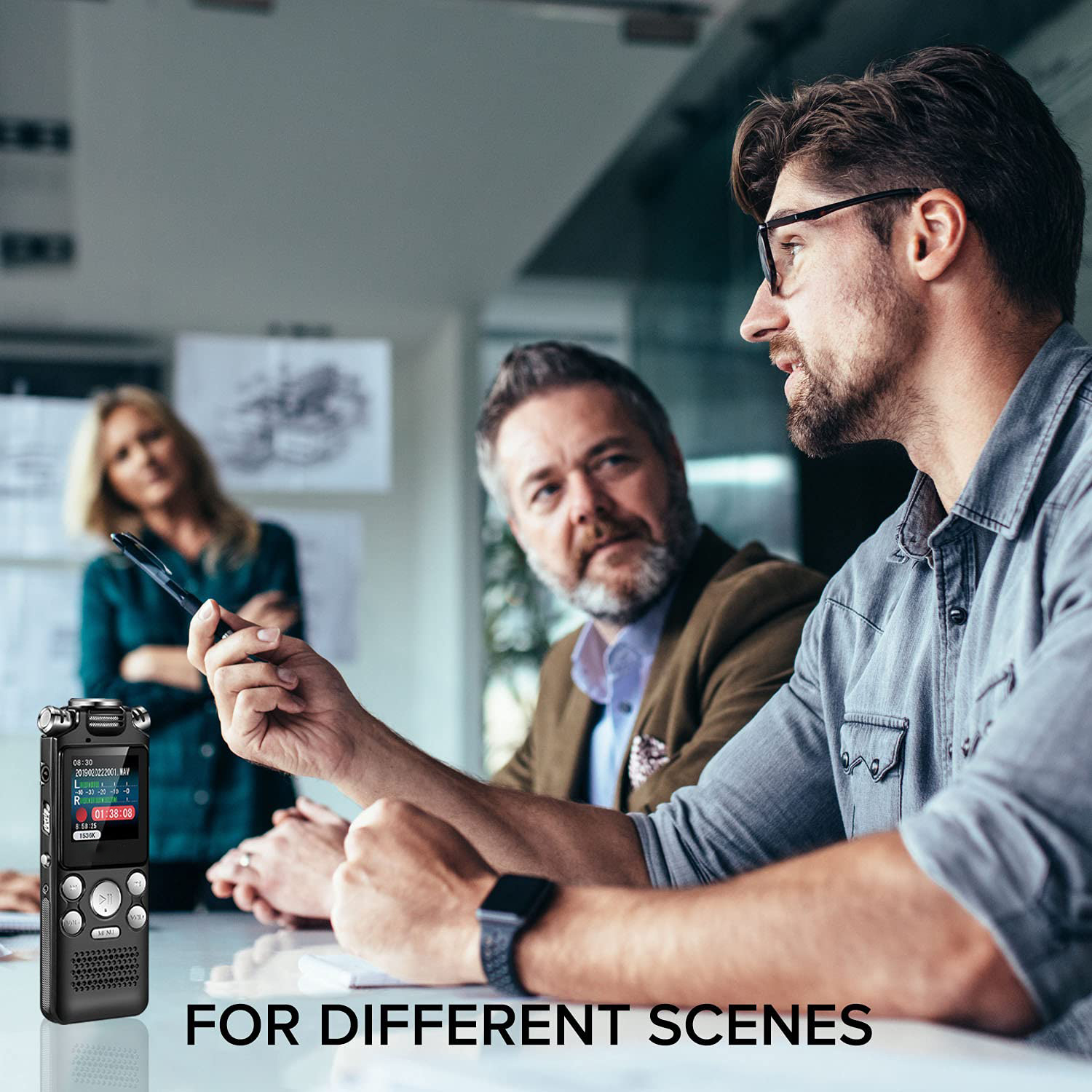 Quality You Can Trust
For Bloggers, Podcasters or those of us who love thinking out loud, this is a must have. You can save as many recordings as you want and all will download to MP3 files, making it easy to edit with whatever software you are most comfortable with. It can also be used as an MP3 Player as well as a flash drive to store files… talk about diversity!

Enjoy Multi Variety Functions
MP3 Player
Store mp3 or wav musical files in the memory outside RECORD folder, it can be used as a MP3 player.
Portable Size
Dimension: 3.85 x 1.45 x 0.5 inch, as wide as 2 fingers. Yet the buttons are bigger enough for convenient manipulation.
Enormous Memory
8/16/32GB internal memory, store up to 700 hours of recordings at 32KBPS or up to 1500 pieces of songs.
Recording Features
Can save recordings as WAV and MP3 files, so you can play the recordings on your PC or Mac, no need to convert the format.
It will save recordings automatically when battery runs out or turned off accidentally. No more worries about losing your valuable information.
Playback Feature
AB repeat, fast forward and rewind during playback
Long lattery life
Comes with a heavy duty rechargeable battery, can record for up to 15 hours. It can also record while charging.
Trouble Shooting
The original format of the recordings is WAV. You need to set it to MP3 manually if you use MAC
Recorder gets frozen: hold down the power button for about 20 seconds to reboot it, then plug it into a computer to activate it.
Do not format the recorder on MAC IOS, the recorder can format itself if you want to empty the memory. Reformat it on Windows if you already formatted on MAC.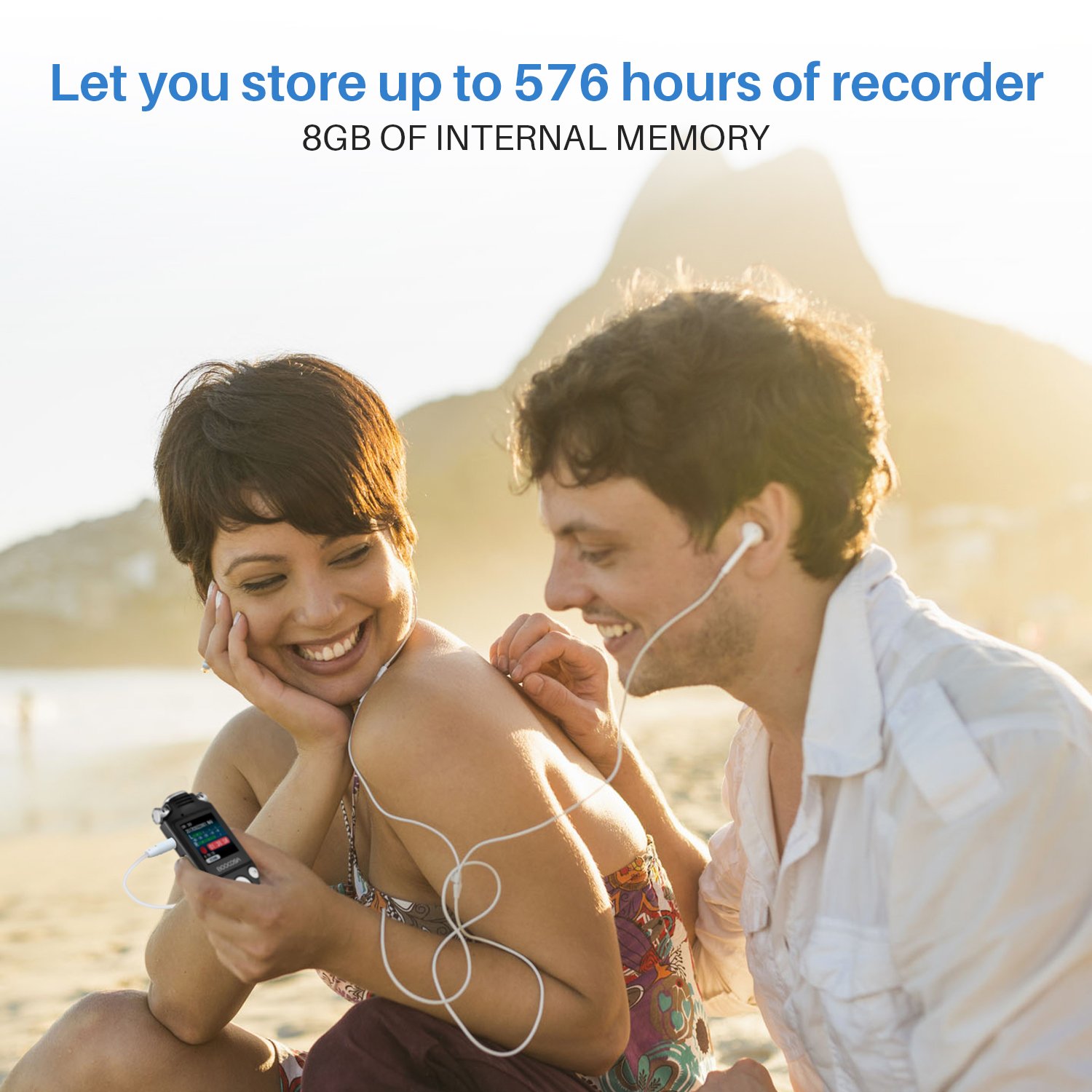 Applicable Scene
- Small recorder for kids to rewind songs or books
- Outdoor research for animal sound
- Students for lectures,class,transcribe to text
- Journalist for working out
- Office meeting, interview and transcription
- Youtube transcriber
 Specifications
USB: Micro USB2.0
 Playback Formats: MP3 / WAV/ APE / FLAC/ WMA/ ACC-LC/ ACELP
 Supported File Formats: WAV/MP3
System Compatibility: Windows/2000/XP/7/10; Mac OS; Linux; etc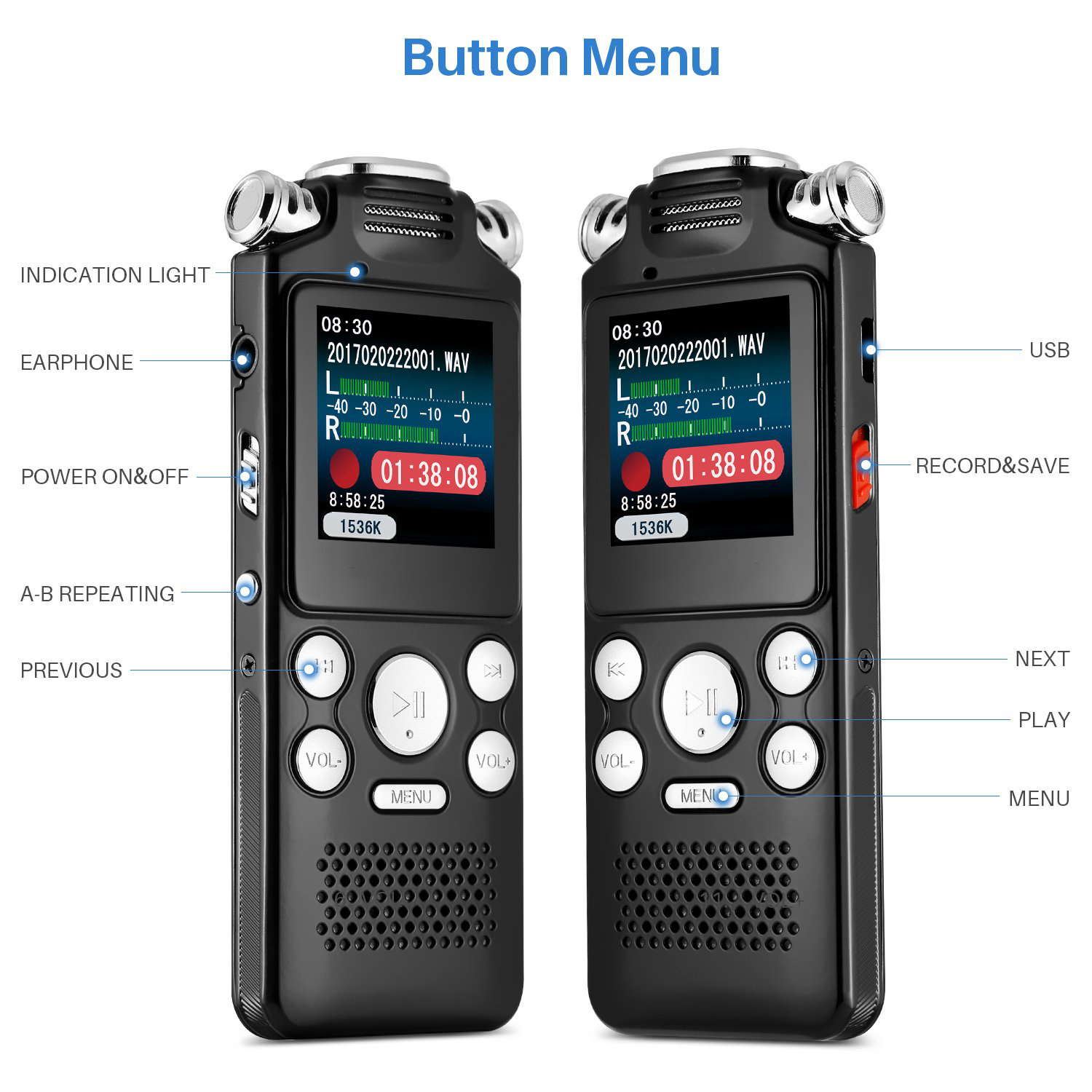 Packcage Include
1*voice recorder
1*Data cable headset
1*Packing box
1*manual