Get All You Need From a Voice Recorder - Complete with Crystal Clear Noise Cancellation Feature, 60-Hour Recording Time, Voice Activated Recording, High Quality Speakers and Microphone, Handy and Easy to Use Interface, and Multipurpose Design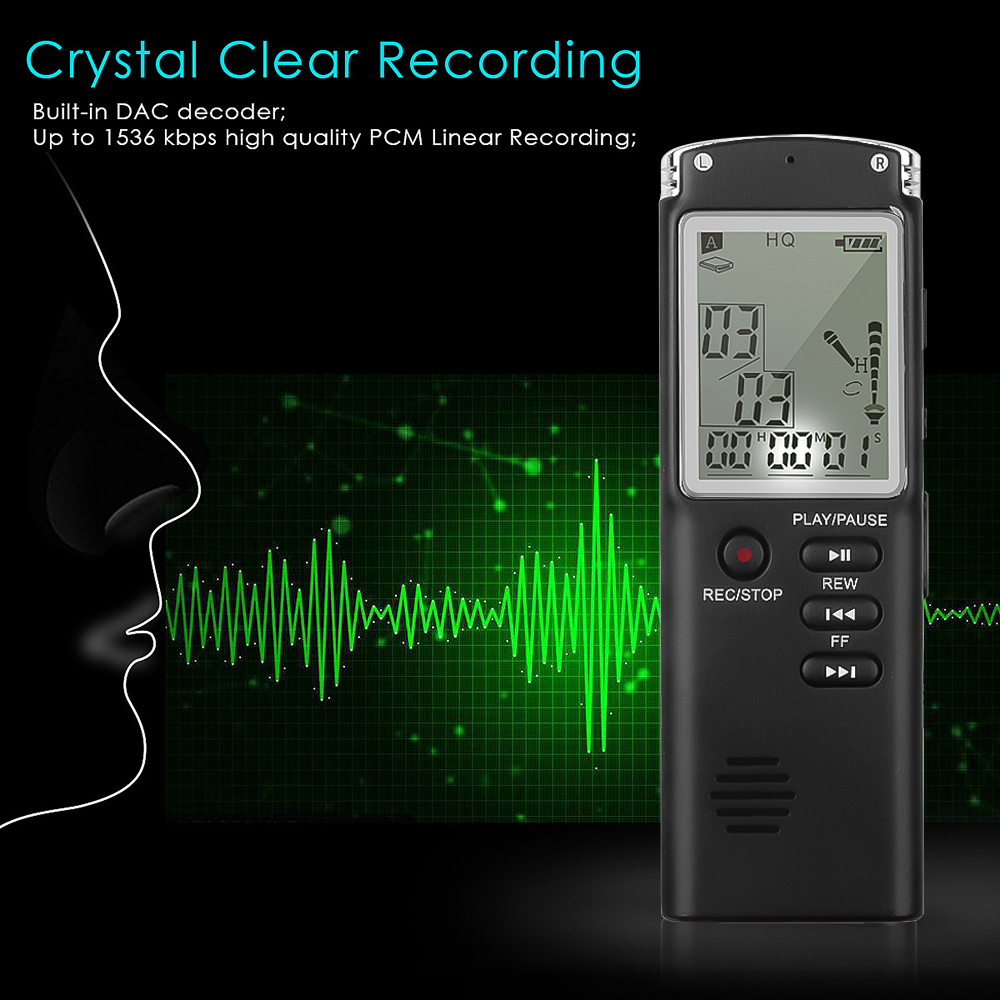 The Perfect Voice Recorder for School, Office, Presentations, Lectures, Interviews - You Can Record for a Total of 60 Hours!
Are you looking for a highly-efficient voice recorder that can give you topnotch recordings so you won't miss any important detail?
Introducing the MaxxPick recorder - a high-capacity, long-lasting voice recorder for your lectures, classes, presentations and interviews. Now with a noise-cancelling feature, the MaxxPick's microphone allows you to pick up the clearest quality sound possible even from a distance of 15 feet.
You get your money's worth with the MaxxPick - you can also use it as an MP3 player and an FM radio!
If you want bang for your buck all while enjoying the best recording quality, go for the MaxxPick!
MaxxPick Voice Recorder Features
🌟 Comes with high-quality capacitive recording microphone which delivers crystal clear recorded quality.
You can say goodbye to distracting noise and crackling sounds. The MaxxPick comes with a noice-cancelling technology that gives you clear audio all the time.
🌟 The recording can support MP3, WAV recording format so your recording can work for all types of devices
You won't have to deal with audio files that can't be played in other devices. The MaxxPick records at MP3 and WAV formats - universal sound formats - so you won't have a hard time converting audio files.
🌟Supports sound-prompted recording so you don't have to fiddle the record button all the time.
The recording starts once voice is picked up. You won't need to fiddle with the recording button every now and then. All you need to do is draw the recorder closer to the speaker, or near your mouth and the device will start recording.
🌟Enables external speaker playback - just plug and play.
If you need to play a louder sound, you can connect the device to external speakers easily.
🌟Playback settings make it easy to listen to recordings.
The device also comes with high-quality, Hi-Fi speakers that allow you to hear sound as accurately as possible.
🌟Transfering recorded files is also made easier
Simply connect your device to the voice recorder, and you will be connected to the file reader where you can view and transfer files.
🌟Can support up to 16 GB of memory
The MaxxPick can store up to 60 hours of recording.
🌟Long-lasting battery that lasts up to 40 hours of recording.
Lasts the entire day so you won't be missing any important recordings.
Specification:
Size:3.8*1.3*0.47in
USB interface:USB2.0
Memory:Embedded
Battery:3.7V~210-280MA battery optional
Music:MP3,WAV lossless playback
Operating temperature:-5 to 40 degrees Celsius
Recording format:High-quality recording (HQ)WAV 1536KBPS; Standard recording (SP)MP3 192KBPS
Headphone output:10mw+10mw(320hm)
Frequency response:20Hz to 20KHz
Signal-to-noise ratio:>70dB
Distortion:0.05%
Support system:Windows982000XP,etc.
Packing List:
1 xVoice recorder
1 x Usb cable
1 x User Manual