Hey there, trendsetter! 🎩 Ever had that moment when you pat your pocket and your heart skips a beat because your wallet's not there? Yeah, we've all been there. But what if I told you there's a wallet out there that's not just stylish and compact, but also smart? Meet the TracePack Compact AirTag Wallet. It's like the secret agent of wallets, always on duty, always at your service.
Crafted from genuine leather, this wallet is the epitome of style and sophistication. But it's not just about looking good. With its slim and lightweight design, it's all about making your life easier. And here's the best part: it's got a built-in pocket for your AirTag. That's right, this wallet is not just about keeping your cash and cards safe, but also about ensuring you never lose them.
But wait, there's more! With RFID protection, your personal info is safe from digital thieves. So, if you're looking for a wallet that's got your back (and your front pocket), the TracePack is your match made in accessory heaven. Ready to take a closer look? Let's dive in!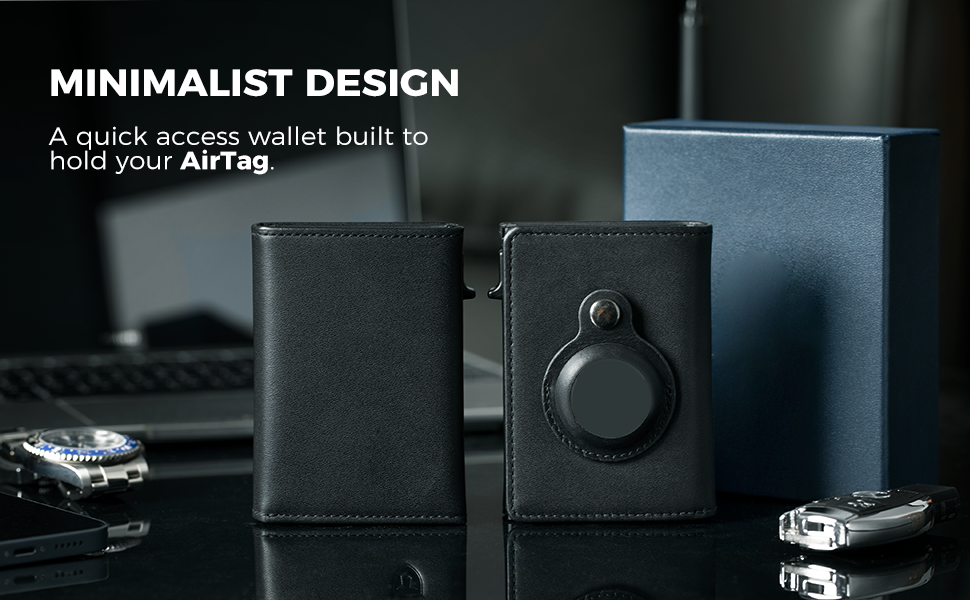 Never Lose Your Wallet Again
With the built-in AirTag pocket, your wallet is always just a quick 'Find My' away. It's like having a personal detective dedicated to keeping tabs on your wallet.
Quick Access to Your Essentials
The side button for quick access is a game-changer. It's like having a personal assistant who presents your most used cards on a silver platter.
A Wallet That Ages Gracefully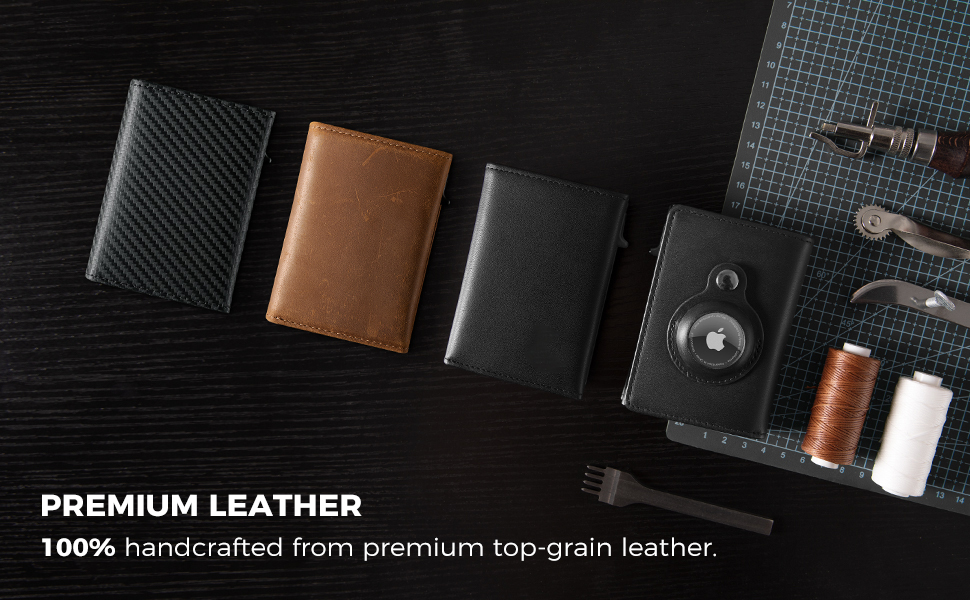 The 100% handcrafted top grain leather not only looks good but gets better with age. It's like a fine wine, but for your pocket.
Security You Can Trust
With RFID blocking technology, your personal information stays personal. It's like having a personal bodyguard for your cards.
Compact and Easy to Carry
The small and palm-sized design means it fits perfectly in your pocket. It's like your wallet went on a successful diet.
Strong and Secure
The hidden magnetic closure ensures your wallet stays closed and your essentials stay put. It's like having a personal lock for your wallet.
Gift-Ready Packaging
The luxurious gift box it comes in makes it the perfect present. It's like it's Christmas every time you buy one.
Durable and Long-Lasting
The high-grade aluminum card mechanism ensures your cards stay secure. It's like having a personal fortress for your cards.
Stay Organized
With space for 1-10 cards and a cash slot, everything has its place. It's like having a personal organizer for your pocket.
A Wallet That Makes a Statement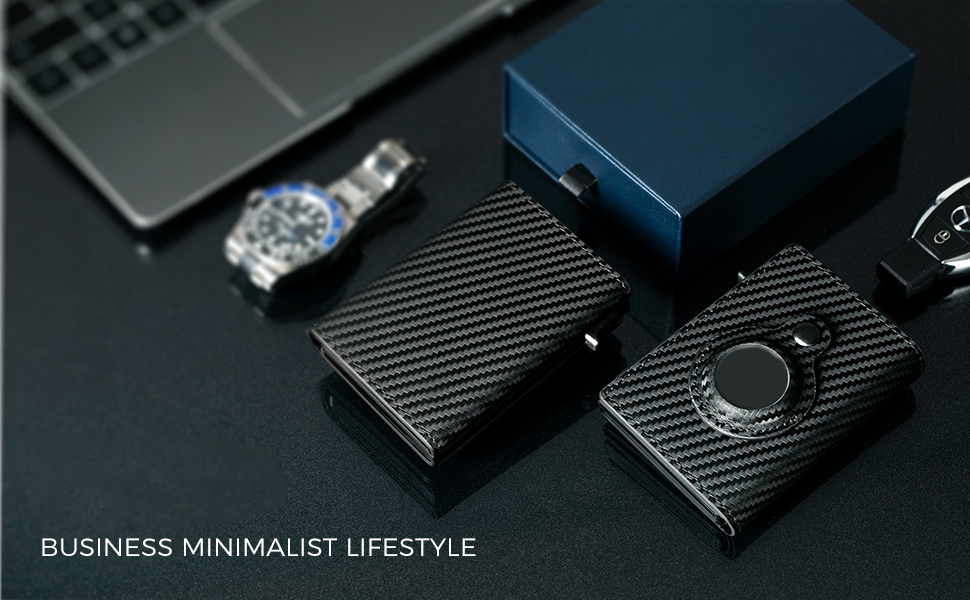 The sleek design and premium materials mean this wallet is more than just a wallet. It's a fashion statement. It's like wearing a designer suit, but for your pocket.
Alright, style guru! 🕶️ You've seen the features, you've heard the benefits, and now it's time to make a decision. The TracePack Compact AirTag Wallet is more than just a wallet; it's a lifestyle upgrade. It's sleek, it's smart, and it's waiting to revolutionize your pocket. But here's the thing: these wallets are selling like hotcakes. So, why wait and risk missing out? Grab yours now and step into a world where style meets function. It's time to elevate your wallet game. Ready to make the TracePack wallet yours? Let's do this!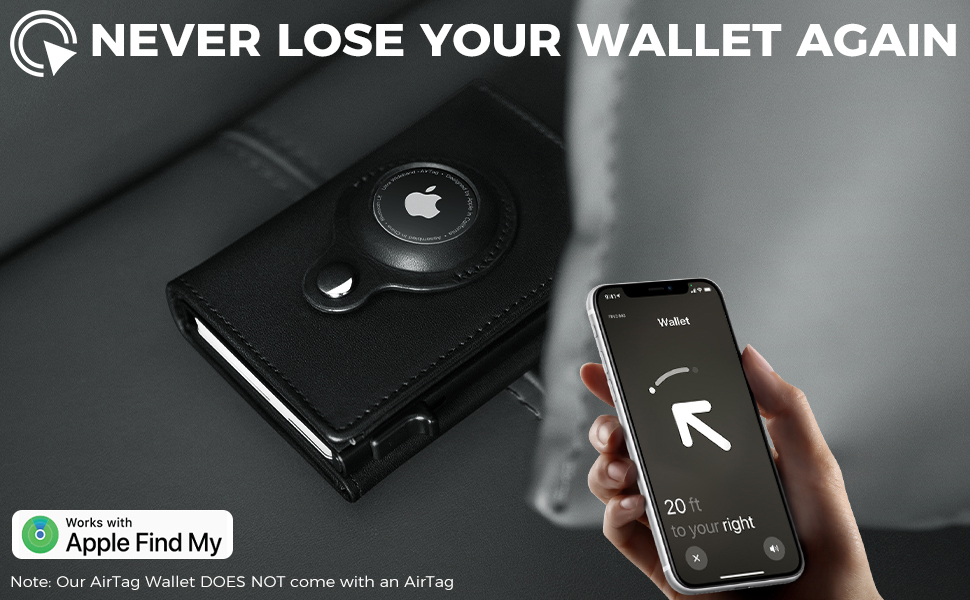 Technical Specifications
Alright, tech enthusiasts, let's get down to the nitty-gritty! Here's a quick rundown of the TracePack Compact AirTag Wallet's technical specifications:
Material: Genuine Leather. (Because quality matters!)
Design: Compact & Lightweight Design. (For easy access and secure storage!)
AirTag Pocket: Integrated AirTag Pocket. (Never lose your wallet again!)
RFID Protection: Blocks the 13.56 MHz band. (Your personal info stays personal!)
Packaging: Comes in a stylish gift box. (Ready to impress!)
Closure: Metal Snap Buckle. (Keeps your AirTag secure!)
So, there you have it! All the technical details you could ever want. Whether you're a tech geek or just someone who appreciates the finer things in life, the TracePack Compact AirTag Wallet checks all the boxes. Ready to make it yours?