Make Capturing Groufies and Selfies + Great Landscapes More Convenient with The StandeeShot Selfie Stick You Can Easily Convert into a 35-inch Tripod!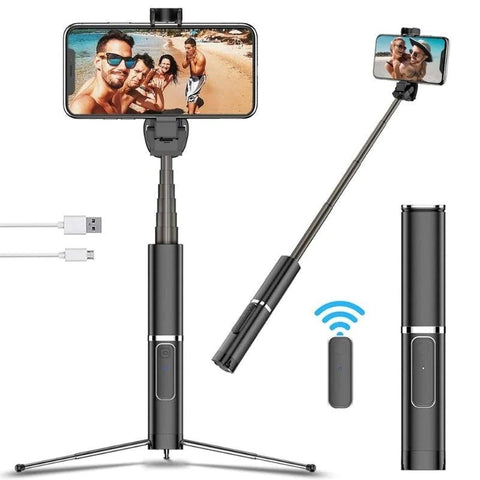 With Bluetooth Remote and Design That Increases Stability for Photo Taking - You Can Be Assured Your Shots Won't Be Blurred, Shaky, or Weird-looking!
Have you ever had moments when you want to take a photo of you or a group of friends, and you just can't find the best way to do it? It's either you lose important details, or you can't capture all the people that would make the photo memorable.
You can say goodbye to your selfie and groufie woes with the StandeeShot!
This portable, Bluetooth-compatible selfie stick that can also be convertible into a stable tripod! Whether you're taking vertical shots, or those beautiful horizontal snaps of landscapes and groups of people, the StandeeShot is for you.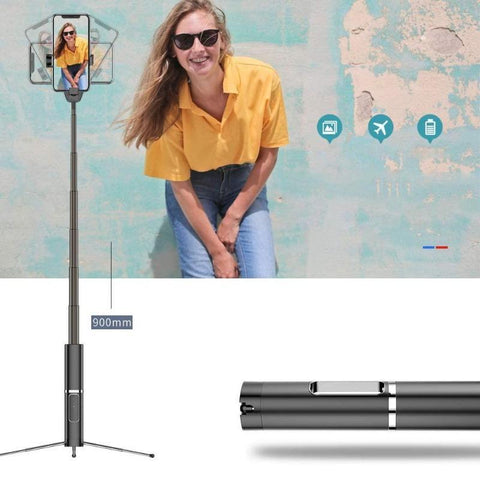 StandeeShot Selfie Stick Features:
✅ The handle can be opened as a three-legged tripod and you can remote control the self-timer for stick-less photos. Do you want to remove the selfie stick image from your photos? Do you want to take a shot of you, your friends, and gorgeous background from a distance? The StandeeShot's tripod design can do that for you.
✅ Long stretch, give you enough selfie distance so you can capture more. The StandeeShot can be extended to a total of 35 inches. You can capture more people in a group photo, and include more details for your landscape shots.
✅ The tripod can be put away as a hand-held self-timer, no need to disassemble, extremely convenient. The remote control allows you to take shots, or set self-timer options.
✅ Compact and charming, foldable, easy to carry, go out without worry. The design of the StandeeShot is made for traveling. It's lightweight, compact, retractable, and without no sharp edge to worry about.
✅ High-quality silicone pad, with a concave design, non-slip and super secure to prevent device damage. The overall design of the StandeeShot ensures safety of your camera and the selfie stick. It comes with a non-slip base, a solid grip, and a stable stand so you can take photos with confidence.
✅ Simple button design, a key to get horizontal or vertical shot. Whatever type of shot you're going to make, you can be assured that the StandeeShot can cater any angle you prefer for you.
✅ Lithium-ion battery: takes only 2 hour to charge, 5000 shots at full power. This long-lasting battery for the StandeeShot can last up to 3 days without charging.
✅ Can carry on and pass inspection of aircraft. The lithium ion material is safe for traveling, you won't be flagged in the airport.
✅ Compatible with any kind of phone. 
Specification
Material:  Aluminum profile + ABS engineering plastic
Size: 2*1.7*8in
Extension length:  900 mm
Telescopic tube material:  aluminum tube
Charging time: 2/h
Control method:  Bluetooth
Charging voltage and current:  DC 5V/0.2A
Battery capacity  (Bluetooth version): 55mAH
Operating system:  IOS system/Android system
Package include
1 x Portable Selfie Stick