Elevate Audio Experiences Anywhere With the SoundCAVERN TV Soundbar!
Today, most people are confined to what we'd like to call: "almost-perfect" viewing experiences. How so? Well, the "almost-perfect" viewing experience has you sit back on your couch, kick your feet up, and help yourself to some popcorn or potato chips while you stream your favorite show. Everything's going pretty well: the plot is good, the picture from the TV is amazing, but you suddenly realize, there's one thing slightly bothering you: the poor-sounding audio, particularly when the exciting action sequences come in.
This is why choosing the right soundbar can make all the difference, as it can overcome the audio quality limits of a flat, compact LED TV, and help create an amplified soundscape that can elevate your viewing experiences altogether. With the SoundCAVERN TV Soundbar, you can finally do so, and bring better audio to wherever you want to be. Powered up to 50W, this soundbar elevates audio to a cinematic level, resulting in more awe-inspiring shows and video game cutscenes.
Best of all, it's extremely easy to assemble, according to your preferred entertainment setup. Split it into 2 soundbars for a more surround-sound effect, place it on your console, mount it on your wall, or play it on your trips to the beach or the great outdoors with its Bluetooth compatibility. Whatever your choice, you'll now be able to say goodbye to subpar TV sound and maximize your enjoyment with the SoundCAVERN TV Soundbar.
Features:
ALL THE AUDIO HARDWARE YOU NEED: With 6 high-quality full-range speakers and 2 bass drivers. Connect it to an omnibearing stereo and enjoy more powerful bass and smoother, more realistic sounds.
DETACHABLE: Play it as is, or split it into 2 soundbars and set each one vertically for a greater surround-sound feel.
MULTI-INTERFACE: Multi-interface, to meet your different demand.
WIRELESS: Going on a beach trip or setting up a party? Connect this soundbar wirelessly to your phone or other devices with its Bluetooth 4.2 compatibility.
VERSATILE, EASY SETUP: As it's detachable, you can place this soundbar almost anywhere, whether on your console, or mounted on your wall (screws not included). Also comes with one cable so you can easily plug it into your TV.
CINEMATIC SOUND QUALITY: Designed with 50W power, to give you a theatrical level of audio while you watch movies, concerts, live sports, video games, or stream your music.
GREATER COMPATIBILITY: With ports for USBs, AUX, Optical, HDMI ARC, RCA, Subwoofer, and more.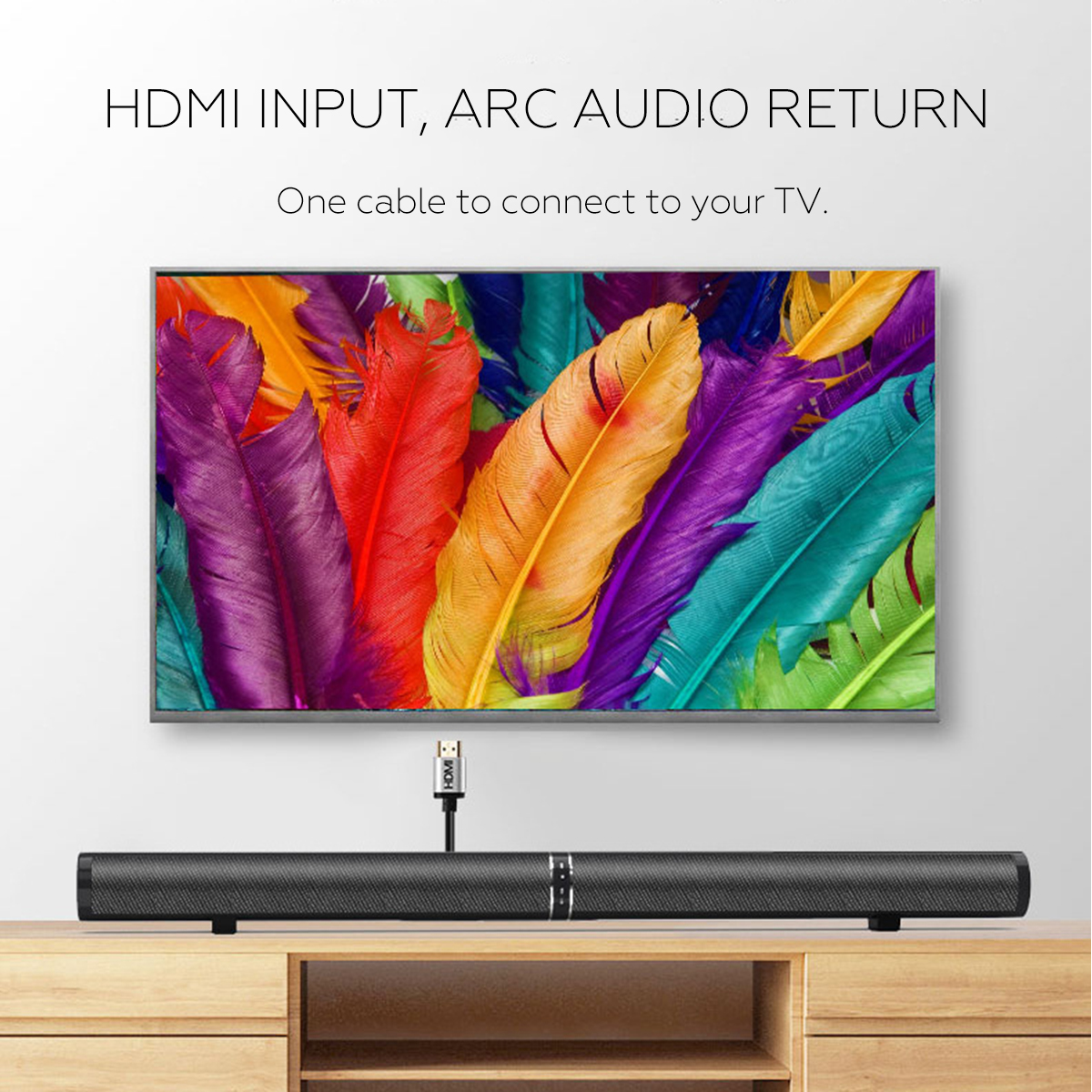 Specifications:
Model:LP-1807
Size:1000x72x72mm(39.37''x2.83''x2.83'')
Color: Black
Material: PVC(Polyvinyl chloride)
Bluetooth Version: V4.2
Frequency: 80Hz-16KHz
SNR: 90db
Power: 50W(4*10W+2*5W)
Voltage: DC 15V/2A
Operation: Button/Remote
Interface: USB / HDMI ARC / OPTICAL / AUX / SW OUT
Package Includes:
1 x Bluetooth Detachable Speaker
1 x Remote Control
1 x HDMI ARC Cable
1 x Optical Cable
1 x RCA Cable
1 x Audio Cable
1 x Power Adapter
2 x Holder