Transform Low-Grade Noise Into Stylish Soundscapes With the ReverieQX TV Soundbar.
Let's face it. Not every TV can deliver the audio quality that they promise. There will come a time (if it hasn't yet), that you just can't seem to appreciate the supposedly award-winning musical scores and sound effects from the most talked-about movie of the year, or there's some dialogue you can't understand because your TV's speakers are facing down, allowing your table or console to absorb the sound instead. So much for the theatrical experience that you've asked for, right?
If you truly want to listen to crystal-clear audio quality that stays true to your favorite movies and TV shows, you can look no further than the ReverieQX TV Soundbar, an exciting sound solution that can truly transform the way you consume entertainment. It puts breadth and depth into your viewing experience, restoring lossless sound quality with its deep bass effect and anti-magnetic noise reduction technology, along with a 3D surround sound that elegantly bursts into your entire room, all thanks to its dual speakers and dual bass diaphragm.
Step into a stylish soundscape every time you turn on your TV. Get the ReverieQX TV Soundbar now.
FEATURES
Top-quality, surround sound bass speakers: helps restore high-end audio often lost in built-in TV speakers, resulting in a surround sound effect.
Compatible with your phone or other devices, whether by plugging them in, or connecting them wirelessly: via Bluetooth 5.0 or standard audio cable, RCA and HDMI input connections
3 equalizer modes tailored to your chosen entertainment experience: choose from Game mode, Music mode, and Movie mode
With an infrared remote: adjust the volume comfortably from the comfort of your couch or bed (no batteries included).
Stylish yet space-saving design: Measures at around 60cm in length, helping save space on your console, desk, or wall.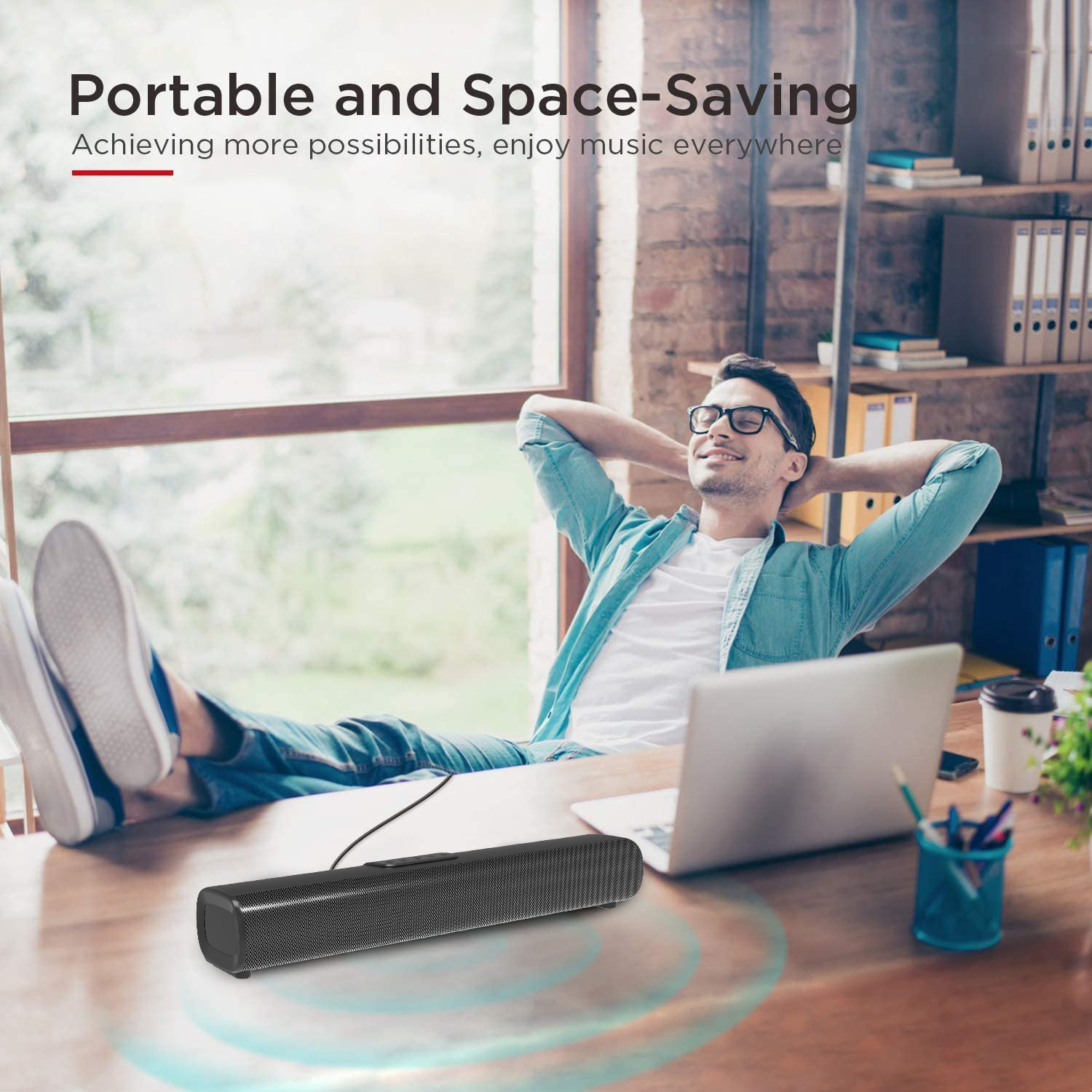 Smart Audio Adjustment: With Built-in DSP Technology & 3 EQ Modes
The sounds of every scene are boosted to their very best, thanks to the soundbar's built-in DSP technology that ensures stable and accurate output. The soundbar's smart chip will also automatically adjust its equalizer mode depending on the type of entertainment you're watching or listening to, whether it's music, movies, or video games.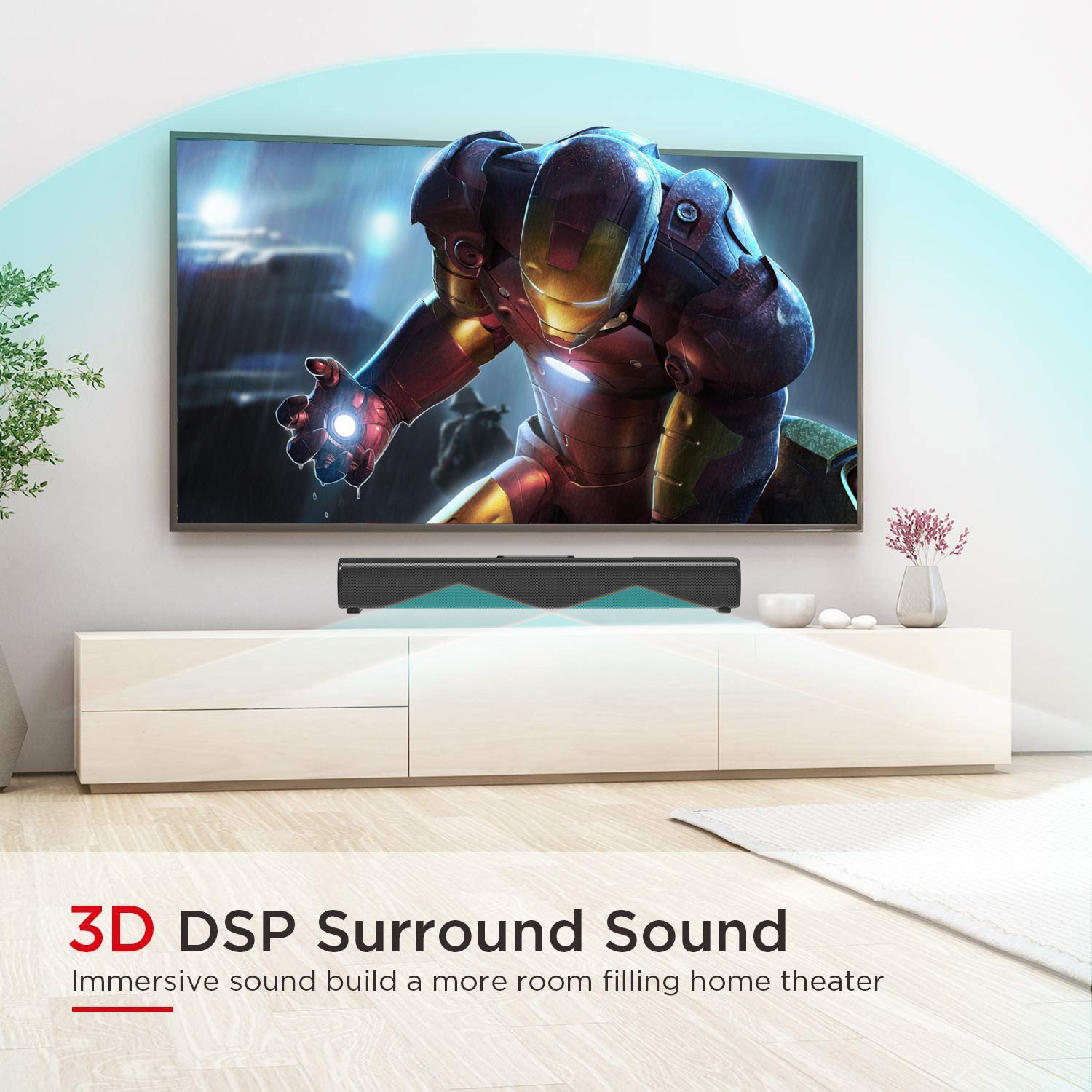 Enjoy Quality Audio On Any Device, Whether Wired and Wireless
Whether you're low-tech or a digital native, you'll find it easy to use our TV soundbar, as it supports a wide range of connection methods. Connect your devices (ex. smartphones, tablets, TVs, computers, projectors, tablets, laptops) wirelessly via Bluetooth 5.0, or link them to its other standard audio cable connections: including HDMI ARC, Coaxial, USB, along with our 3.5mm AUX standard audio cable.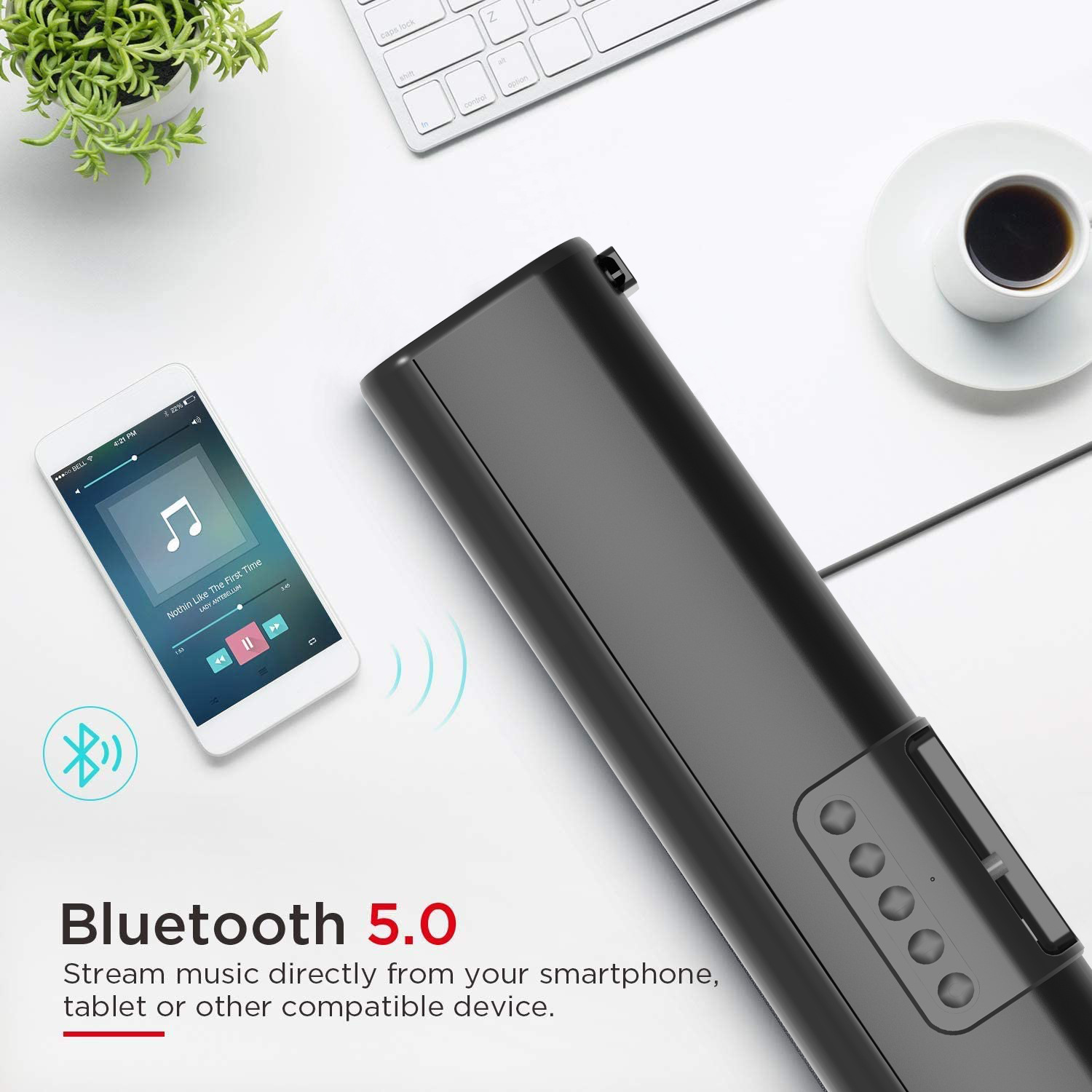 Easy Controls (Whether Built-In, Or On Our Remote)
The soundbar controls themselves are easy to operate, along with our infrared remote control that can cover up to 10m away, allowing you to adjust the volume conveniently from your couch or bed with just the press of a button. (Note: Remote does not contain batteries).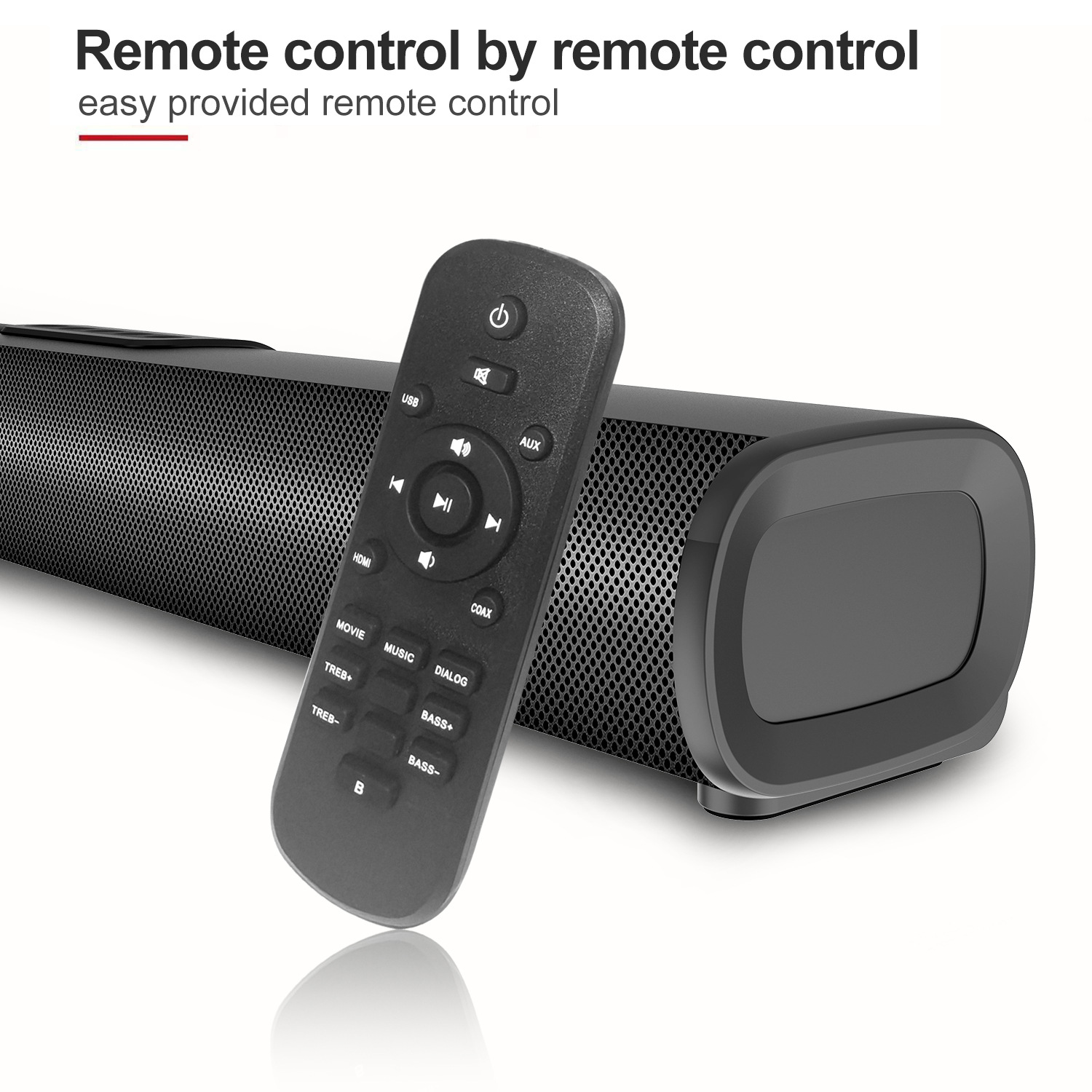 Ultra Slim And Compact, to Fit In Any Space
Light and compact, our TV soundbar along with our subwoofer can be placed anywhere, measuring at only 60cm. It is also non-slip, so you can put it safely on your desk. It can also be mounted on your wall. (Note: Screws not included)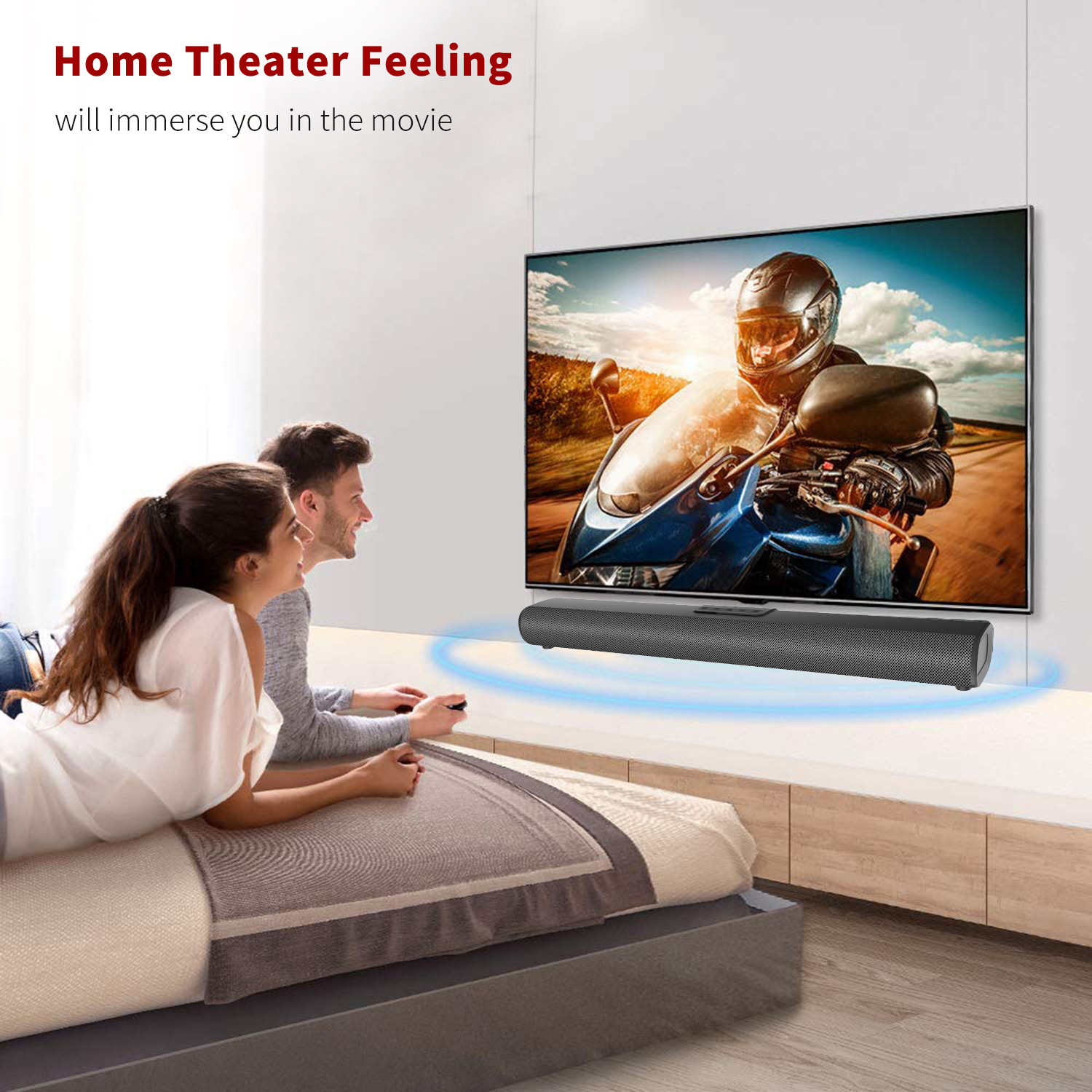 Product Specifications
Model: S20
Bluetooth version: Bluetooth5.0
Hands-free calling
Input connection method: support 3.5mm audio input, HDMI, coaxial, USB, Bluetooth wireless connection
Speaker output power: 50W
Diaphragm: 2
Frequency response: 80HZ---16KHZ
Signal-to-noise ratio: ≥85dB
Playback format: MP3/WAV
External adapter power supply: 12V-2A
Shell: ABS plastic
Distance: open 10m
Power supply mode: external power supply
Size: 62*13*13cm