Want to keep your property safe from intruders? Check out the PathGuard Smart Wireless Driveway Alarm! This system is a convenient and affordable safety/security solution that provides reliable protection for your home or business.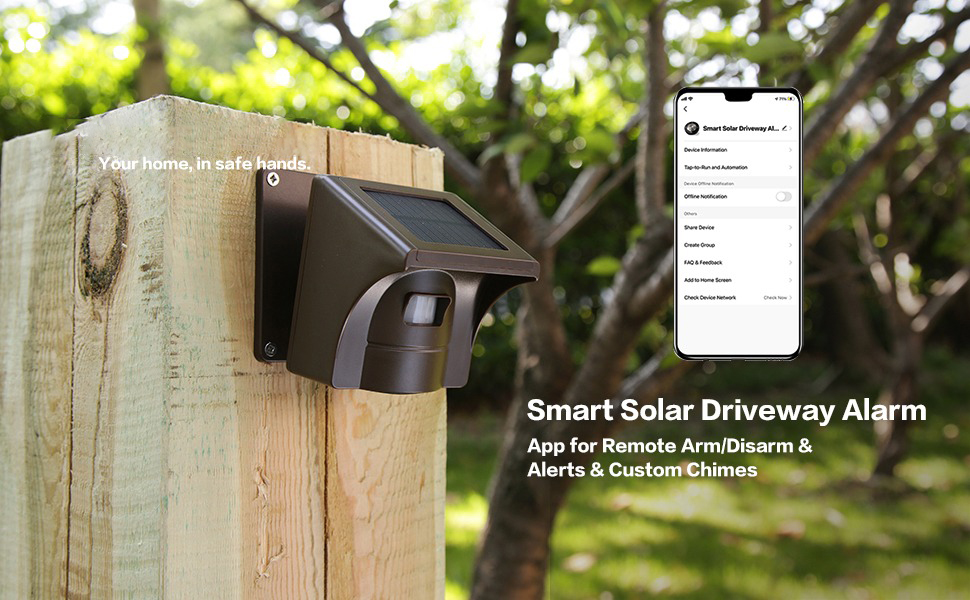 With remote app alert notification, app remote arm/disarm, and custom chimes, you'll be able to keep an eye on your property and respond to potential threats quickly and easily. Plus, the weatherproof outdoor solar sensor has adjustable sensitivity control and can be placed up to 1500 feet from the base unit.
Setting up the PathGuard Smart Wireless Driveway Alarm is super simple, and you can do it yourself in just a few minutes. The receiver can be plugged in using the included AC adapter or can run on (4) AA batteries, giving you the flexibility to use it anywhere.
So why wait? Protect your property and enjoy peace of mind with the PathGuard Smart Wireless Driveway Alarm today!
Remote App Alert Notification: Receive a notification on your phone if someone suspicious enters your property while you're away. You can then use your security camera to see what's happening.
App Remote Arm/Disarm & Custom Chimes: Arm and disarm your defense zones remotely through the app, and choose from 27 different alarm chimes to customize your security system. You can even add a channel voice to easily identify which zone triggered the alarm.
Long Wireless Range: With a wireless range of up to 1500 feet, the PathGuard Smart Wireless Driveway Alarm can easily detect motion in most conditions, including through trees, walls, and vehicles.
Solar Powered & Weatherproof: The outdoor solar sensor is weatherproof and charges the battery through the solar panel, so you don't need to replace the battery. Alternatively, the sensor can also be powered by a DC5V power adapter.
Extremely Reliable: The infrared outdoor driveway alarm wireless detector is designed to alert you to activity around your property, with false alarms minimized by adjusting the sensitivity of the sensor. The sensor can be easily adjusted for sensitivity using the switch.
Super Simple Set-Up: The PathGuard Smart Wireless Driveway Alarm can be set up in just a few minutes, with easy do-it-yourself installation that doesn't require any special tools or expertise.
Two-Way Audio and Siren Alarm: The security camera features two-way audio and a siren alarm, alerting you to activity and letting you respond immediately.
Mobile and Base Station Alerts: Receive alerts and notifications on your phone and the base station as soon as your security camera detects activity. The transmission distance between the camera and the base station can reach up to 1/4 mile (400 meters).
Ideal for Home Perimeter Motion Alert: With a wireless range of up to 1/2 mile (in ideal conditions), the PathGuard Smart Wireless Driveway Alarm is the perfect solution for home perimeter motion alerts.
Adjustable Detection Range: The sensor can detect motion in a range of up to 60 degrees within 5 meters, and up to 89 degrees when the distance is over 5 meters. You can angle the sensor downward to increase detection accuracy and range.