Your Personal Physio and Massage Trainer
Experience professional physical therapy at home with FitenX Athletics. The FitenX Athletics is your quick and easy access for faster recovery, better performance, and overall wellness.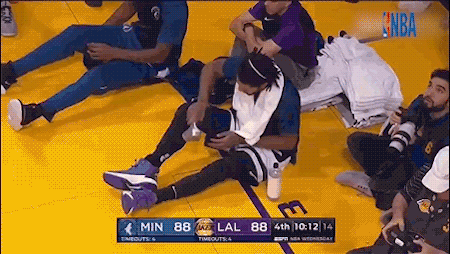 FitenX Athletics: For Your Relief 24/7
Our massage gun helps you relieve muscle stiffness and soreness, increase blood pressure, improve the overall health of the body's soft tissues. Moreover, it can prevent fasciitis, which is painful and difficult to heal inflammation caused by adhesion between the fascia and muscles.
Inclusive of 6 Different Massage Heads for Different Pressure Points
The FitenX Athletics comes with 6 massage heads to target all muscle groups. There's a Fork Adapter to target and work around a muscle indirectly, a Ball Adapter to target large muscles, and a Flat Adapter to target tense muscles.
30 Adjustable Speeds for Your Varying Relaxation Needs
You can adjust the intensity of the FitenX Athletics Massage Gun according to your preference of frequency and torque—all thanks to its 30 variable speeds. With this range of support, no pain or muscle tension will be left unattended so that you can boost your body's recovery right away.
The FitenX Athletics Massage Gun is also equipped with a powerful silent motor for a quiet yet intense massage. It also comes in a 2500mAh, 24V lithium-ion rechargeable battery that will keep massaging for more than 6 hours.
Designed to Accommodate Your Relief—Anytime, Anywhere!
The FitenX Athletics' ergonomic aluminum metal alloy body ensures that the Massage Gun is lightweight and durable. The cylinder grip is soft and easy on the hands and minimizes external vibrations. The durable anti-slip silicone grip makes the massager easier and comfortable to hold for your enjoyment.
This professional deep tissue massage gun makes it possible to get instant pain relief, reduce overall stress and anxiety, and promote faster recovery. It is a perfect gift for your parents, friends, or someone into sports and fitness.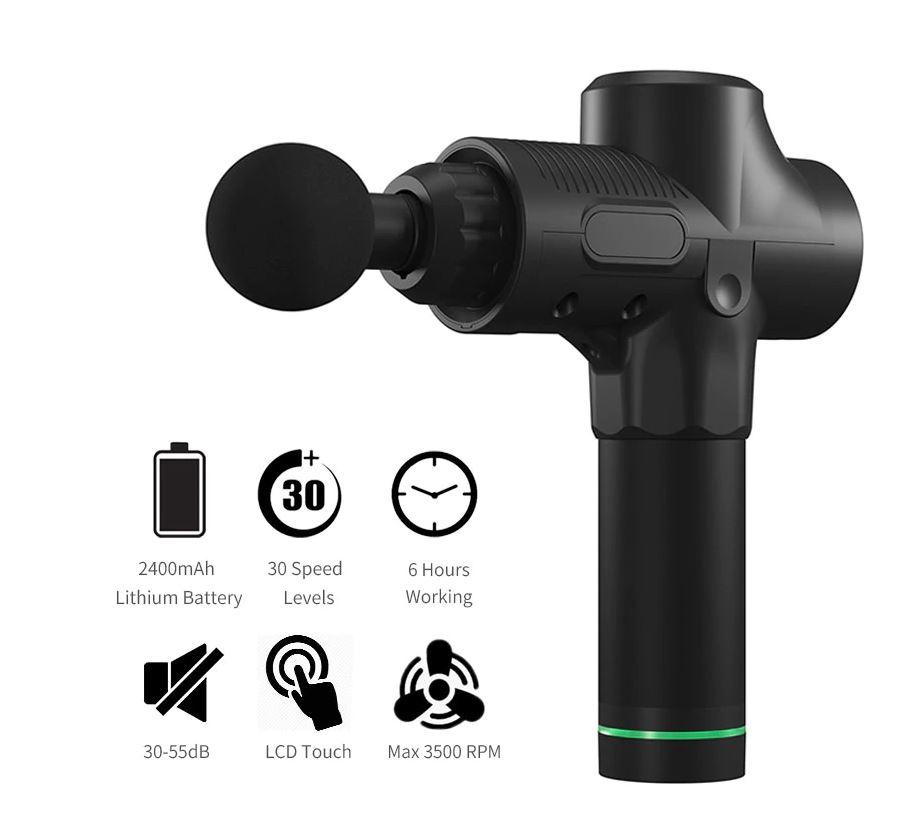 More Details:
Rechargeable battery: 2000mAh-2500mAh, 24V lithium-ion
30-speed levels are multi-function
6 hours of working time
Low noise level: 30 to 55 dB
Maximum unloaded speed of 3500 rpm
LCD touch screen
On/Off Button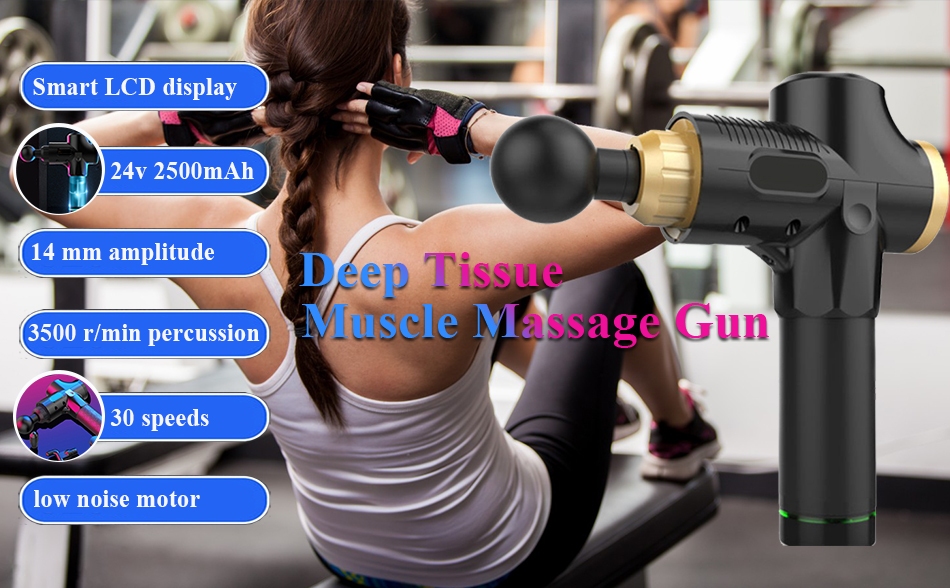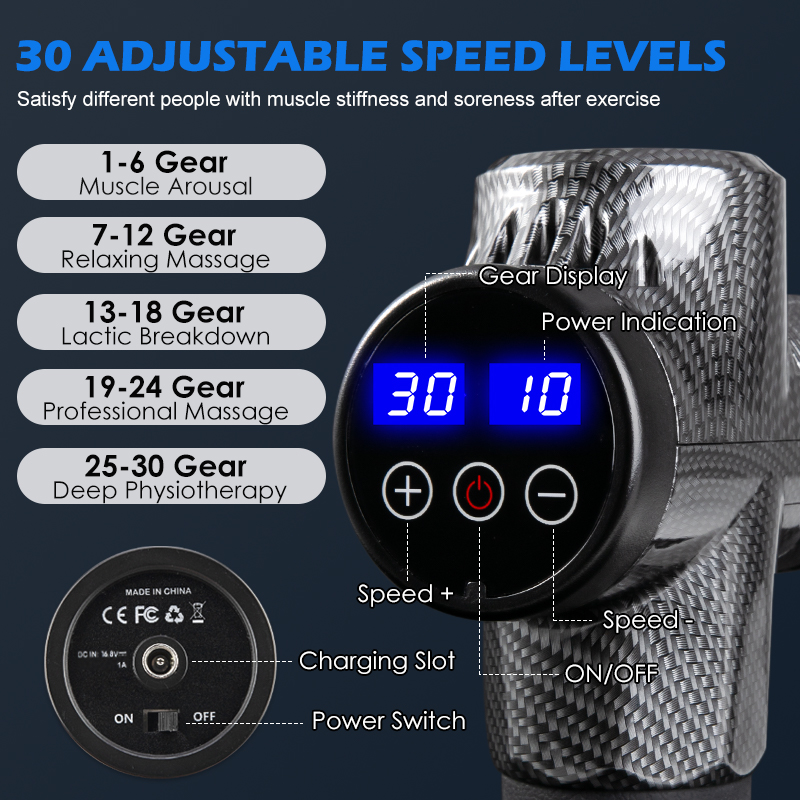 Recommended Users:
Relax muscle pain for Sports fitness
Relief long time work plain due to sedentary office work
Parents and Elders for their healthy life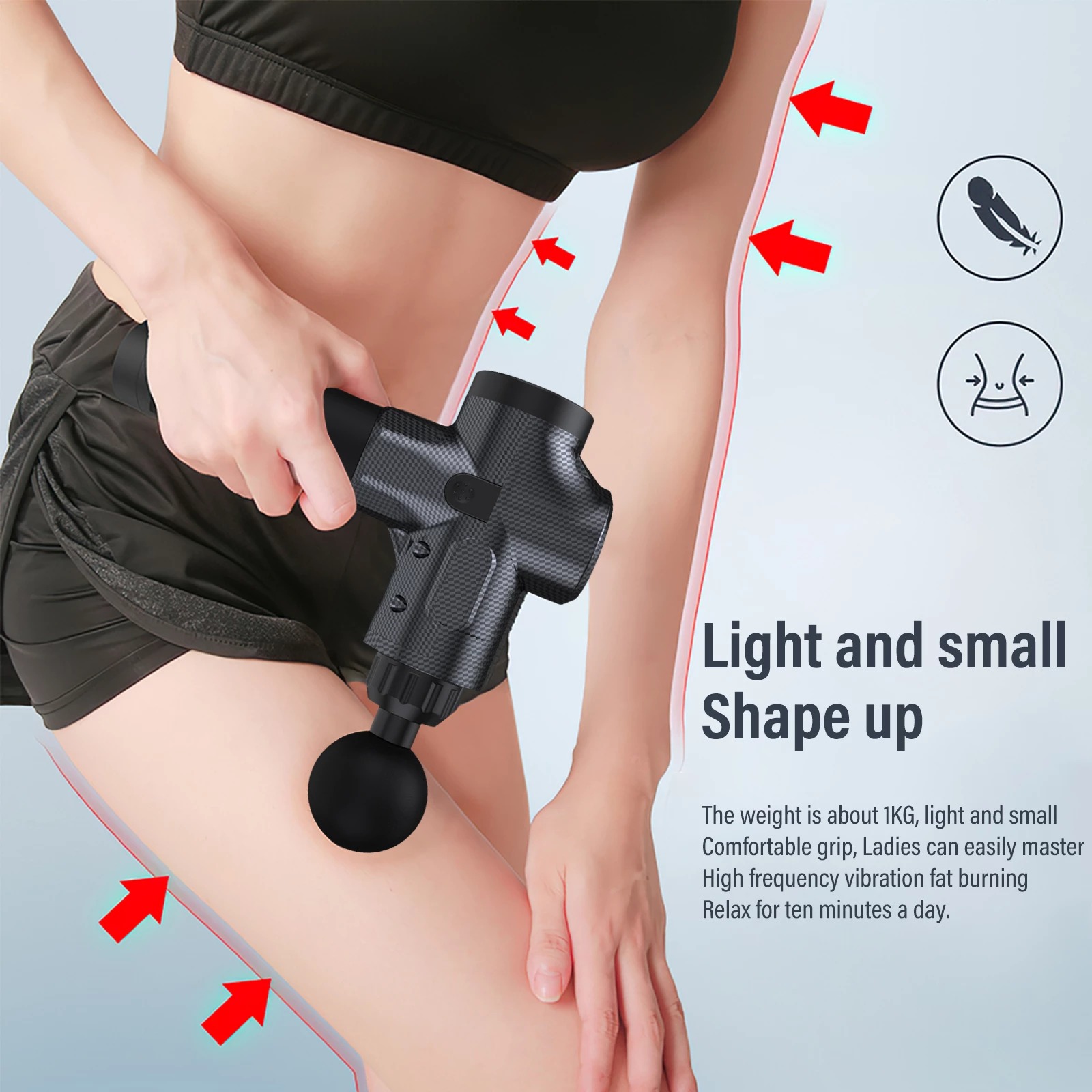 There are 6 massage heads to target all muscle groups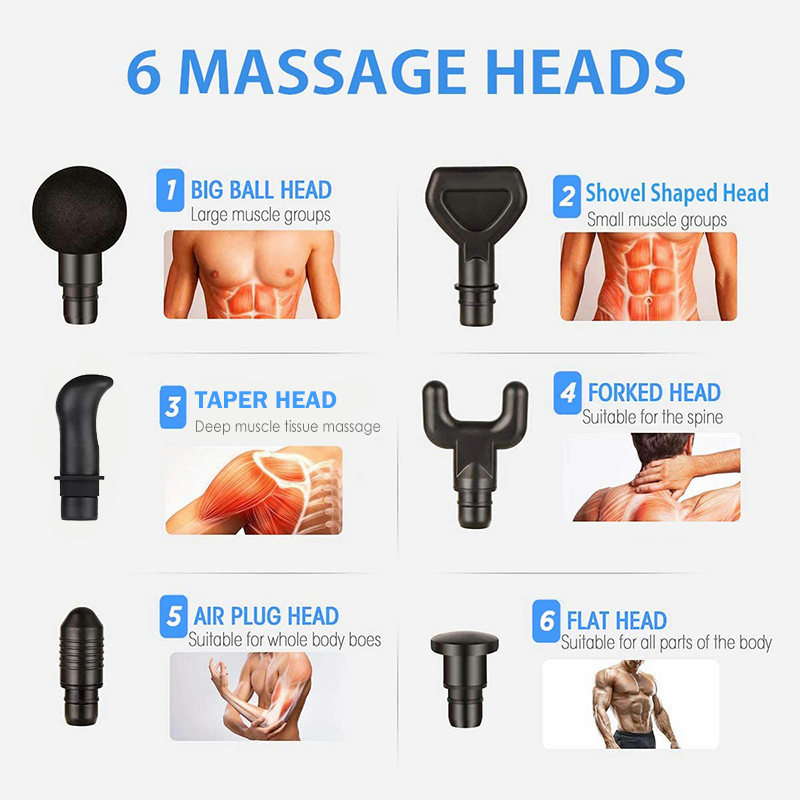 You can adjust the intensity of your massage according to your preference of frequency and torque with 30 variable speeds
Speed 1 - 4: Normal Massage Machine
Speed 5 - 8: Muscle Awakening
Speed 9 - 12: Holistic Relaxation
Speed 13 - 16: Relaxation
Speed 17 - 20: Decompose Lactic Acid
Speed 21 - 25: Deep Massage
Speed 26 - 30: Professional Mode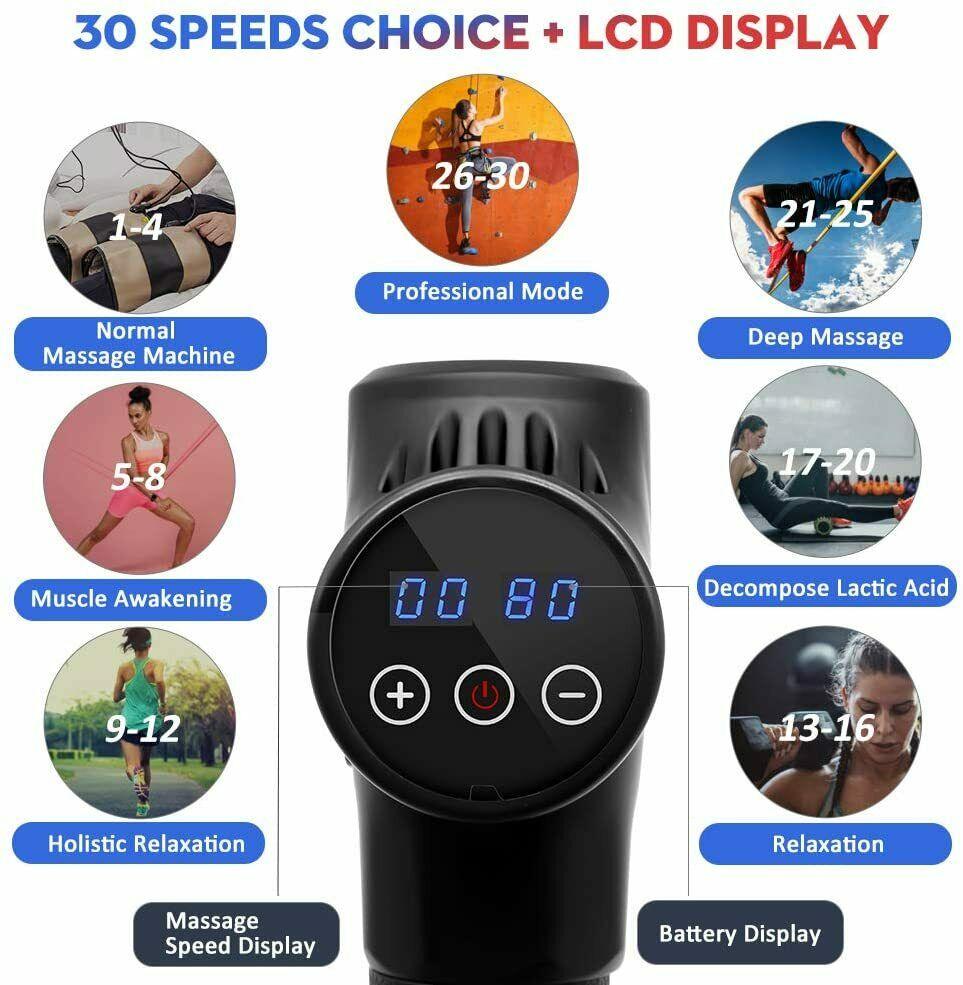 Users:
Warming up
Bodybuilding
Deep Massage
Relieve Joint Pain
Recovery
Daily Health Care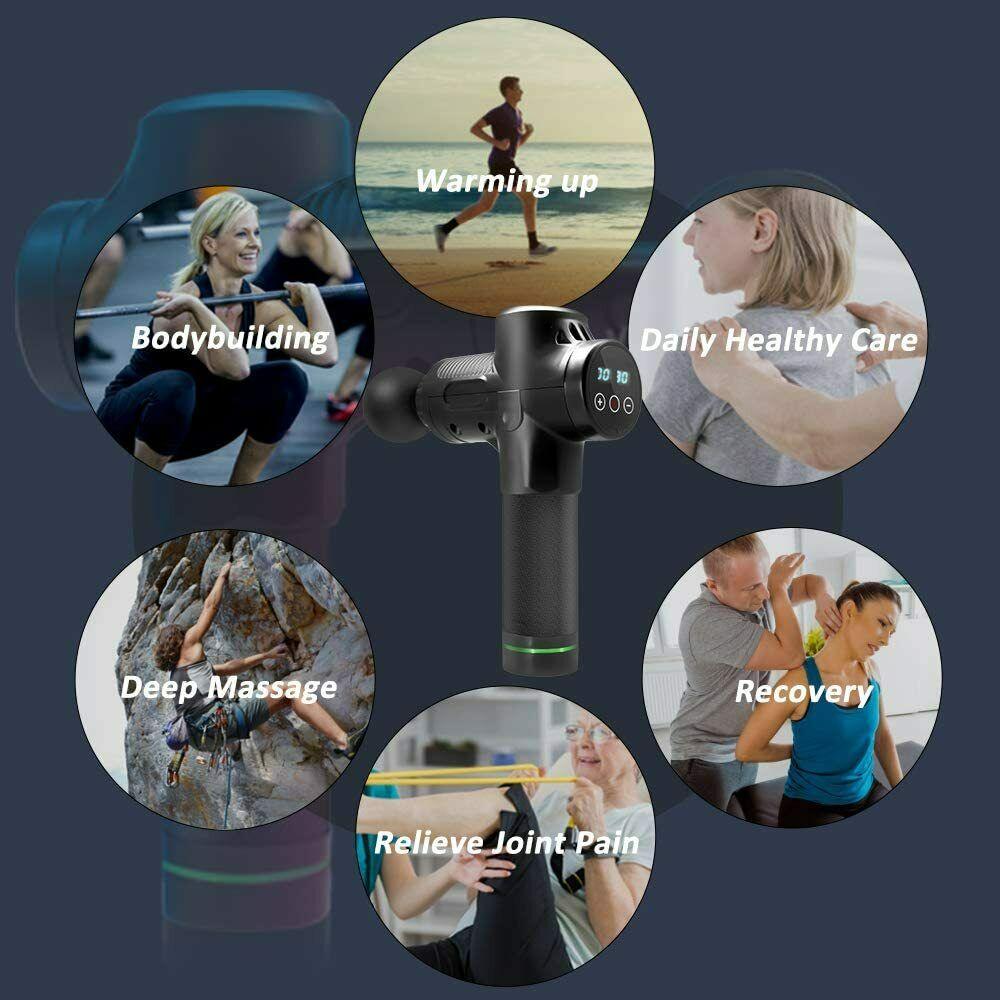 Multifunction Percussion Massager Deep Tissue Handheld Back Massager Features:
Color: Black、Silver、Carbon、Golden
Rated input: 110-240V~50/60Hz
Rated output: 24V/1A
Type: High-energy lithium battery
Capacity: 2500mAh
Charging Time: 2-3 Hours
Work time: 6 Hours
Unloaded speed: 0-3500/min max
Size:9.4*9.8in
Package Includes
1 x Massage Gun
6 x Massage Head
1 x Power Charger
1 x Carrying Case
1 x User Manual