Rest and Relaxation Can Now Be Part of Your Vacation With This Best Travel Pillow!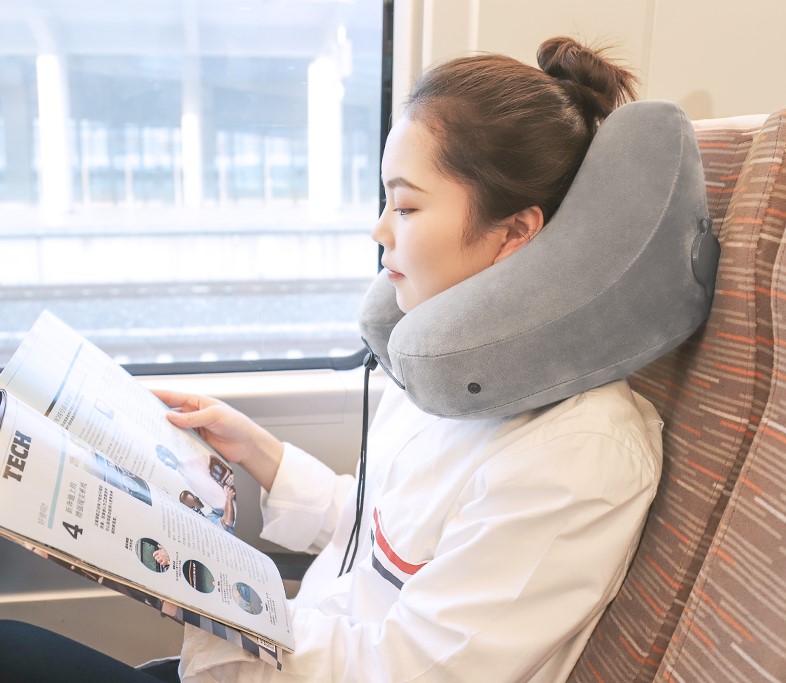 When travelers were asked what is the most challenging thing to do during a trip, one of the things that the majority said was finding the best position to sleep.
And isn't that a common struggle for all?
The creators and designers of the ComfyLean understand this struggle. The ComfyLean is designed with your comfort in mind. From its versatility, to the comfort it provides, the ComfyLean redefines resting during travels! 
This all-in-one travel pillow is made with ultra comfortable memory foam that fits your neck, face, and chin like a glove. The ComfyLean's smart design allows you to use the pillow in multiple ways in order to help you achieve the best resting position that is best for you. 
Whether you're traveling by land or by air, this comfy pillow can be your partner to a more restful snooze.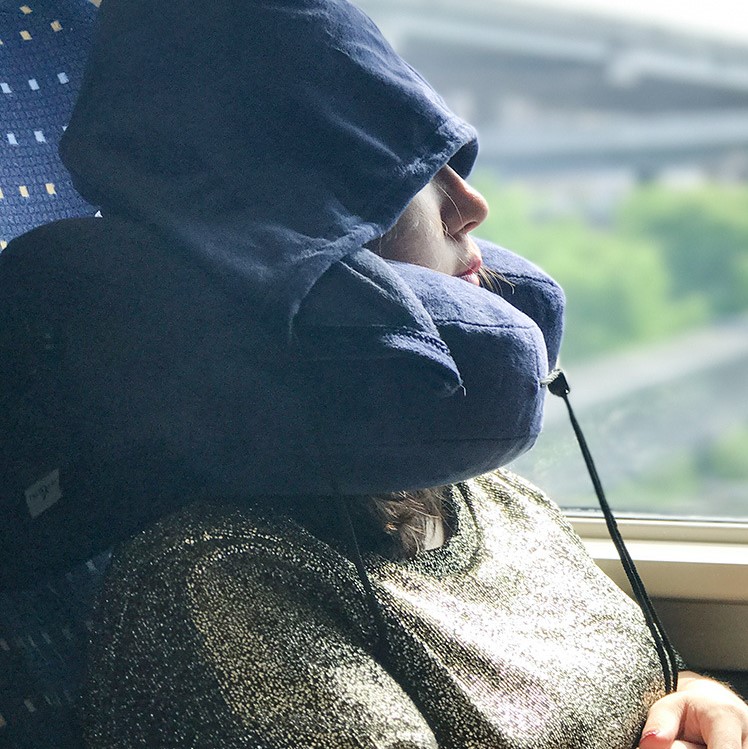 ComfyLean Features
The travel pillow you can use for multiple resting positions. Whether you want to rest leaning on the side, or forward, you can trust that the ComfyLean can offer total neck and face support so you can take a rest without worrying about pains and aches right after waking up.
Improved support for better rest. The ComfyLean features ideal curves to prevent your head from shifting around, provide sturdy support for your neck helping prevent any neck soreness or pains that usually come with traveling.
The adjustable travel pillow that can fit everyone. The ComfyLean includes adjustable strings that can cater to users of all sizes. The one-pull adjustment string securely locks in the size that is right for you.
Comfort is delivered with the soft memory foam material. You can get more comfort in this pillow than any other travel pillow. The memory foam provides soft, head cradling benefits that will help you rest better.
The travel pillow made from the softest, skin-friendly fabric! You won't have to deal with having skin irritation due to poor fabric quality. The ComfyLean uses high quality fabric that won't hurt the skin.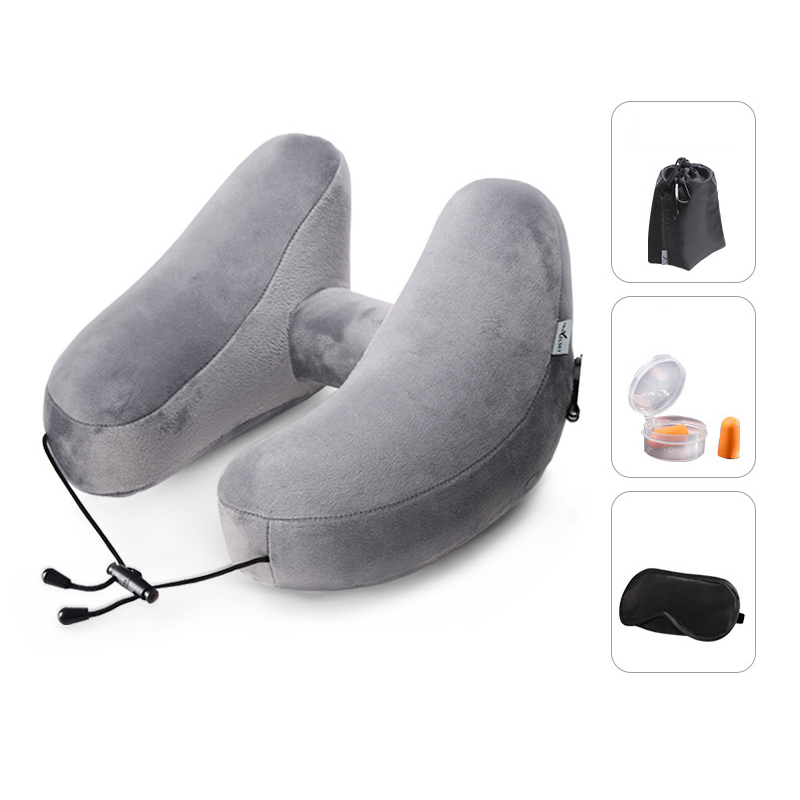 Who Choose ComfyLean? 
The Pillow That Helps You Achieve Relaxing Positions
Unlike most options, you can use this travel pillow in several different ways, providing maximum comfort on your trip. No more painful aches and pains from bad sleeping positions.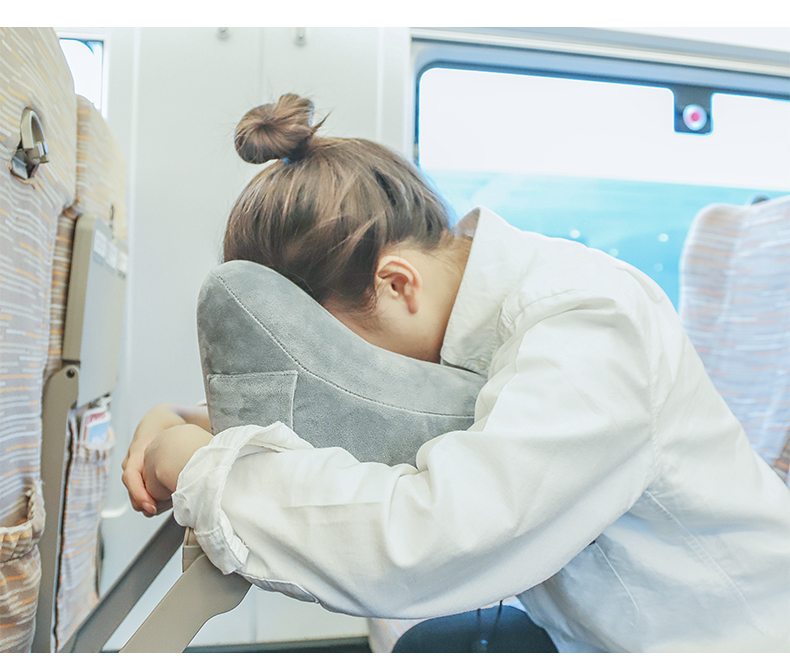 The Pillow That You Can Use for Multiple Resting Styles
The Lock: Fits behind your neck and attaches in the front, so you can comfortably rest your head.
The Hug

: Securely hugs around the front of your neck providing support as your head leans slightly forward.

The Nod

: Fits in front of you, so you can comfortably rest your chin on the pillow without the dreaded head bob.

The Cradle

: The ends of the pillow rest on your shoulder and cradle your head as you lean back.
"Both me and my cousin slept for +8 hours straight on a flight. Unbelievable!!!"——Ömer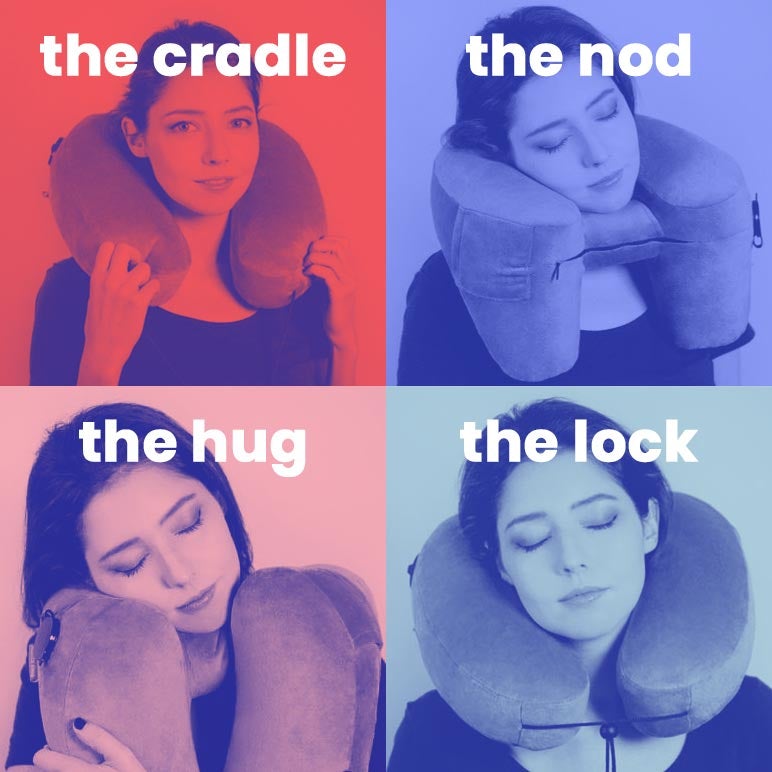 It Comes with High Quality Material That's Good on the Skin
A soft microfleece cover fits around the pillow so it's extra comfortable while you sleep and won't irritate your skin.
The microfleece cover is removable and machine washable so it stays clean trip after trip.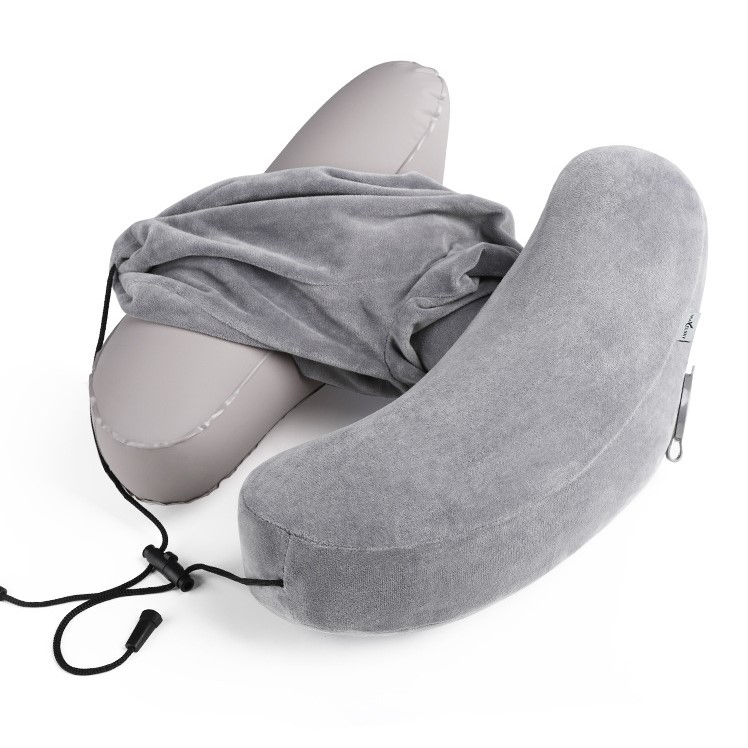 There is also a convenient side pocket that stashes your earplugs, phone or headphones for quick access.
"This pillow + eye mask + storage bag + ear plugs = the best plane sleep ever. It's nice how you can deflate it to your comfort level unlike regular neck pillows that are not customizable at all."——Amanda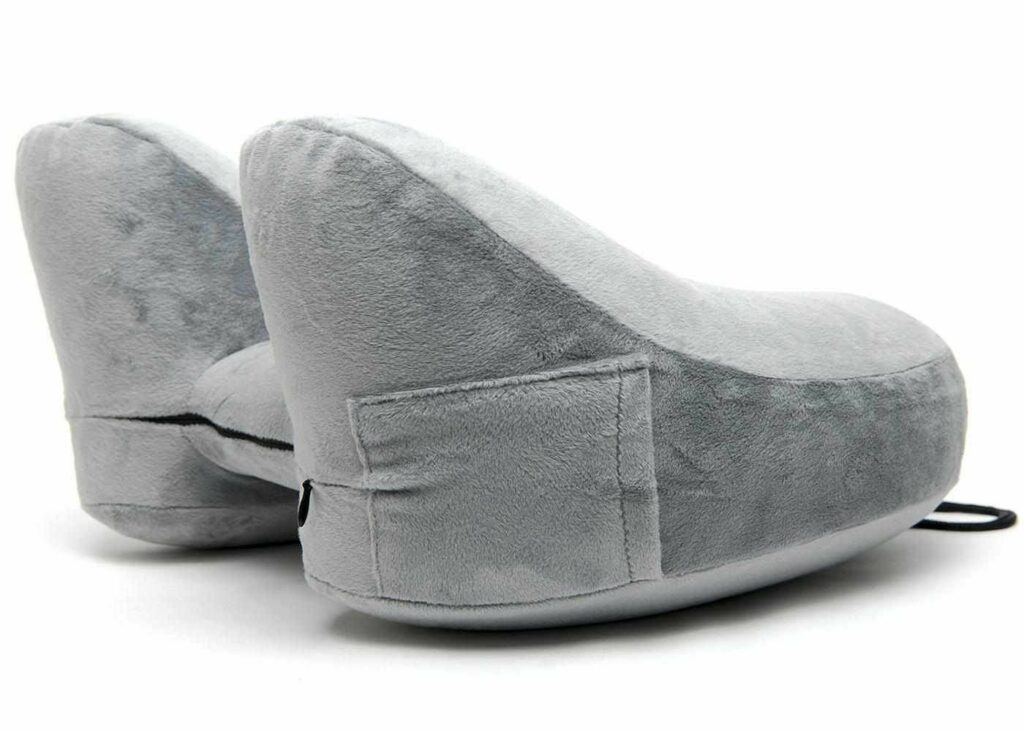 It's Easy to Bring with You to Your Travels
The pillow folds up neatly inside a convenient travel pouch so it fits in your carry on or luggage.
"I've never been able to sleep on a plane, but this pillow is a game changer. It's so comfortable and made my 24 hour flight a lot more bearable. Highly recommended for anyone who can't sleep upright due to flopping forward!"——Ren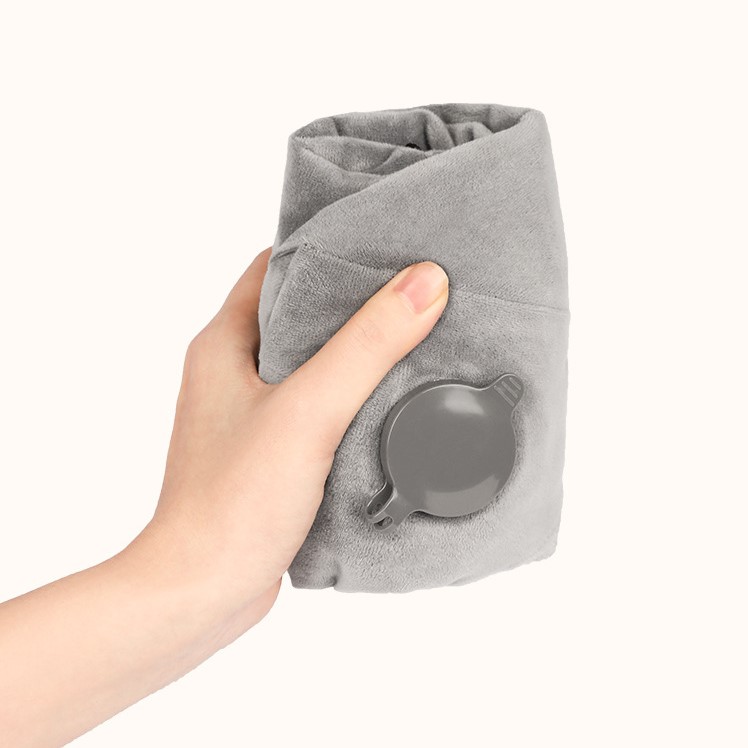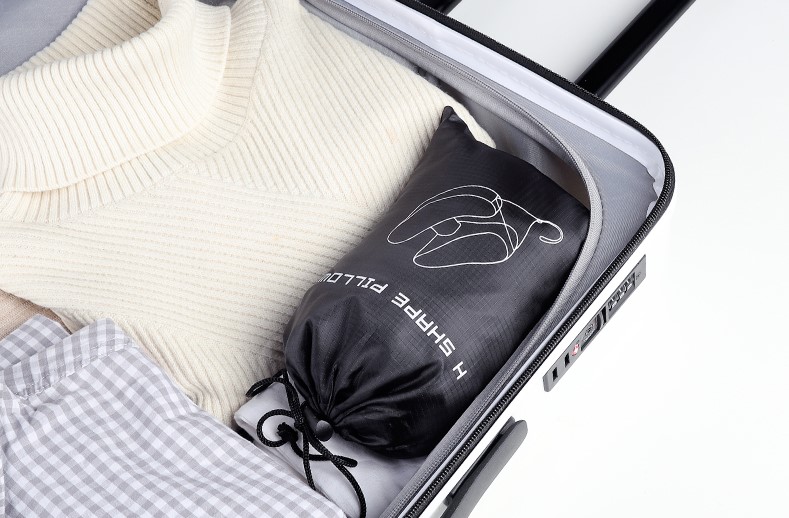 Specifications
Jacket: Crystal Velvet
Liner: PVC inflatable
Color: Navy blue、 Light grey
Size: 12.6*13.8*8.3in
Package Includes
1 * Travel Pillow

1 * Eye Mask

1 * Storage Bag

1 * Ear Plugs