Let's Bubble Fight for a Super Fun Summer with Your Kids! Get BubbaParty Bubble Gun Today.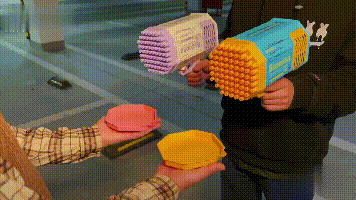 Are you worried your kids might get bored and stuck in video games and their phones all summer? Here's a fun way to make their summer breaks memorable: a BubbaParty!
Blast streams of bubbles to the sky, and fill the room with endless fun with BubbaParty Bubble Gun! This super-fun-toy launches dozens of bubbles per second, making playtime more dream-like and exciting.
We've designed the BubbaParty Bubble Gun with an easy-to-hold handle so your kids can hold it tightly and run their hearts out blasting bubbles in your backyard. It's
 the perfect toy to play with
when you're out at the beach, park, garden, and more
!
Why Should You Buy This Super, Fun-Filled, Bubble Blast Toy?
It's for Endless Fun This Summer
All you need is to DIY your bubble water, and you're bound for unstoppable fun this summer. The BubbaParty is made of thick, high-quality plastic so that it won't break easily no matter how much your kid scratch it, ding it, or smash it.
Perfect for Parties and Events
Hosting a kids' party or thinking about how to level up your events like weddings, baby showers, or a simple friends and family get-together? A little bubbly aesthetic will do the trick! Our fully automatic bubble machine with colorful lights can help you create the perfect atmosphere to make every celebration memorable.
What Makes Our Bubble Gun Different?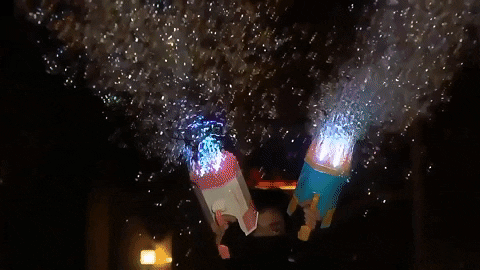 It'll Only Take One Click to Start the Bubble Fun.
Press and hold the gusset for a continuous spray of bubbles, or press intermittently and create your version of fun.
A Rainfall of Bubbles, Guaranteed!
Our BubbaParty is a real bubble party. It can spray up to 7,000+ colorful bubbles flying in the sky every minute. When you pull the trigger, bubbles will be ejected, and the muzzle lights.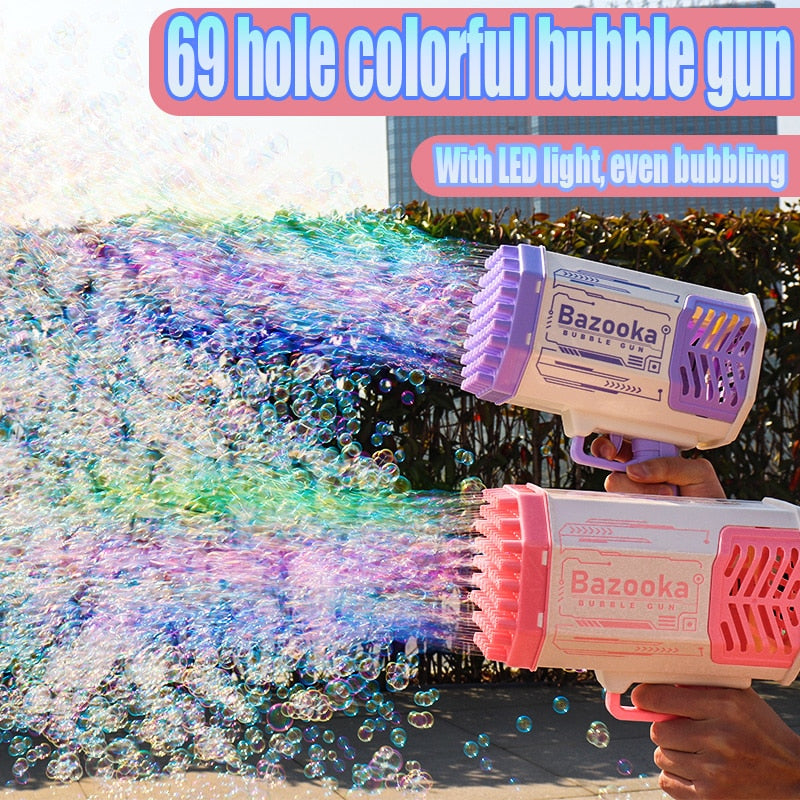 Quick Tip: DIY Your Bubble Water
Pour 1/2 cup of dish soap into a large mug.
Add 1 1/2 cups of water to the dish soap in the cup.
Measure 2 teaspoons of sugar and add it to the water soap mixture.
Gently stir your mixture.
Go outside and have fun blowing bubbles! You can pour it into a tightly sealed container if you don't use it all.
Specifications
Plastic Type: ABS
Material: Plastic
Color: Purple/Pink/Blue.
Weight: 500g
Holes: 69
Power: Rechargeable Battery
Package Includes:
1* Bubble Machine
1* Bubble Board
1* Lithium Battery
1* Charging Cable