The Best Gaming Headset Ever!
Experience audio gameplay with pinpoint positional accuracy, impeccable surround sound, and crystal clear communication setting with AudieKon. This professional gaming headset is built to make every gameplay as immersive, realistic as ever. With over 5-years of experience in sound designing, the AudieKon is your most suitable sound partner to stay victorious in the world of competitive gaming.
Take your PS4, PS5, Xbox One, Nintendo Switch, PC, Tablet, and Smartphone audio into new heights with AudieKon!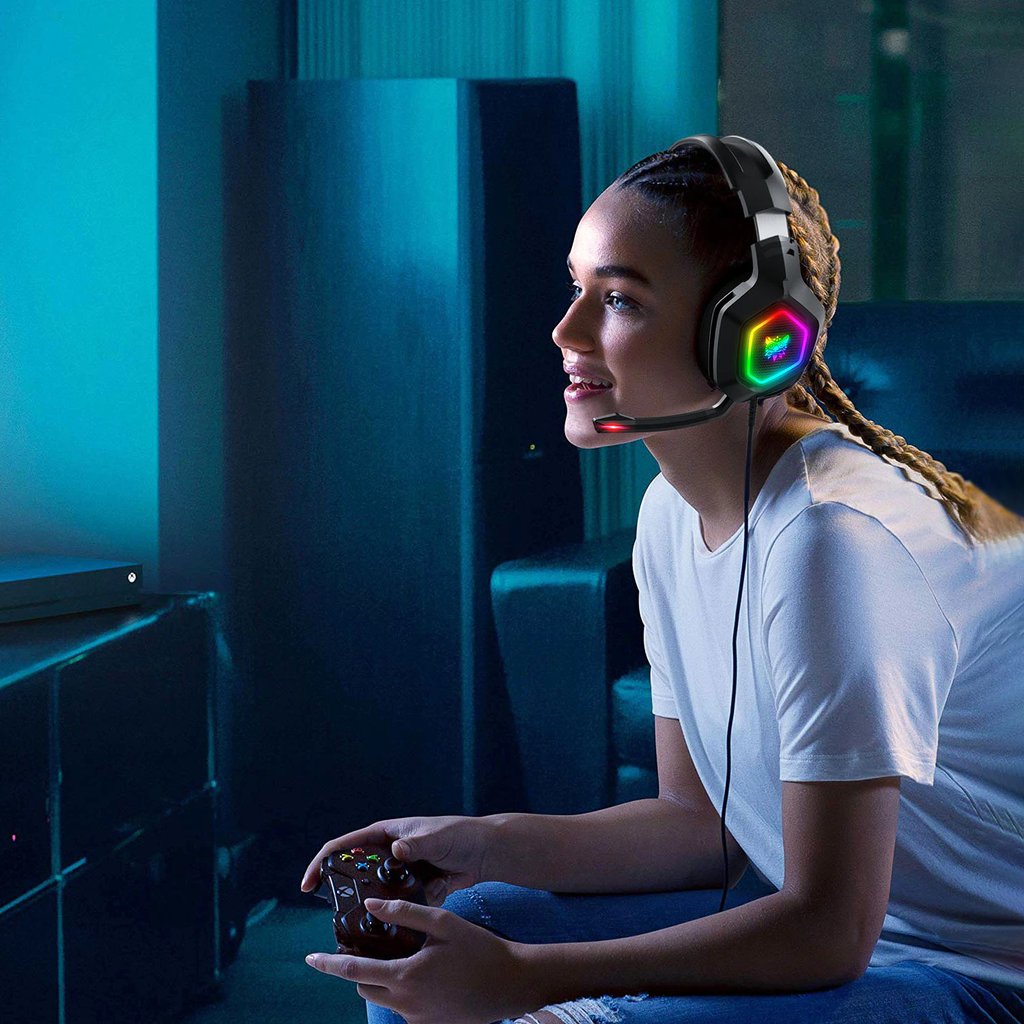 Built to Suit Every Gamer's Sound Needs!
The AudieKon is the best professional gaming headset for all game enthusiasts and home gamers. With its wide compatibility across the latest gaming platforms, it'll be your go-to sound partner to beat your enemies and stay victorious in completing in-game key objectives.
Our design comes with all the key aspects you need to turn every game into an immersive, full-body, and mind experience. The AudieKon uses a 7.1 Surround Sound and 50 MM Driver Speaker to deliver clear, crisp, balanced, and accurate sounds that'll make you feel you're in the game. The AudieKon attached headset also takes in-game conversations into a whole different playing field so that you can use it to your great advantage. With its Noise-Canceling Microphone, Vivid Surrounding Sound Field, and Ergonomic Design, you can take fluent teammate communication with a clear voice without background noise and play-all-night comfort!
Perfect for:
Fortnite
Halo 5: Guardians
GTA 5
Overwatch
Call of Duty: Black Ops 4
Fortnite
God of War, etc.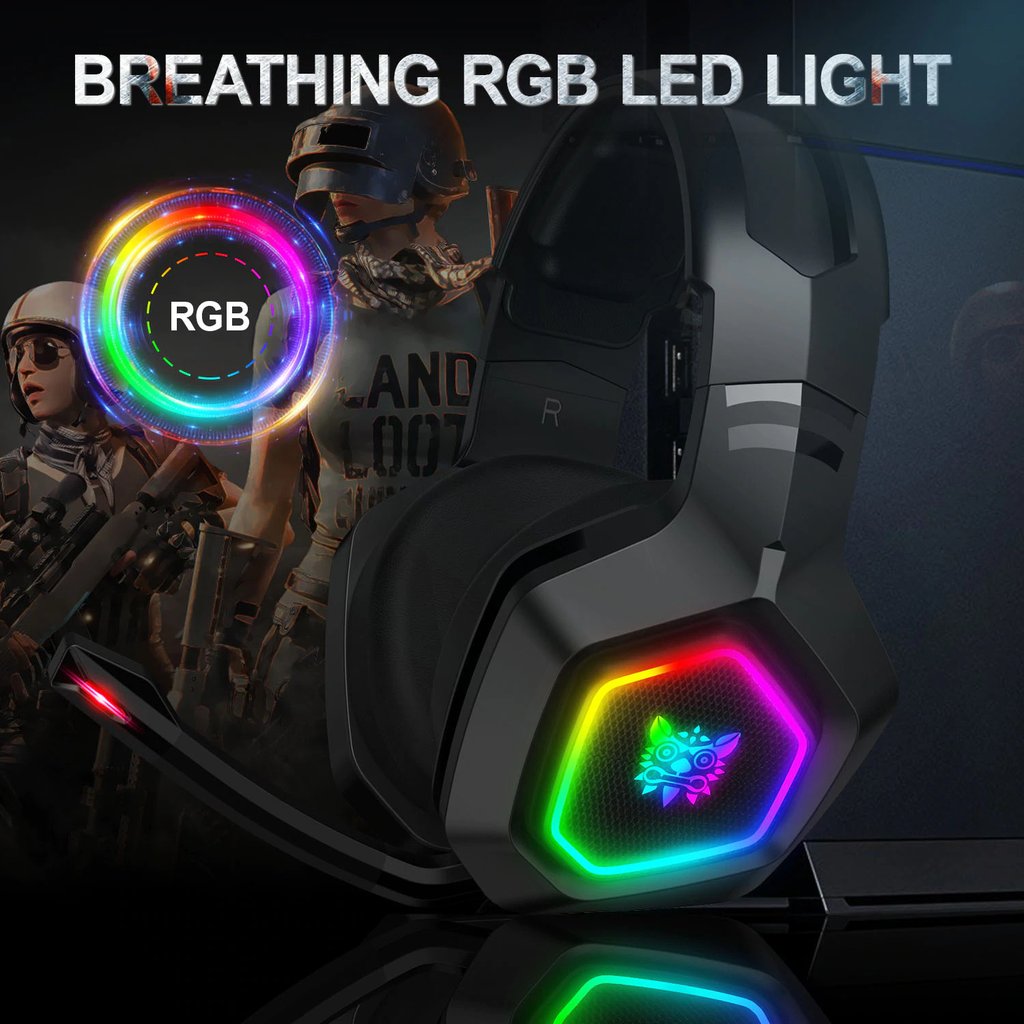 Main Features:
Top-notch Audio Quality
Supremely comfort and glaring RGB light
Wide Application with 3.5mm Plug
Noise-Canceling Microphone
Retractable Headband with 6 Adjustable Sizes
Super Pro-Skin Memory Protein Earmuffs
Multi-Platform Compatible
The AudieKon supports PlayStation 4, New Xbox One, PC, Nintendo 3DS, Laptop, PSP, Tablet, iPad, Computer, Mobile Phone. Please note you need an extra Microsoft Adapter (not included) when connecting with an old version Xbox One controller.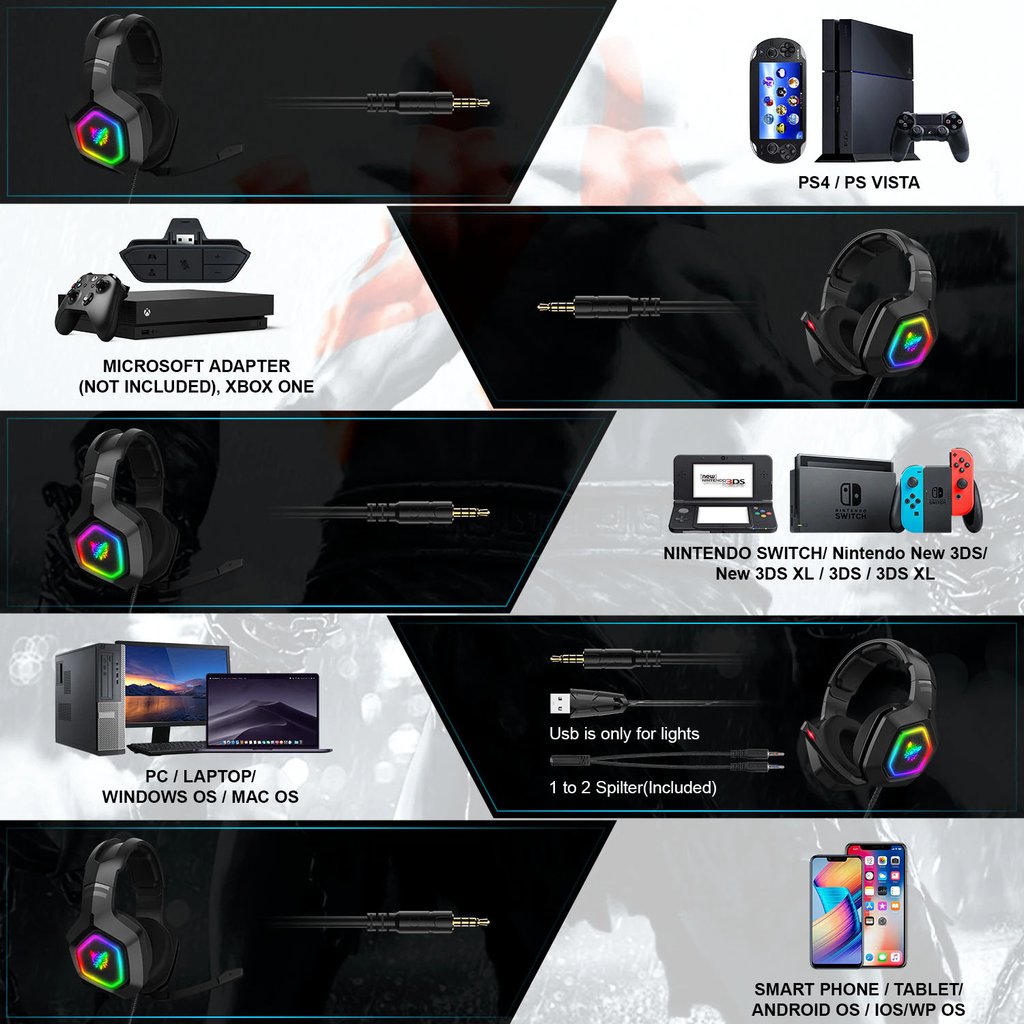 Surrounding Stereo Subwoofer
Experience "true" sound with AudieKon! With its clear sound operating strong brass, splendid ambient noise isolation, and high precision 50mm magnetic neodymium driver, you'll experience an immersive, larger-than-life gameplay experience. In addition, the acoustic positioning precision fitted in the headset enhances the sensitivity of the speaker unit to deliver you a vivid sound field beyond sound clarity and a shock-feeling audio experience.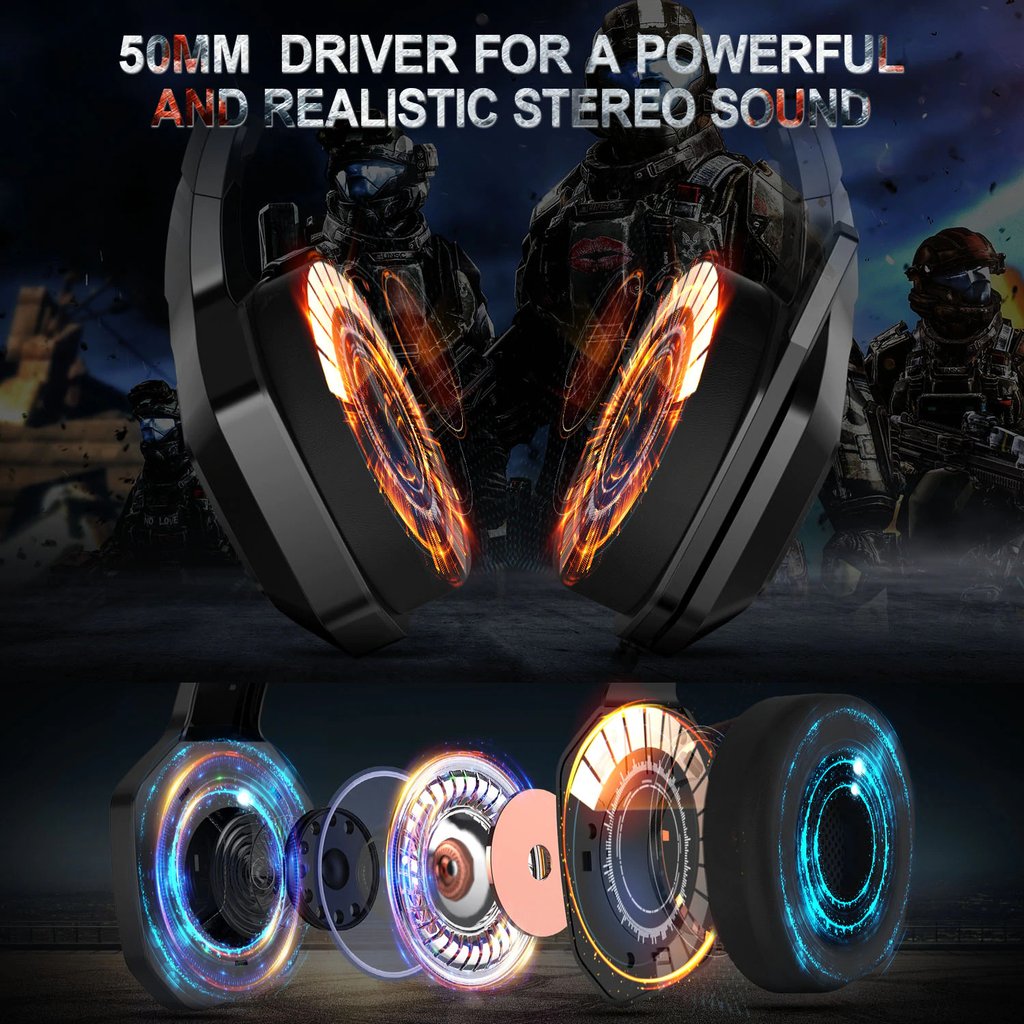 Noise Isolating Microphone
With AudieKon, in-game conversations to build connections and complete objectives are 100% better. The headset comes with an integrated omnidirectional microphone that transmits high-quality communication. And with its premium noise-canceling feature, you can pick up sounds with heightened sensitivity and deliver or receive messages clearly while you're in the game. For extra comfort, the AudieKon comes with a long flexible mic that can be adjusted to fit the right speaking angle.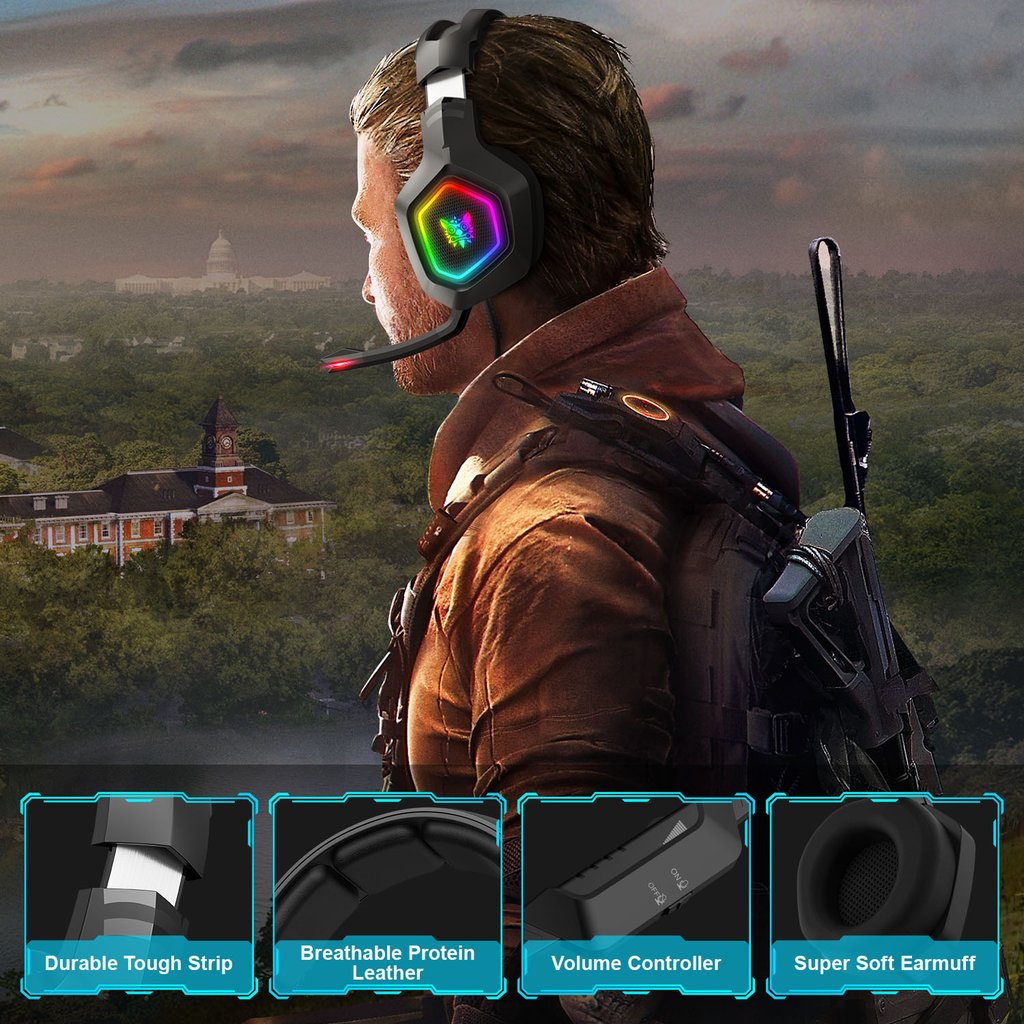 Great Humanized Design
AudieKon's play-all-night comfort comes with specially designed earmuffs—engineered to keep you going without a trace of discomfort. Its over-ear pads are built skin-friendly leather material with good air permeability protein for superior comfort. A multi-point head beam also comes into action to reduce hearing impairment and heat sweat, which is essential for long-hour gameplay. We've also fitted a glaring LED light on the earcups to boost your gaming spirit and highlight a playful game atmosphere.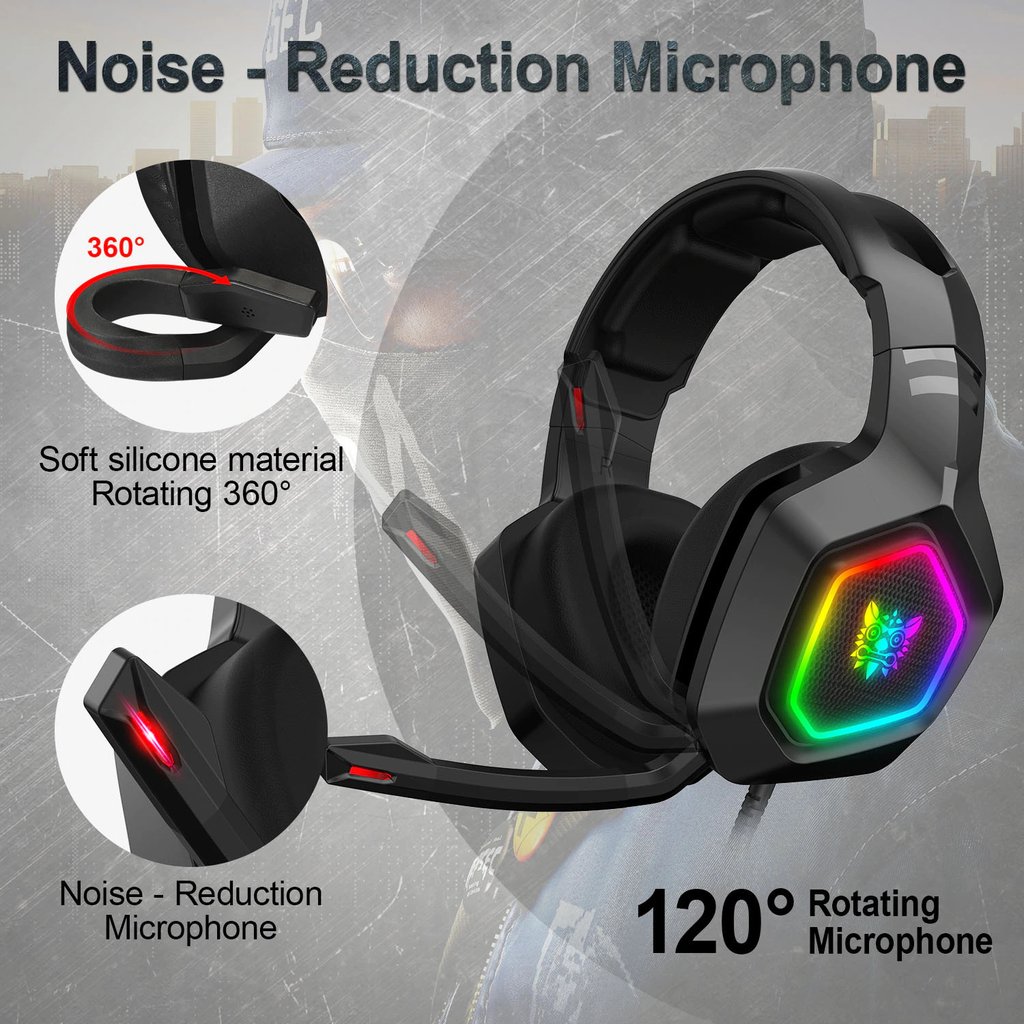 Specifications:
Impedance: 32 Ohm± 15%
Sensitivity: 105 ± 3dB
Frequency range: 20Hz-20KHz
Mic Sensitivity: -42± 3dB
Mic impedance: 2.2k Ohm
Headset Jack: 3.5mm + USB
Cable length:2.2M ± 0.15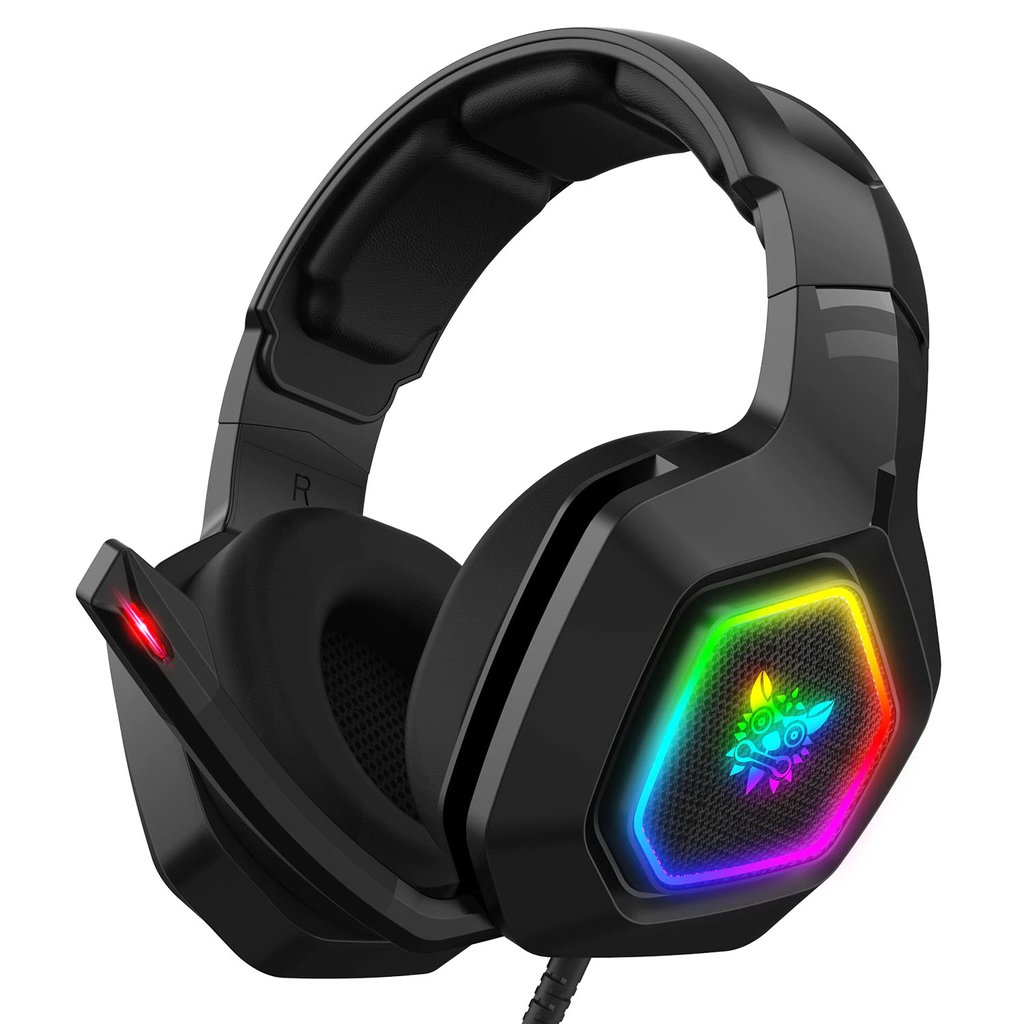 Package Contents:
1 * Gaming Headset
1 * 1-to-2 3.5mm Audio Jack Splitter Cable
1 * Operating Instruction