Minimize Construction Errors with WallzTek
If you're a construction worker, a builder, a fixture installer, or a repairman, you would understand that making the slightest mistake in construction can be so expensive and time-consuming. Since you're dealing with fixtures, furniture, and heavy walls, you can't afford to be haphazard - the safety of people lies in your hand.
If you offer professional repair or construction service, or maybe just a homeowner trying their luck in the DIY department, you need to have a tool that should always be with you - the WallzTek. This 3-in-one electronic stud finder helps you minimize committing errors and mistake while you're building a home, renovating a unit, or sprucing up your space!
The WallzTek wall scanner enables you to detect electric wire, metal object, wooden beams accurately, which is a great tool for interior finish, renovation, furniture installation, flooring, pipe installation, and building construction.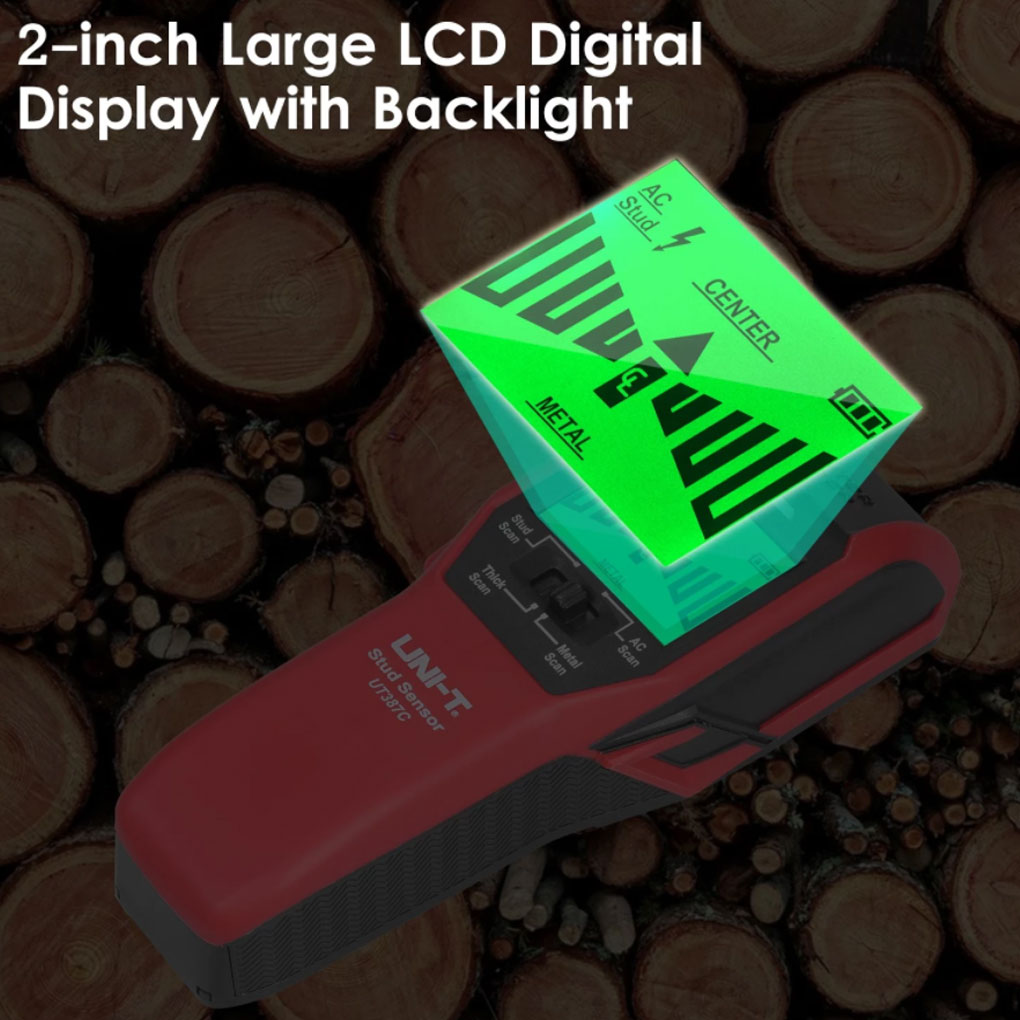 Why Is Having a Stud Sensor a Must?
...because hammering through nails and screws can cost you time and money. You will have to spend more money for additional materials, and allot more time to fix what's been broken. If you can't afford to make a major construction blunder, you should not skimp on investing on a stud finder!
Features:
A Professional, Highly-Sensitive Stud Sensor. This tool is mainly used to detect wood stud under gypsum board, metal (water pipe, steel bar, copper pipe), live wire so you won't have to risk hammering on the wrong spots.
Features Multiple Detection Modes: The WallzTek can efficiently detect stud, thick, metal, and AC wires beneath your drywalls. It can sense these critical materials even if there's a 20-mm material covering them.
Get Both Sound and Screen Alarm So You Won't Miss a Thing: When detecting various materials under the different modes, the LED indicator will flash the corresponding color, and the buzzer alarms.
User-friendly Design: Ergonomic handles and hand grips come with the WallzTek. You can work for hours, and you won't have to worry about arm, palm, and hand strain.
Created with Advanced Sensor Technology: When we say you won't be missing a nail, or a wire, you won't be missing them. The highly-sensitive sensor will blare like "hey, danger ahead!"
Digital Stud Sensor: 2-inch large LCD digital display with backlight, also with battery indicator.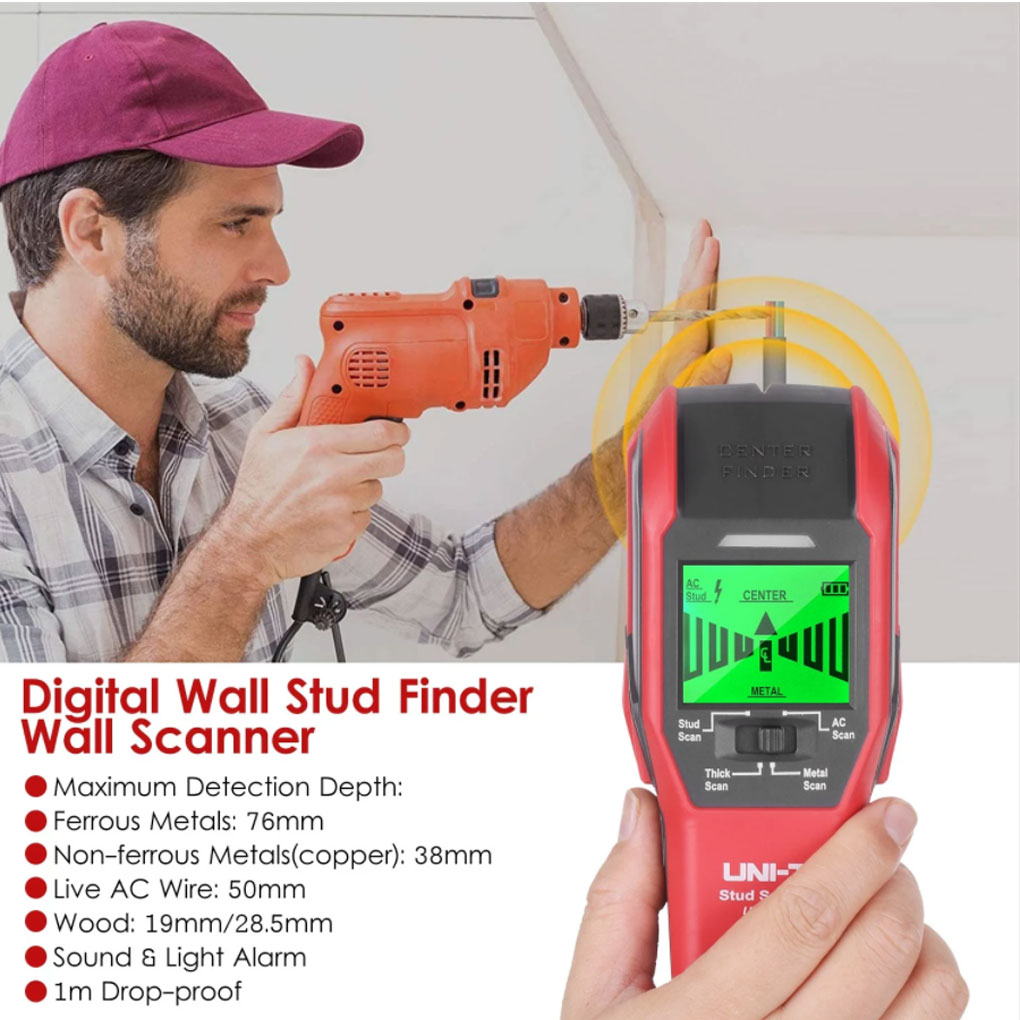 Note:
Wall Material that Can be Scanned: plasterboard, plywood, hardwood flooring, wood coating wall, and wallpaper.
Wall Material that Can Not be Scanned: carpeting, ceramic tile(only metal), metal wall, cement wall.
Specifications:
Material: ABS
Maximum Detection Depth:
Stud Scan Mode(Wood): 19mm
Thick Scan Mode(Wood): 28.5mm
AC Electric Wire: 50mm
Metal Scan Mode: 76mm (ferrous metals: 76mm, non-ferrous metals(copper): 38mm)
Detect Principle: Electro-magnetic induction
Detects: Wooden beam, metal object, electric wire
Notifications: LED/buzzer
Working Temperature: -7~49℃ (19~120℉)
Storage Temperature: -20~66℃ (-4~150℉)
Power Supply: 1 * 9V 6F22 battery (NOT included)
Item Size: 186 * 70 * 44mm / 7.32 * 2.76 * 1.73in
Weight: 201g / 7.11oz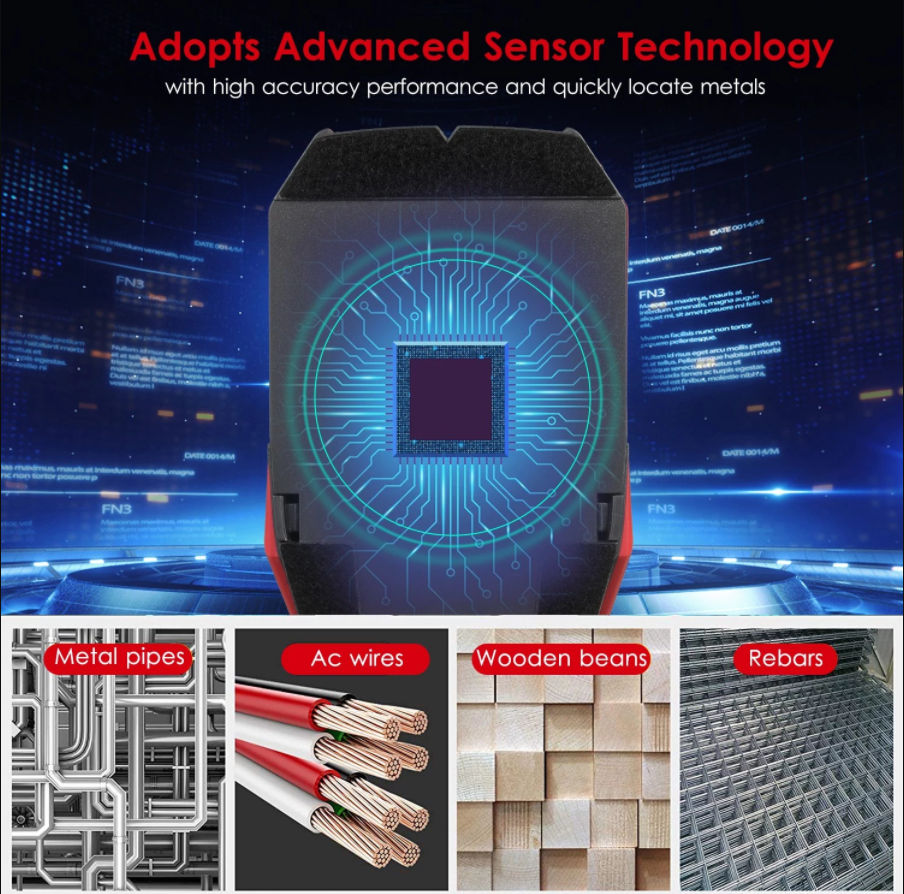 Packing List: