The Best Nature Soothing Sound Machine, White Noise Machine for Babies and Troubled Sleepers

If sleep is hard to come by for an adult or a toddler, a little Sleep Science can do the trick. White noise is an effective ambient sound that helps people to get a goodnight's sleep by producing the sound of every frequency in random order at the same amplitude and masks other sounds in your surroundings. This results in a shushing sound or a soothing hum that gets you to fall asleep.
Our SleepiTunes White Noise Machine comes with 9 kinds of smooth and natural sounds that are PERFECT for babies and adults. It features white noise, wave sound, birdsong, waterfall, cricket sound, bicker, and 3 lullabies so that you can choose sounds according to your preferences and needs to create a quiet environment for you to fall asleep quickly and rest completely.
Delivers an All-Around Relaxing Atmosphere
The SleepiTunes White Noise Machine is not just for sleep, masking noise, or improving sleep quality, but it also delivers an all-around relaxing atmosphere for your office, dorm room, or anywhere you feel stressed most of the time. Its soothing sound helps in calming your nerves during tough times. This white noise machine is compact and portable so that you can take it anywhere you go.
Features:
2 in 1 Design: Our white noise machine also comes with a night light design that sets the right mood for sleeping. This 2-in-1 design is proven to be effective in putting babies to sleep and creating a relaxing atmosphere for troubled sleepers.
20 High Fidelity Sounds: We've included a wide variety of white noise to effectively provide you the most suitable sound for your sleep. It includes 3 white noise, 3 fan sounds, clock sounds, 2 lullabies, and 11 nature sounds.
Automatic Shutdown Timer: There's no need to get up and press "off" to sleep. You just let our white noise machine put you to sleep by setting a sleep timer (15, 30, or 60 minutes ).
 Portable Size: The SleepiTunes is 100% compact and easy to carry with you wherever you go!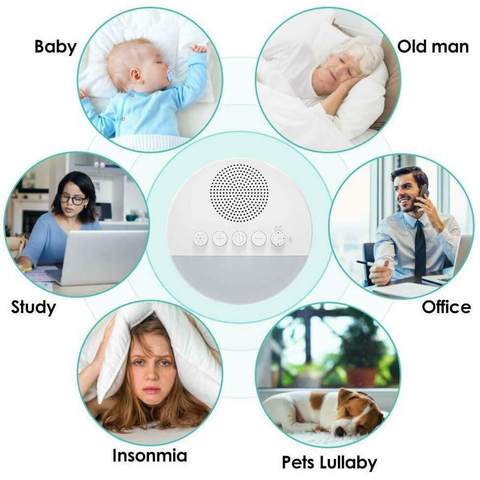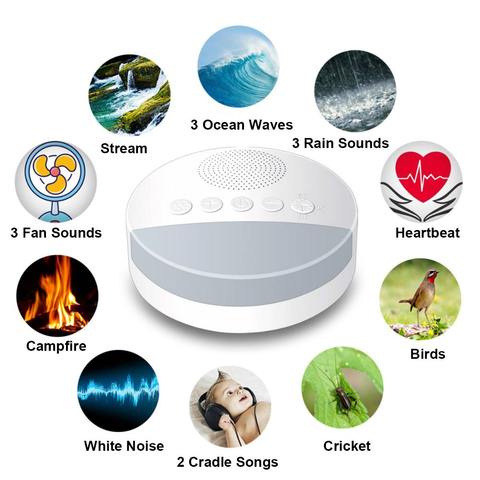 More Varieties of Sound, More Fun Sleeping
You can enjoy these 20 soothing sounds: 3 White Noise, 3 Fan Sounds, Clock Sound, 2 Lullabies, and 11 Nature Sounds (3 Rain Sound, 3 Wave Sound, Bird, Cricket, Campfire, Heartbeat, Water sounds). Create the PERFECT sleep environment that fits your needs with SleepiTunes!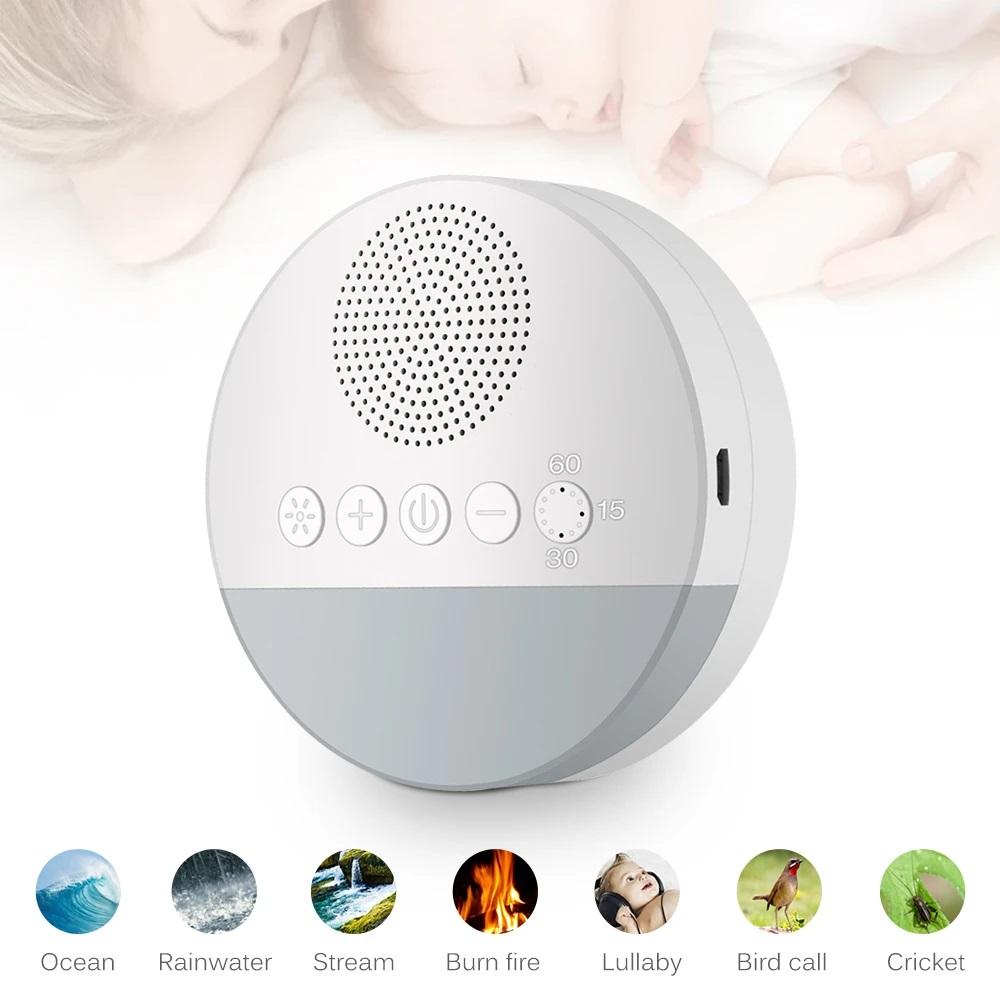 These amazing sounds are designed to mimic the relaxing sounds of nature and will get your little one and you to sleep! Plus, the SleepiTunes is embedded with a warm LED night light to set the right atmosphere for your sleep and relaxation.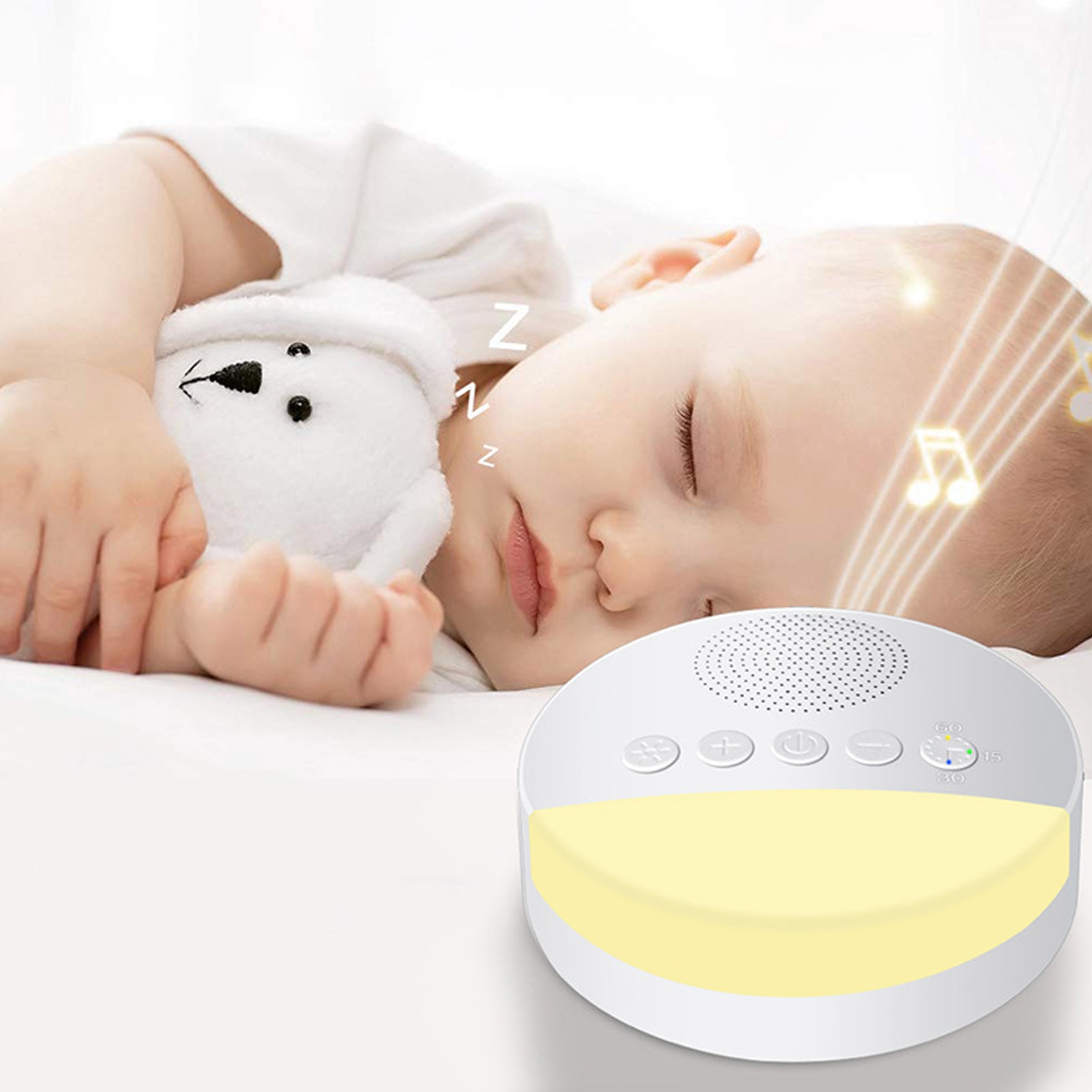 Specifications
Material: ABS Plastic; Metal
Main Color: White
Power Source: Battery Charge
Power: 1.5W
Input: DC5V, 0.8A
Output: 5W
Battery Capacity: 1200mAh
Charging Time: about 1.5 hours
Working Time: 15~30 hours
Frequency Range: 50Hz-20KHz
Size: 90*90*31mm/3.54*3.54*1.22in
Weight: about 180g

Working temperature: 

 

-10-55 ℃

Button Options:
'Brightness' button: Short tap the Night Light Operation Key once to switch to breathing light mode; short tap again to switch to long light mode; short tap one more time to turn off night light.
'Volume +' button: Short tap once to skip to next track; long press to increase the volume.
Power button: Long press the on/off key for 2 secs to turn on; short tap while the sound machine is working to pause; long press for 2 secs to turn off the sound machine.
'Volume -' button: Short tap to go back to the last track; long press to reduce the volume.
Timer key: Short tap to select different shutdown timers (15min to 60 mins for option).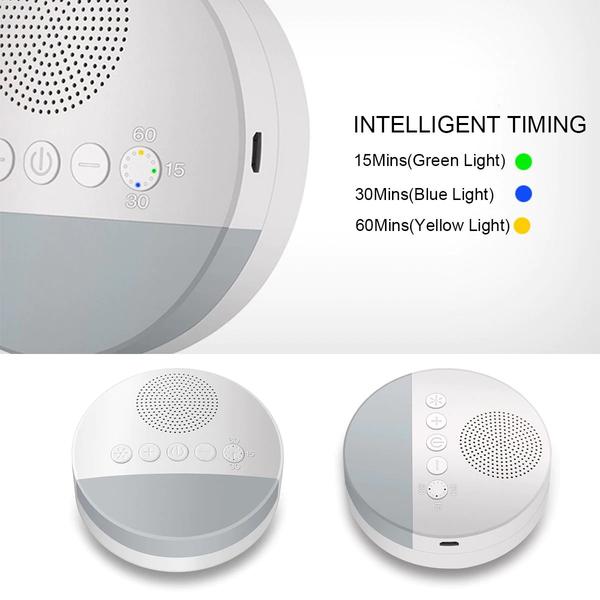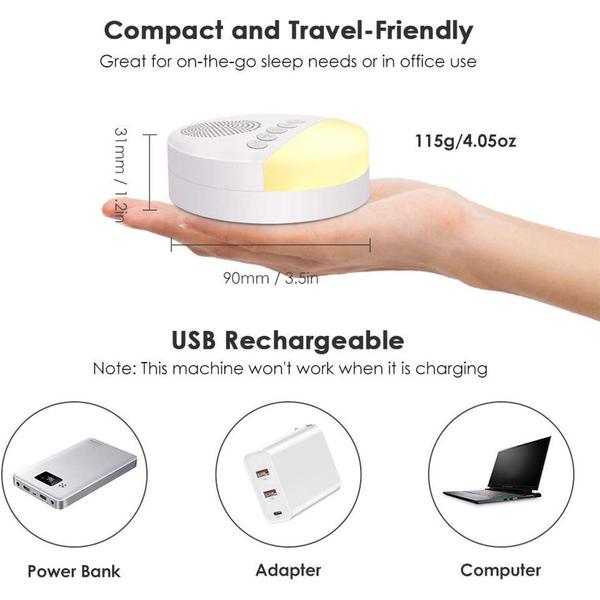 Package Includes:
1* White Noise Machine
1* USB Charging Cable
1* User Manual