Are you tired of lugging around a bulky, corded vacuum for quick cleanups? Say goodbye to tangled cords and hello to convenience with RevoVac Handheld Vacuum with Powerful Suction!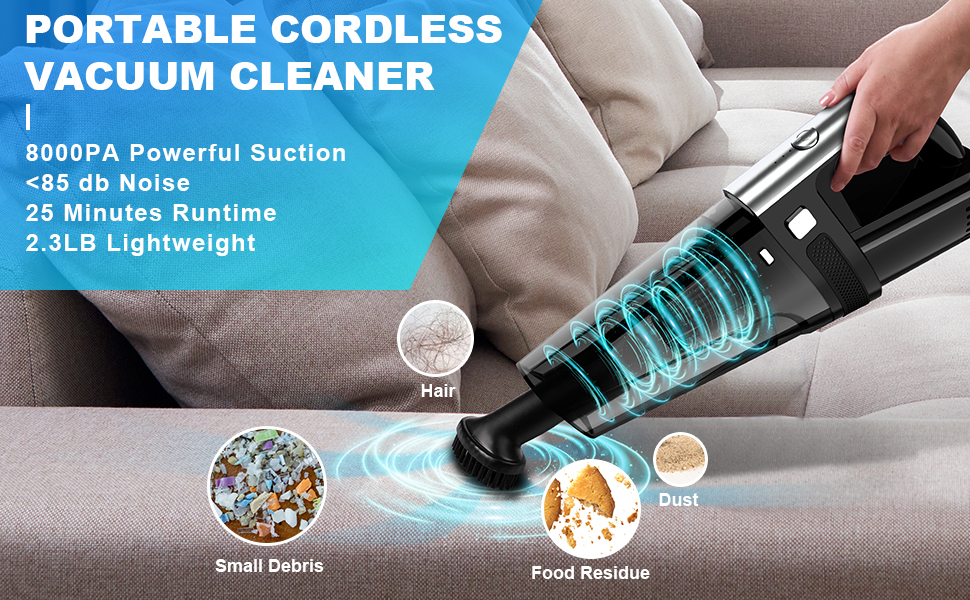 Our professional-grade handheld cordless vacuum comes with three different attachments to better suit your cleaning needs. With the crevice tube, brush nozzle, and soft long tube, you can tackle narrow gaps, hair on carpets and sofas, and reach wherever you need to. Plus, our vacuum cleaner features an ultra-powerful motor with 8000 Pa suction power, making it perfect for daily cleaning tasks like pet hair, cat litter, paper debris, and crumbs.
Enjoy the convenience of a cordless, portable design, allowing you to move freely around your home, office, or car. Say goodbye to searching for outlets and hello to easily cleaning stairs, kitchens, cars, or hard-to-reach corners. With two adjustable suction levels, you can choose between standard or powerful mode depending on your cleaning needs, and the battery supports up to 25 minutes of use. Plus, our upgraded LED light illuminates dark, hard-to-see places.
Don't wait any longer to upgrade your cleaning routine. Our cordless handheld vacuum is lightweight and easy to use, weighing only 822g, and features a dust capacity of 0.35L. The battery supports up to 25 minutes of use and has a charging time of only 3.5 hours. Our vacuum cleaner comes in a sleek black or white design and is perfect for quick cleanups around your home or car.
Don't settle for a bulky, corded vacuum for small cleaning tasks. Upgrade to RevoVac Handheld Vacuum? and make cleaning a breeze.
Features:
3 different attachments (crevice tube, brush nozzle, soft long tube) for versatile cleaning
Removable, washable, and reusable durable HEPA filter
Ultra-powerful motor with 8000 Pa suction power
Cordless and portable design
LED light to illuminate dark areas
Two power levels for different cleaning needs
High performance lithium-ion battery for long battery life
Dust capacity of 0.35L
Weighs 822g
Benefits:
Professional accessories allow for more efficient and effective cleaning in different areas
Washable and reusable filter saves money on replacements
Powerful motor provides deep cleaning of different types of debris
Cordless and portable design provides greater flexibility and convenience for cleaning tasks
LED light illuminates dark areas for more thorough cleaning
Two power levels and long battery life provide versatility and convenience
High capacity dust capacity minimizes the need for frequent emptying
Lightweight design makes it easy to use and maneuver during cleaning tasks.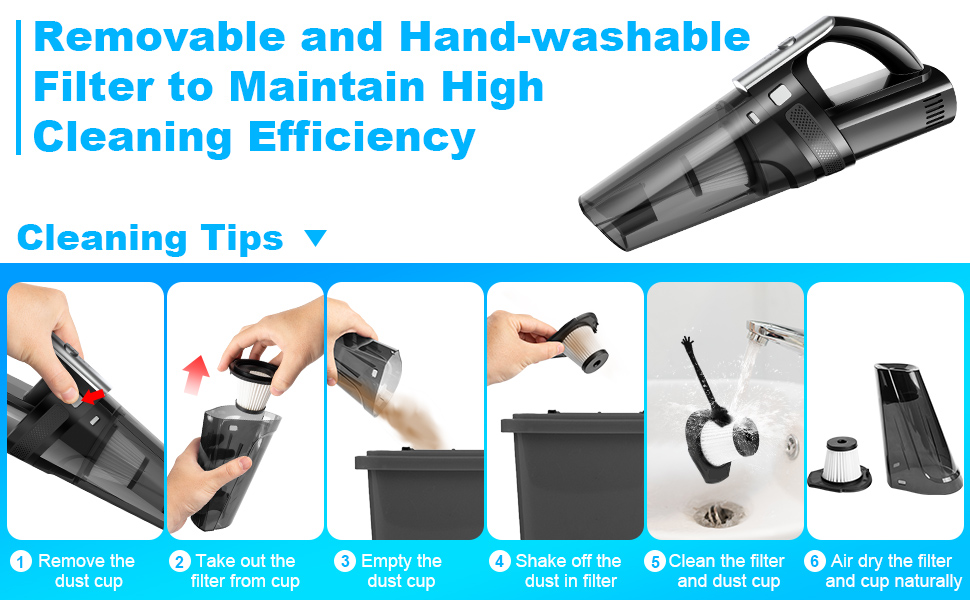 Specifications:
Power: 100W
Input voltage: 5V-2A
Dust capacity: 0.35L
Battery Capacity: 6000mAh (3x2000mAh)
Battery Life: Eco Mode (28-30 minutes), Max Mode (18-20 minutes)
Suction Power: Eco Mode (5000 Pa), Max Mode (8000 Pa)
Charging time: 3.5 Hours