RelivaGo Combines the Benefits of an Ergonomic Pillow and High Quality Heated Massage Pads in One Product. Enjoy More Comfortable Travel Without The Common Muscle Knots, Strains, and Pains!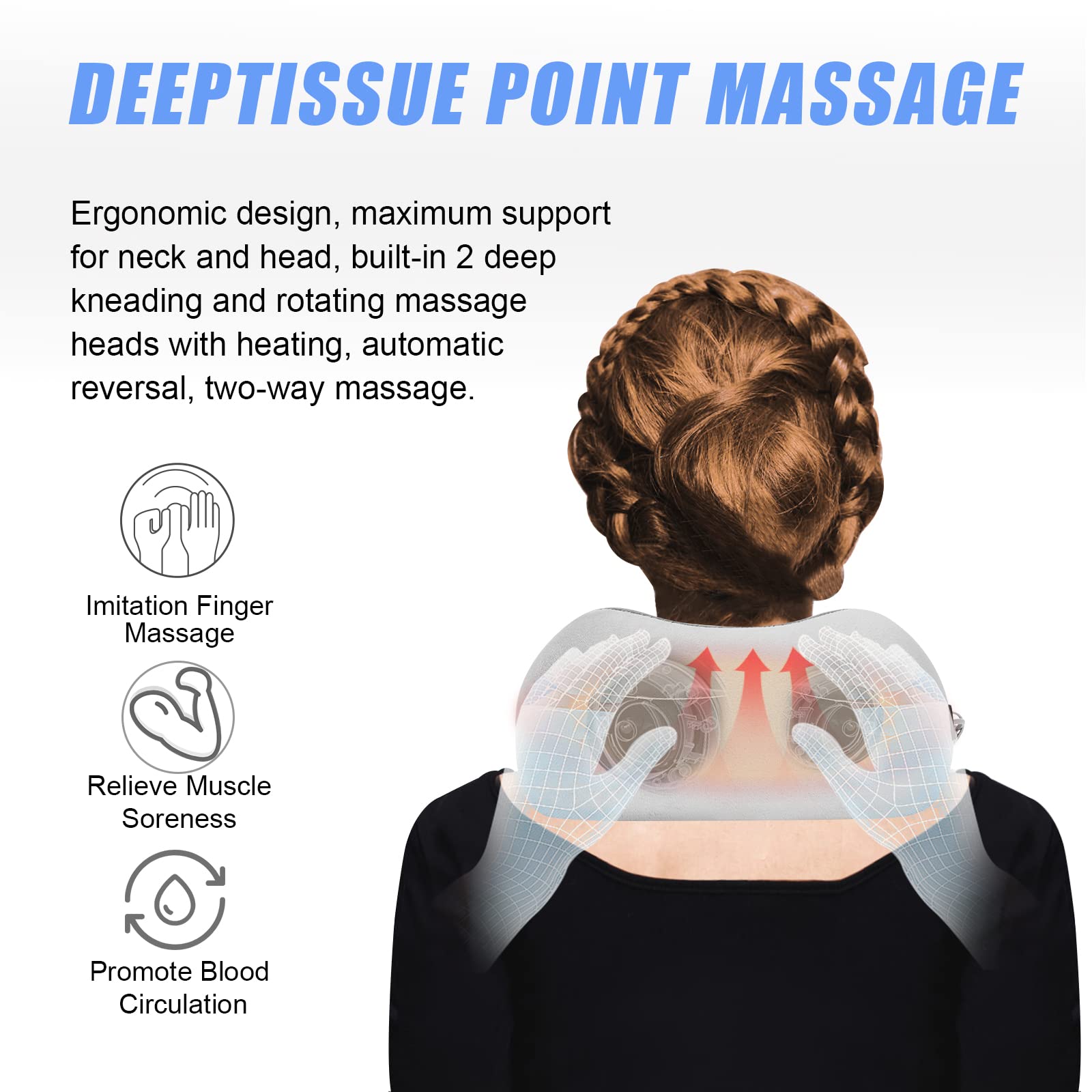 A Travel Must-Have: The RelivGo is Every Traveler's Neck Massager - It's Made With Ultra Comfortable Material and a Massage Setting That Mimics The Effects of A Massage Done By Hands!
Do you often get uncomfortable neck pains when you're traveling whether by train, plane, or car?
Sitting for a long period of time can cause discomfort which can eventually lead to neck pains and strains.
Prevent neck pain, and alleviate muscle knots with the RelivaGo!
The RelivaGo is the latest in neck pillow and neck massager design. It combines the benefit of these two products so you can get both prevention from neck pain and relief when neck muscles are feeling strained. 
You don't have carry two separate neck pillows and neck massagers; with the RelivaGo, you get all. 
RelivaGo Neck Massager Features
🌟 The RelivaGo neck massager comes with memory foam pillow for extra comfort and relief. We use 100% pure memory foam with 5-second rebound technology. The foam makes the pillow comfortable and durable, relieves fatigue and lets you achieve complete relaxation.
🌟 Comes with an ergonomic design that provides full support to the neck and connecting muscles. You no longer have to risk your neck getting all the strains and pains, thanks to the amazing muscle support offered by the Reliva Go.
The neck support pillow adopts an ergonomic U-shaped design, which perfectly fits the curve of the spine and provides 360° wraparound head and neck support to prevent the head from tilting forward. The pillow also includes adjustable rope closure, adjustable angle and size to meet different neck size requirements, and relieve neck pain during travel.
🌟 Provides muscle relief with its 2-way deep-massaging capacity that brings the benefits of an actual hand massage. No masseuse during the travel? No problem. The massaging capacity of the RelivaGo can give deep muscle relief. Its massaging features mimics that of an actual massage done by hand.
🌟 Neck massage is done in two ways - kneading and rotating. The neck massager has massage types that you can fit whatever neck pain relief you're looking for. The easy settings allows quick adjustments.
🌟 The neck massager with three modes - vibration, vibration+ massage, and massage only. You have a control of how you want the neck massager to work for you. You can opt from three choices based on your needs.
🌟 RelivaGo has built in heating pads to help alleviate muscle pains quickly. The heating pads of the RelivaGo enables quick muscle relief. You can adjust the heat level up to 40-degrees celsius.
Enjoy great stress relief to improve your well-being.
Buying the RelivaGo is equivalent to buying a massager and a healthy U-shaped pillow, thereafter to enjoy a comfortable life.
Ergonomic U-shaped design perfect to use for neck massage.. Multi-purpose massage pillow - not only a neck massager pillow, but also a travel pillow.

Specification
Material: Velboa Fabric + Memory Foam
3 modes: Vibration/Massage/Vibration+Massage
Color: Brown,Pink.Gray
Weight: 1.8 lbs.
Package Dimensions: 10.2" x 10.5" x 5.4"
Item Dimensions: 10.6" x 10.8" x 5"
Package includes:
1 x Neck Massage Pillow
1 x USB Charging Cable