Do you want to install a security camera but don't want it to look too obvious? So, how about getting a light bulb with a camera attached to it like what RamicView has to offer? With its unique feature, you can conceal your camera, get a full view of the room, and illuminate the space it is in!
RamicView has a unique design that works like a light bulb and a security camera at the same time. It provides a superb HD video and a night vision perfect for any time of the day - and even if it's pitch dark. Its 360-degree wide-view angle covers all the spaces, securing the whole room and leaving no blind spots, making it easy for you to monitor certain places in your homes and offices. This multipurpose camera has a motion detector that automatically records slight movements and notifies you right away. It's a great addition to your home safety essentials.
Features:
Light bulb camera - A camera that is multipurpose. Ramicview acts as a light bulb and camera all at the same time.
Night vision & easy installation: The camera provides excellent night vision so you can monitor essential areas even with their dark surroundings.
Wide view angle: 360-degree wide view angle, no blind area with 960p high resolution, applicable to different monitoring scenarios.
Remote control: Dimmable brightness control from anywhere with your phone, using the free app (work with ios/android). App is super easy to install.
 Motion detection: When any motion is detected, the security system will send an alert message to your mobile via an app, offering more security for your place.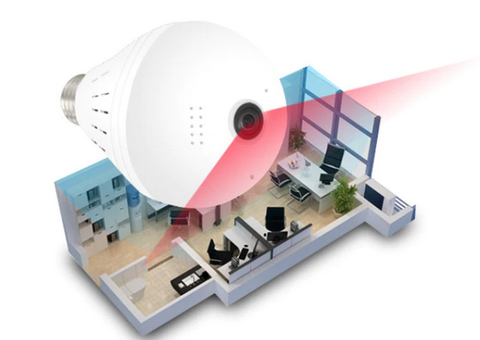 Make Your Home Safe And Secured Even When You're On The Go!
Based on studies and statistics, a home burglary takes place every 13 seconds. That makes it nearly 6,000 a day. Installing a security system could contribute a long way to protecting your home and valuables and keeping your family safe from potential break-ins by burglars.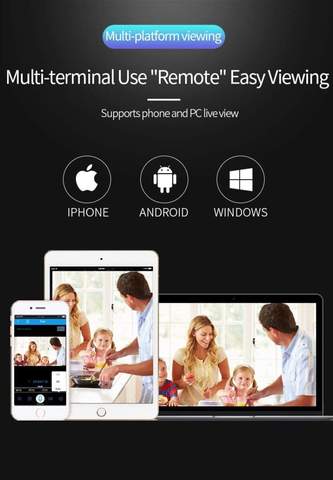 This easy-to-use  RamicView is a 360° Panoramic IP Camera can see an entire room from the ceiling to floor. The motion sensor will notify you when it detects activity, and you can view your camera in real-time through your mobile phone.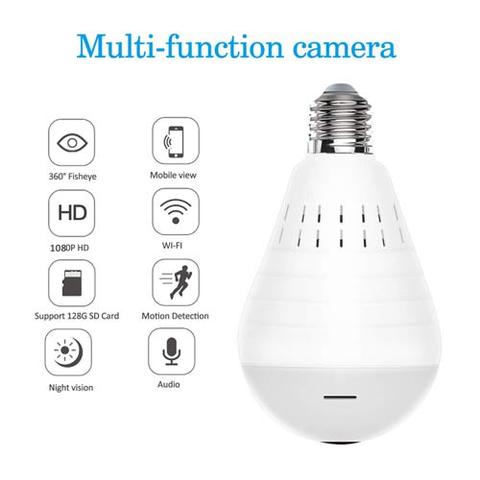 Benefits:
Home/office Monitoring - View every corner of your home/office in crystal clear HD video.
Nanny/Pet Monitoring - Monitor your loved ones and also capture their best moments.
Security Monitoring - Be alerted when motion is detected. Ward off your intruders through your phone.
Two Way Audio - Perfect for baby monitoring or just a quick check-in with the family.
APP Preview: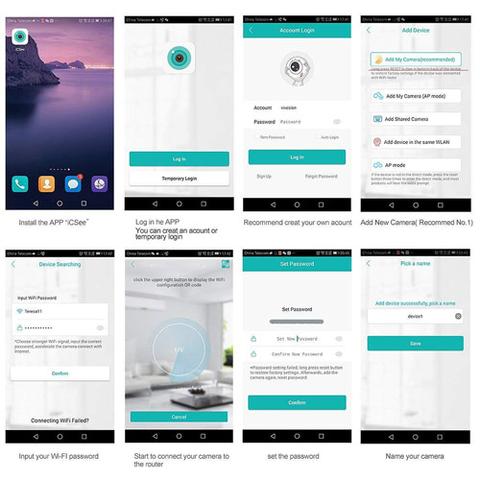 Specifications:
Resolution:1280*960P
High Definition: 960P HD
Lens (mm): 1.44mm
Supported Mobile Systems: iOs, Android
Power Supply(V): 100-250V
Dimensions (L x W x D)(mm): 98*75*26mm
Video Compression Format: H.264
Recording Voice
Minimum Illumination(Lux): 0.1LUX-1.5LUX
Megapixels: 1.3MP
Package Includes: 
1X 360° Fish Eye Bulb Panoramic IP Camera