The Heated Socks with Multiple Benefits!
Are you on the hunt for heated socks that do the trick in giving comfort to your feet battered by the cold? The MareeTuzz rechargeable heated socks are a no-fuss choice - these heated socks keep your feet warm so you can still go on outdoor adventures even if it is cold.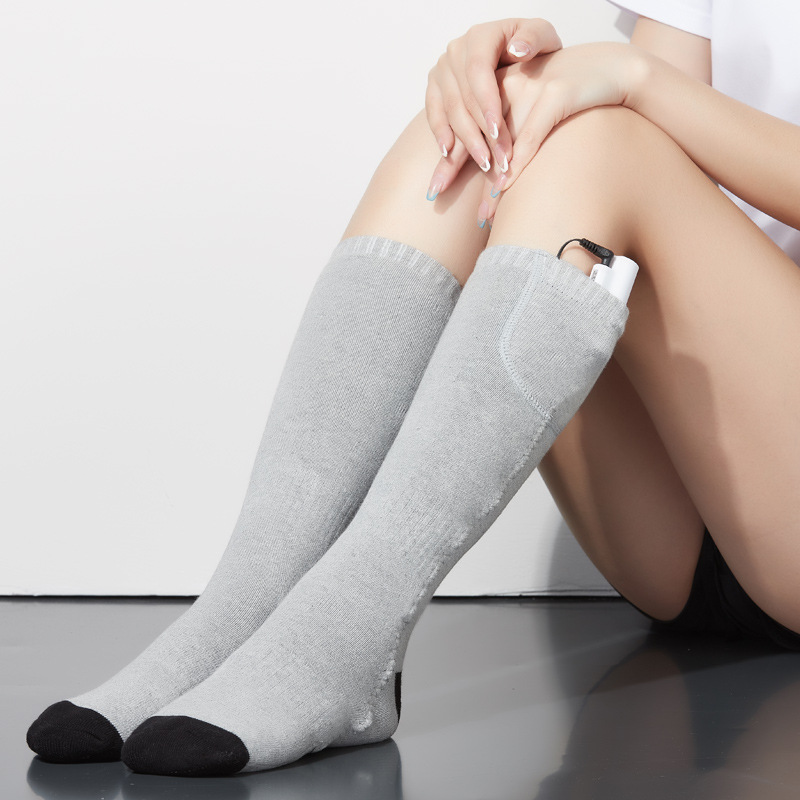 Keep Your Feet Toasty & Warm All Day and Night!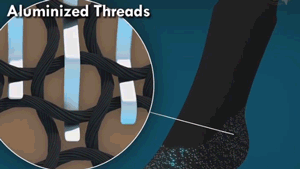 The Socks Come with a One-Size-Fits-All Design
The socks ideal for outdoor activities! The MareeTuzz is reliable in keeping your feet warm and toasty even if you're skiing, running, hiking, sledding, and having fun and adventure outdoors.
The heated socks perfect for indoor use. The multipurpose design of the MareeTuzz makes it also an ideal pair to wear while you're lounging at home. The feel of the socks is 100% breathable and comfortable - you won't even feel like you have a tight pair of socks on.
The perfect multifunctional socks and the stretchy and smooth nylon fabric makes them a great fit for outdoor enthusiasts.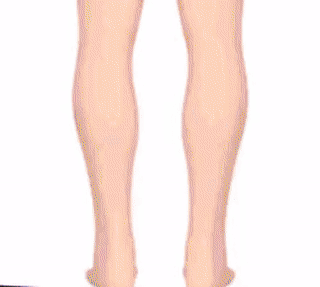 The best investment for your foot health this winter! If you're worried about your feet being in pain from arthritis, poor blood circulation, muscle pain, and stiff joints, these heated socks can help alleviate them!
The socks come with a rechargeable battery - no need to buy batteries often. Don't worry about buying batteries endlessly. The USB-charging port of the MareeTuzz can save you from spending loads of bucks on batteries.
You can use the MareeTuzz for all sorts of winter activities. The heated socks are perfect for variety of sports, outdoors situations and circumstances. Great for skiing, biking, hiking, trekking, and many more.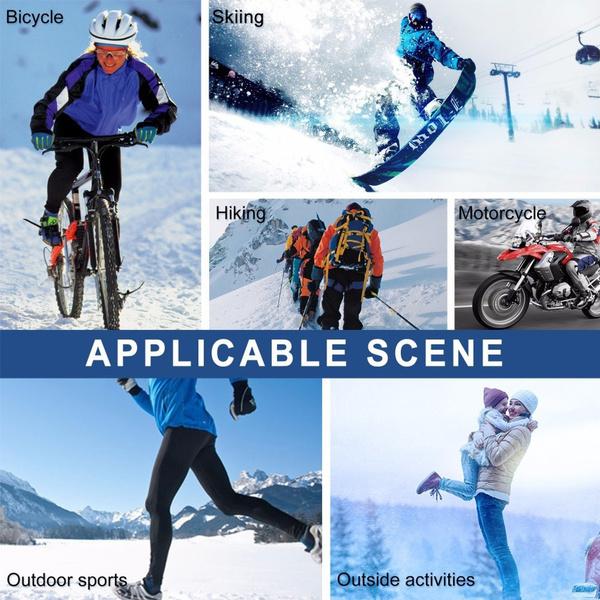 "Great for those with constantly cold feet or for those with poor blood circulation"
The advanced heating technology that comes with the MareeTuzz design is created to warm the core body temperature and deliver hours of heat and comfort. These top-of-the-line socks include built-in heating panels and are made with Flex material that provides lightweight warmth, comfort and versatility.
Allows you to stay warmer and enjoy outdoor winter activities longer than ever before.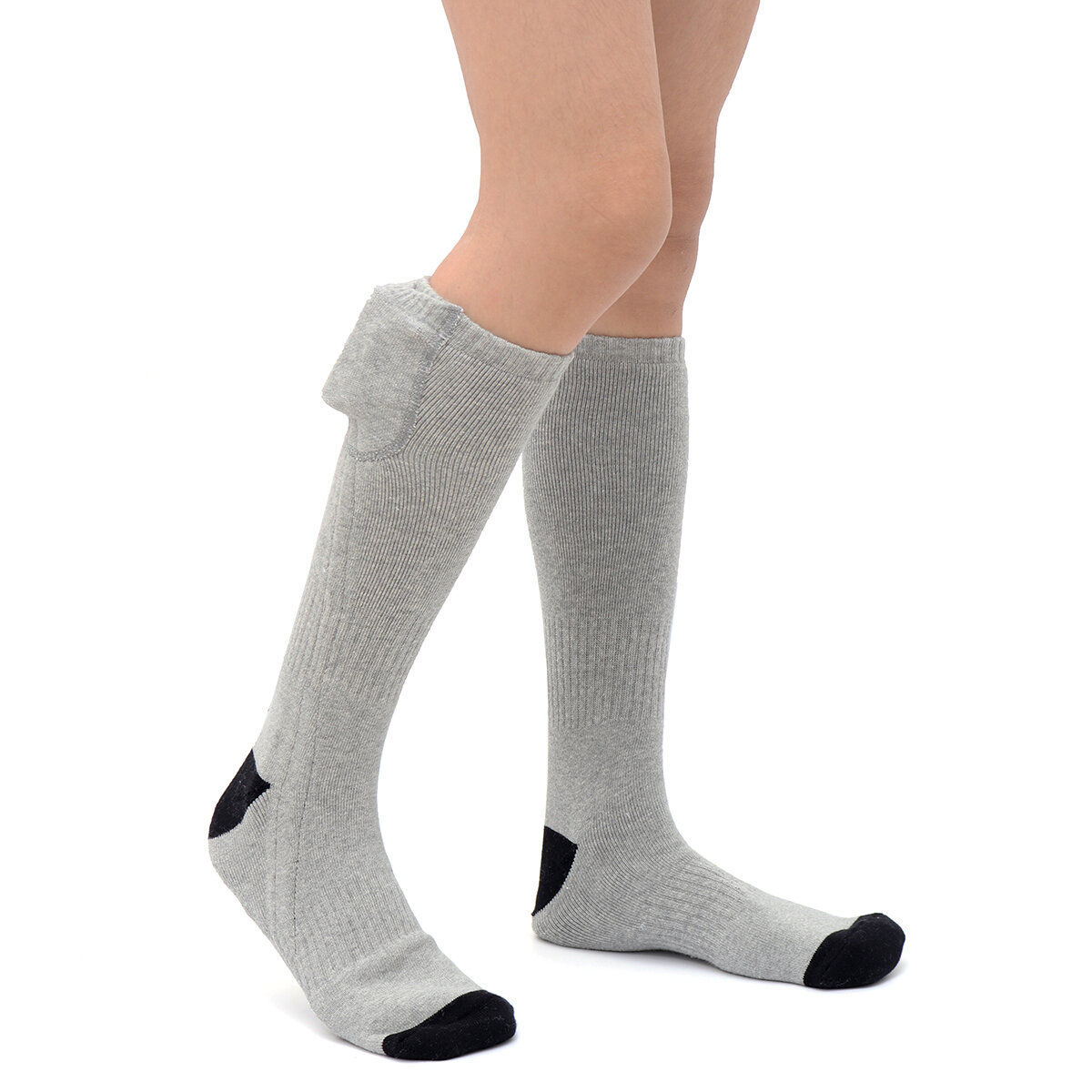 MareeTuzz Features
Choose from three heating modes. There are three intelligent control heating modes you can choose from. You can choose the 40-degrees Celsius for everyday activities, 45 Celsius if you want a mid-range heating, and 50-degrees Celsius if you prefer to spend more time outdoors.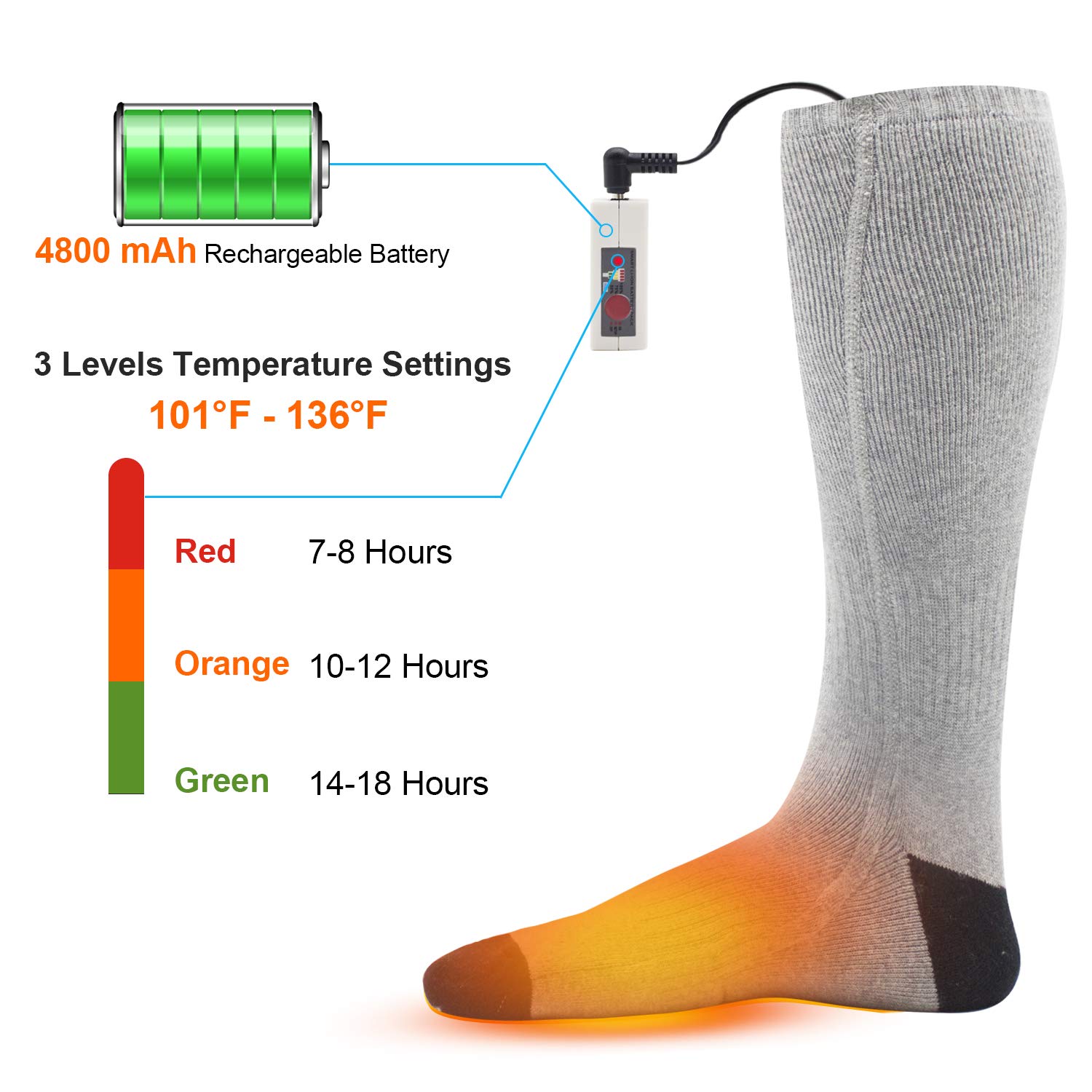 The socks come with three layers for comfort! MareeTuzz comes with an invisible heating design that distributes heat better. The socks can be conveniently used for daily life - it's soft, stretchy, lightweight, breathable, and moisture-wicking.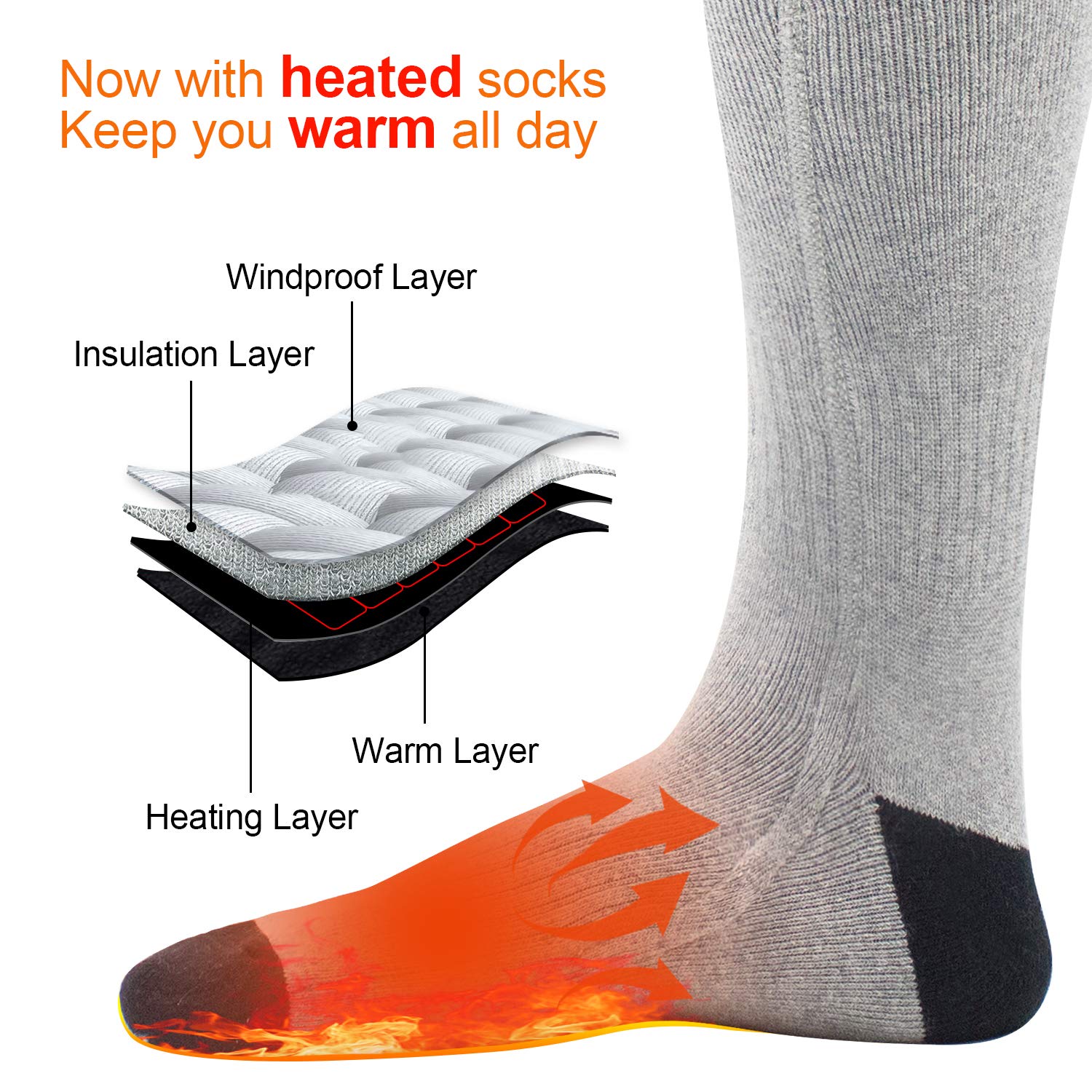 Get better elasticity and waterproof features. With two times higher elasticity then the normal fabric, the socks can cover your foot and ankle carefully. The socks are also washable and waterproof.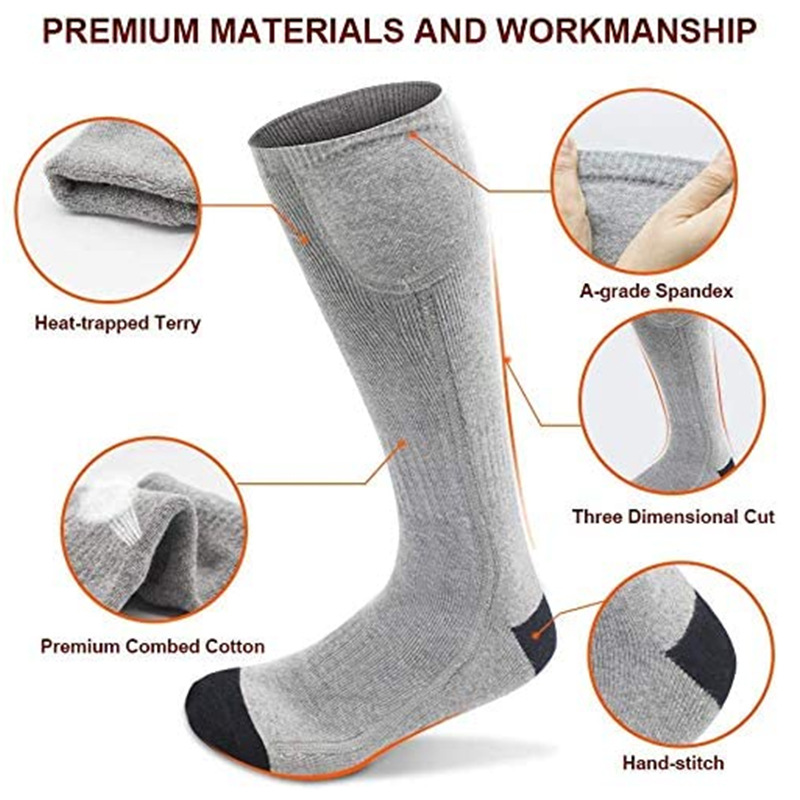 You will love the long-lasting battery! With its an excellent battery support for long working time, no need for recharging frequently.
 The best socks for winter foot care.The electric heated socks give warmth and relief for cold feet from poor circulation, arthritis, cold weather or simply just wanting more comfort and warmth.
The best gift this winter season. If you have loved ones who might want to feel comfortable even during the colder days, the MareeTuzz can come in handy.
Power Up – After charging the batteries, turn up the system.
Plug In – Connect the batteries to the cords located in the pocket on the top of the socks.
Turn On – Press and hold the power button on the battery for 2 seconds.
Specification
Product Voltage:5V
Voltage capacity: 3.7V 2200mAh
Texture: Cotton
Fever Location: Instep
Work time: 6-7h
Color: black
Lithium battery charging time about 3.5hours
After power through the lithium battery, intelligent temperature control switch can be adjusted three steps temperature, the temperature range of 40-55.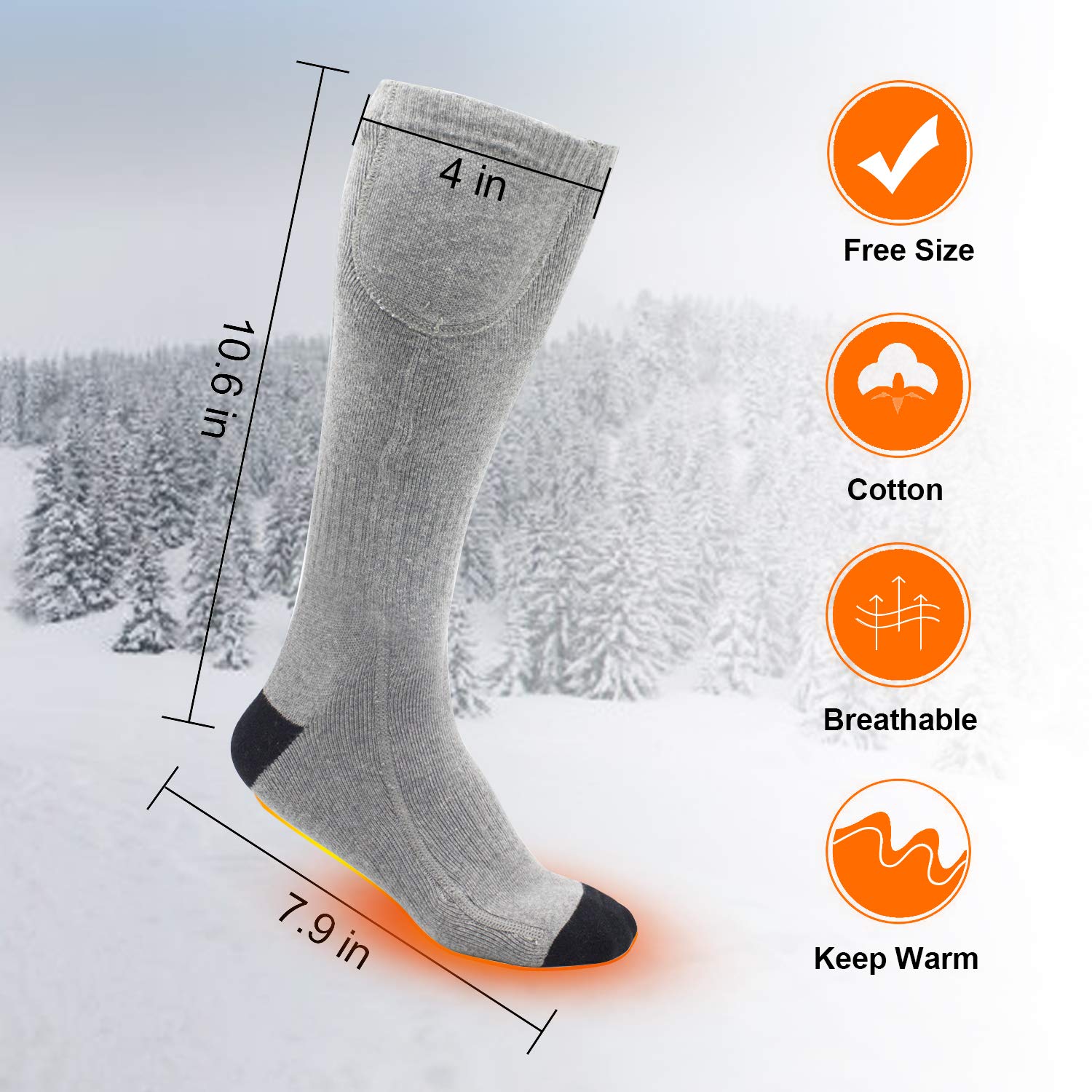 Package Includes :
2 x Electric Heating Socks (1 Pair)

2 x Rechargeable Battery

2 x USB Charging Cable

1 x User Manual