Top-Rated Sound For Your Top Ranked Game
Imagine that you are playing the latest FPS game on your desktop. You are currently watching out for enemies and trying to hear their footsteps from a distance. Suddenly, your enemy pops up from nowhere without you realizing or hearing its footsteps because your standard PC audio muffles it. That is why it's time to set it aside and transform your gaming experience with GameBass today! A sleeker design, crisper sound, and cool lights make it a stellar addition to your gaming equipment.
GameBass wireless gaming soundbar produces a realistic sound quality to give you the best games you can imagine. Additionally, its smart and wireless feature lets you use it not only on your PC but also with your phone, laptops, and other Bluetooth devices. Aside from this, it has an elegant design, colorful LED lights, and long and stable battery life. A full-pack speaker that you'll definitely like.
DESCRIPTION
GameBass Wireless Soundbar provides the best, realistic sound quality that lets you fully immerse yourself into the game for an unmatched advantage during intense gameplay! Paired with its sound-induced rhythm lights, it elevates your playing experience to a next-level gaming ecstasy filled with so much thrill and excitement!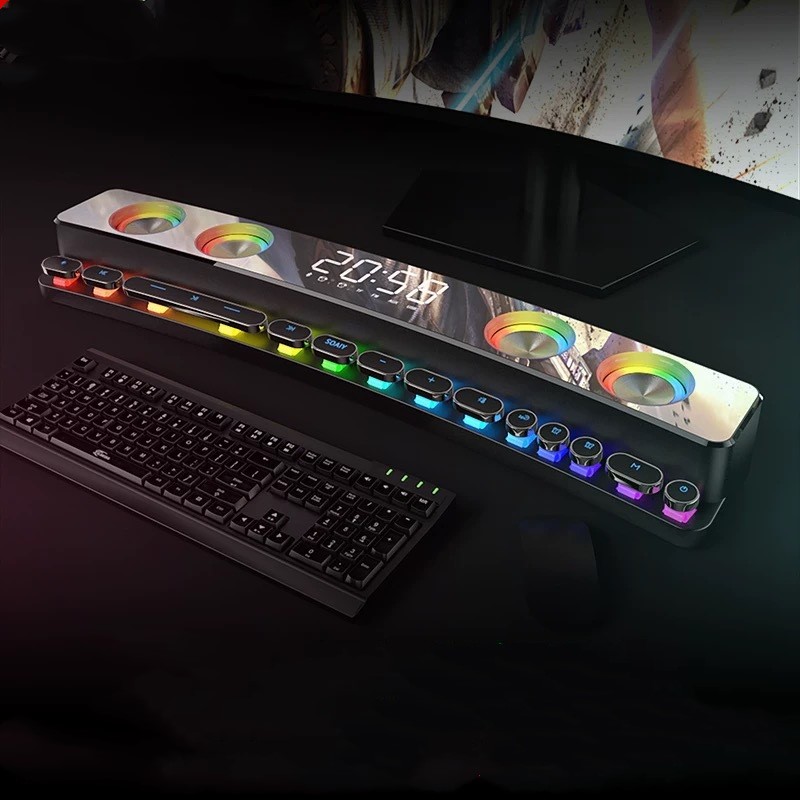 Wireless Gaming Soundbar provides unmatched, crystal-clear sound quality that lets you immerse yourself fully into the game for an unmatched advantage during intense gameplay! 
Paired with sound-induced rhythm lights that sync to gaming sound, your gaming experience will be elevated to god-level status.
Features: 
✅ REALISTIC SOUND QUALITY: Full frequency speakers produce HIFI sound quality, the best in its class. Enjoy high, medium, and low gaming surround sound effects that are beyond your imagination!
✅ SMART CONNECTIVITY & ADAPTABLE INPUT PLAYBACK MODES: Pair your phone, laptop, and other gadgets effortlessly with Bluetooth5.0 Technology to enjoy uninterrupted sound playback! Supports Multiple Input Modes: AUX, TF card, U disk, USB Sound Card connection, FM, even a Mic!
✅ ELEGANT AWARD-WINNING DESIGN: Exquisite craftsmanship featuring a Curved HD Mirror Screen and a Frosted Shell Digital Display.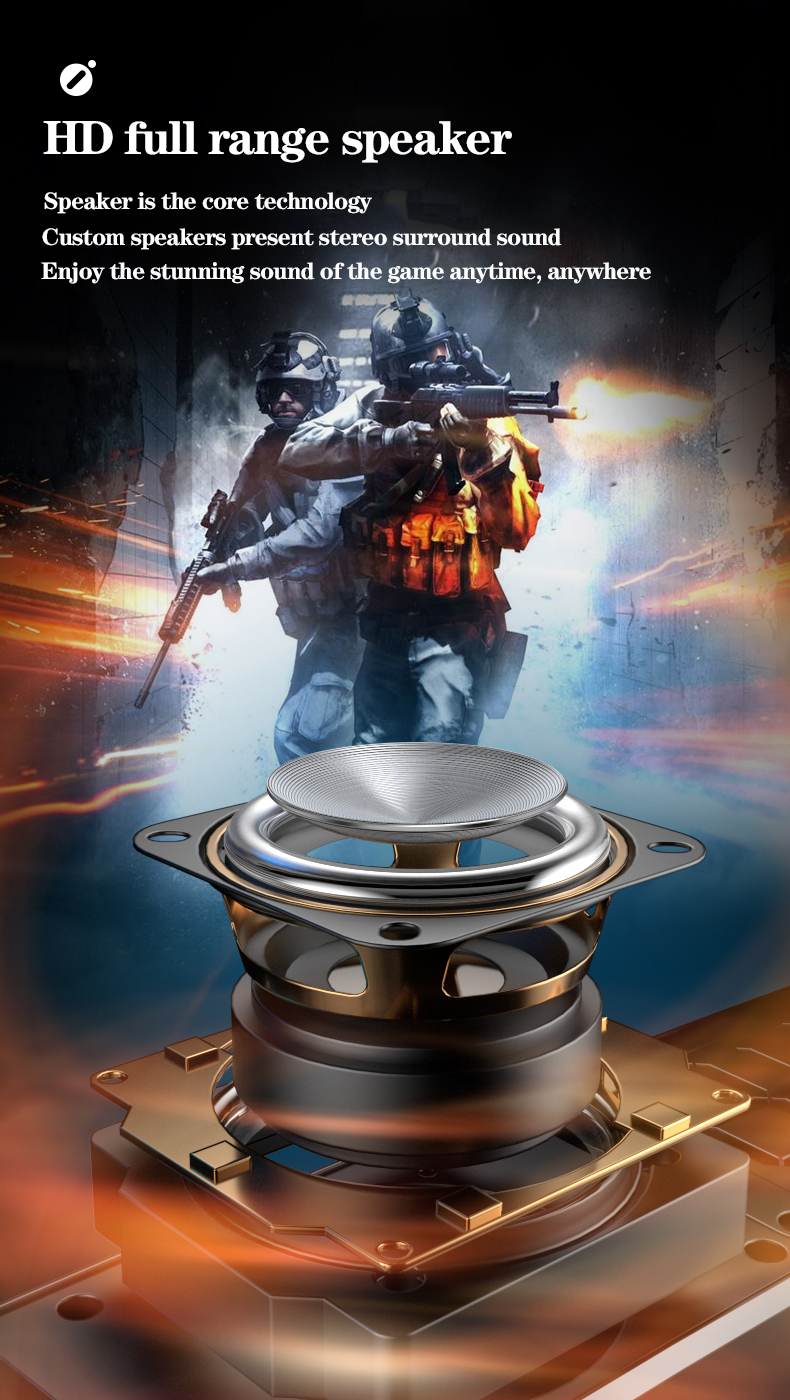 ✅ COLORFUL SPECTRUM LED LIGHTS: Features programmable sound-induced rhythm laser lights that sync to gaming sound effects that enhance gameplay experience!
✅ LONG & STABLE BATTERY LIFE: 3600mAh large-capacity lithium battery gives it its Portable ability and lasts up to 6 hours of full operation on a single charge!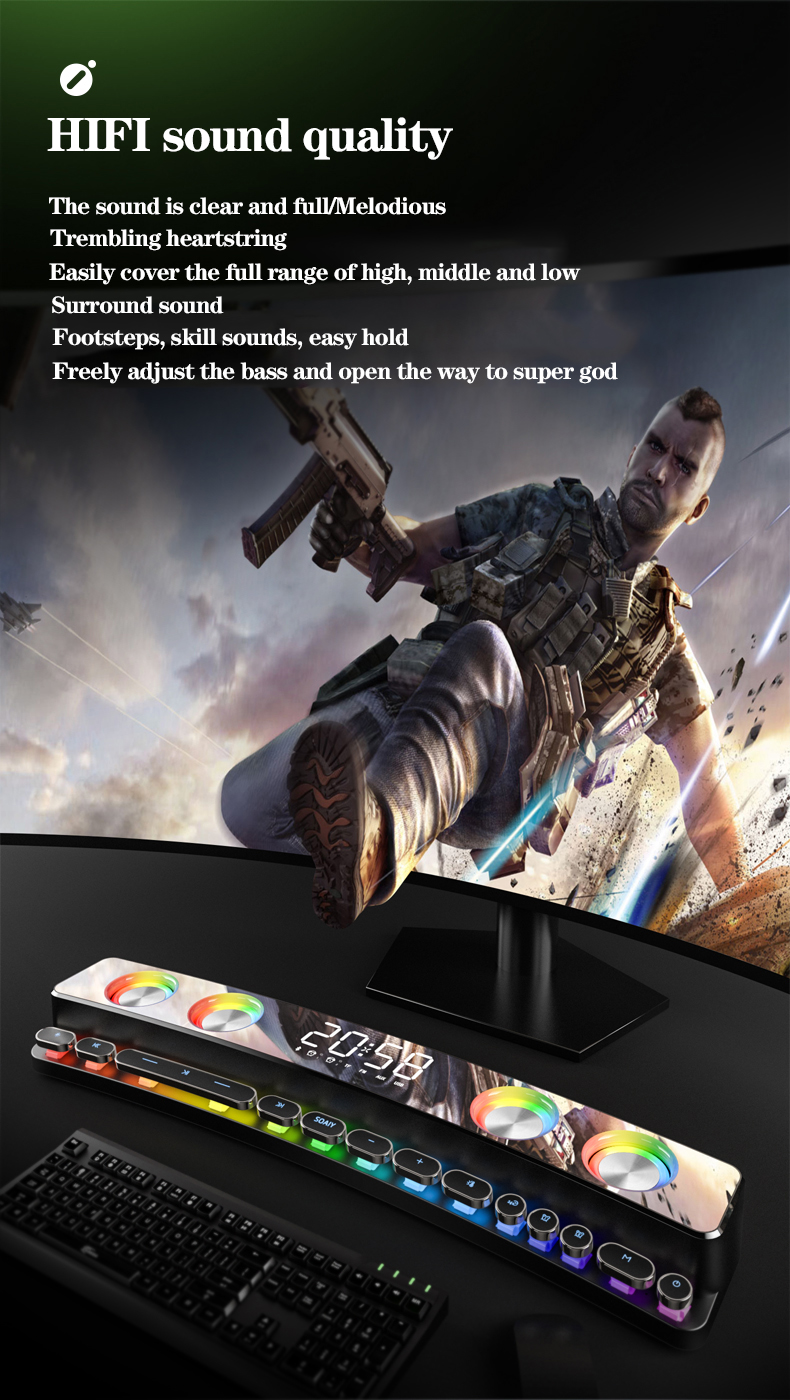 Specifications:
Battery capacity: 3600mAh
USB/TF: Supports up to 32 GB
Bluetooth version: 5.0
Size: 495*88*57mm
Clock & Alarm Display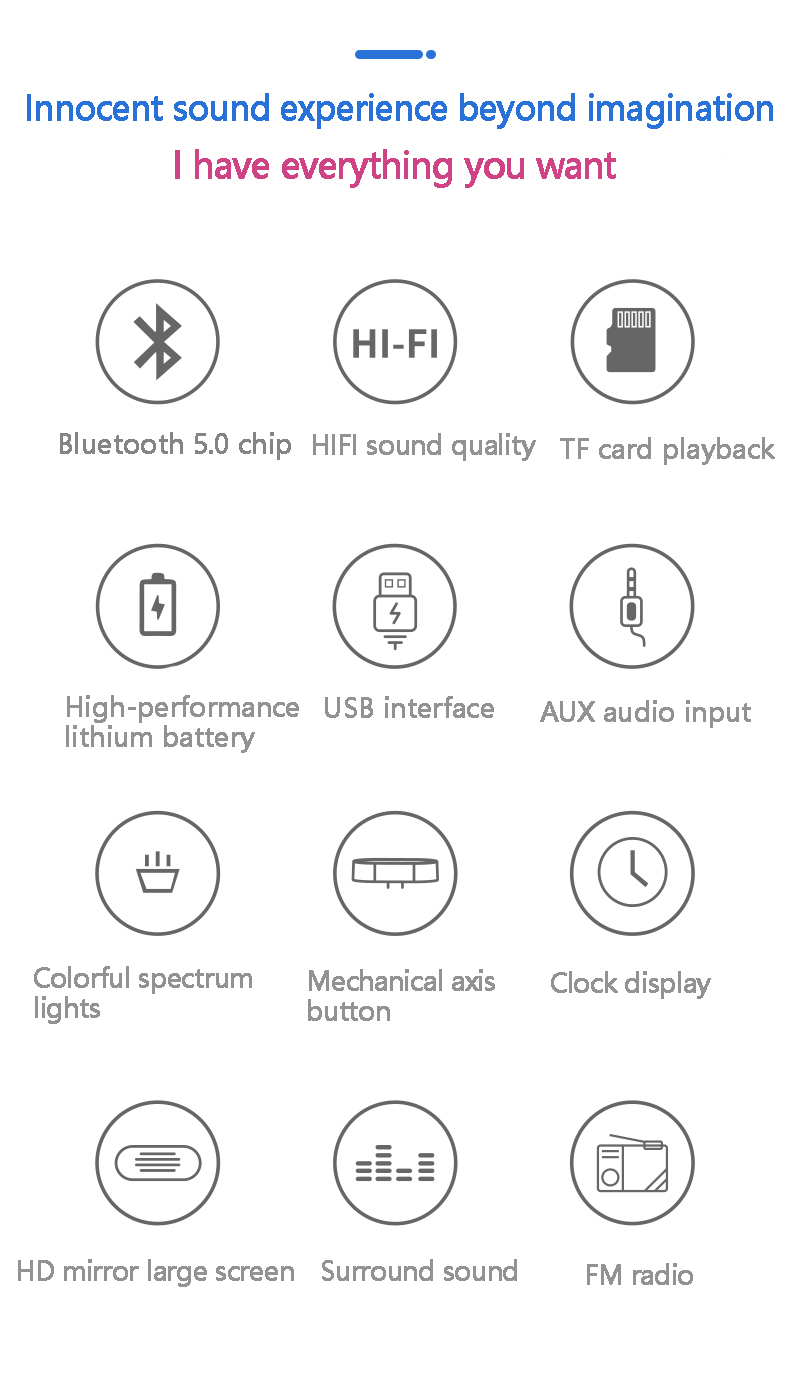 What's in the Package:
1 x Speaker
1 x USB
1 x 3.5mm Audio Jack