Set the perfect mood for any party theme with ExoMists!
Love to take your next party's decorations to the next level? Nothing beats the mystic ambiance a fog brings—and ExoMists is the best fog machine to create the perfect atmosphere!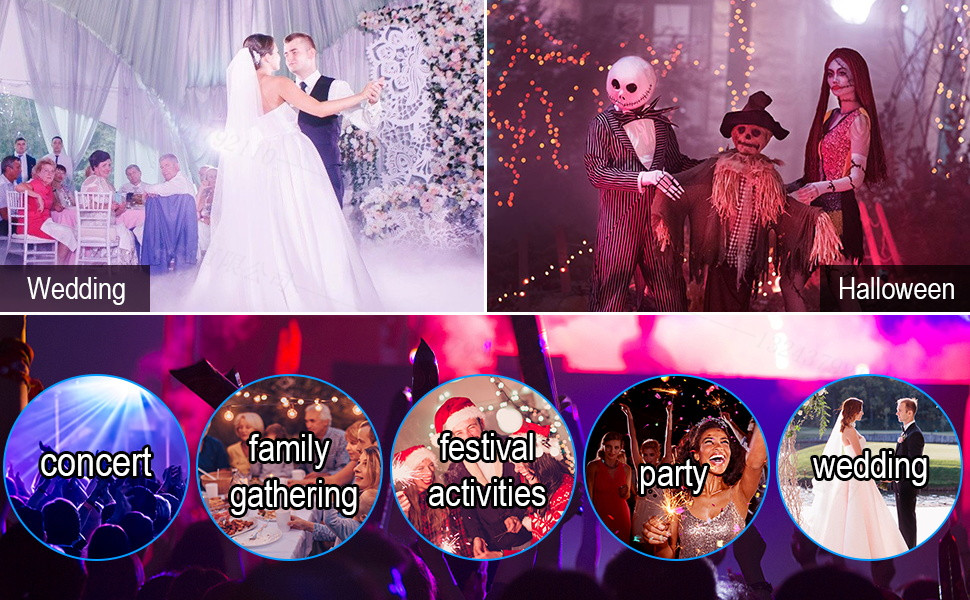 Light up your party and world!
Fog Machine is designed to create a party atmosphere for you and your friends. With variable modes and sound-activated functions, the light will automatically follow any music or rhythm and showcase the different lighting modes you need to make your party lit and special.
It only takes 2 steps to party
Add the fog fluid and start the machine.
Wait 3-5 minutes until the machine produces colorful fog and makes your party stage lively!
The ExoMists' remote control and overheat protection mechanism make this device easy and safe to use. The fog machine is widely used on various occasions, such as wedding ceremonies, Halloween, parties, Christmas, clubs, DJ performance, stage effects, and so on. It's the perfect fog machine to create a lively atmosphere of wildness.
5 Reasons Why You Need a 400W Fog Machine?
If you are looking forward to hosting an enthralling night of endless fun, nothing works better than a fog machine to set the right mood.
Whether you are using these machines indoors or outdoors, they are perfect for setting up the right ambiance. This fog machine is beneficial in creating the ideal environment for all occasions!
If you are in the entertainment business or like to host regular parties or events, you've no doubt come across a fog machine. These are popular accessories for creating a spooky atmosphere. No matter where you are or how you'd like to use them, there are many different models with different specs and features to offer a user-friendly experience—and the ExoMists got it all for you!
From haunted houses to wedding ceremonies, they are a must-have accessory to add the desired effects to make any event a raging success that will undoubtedly keep people talking long after it's over.
The fog machine adds a magical winter wonderland effect to a set or scene by producing a steady fog stream. Moreover, it also serves as a crucial accessory during a creative photoshoot to add grand effects for fabulous results that get noticed.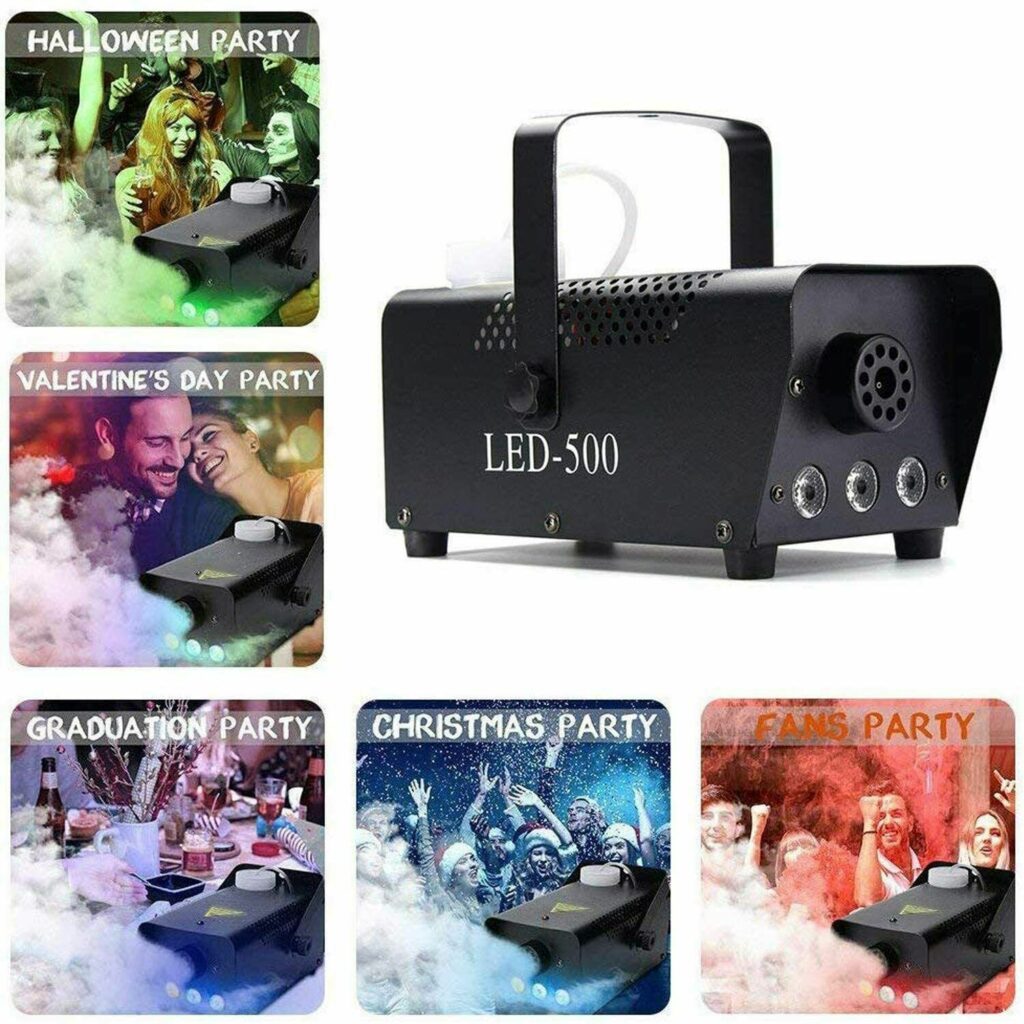 ExoMists Features:
Non-Toxic & Odorless: The power of the fog machine is 400w, and its output power reaches around 2000 CFM(c.f./min) and 8.20ft distance. This device produces non-toxic gas and is safe to use in the room. NOTE: This fog machine ONLY works under 100-120V.
3 Color LED Light Effect: Featured with 3 LED lights  (Red, Blue, and Green) to generate color smoke. Coupled with the fog, our machine creates a festive and lively atmosphere.
Remote Control & Heat Protection: Control the device with ease; turn on/off with just one press of a button. The ExoMists also have temperature control that prevents the machine from overheating or burning out.
Rapid Warm-Up: It only takes 3-5 minutes to quickly warm up the machine—thanks to the advanced electronic thermostat control system and unique pipeline technology equipped with the device. Just pour the atomized liquid (not included in the package) into the water tank, and let it work its magic!
Wide Application: Perfect for parties, live concerts, stages, festivals, wedding ceremonies, family entertainment gatherings, and environment disinfection. Not waterproof, indoor use only. Note: Fluid Not Included.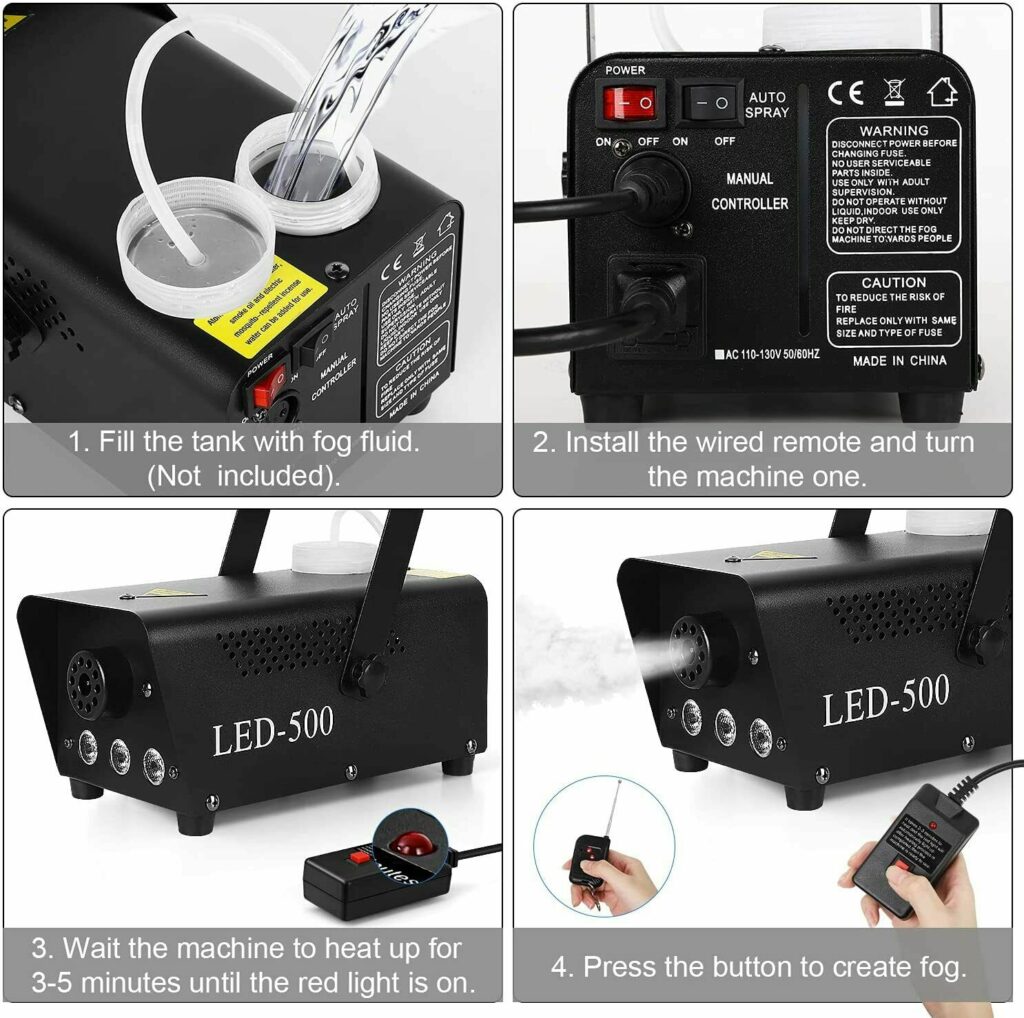 Attention:
* For your safety, please ensure there is enough fog fluid in the tank in each use, and the metal liquid nozzle is immersed in the liquid. Operating the machine without fluid will cause severe damage.
* The LED lights can only be activated once the fog machine is preheated successfully.
* Disconnect the appliance from the electric supply before refilling the fog fluid, performing any maintenance, or cleaning the machine to avoid electric shock.
Specifications:
Brand: ExoMists
Product Type: Fog Machine
Color: Black
Material: Iron
Plug: US Plug
Input Power: 100-120V, 50-60Hz
Light Source Type: LED (Red, Green, Blue)
Power: 400W
Fog Emission: 3000cuff/min
Fog Distance: 2.5m/8.20ft
Wireless Control Distance: Within 10m/32.81ft
Oil Barrel Capacity: 0.3L/12.68oz
Preheating Time: 3-5min
Overheat Protection: Auto power-off for 5min when the temperature hits too high.
Item Size: 24x12x11.5cm/9.45x4.72x4.53cm
Item Weight: 1358g/2.99lbs
Package Size: 27x17x15cm/10.63x6.69x5.91cm
Package Weight: 1710g/3.77lbs
Package Contents:
1 x Fog Machine
1 x Remote Control
1 x Receiver
1 x Handle
1 x Mounting Screws
1x User Manual