Bring The Vintage Tunes to the Home
Introducing ClaxoTunes - the modern version of the classic vinyl players. Play your favorite oldies tunes and vintage records in this new and improved vinyl record player.
The beautiful tunes of the old times will fill your homes once again. This vinyl player takes on the classic seriously - from its looks to how it can accommodate vinyl records.
But don't let the looks fool you. The ClaxoTunes is more than just a vinyl player. It comes with advanced features such as Bluetooth connectivity, speed adjustment, and a better box container. 
This advanced, portable, and high-quality vinyl record player will make you feel like you've been transported to the past - listen to your favorite classics anywhere and all day long.
Specification:
Material: Metal and PU Leather
Three Speed Adjustable:33/45/78 RPM
Support Record Size: 18/20/30 cm
Speakers: 2.0
Sound Effect: PH/ INT/ BT 2.0
Size: 35*25.5*13cm/ 13.8" x 10" x 5.1"/ L x W x H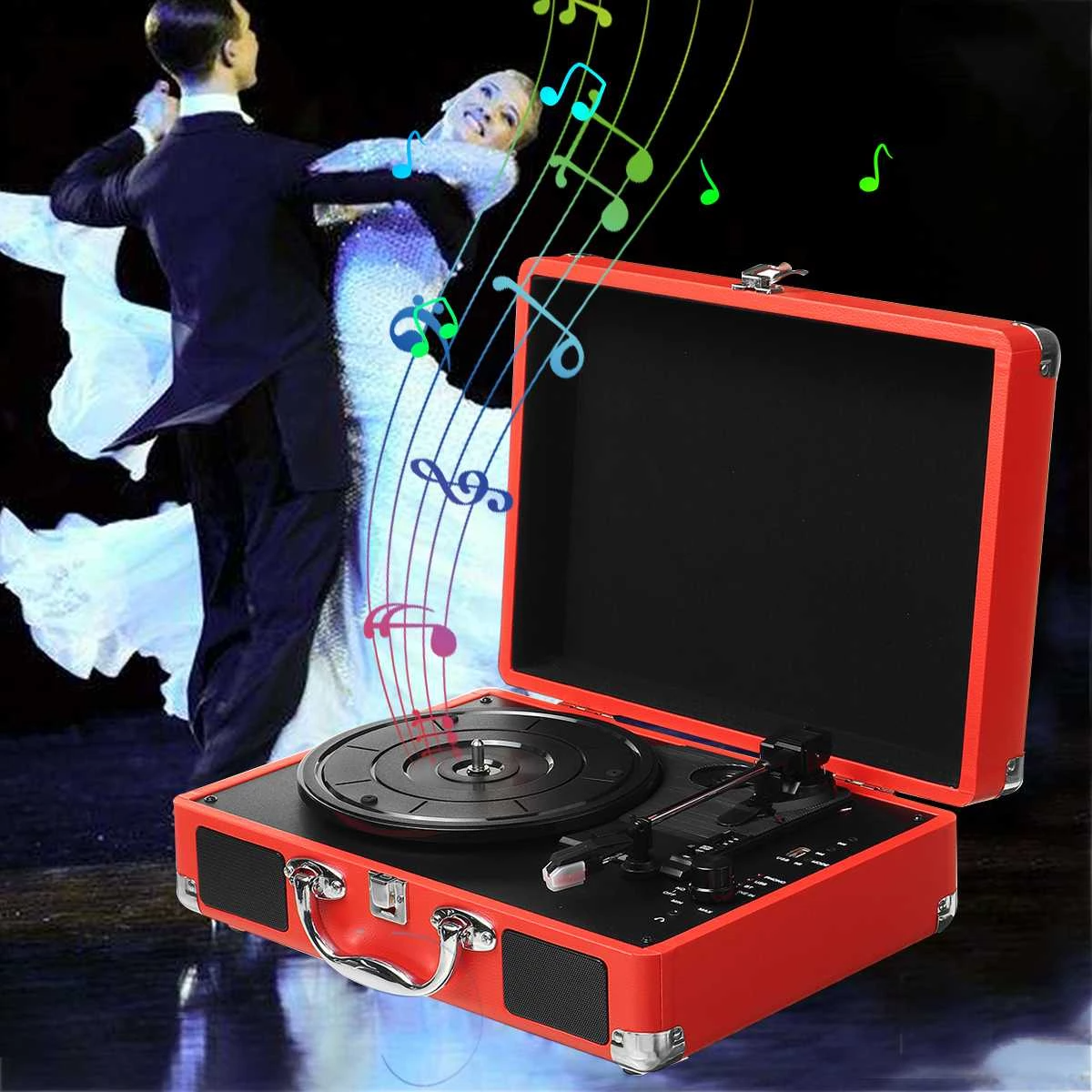 ClaxoTune Feature
A modern touch to a classic favorite. You don't have to search high and low in vintage markets for the best vintage players. This modern version works just the same.
Includes a three-speed belt-driven turntable. Play different types of records ((33 1/3, 45, 78 rpm). The record player comes with upgraded sound quality that helps play even your oldest records clearly.
Compatible with Bluetooth and audio jacks. The ClaxoTune can play basically anything - from the playlist on your phone to hits from Youtube. All you need to do is to connect your phone to Bluetooth or through the audio jack slot.
Includes high-quality speakers for better music sessions. With the ClaxoTune, you no longer have to worry about bringing in some external speakers. The ClaxoTune already comes with high-quality speakers to help sound off your favorite tunes beautifully.
Bring your tunes everywhere. This portable vintage player comes in a lightweight case which allows you to bring it anywhere you want.
Easy to use! Includes simple operations.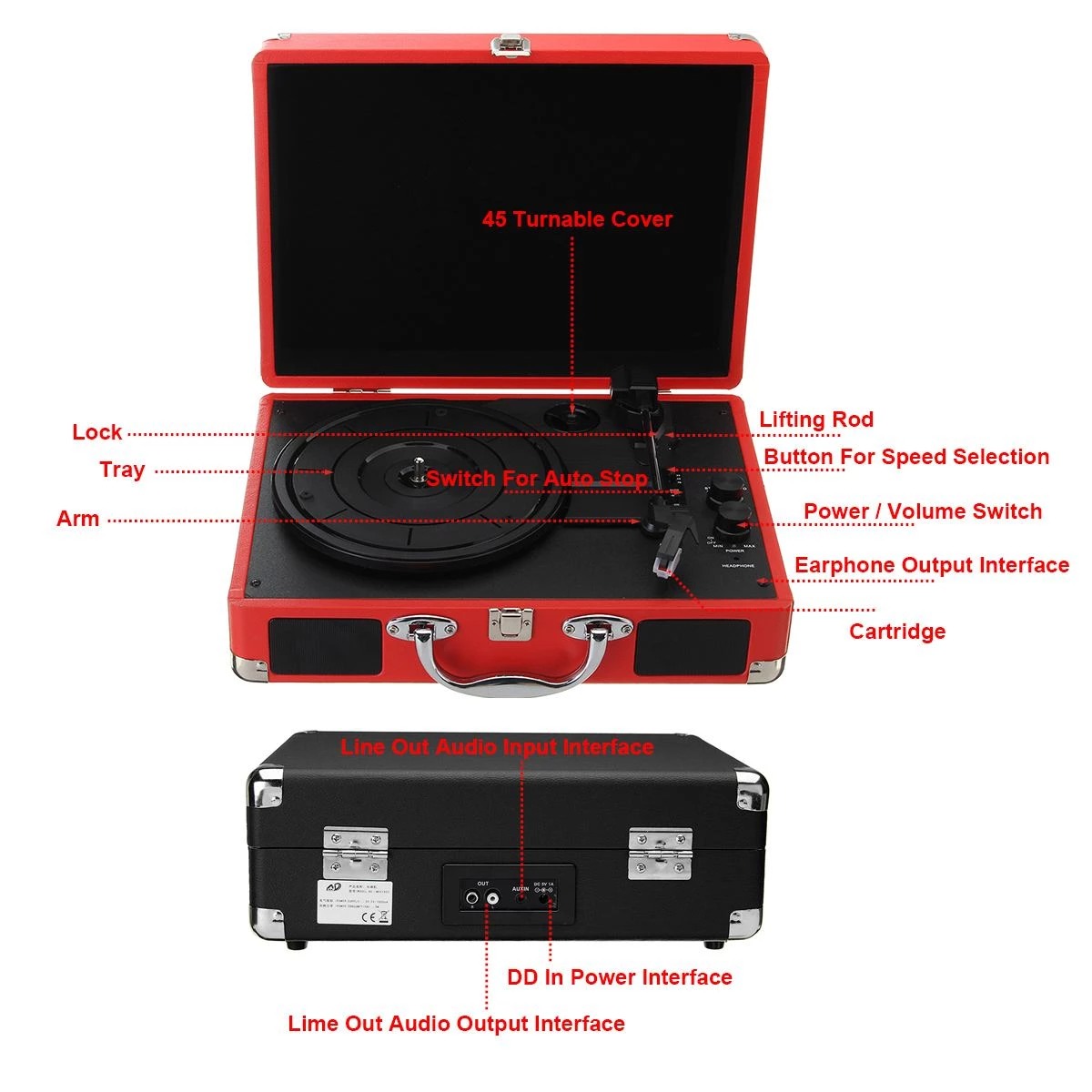 Retro briefcase-style design is lightweight and easily transported.
Output by single phonon connection line level
Spins 7, 10, or 12-inch records at a speed of 33 45 78 RPM!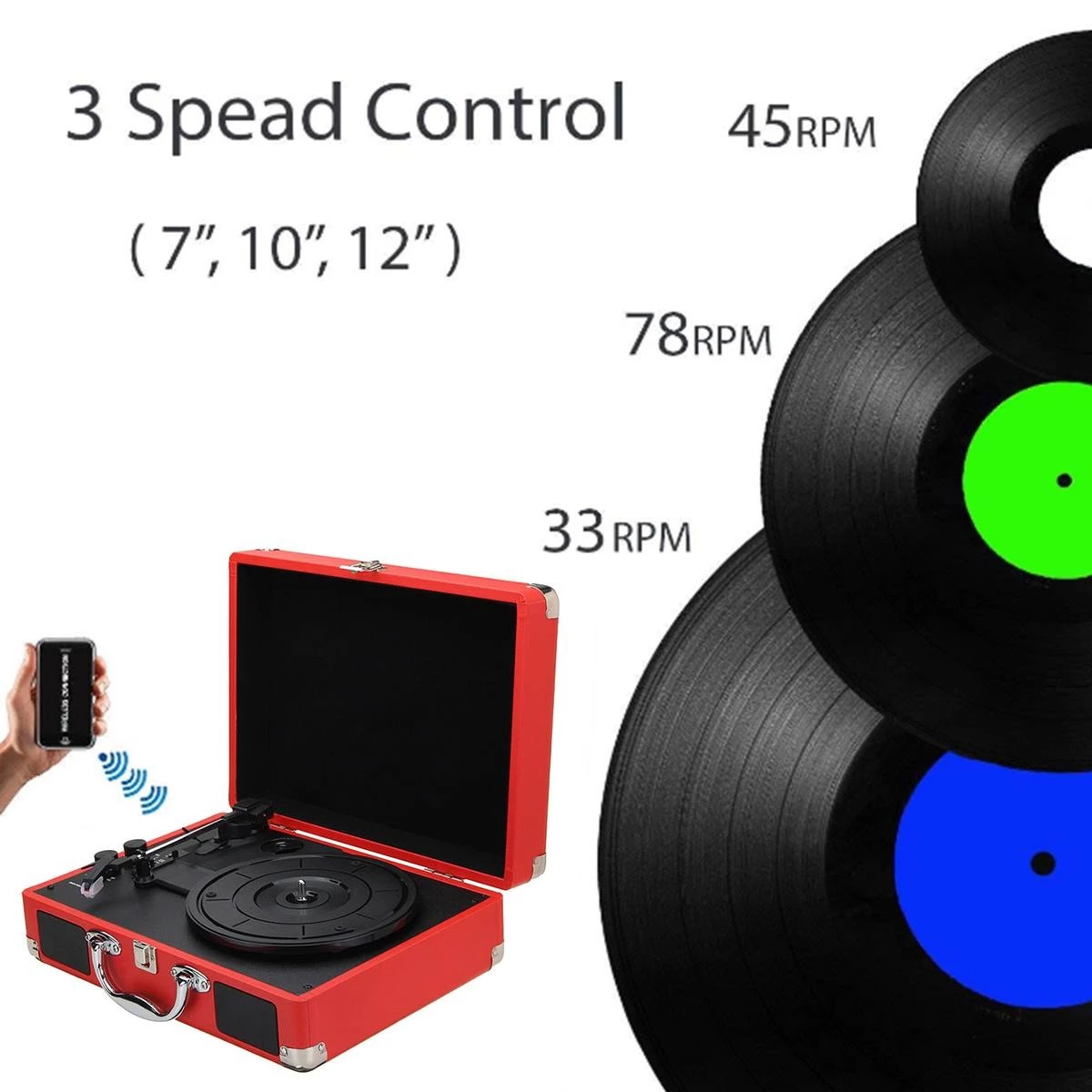 Pure player, signal output.
Featuring built-in stereo speakers so you can listen to your music without having to connect it to a speaker system.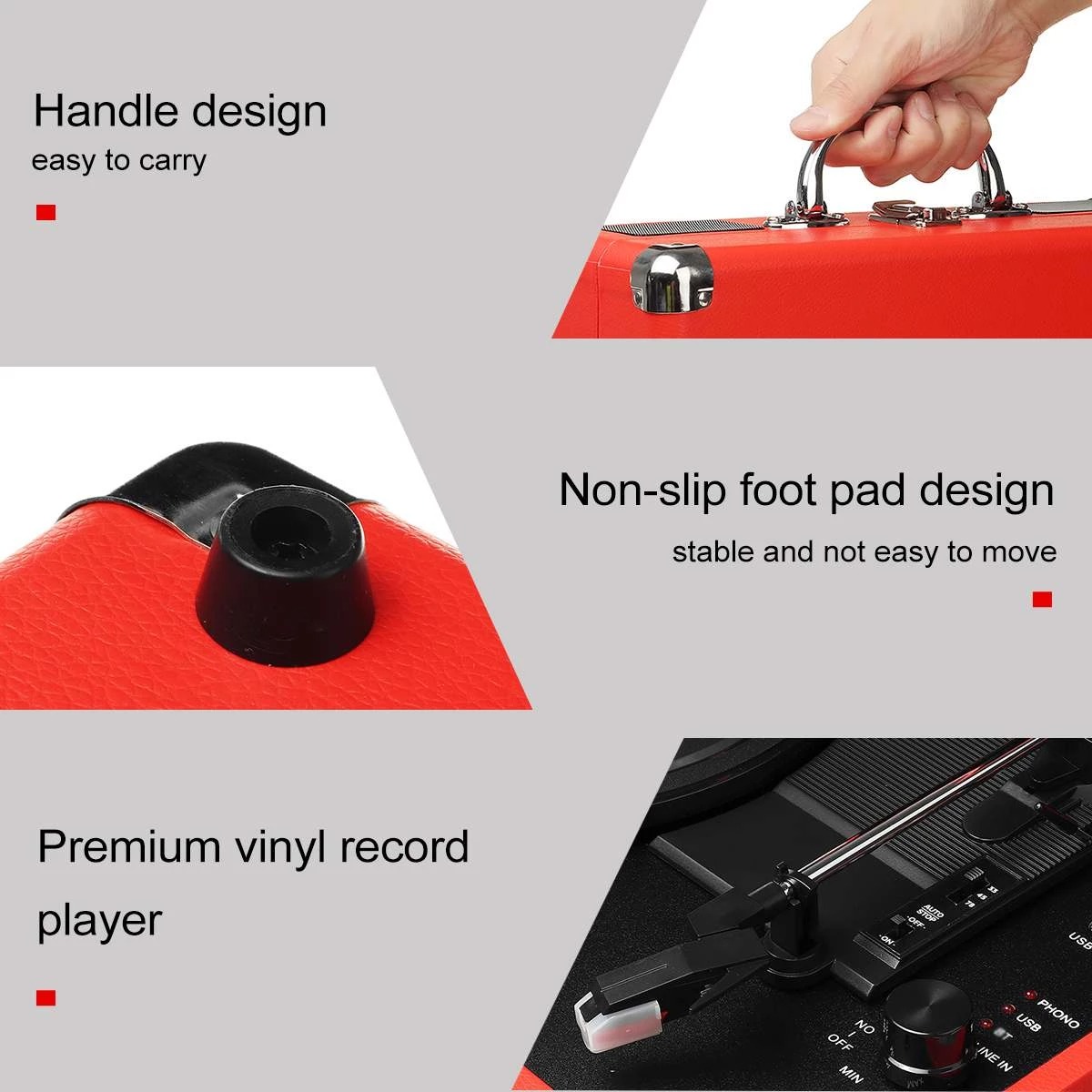 Size:Size: About 35x25.5x11.5cm/13.78x10.03x4.52in
Color:Red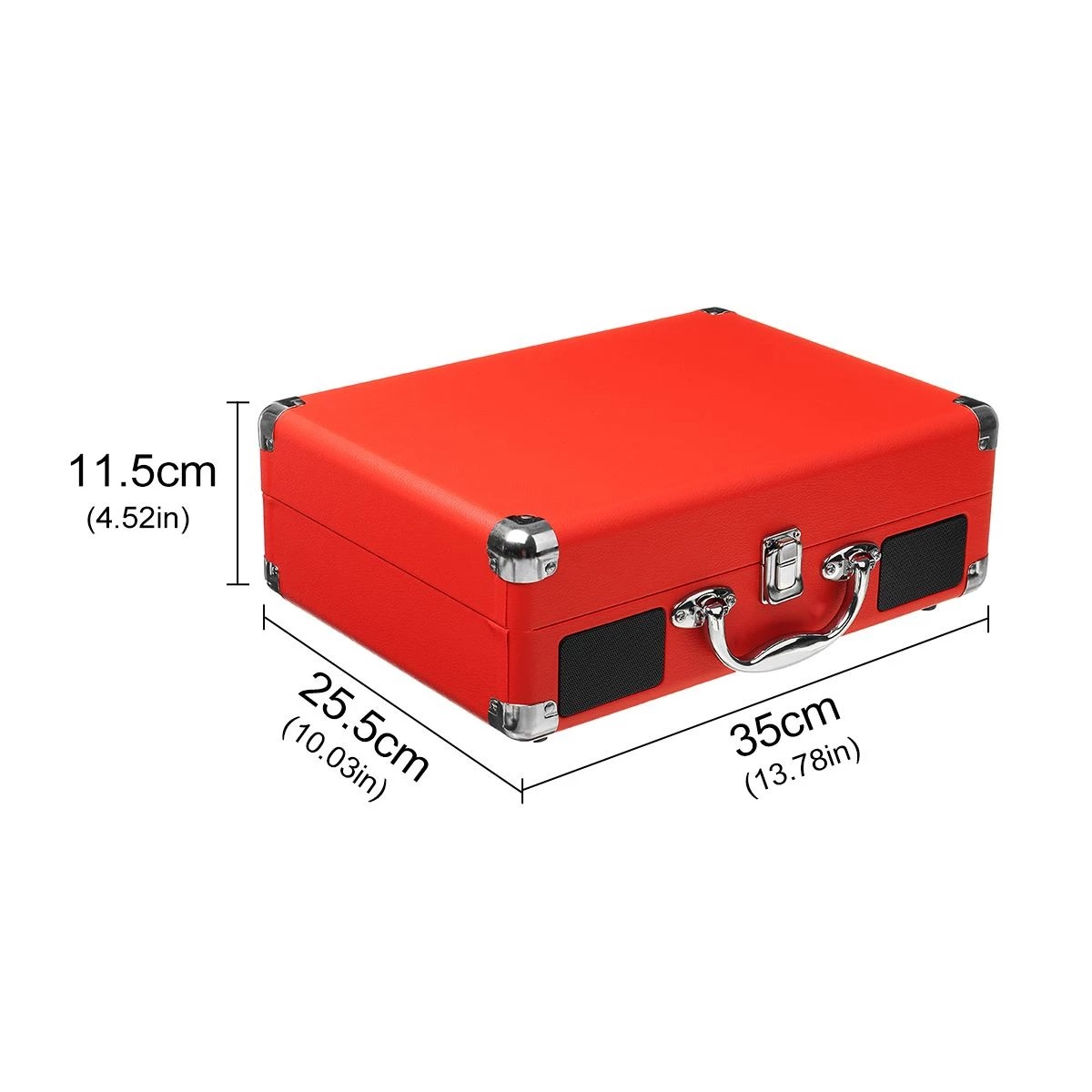 Package Includes:
1 x Retro Record Player
1 x instruction manual
1 x an adapter