Elevate Your Outdoor Events with Entertainment Straight from the Large Screen of the CineCyne's Inflatable Outdoor Projector Screen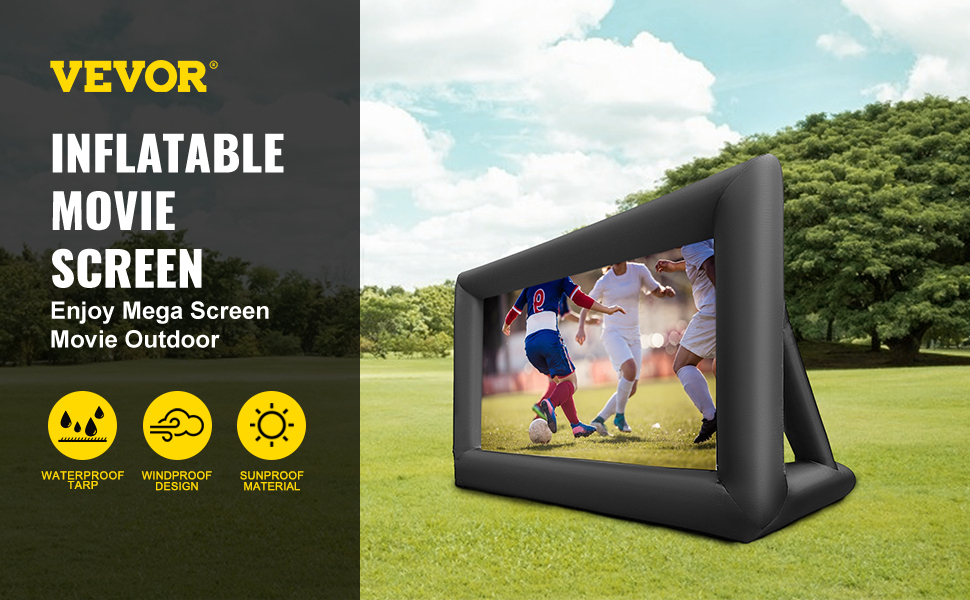 Turn your backyard into an entertainment hub and movie theater!
Gathering friends for a night of fun and entertainment? Now you can binge watch on your favorite movies and shows al fresco with the CineCyne.
This inflatable projector screen features a 16-feet screen made from high-quality polyester. The entire material stretches out to reveal a wrinkle-free screen that displays high-definition display of movies and shows. With its solid build, this inflatable movie screen won't easily topple over and ruin your movie session.
Bring the movies to your backyard and enjoy nights of entertainment with family and friends with the CineCyne inflatable projector screen.
✅ 16-feet screen that can offer just the right size for backyard movie watching.
✅ Made from high-quality polyester that's waterproof, stands puncture risks, and sunproof.
✅ Built to stand even the blowing wind.
✅ Designed with a stable foundation.
✅ Includes a motor for inflating the projector screen.
✅ Great for all types of events - birthdays, parties, family gatherings, or just bonding with friends.
CineCyne Projector Screen Features & Details
The projector screen that offers the perfect size for your outdoor movie viewing experience. The CineCyne has a diagonal measurement of 16-feet, and an aspect ratio of 16:9. The screen is large enough to give you visuals in full detail!
Made from high-quality, wrinkle-resistant Oxford fabric - this screen projects your favorite movies and shows in vivid details! The CineCyne's oxford fabric assures you that you won't have to worry about wrinkles or a flapping screen interrupting your movie experience.
The CineCyne is made with a stable build that prevents it from being toppled over by the wind. With the triangular base design, the projection screen keeps stable during the show, which can be fixed by ropes. The screen also comes with yard stakes that can be inserted into the grass or land for extra stability, providing great viewing experiences even on windy days.
An easy-to-set-up projector screen that comes with an air motor - it will only take a 2 minutes to set up. Portable screen you can bring to your travels! You can fully inflate this projector screen outdoor in two minutes with our powerful 250W low-noise blower (included) and keeps it inflated throughout the show when plugged in.
Low-maintenance projector screen that makes it easy for you to store and clean it. The screen can be deflated and folded easily and stored in a portable bag for space-saving. The whole screen is water washable for easy cleaning, made of high-strength Oxford fabric, non-deformation, and stain-resistant. Save time and labor for you. The screen is detachable with magic tape, more accessible to reassemble than traditional buckle-typed screens.
Multipurpose projector screen you can use indoors and outdoors. Portable enough for camping trips, backyard gatherings, and travel entertainment.  The projector screen is ideal for indoor and outdoor use, such as poolside, backyard, weddings, festive events, and parties. You can enjoy a fantastic night with people in the backyard, the beach, or have a camping adventure in the woods.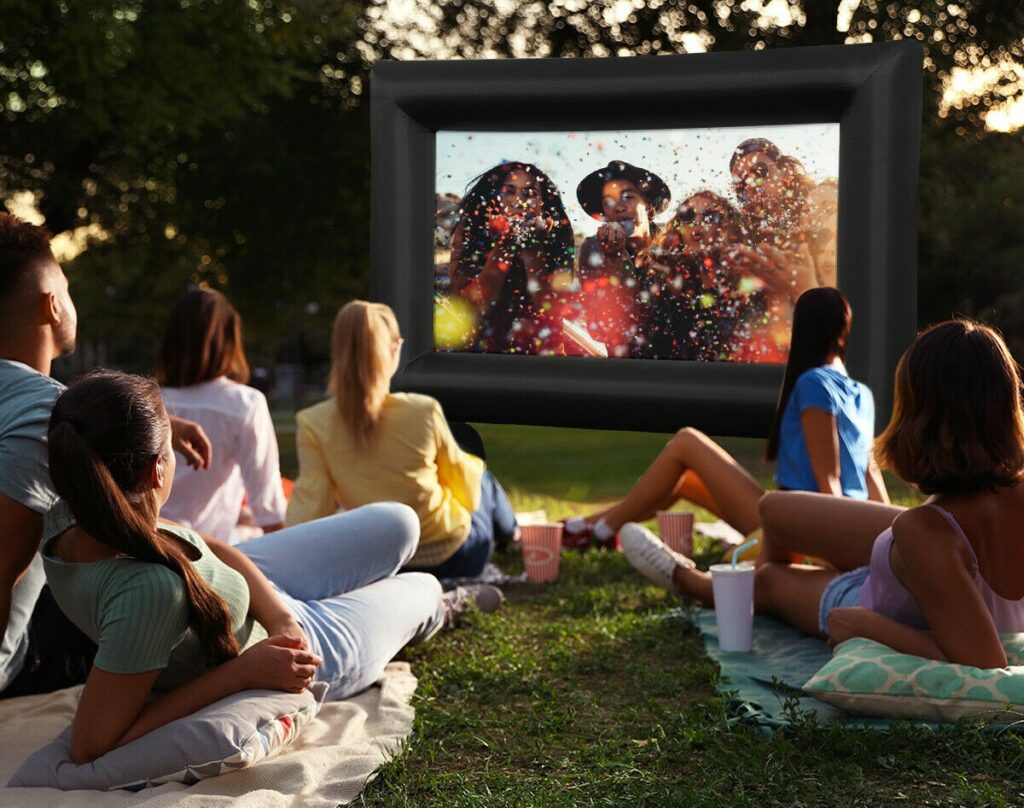 Reviews for the CineCyne Inflatable Projector Screen:
"Our family's new favorite! We don't need to go to a movie house anymore. Anytime we want to enjoy some backyard bonding, we just bring this out, and it's all good. We love how this is portable. We have brought it to camp trips, to some of our friend's house. For a projector screen this big, this product is surprisingly low-maintenance and easy to store! The best investment for entertainment junkies like us!" - Elissa, movie geek.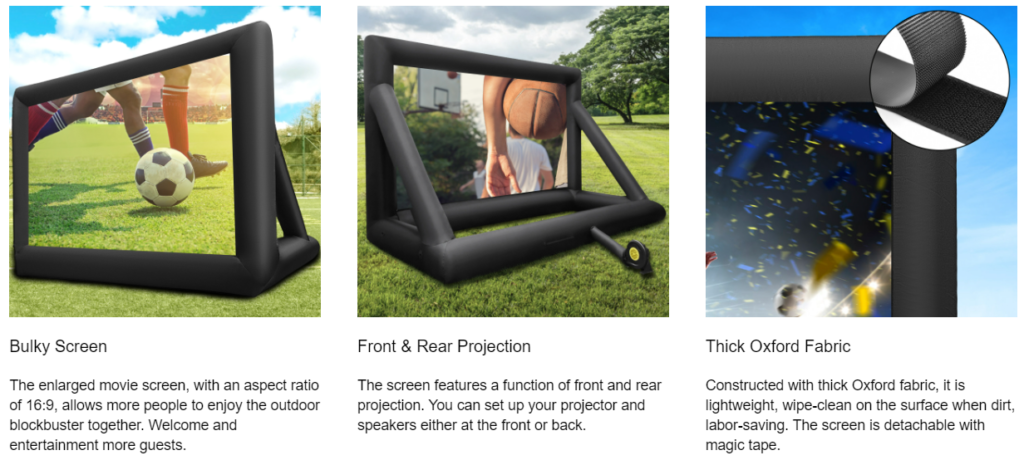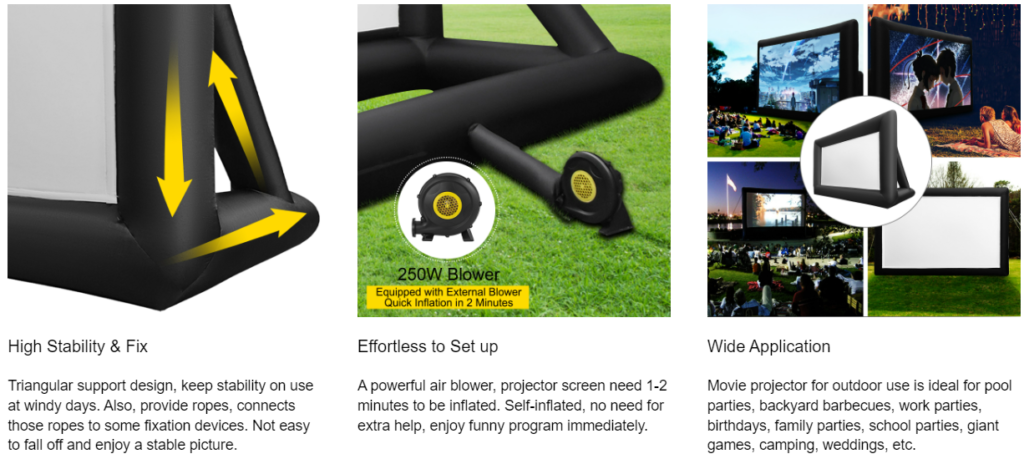 Specifications
Material: Oxford Fabric
Diagonal Size: 4.88 m/16 ft
Blower Power: 250W
Inflation Time: Within 2 Minutes
Color: Black & White
Product Size: 4 x 1.85 x 3 m/13 x 6.1 x 10 ft
Package Contents
1 x Inflatable Movie Screen
1 x Air Blower
1 x Fixation Rope Kit